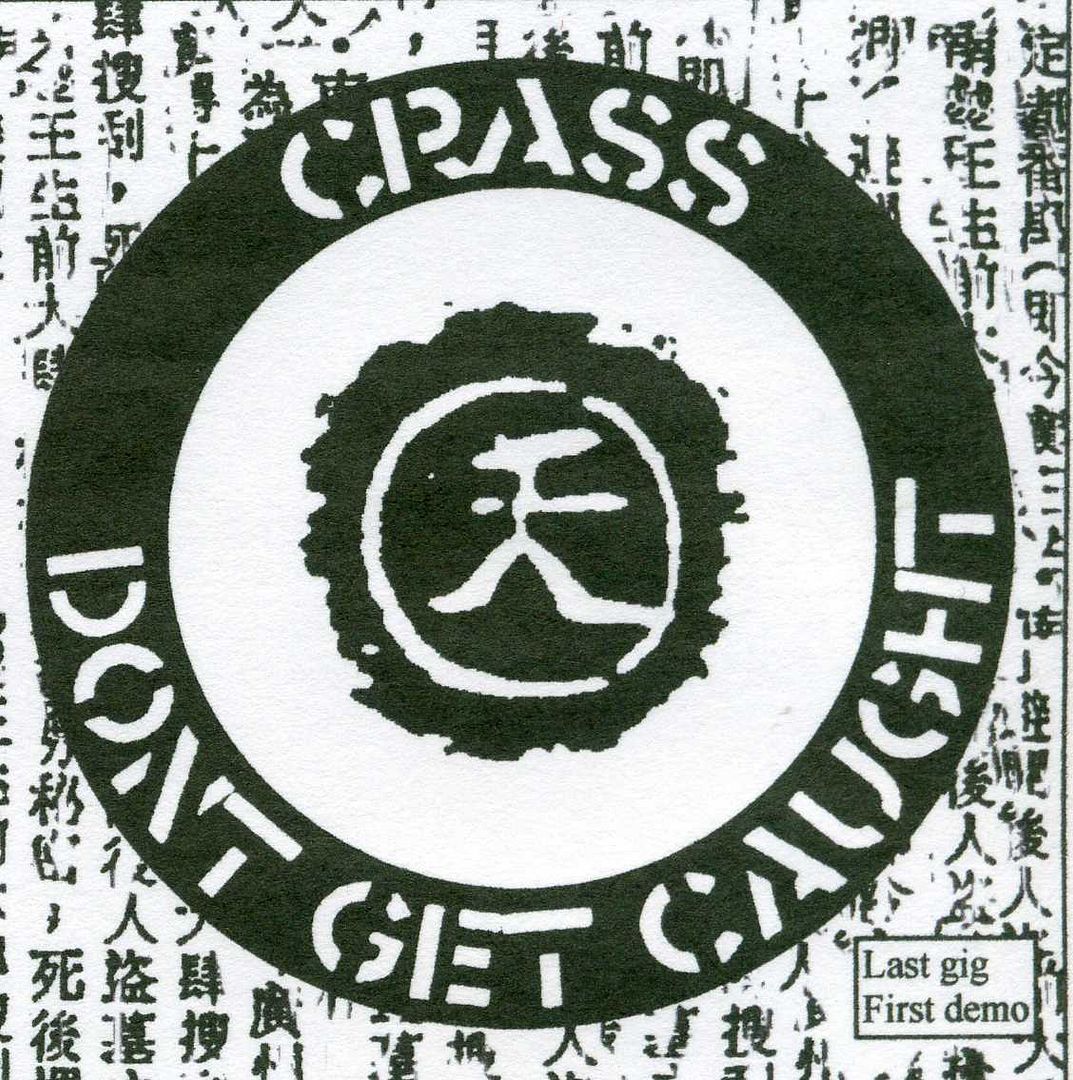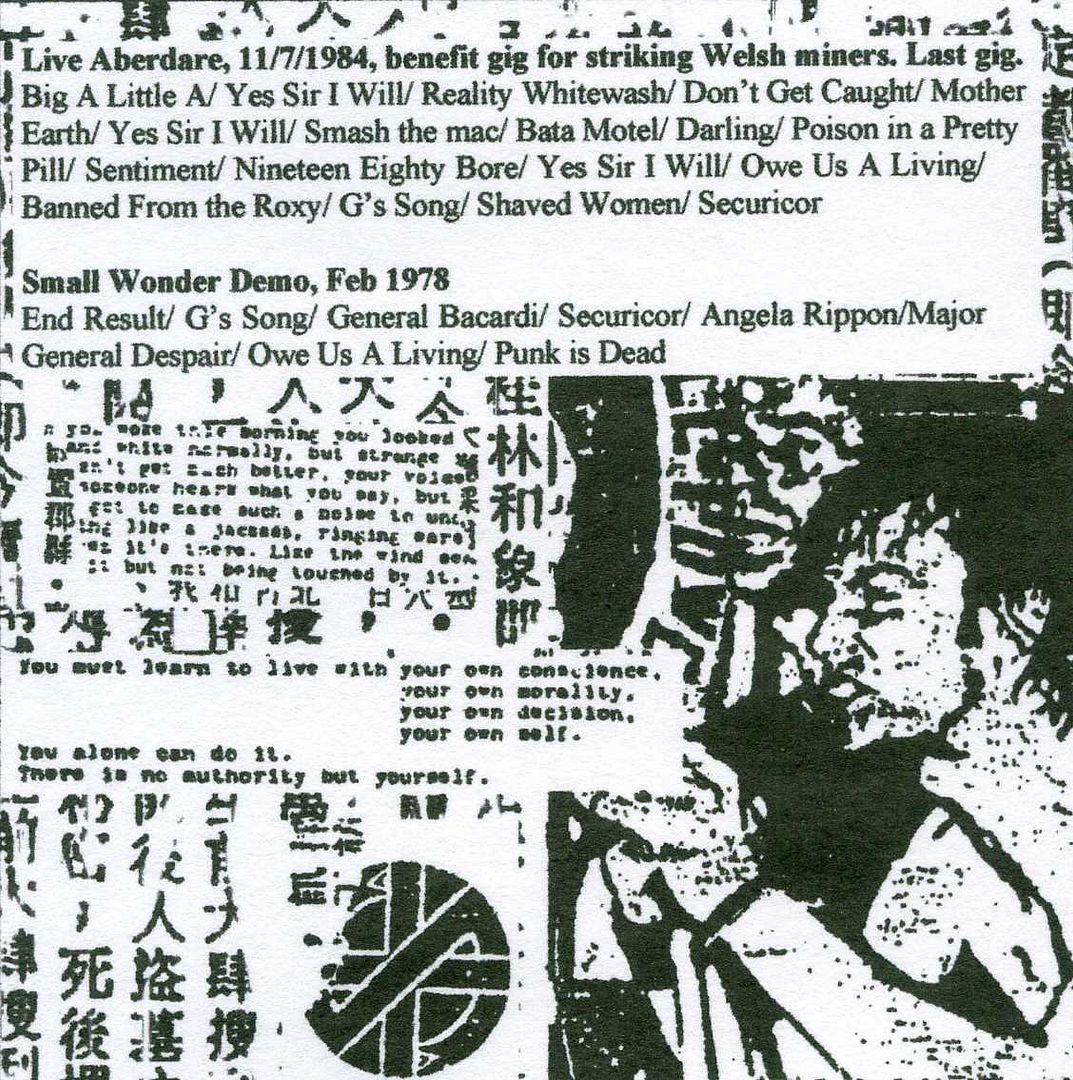 Crass – The Final Performance – Track Listing Above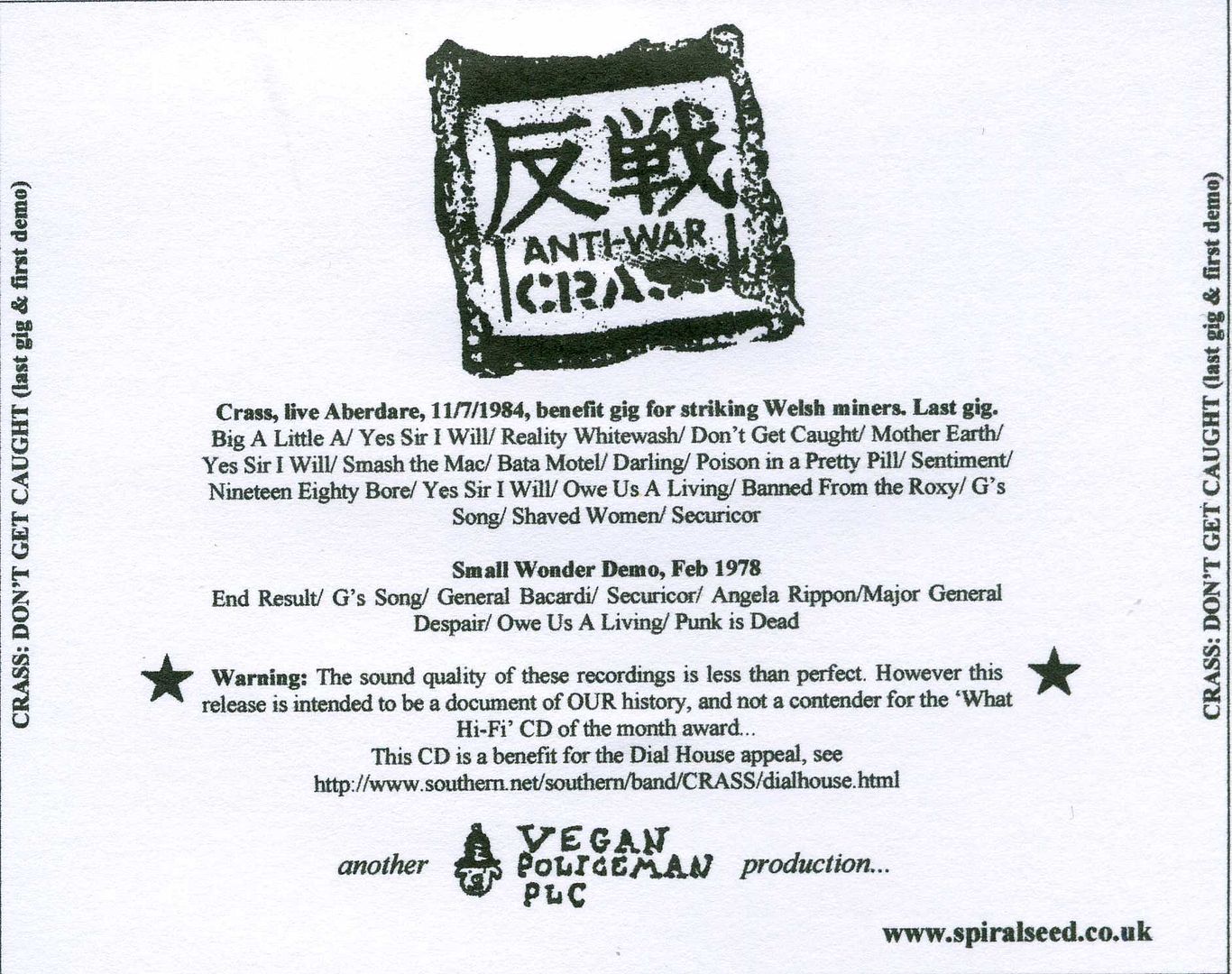 A very special post is uploaded on Kill Your Pet Puppy tonight for many differing reasons.
Firstly the audio download is the very last performance of Crass at the Aberdare Coliseum in Wales. This is obviously an important event to archive for this site. The Kill Your Pet Puppy collective were always generally supportive to Crass whether during their numerous visits to Dial House or at the numerous Crass gigs they attended. The Kill Your Pet Puppy collective along with the Black Sheep and April Housing co op's also helped with the autonomy social centres being set up, as well as helping to organise the Zig Zag christmas squat gig and the very first Stop the City demonstration.
The quality of the audio is poor in parts but at least it is something to place up on the site. If I get a better version of this performance lent to me I will replace this version. Do not hold your breath though!
Many thanks to Graham Burnett for sending me this audio in any case.
Crass had performed a short tour in May 1984 and most people thought that was the end of the band's live excursions. Crass decided to show solidarity to the striking miners after being asked to come to Wales and performed one last time a couple of months later in July.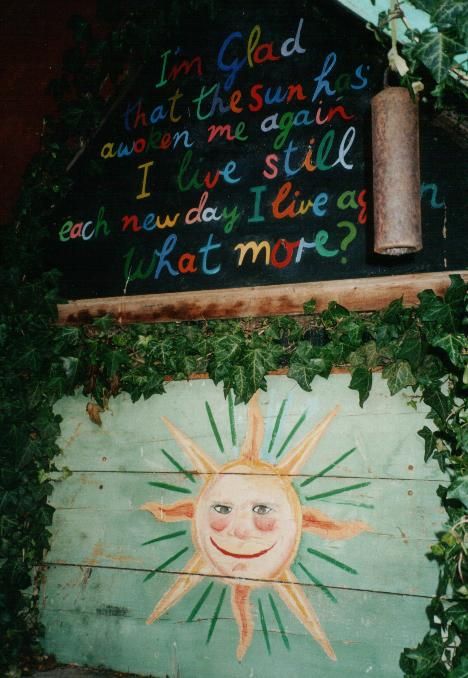 Secondly Kill Your Pet Puppy's aforementioned friend, Graham Burnett (editor of the Southend based New Crimes fanzine which had a lifespan from 1980 until 1983) was originally given permission to 'release' the tape by Penny Rimbaud of Crass. Graham then had the tape placed onto the CD format and designed the sleeve artwork that heads this post in order to raise funds for the Dial House appeal which was active over a decade ago.
Penny and Gee were trying to ensure Dial House one of the more important landmarks for the alternative community for over forty years at that time was saved so it could continue to function as an art space and open house. They were both actively involved in the fund raising.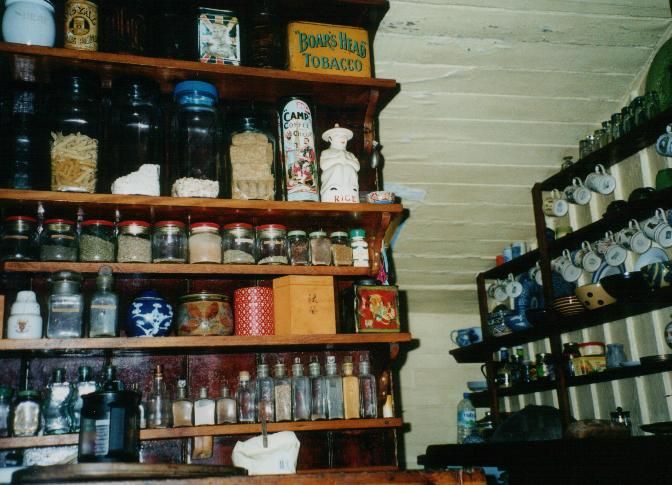 Around this time I saved up for the fund from my wages from Southern and eventually placed £200 into the appreciative hands of Gee Vaucher whilst enjoying the North Weald summer fete that Gee and Penny had helped organise with the local community. Steve Ignorant of Crass was also in attendance at this fete.
Blyth Power performed on the small makeshift stage so it was nice to see Josef and the band in the middle of this field in Essex! Some other bands performed as well but I can not remember who they would have been. Maybe just a trad jazz quartet or something similar.
Graham did not manage to properly release this CD with any effectiveness to raise money from it for Dial House although he did help out in many other ways.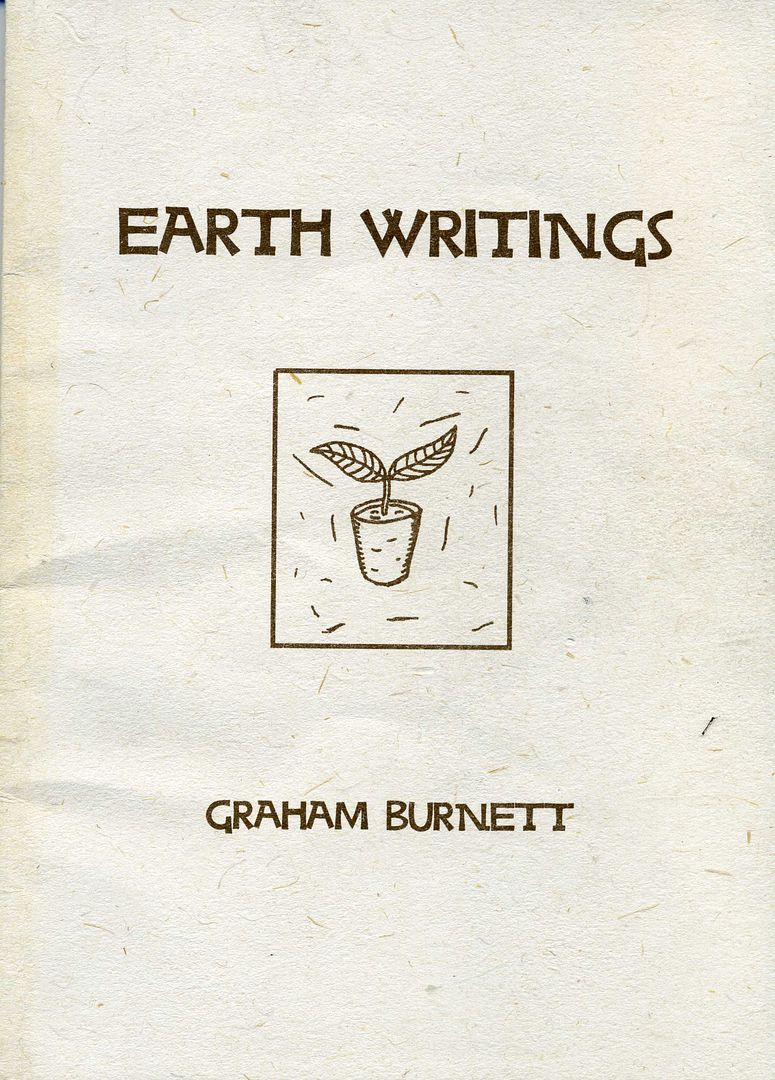 Thirdly, back to Graham again.
Graham runs regular permaculture courses at Dial House advising students on the course on how to live out ethically enriched lives causing the least harm possible to living things.
Anything from reclaiming building materials to building compost toilets, vegan-ism and cultivation of plants.
He also writes books on the subject, my copy of one of his books is pictured above. This book is well worth getting hold off if it is still available on his website.
Dial House is of course the near perfect setting for Graham's talks as the house and the gardens surrounding it have always been maintained in an ethical manner.
Graham's website Spiralseed which has much more information on what can be done and ways to get involved is HERE.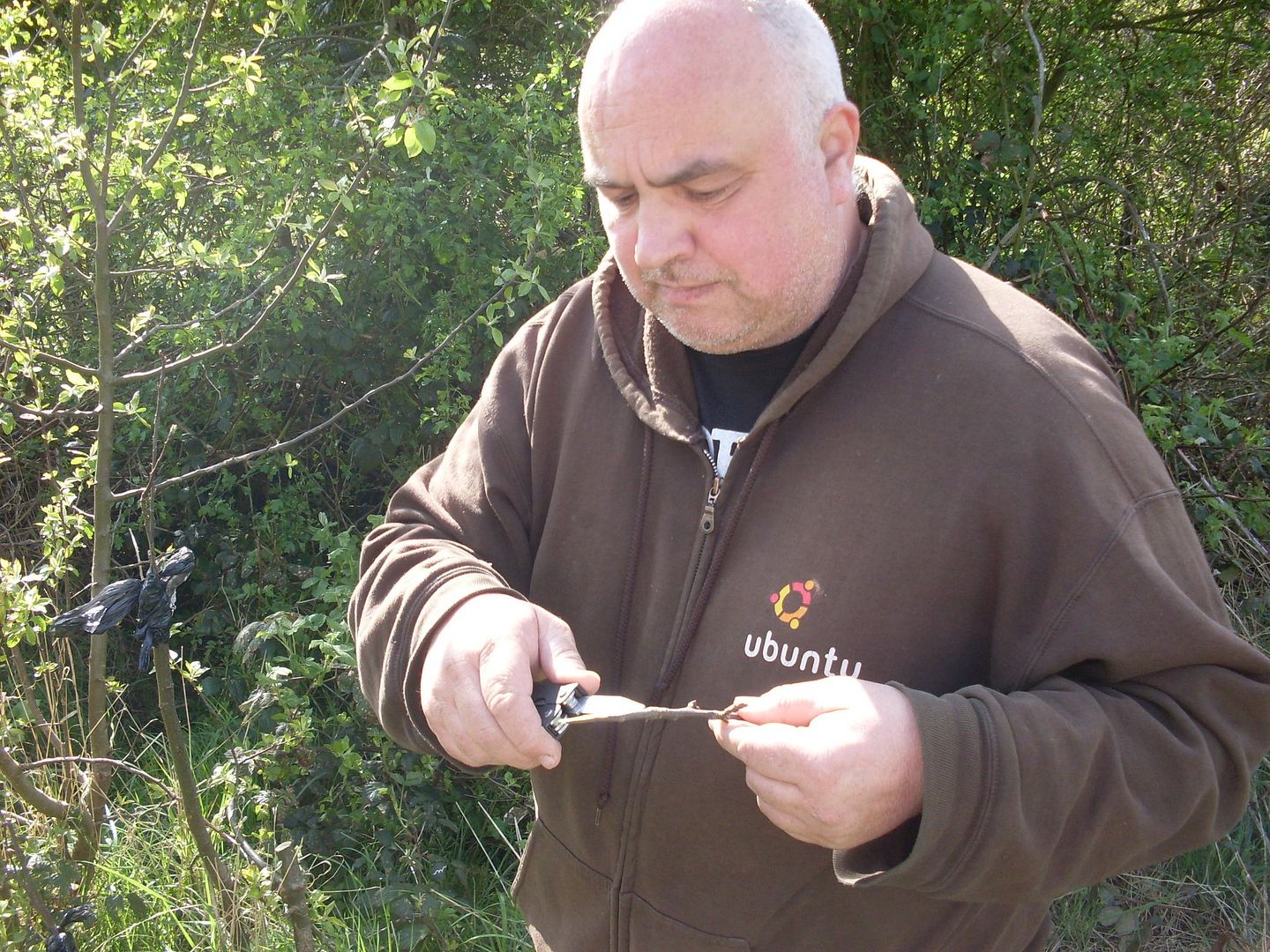 Fourthly Graham has been suffering with an illness and has been continuously and bravely fighting throughout these last eighteen months to keep the illness in check.
This post is dedicated with love to you from all the Kill Your Pet Puppy on-line crew.
Thanks again to Graham for the sending me the audio, for writing his piece for the post below. Thank you to Penny Rimbaud who wrote such lovely words about Graham and his mum back in 2006!
Thanks also Sara who does not yet know that I have snatched her photographs of this last performance by Crass off the Southern Studios forum! Thanks also in advance to Anthony Brockway from the Babylon Wales blog for the review of the performance on the night. This text was also snatched under the cover of darkness, without the authors knowledge, and dragged here to Penguin Towers kicking and screaming. Tristian Carter supplied the Crass ticket stub, thanks for that.
The photographs of Dial House are from my collection, so at least I added something to this post!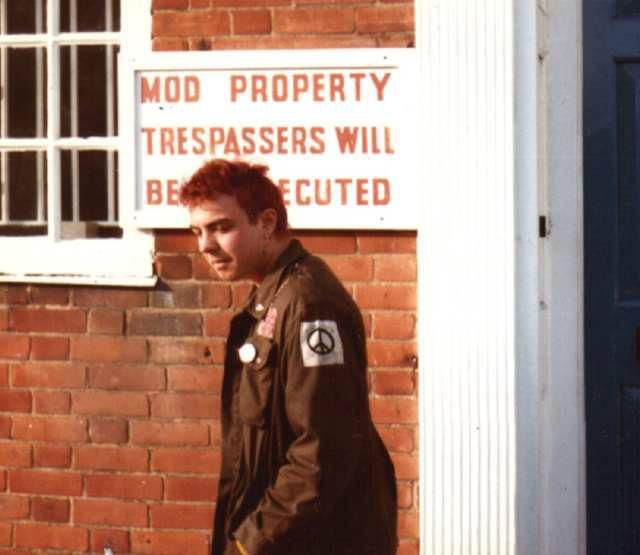 This recording is the last Crass gig performed at Aberdare, Wales in July 1984. This recording and the artwork I designed was put together for a benefit CD that I was going to release to raise a bit of cash for Dial House a decade ago now. Penny gave me permission but I never got around to releasing it properly!
I first heard Crass in 1978. It was in Projection Records – Southend's 'alternative' vinyl outlet, and I was perusing the avant-garde jazz section at the time. A bunch of local punks with whom I was on nodding terms were harassing Barry Martin, the shop's long suffering blues enthusiast owner (now better known as guitar legend Automatic Slim and still plying his passion with live stalwarts The Hamsters incidentally) into playing a just arrived 12 inch single. It had a black and white cover featuring somebody walking about with a huge but rather dodgy looking banner in a muddy field, and looked intriguing. Eventually Barry put it on, and our ears were assaulted by a searing barrage of noise.
The energy and excitement of the 'first wave' of punk was declining fast – The Pistols had been reduced to artistic carry on flogging dead horses like cutting novelty records with Ronnie Biggs, The Clash were no longer bored with the USA but were now being over-produced with an eye to cracking that very market, and the DIY ethos of The Desperate Bicycles had been overtaken by the corporate 'new wave' of The Cars and The Jags. Beyond the shock of the new and the short-lived arse kicking of the complacent rock dinosaurs like Genesis and The Rolling Stones, it was once again the same old music in the same old kitchen.
But this was somehow different, a raw and disturbing discord ¨C what I'd imagined punk should really be all about, yet so far had never quite delivered. I bought a copy, and at home played it with the accompanying lyric sheet. The words to the 17 Crass songs contained on 'Feeding Of The 5000' weren't exactly sophisticated, but they articulated an uncompromising rage at the order of things. Current Prime Minister Jim Callaghan and his soon-to-be successor Margaret Thatcher, Christ, Buddha, The Clash, The State, The System, nuclear weapons, patriarchy, Securicor guards and complacent hippies – the usual suspects and sacred cows alike were all up for slaughter amongst the buzzsaw guitars and militaristic drumming, and I was revelling in the bloodbath (strictly metaphorically you understand- I was already a vegetarian by this stage…). But there was one lyric that I found particularly challenging – never mind not giving a toss about that fucker Jesus, the assertion that 'MARX FUCKS!' was one invective too far… I was as righteously outraged as only a 17 year old Socialist Worker paper seller can be. I'd been drawn into Rock Against Racism by the big Carnivals, and the pidgin Trotskyism of the SWP offered all the answers to a youth aware enough to realise that whilst Labour wasn't working, the Tories would only ever work for their own class and that the National Front were a Nazi front. I can still remember penning an earnest letter to these upstart naive anarchists pointing out the error of their ways. Where was their political analysis? Their grasp of theory? How could they dismiss such an important economic and social philosopher with just two ill thought out words of abuse? I never posted it. Instead I played the record again. And again. "MARX FUCKS". How dare they? That great man. Those important ideas. Those big thick books that I borrowed from the library and pretended to understand. Those pub and classroom arguments I couldn't afford to lose. That cool little red enamel clenched fist badge Full Party Members were allowed to wear and that I coveted so… So what was their alternative anyway? Anarchy?? Do it yourself???? Take responsibility for your own actions?????? 'Sucks' was the Zen-style whack on the side of the head that knocked me into new ways of seeing politics just as the white noise of detuned guitars and off station radios opened my eyes to the musical possibilities of punk beyond cranked up 12 bar rock n roll riffing…
I actually met Crass for the first time about 18 months later when Chris, Steve and I interviewed them for our fanzine, New Crimes. Amongst all the earnest questions we asked them about CND, war, squatting, Northern Ireland, religion and all the rest, I remember that Penny Rimbaud seemed particularly enthused when I asked about Crass' musical influences, and his references to John Cage and Stockhausen didn't surprise me one bit. The mainstream music press of the day always dismissed Crass as mindless three-chord thrash, but they actually had far more musical intelligence and imagination, with antecedents including modern classical, European atonality and free-form jazz.
More importantly, this trip to Dial House marked the beginning of a long and close friendship with the band, and I have to say that it didn't come as a shock to me when they decided to call it a day in 1984. Personal tensions between band members that had been long suppressed were beginning to surface, and I'd seen at first hand the toll that maintaining the public front of 'Crass' had begun to take on these individuals. The exhaustion and stress caused by constant surveillance and harassment by The State was only compounded by the role of 'leadership' placed upon them by an anarcho-punk following who clearly hadn't paid attention to the lyrics of 'Where Next Columbus?'…
Penny, Gee and Steve continued to live at Dial House, although during the late 80s and 90s their priorities focussed on more personal struggles, particularly against land owners and property developers seemingly intent on encroaching into the last remaining green belt areas surrounding London. Over a decade later, this culminated in buying the previously rented house at auction, a decision which left them £100,000 in debt, but at last securing a stable future for what they describe as a 'centre for dynamic cultural change'.
Since 2002 I've been running regular permaculture workshops at Dial House that have been attended by possibly hundreds of participants. Many have never heard of Crass (but we also attract a very high proportion of those who have…), but nearly all comment on the positive energy of the place.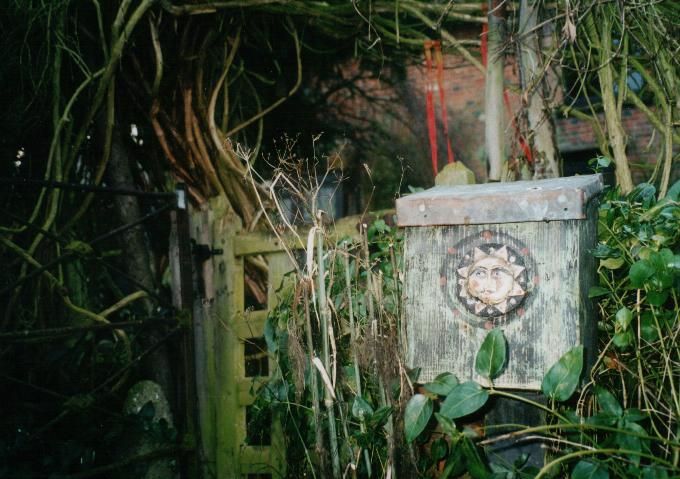 Once past it's rickety little wooden gate it's easy to get lost for a while wandering amongst the vegetable plots, native tree plantings, fruit bushes and flower beds teeming with humming bees and birdsong, and the multitude of hidden shelters and sitting places adorned with sculptures and carvings. Turning each corner is a surprise – you never quite know what you will find.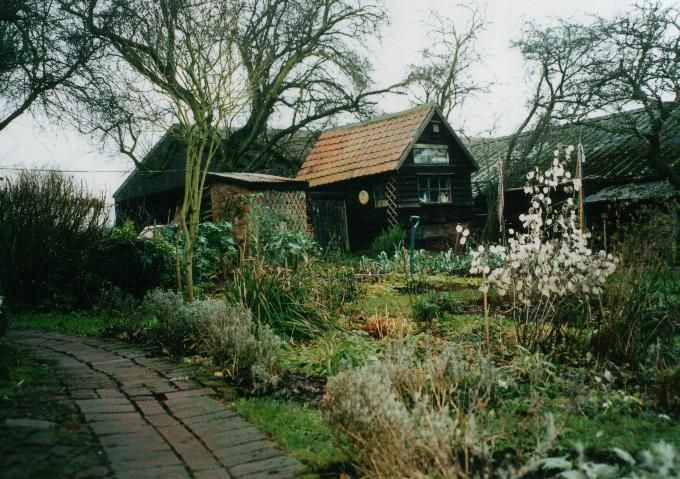 Then there's the 17th century building itself, a crooked house maze of artist's studios, rehearsal rooms, libraries and social spaces. Some even describe it as 'Paradise'. Certainly it can be an asylum from the madness that is early 21st century fossil fuel and war driven 'civilisation'.
Much of what Crass dealt with as a band was dark and frightening, particularly towards the end, in the period that followed the Falklands War, when it became clear just how far The State would go in order to protect its power. But despite this their message was always essentially positive; that behind the ugliness, brutality and violence that we are expected to accept as normality there lies the rarely glimpsed beauty, creativity and barely fathomed potential of the human spirit. Crass never used the word permaculture, but their vision of an alternative to a society which is anything but earthright and sustainable, and where we can all live fulfilled lives in harmony with nature's patterns, struck a chord with many people that I've since met within world-change movements. Diggers, dreamers, 'New Age' travellers, road protesters, animal rights campaigners, self-builders, anti-globalisation activists and permaculture designers – there is a generation out there who one way or another drew inspiration from their central message that 'There Is No Authority But Yourself'.
Graham Burnett 2012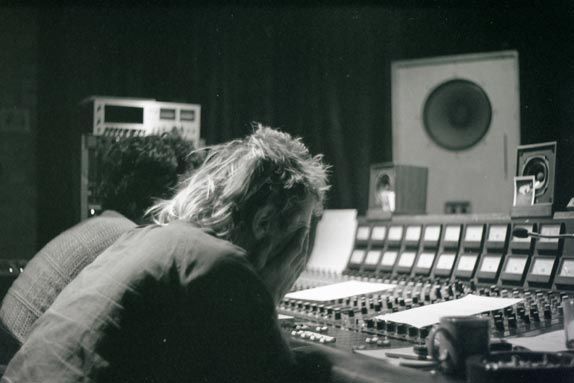 In 1986, Sounds wrote: 'two years ago Crass couldn't decide whether to blow up the country or grow cabbages – fortunately for the Tory tyrants, they chose the latter'. The choice wasn't always that easy. Generally I was happy enough stringing up runner beans, but every so often I'd find my mind drifting towards lurid thoughts of stringing up Margaret Thatcher and her cronies from the lampposts on Westminster Bridge, and what a pretty sight that would have made.
From its inception in 1977, Crass have been at the forefront of what has now become popularly known as the anarcho-punk movement. Johnny Rotten had sung about anarchy in the UK, but hadn't meant it: Crass did. We were loud, fast and angry. I was the drummer. Thirty years later, I'm still at it, but now I'm into performance poetry, and yes, I'm still loud, fast and angry.
Since the mid-sixties I have lived at the edge of Epping Forest on an acre of land in a rambling old cottage called Dial House. I had moved there to find peace and solitude, to paint and write, and to grow my own food. From the start it seemed obvious to me that organic was the right way to go: why pay for expensive fertilisers when farmyard manure or leaf mould were never much more than ten minutes walk away? Why fork-out for weed-killers when one stroke of a hoe did a better job? Forty years later, the flourishing garden stands as proof of the wisdom of the organic way. Equally, everything that was done within the cottage made use of the excesses of consumer society; why buy expensive furniture when package cases were freely available and could be made just as comfortable, and why pay for food extras when the surplus could be so readily bagged up from supermarket waste bins? There may not be big money in other people's muck, but sure as hell there's an awful lot of loose change to be found.
From the beginning, Dial House attracted interest from people seeking alternatives to the nine-to-five rat race they'd been told was the only future they could look forward to. Artists, gardeners, drop-outs, bums and beats somehow found their way to the doorstep. Some moved on after a cup of tea and a chat, while others moved in to stay permanently. Very quickly my initial dream of peace and solitude became a memory. Since then the house has thrived as a creative rural community: over forty years of glorious madness.
Of all the many projects growing out of Dial House, Crass is probably the most renowned. The Sex Pistols had chanted their mantra of 'no future', while we set out to prove as conclusively as possible that there was one if we were prepared to work for it. Employing an unusual mix of rural nous and street-wise savvy, our songs advocated direct action: be it super-gluing the local Army Recruitment Offices or planting your own spuds, our prime message was 'there is no authority but yourself.
It was into this heady atmosphere of anarchist subterfuge that a bright-eyed young lad stepped accompanied by his mother. As mum's didn't usually tag along with their sons on visits to Dial House, I was concerned that we might be in for a bollocking, the kind of 'how dare you corrupt my little boy like this' reaction which by then we had learnt to expect. As it turned out, rather than berating us, Mrs Burnett praised us for the positive influence we'd had on her son Graham. I was shocked. Until that time I'd rather glibly assumed that parents were there to be upset by our activities. Where had we gone wrong? As it was, both Graham and his mum became close friends.
Graham shared an interest with us in much of what in those days was considered by the average punk to be somewhat unacceptable: modern jazz, folk and avant-garde music, and, more importantly, self-sufficiency and all that that implies. While Johnny Rotten had rather pathetically declared war against hippy culture, we were looking to its positive aspects to assist us in the way forward. Crass were undeniably at the vanguard of what later became the DIY movement, but it was people like Graham whose wit, work and wisdom gave us the confidence to drive on. While our front was by necessity broad, 'fight war not wars', his was much more specific 'make compost not wars'. He'd turn up at our gigs with beautifully illustrated booklets on how to construct a marrow bed or how best to recycle domestic junk, cheerily handing them out to bemused skinheads whose only thoughts on the subject might hitherto have been how best to trash a park bench. While Crass more often than not appeared tired, angry and dark, Graham would always have a smile on his face (and a pint in his hand). His was a happy revolution which I sometimes envied. To paraphrase Che Guevara, a revolution without love is no revolution at all.
Since those days, Graham has remained a part of my life, popping in for tea with a dozen or so residents from the Special Care Unit for which he worked, or maybe just calling by to scrounge a roll up and check out how the rhubarb was doing (and heading home with a rucksack full of the stuff). More recently, since becoming involved in the Permaculture Movement, he has been running popular workshops at Dial House, teaching the arts of self-sufficiency which in the punk era were frequently dismissed by cynics as mere dreams, but which have now become a reality.
In the quarter of a century since Rotten's chant of 'no future', people like Graham have categorically proved that there is one; in short, if you're not looking for the solution, you're part of the problem. For example, a few years back, in response to Dial House's ancient and somewhat frail sewage system, Graham suggested that we build a compost loo (basically a plastic bucket in a wooden shed; all the rest comes all too naturally). Since then, the fabulously fertile results have been regularly spread around our fruit trees and flowerbeds, giving categorical proof that if only we are prepared to make the effort, good can come of any old shite.
As is so often the case, it's not a matter of buying ourselves out as much as digging ourselves in. To many it may seem like too much graft, but to those of us who see today's supermarket commodity culture as anti-creative and anti-life, there's no alternative. In its bold optimism, this book is designed to inspire action: read on, and then get out there and 'do it'. The shovel will forever be mightier than the sword.
Penny Rimbaud 2006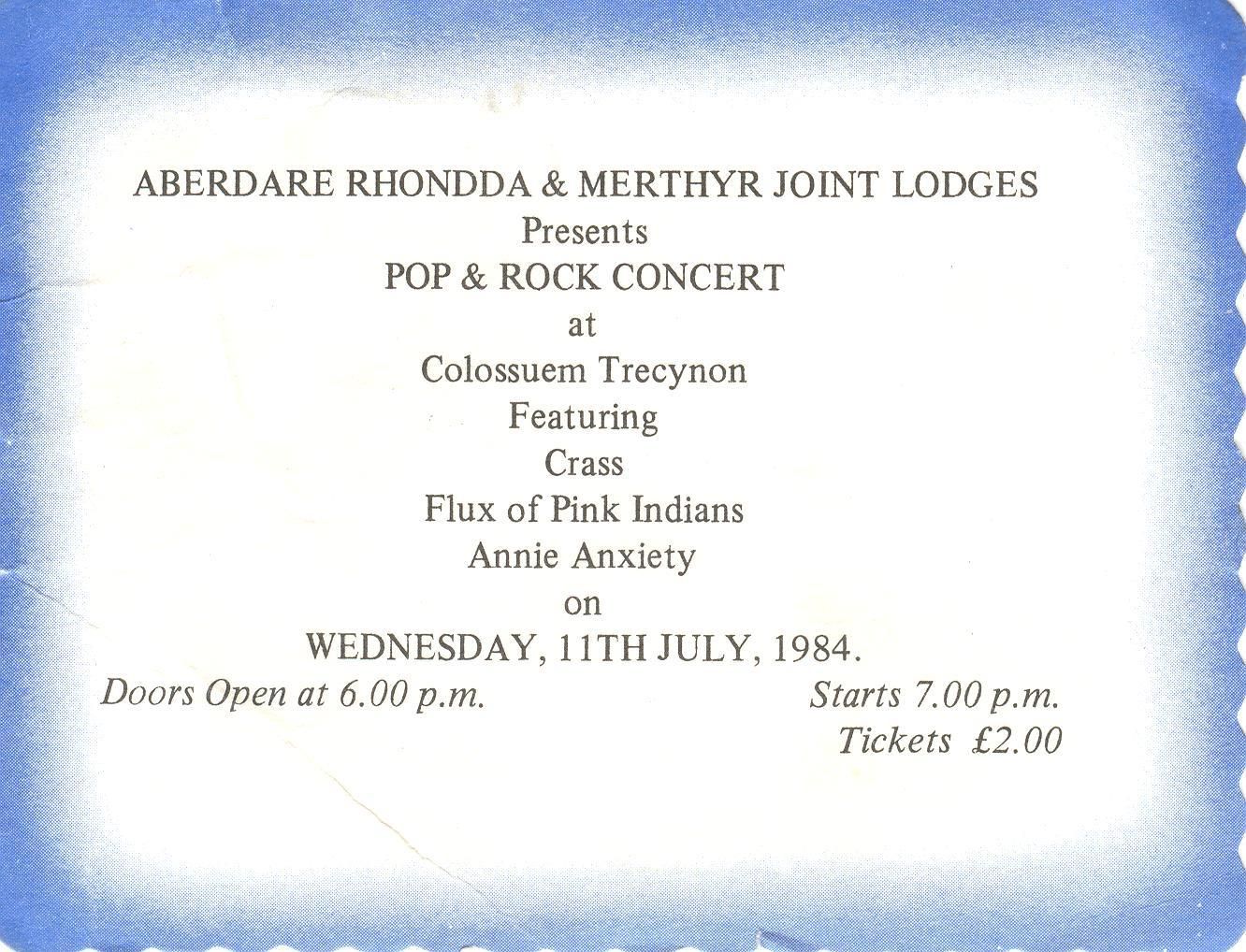 Crass in Aberdare
In the summer of 1984 anarcho-punk band Crass played their last ever gig at – of all places – the Coliseum in Aberdare. It was a benefit concert for striking miners. Local paper the Aberdare Leader carried the story on their front page. The following week they did a double-page, picture special, on the event (see pic). Clearly, Crass were big news in Aberdare. I wonder if the band had ever before had such extensive and positive coverage from the regular press. Here's the newspaper's review of the concert: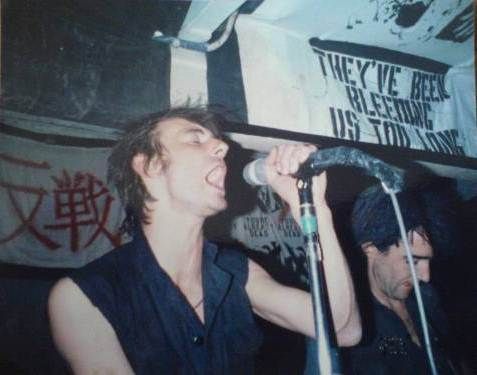 Backstage, our photographer John Wright was given some sound advice: "Don't get too close or they'll gob all over you". Point taken.
Aberdare Coliseum had never seen anything like it.
Over the years the building has played host to all manner of musical and theatrical productions – but never a punk concert featuring one of Britain's best-known anti-system bands. Billing the event as a 'rock and pop concert' was an understandable mistake made by the organisers, who had little or no knowledge of the reputations and anarchist ideals of Crass and their support band, Flux of Pink Indians, when the bands offered their services to help swell the miners' strike fund.
Local police turned up in force when youths clad in studded leather and bondage gear, topped with colourful and elaborate punk hairdos, began to congregate in the town. The police, too, had been expecting a small scale 'pop' concert. It certainly wasn't that.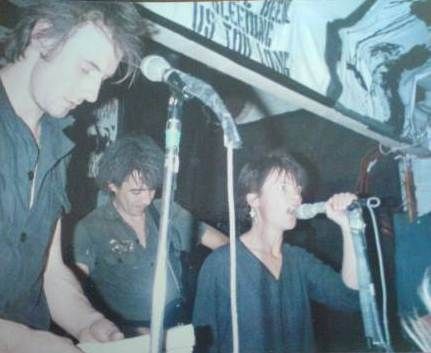 Crass – one of the major bands to spring out of the mid-seventies revolt against 'glam rock' along with the likes of the Sex Pistols – have managed to maintain a healthy following and every live appearance attracts new recruits. Their songs attacking the system and those in power have become the anthems of the unemployed and of would-be anarchists.
Relying more on sheer volume and energy than anything else to convey their message, the band have, like so many others, come in for a great deal of criticism from those who refuse to listen and instantly condemn them as riot makers. Onstage they stare blankly into space as if unaware of members of their audience scrambling on to the stage to join them. Offstage they are a bunch of the most engaging conversationalists you could ever wish to meet, bursting with ideas and plans to put the world to rights.
Whether their largely teenage audience at the Coliseum fully understood why the band wanted so much to do something positive for the miners was hard to tell. The sight of miners' agent Emlyn Jenkins onstage presenting a brass miner's lamp to Crass guitarist N. A. Palmer must have seemed a little odd to those who had turned up mainly to bash their heads against the amps. The meaningful words of encouragement to the miners to continue their strike were soon lost amid the sea of catcalls and abuse.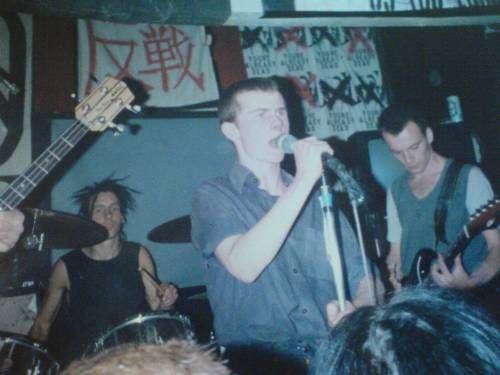 The presentation over, 'normality' resumed. A barrier set up to separate the crowd from the stage was quickly rendered useless as the first band, Flux of Pink Indians, took to the stage. They whipped up the frustrated concert-goers almost to their limit then left them ready and waiting for the headliners.
Two intervening punk poets did act as a sedative, however, calming the crowd temporarily with their weird and puzzling ranting, so much so that when Crass emerged the floodgates opened.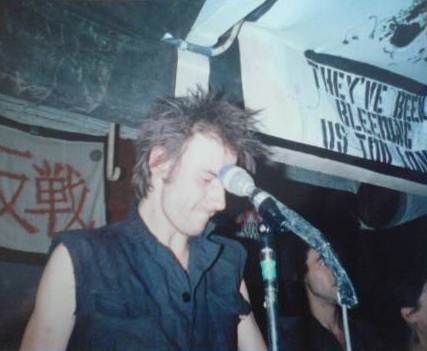 Accompanied for every number by almost a dozen intrepid members of the audience who forced themselves aloft to join the 'messiahs', the band blasted out their anti-establishment slogans with constant vocal support. The lyrics of such numbers as Do They Owe Us A Living? rang out with conviction and gave many food for thought.
But the burly miners-cum-bouncers who had been on standby around the hall in case of trouble left with just a few battered eardrums. The police, too, had a quiet night as the punks filed away peacefully at about 9pm. More than a few heads had been turned by the unexpected mass pilgrimage made by punks of all shapes and sizes, but the general consensus of opinion was that it had all been worthwhile.
Anthony Brockway 2008
Graham Burnett was involved in several bands in the Southend area in the early 1980's; two of the bands may be listened to HERE
Please support Graham Burnett with his Spiralseed website by reading the articles and perhaps purchasing a book or two HERE
There is also a Facebook page for Spiralseed HERE