Carol Kalphat & Clint Eastwood – African Land
Bim Sherman & Jah Buzz – Love Jah Only
Peter Broggs & Prince Far I – Higher Field Marshall / I and I The Chosen One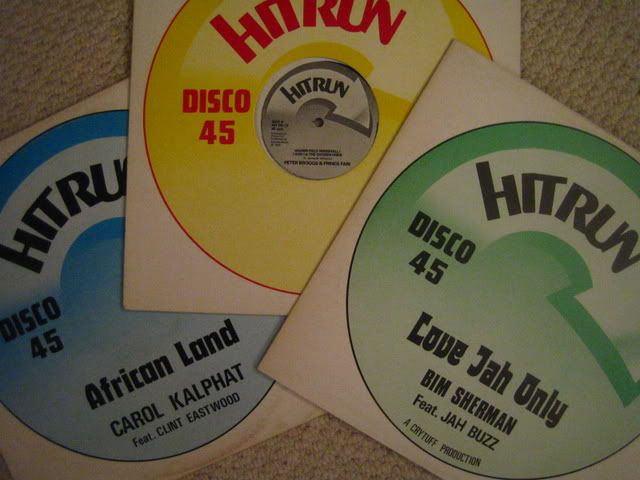 I have been uploading Kill Your Pet Puppy(ish) material up now for five months or so, since the site went public, mainly punk and anarcho punk, twenty five to thirty year old material. Kind of getting a bit dazzled by all the tapes and records of that particular genre, so I thought I would break up the vibe a bit…Every now and again I will upload a small collection of reggae classics from the same label from the vaults of the Penguin. I have  many, many thousands of original reggae material on 7″ / 12″ and LP format. So hope you don't mind a small break from the crash, bang, wallop now and again.
On this post, the label is Cry Tuff recordings (recorded and mixed by Prince Far I), most Cry Tuff material either came to the UK as 7″ pre's or were licensed to Hit Run Records. I have material on both labels, but have stuck up three of the better 12″'s  up on the UK pressed Hit Run label. All tracks backed up by the Roots Radics in Channel One studios in Kingston, Jamaica. The top photo was taken along Marcus Garvey Drive near to Channel One, the Rasta underneath is a herbsman by the name of Rusty, who carries a bin liner full of collie weed around with him, nice chap.
Prince Far I and Bim Sherman were popular artists in the UK as well as JA with Adrian Sherwood's collection of artists named Singers And Players, that had material released on On U Sound Records throughout the 1980's. Prince Far I also performed with early 1980's peace convoy favorite ravers, The Sons Of Arqua, as did Prince Hammer. I And I The Chosen One is the absolute creme de la creme of late 1970's reggae, give it a listen nice and loud if you can get away with it. Prince Far I was gunned down and died while recording his last work for Roy Cousins, Tamoki Wambesi label, in Kingston in 1983.
Bim Sherman was based in Turnpike Lane, London, N8 and was a good mate of mine, he passed on several years ago now, but leaves a huge legacy in JA / UK roots music.
Carol Kalphat is JA studio session keyboardist, Bobby Kalphat's sister, bit obscure, but dead good as is the DJ cut by Clint Eastwood. This cut is the earliest of the three from 1978.
Next up, three from the Dread At The Controls label in a couple of months…or maybe sooner, who knows?