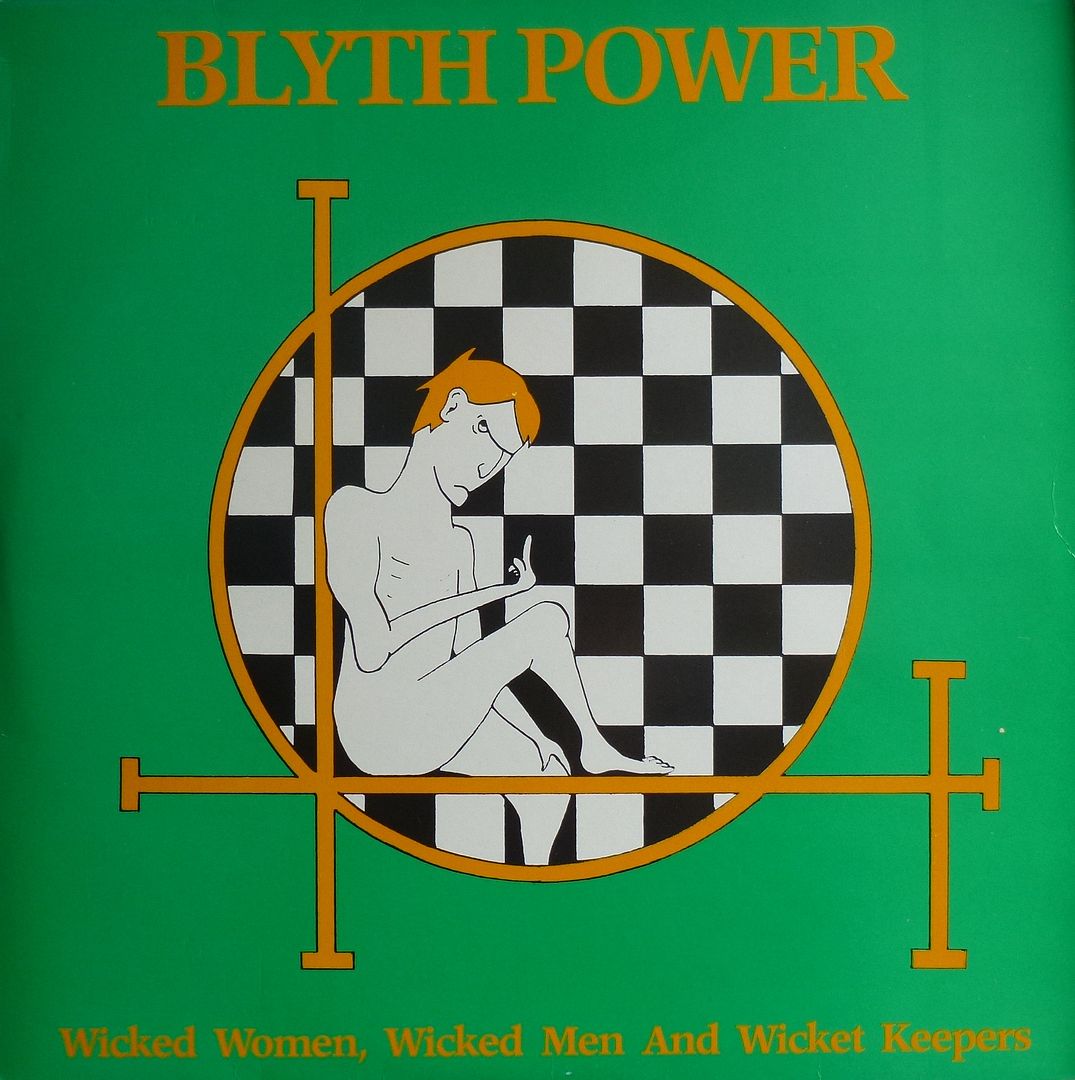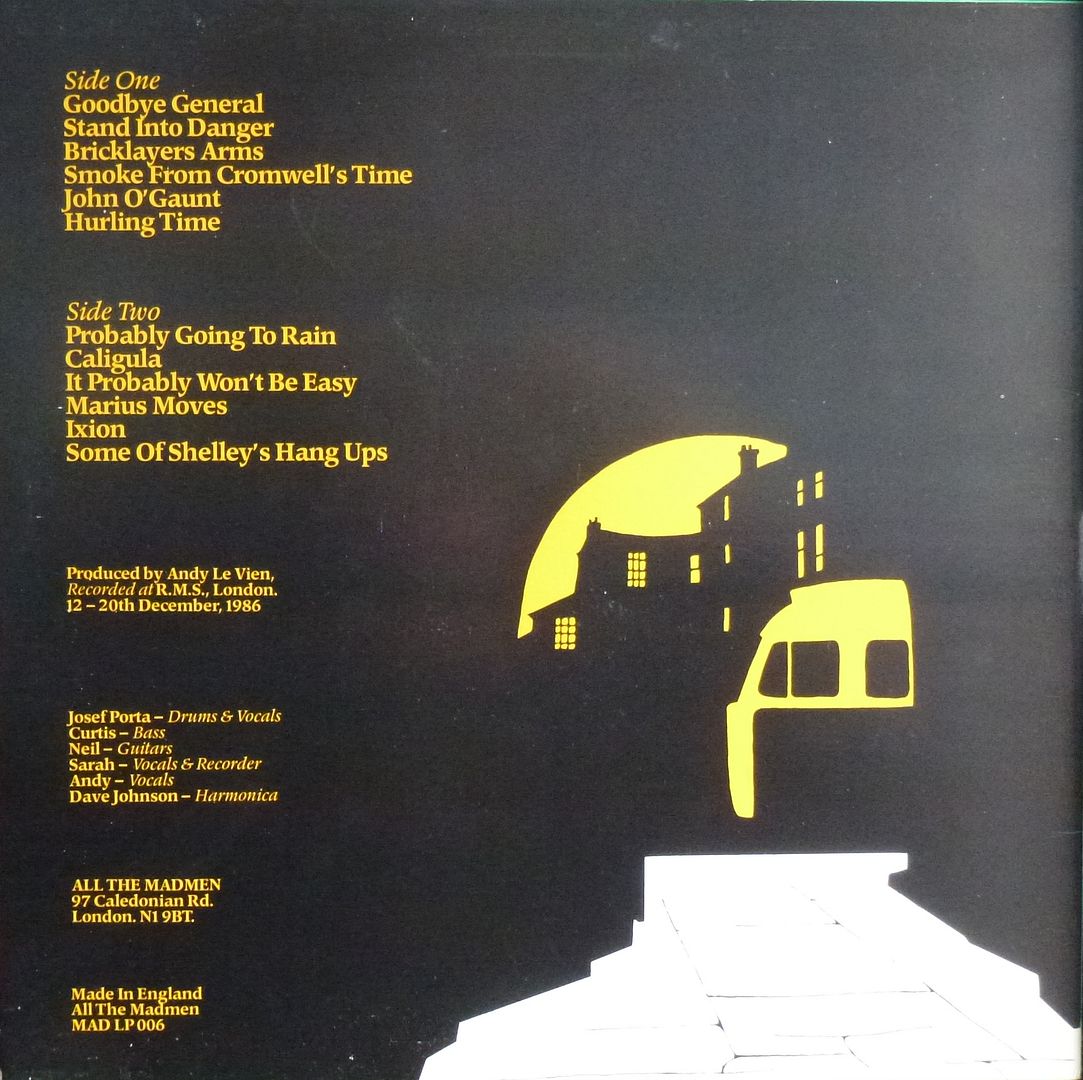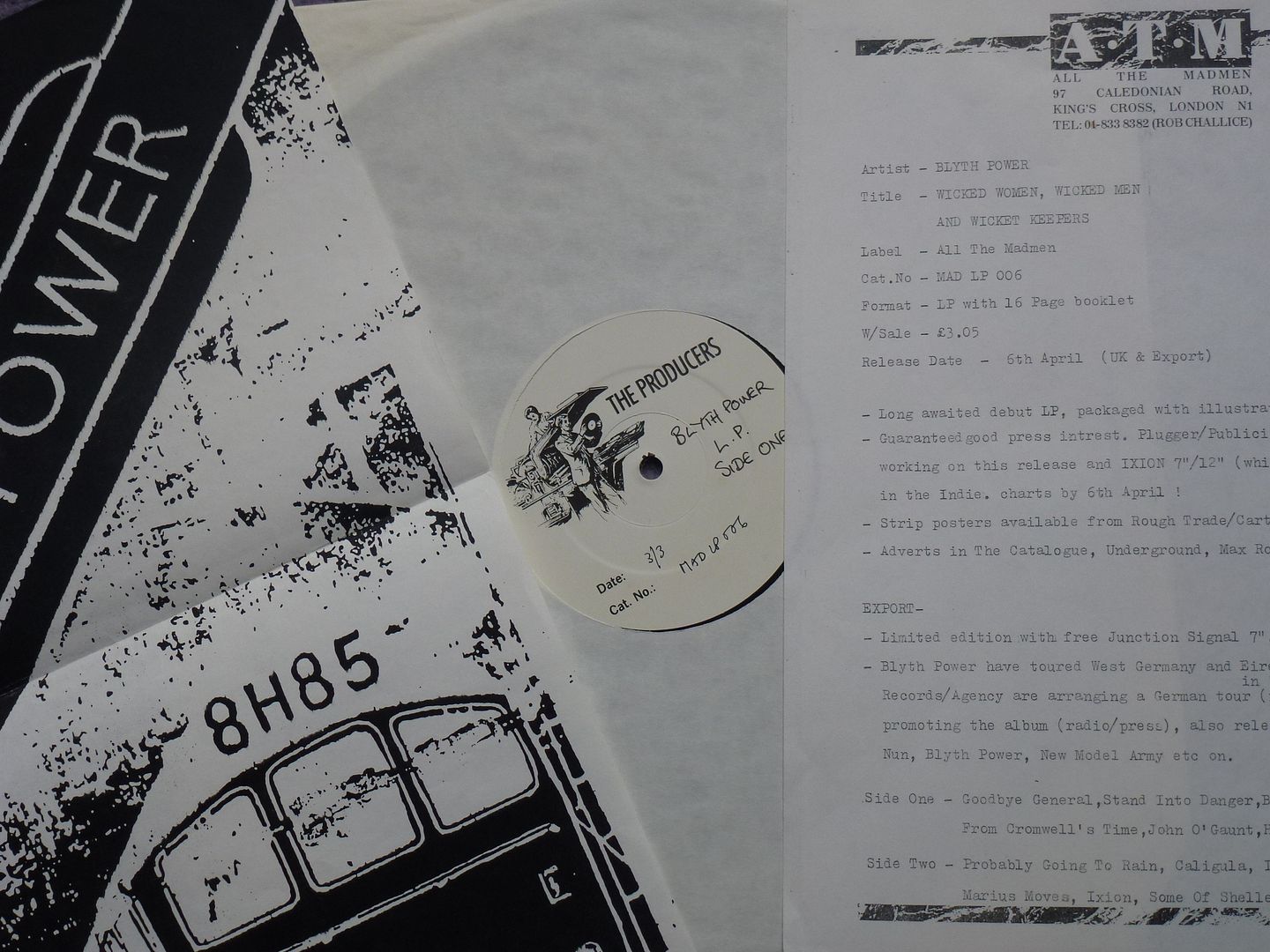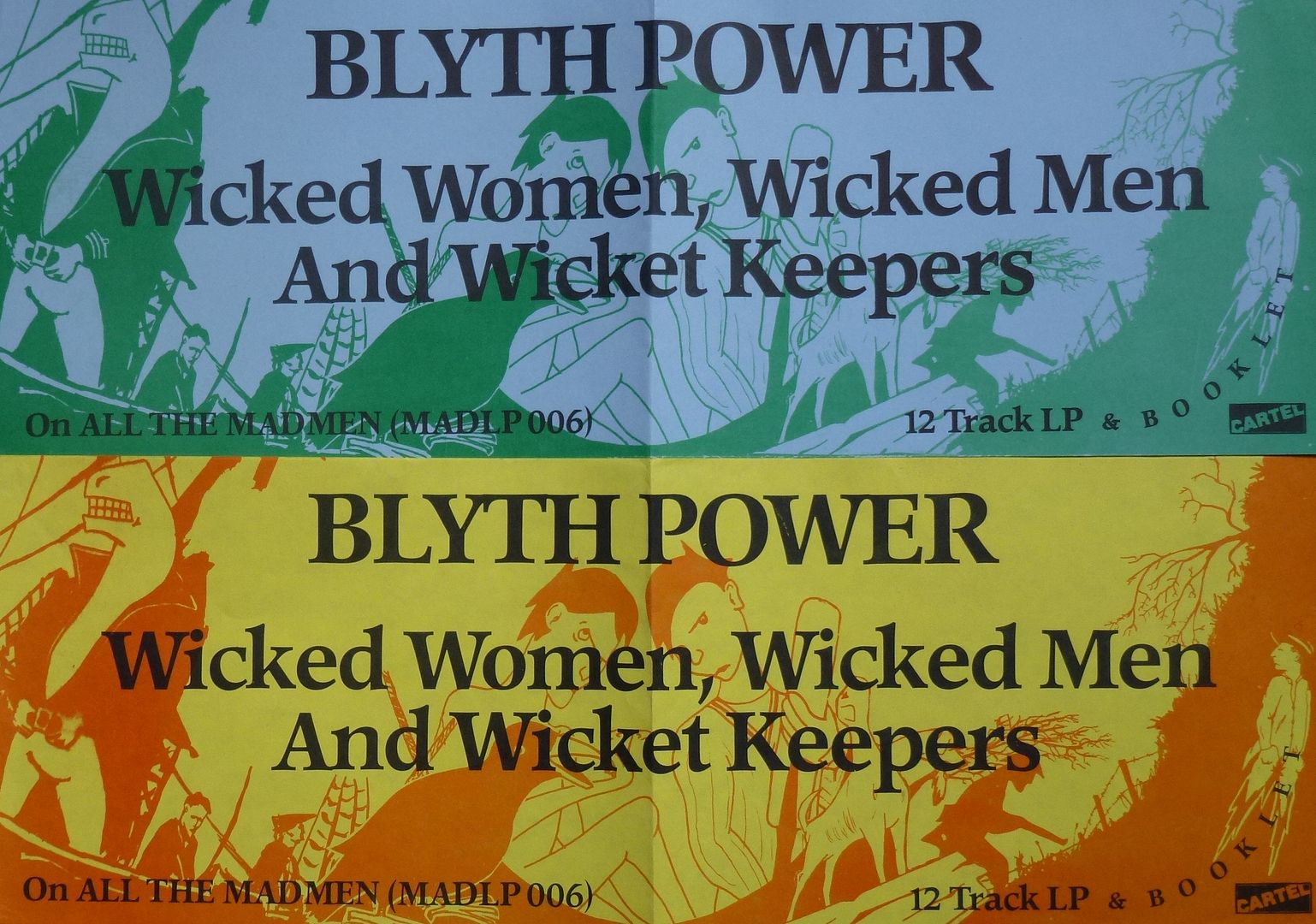 Goodbye General / Stand Into Danger / Bricklayers Arms / Smoke From Cromwells Time / John O Gaunt / Hurling Time
Probably Going To Rain / Caligula / It Probably Wont Be Easy / Marius Moves / Ixion / Some Of Shelleys Hang Ups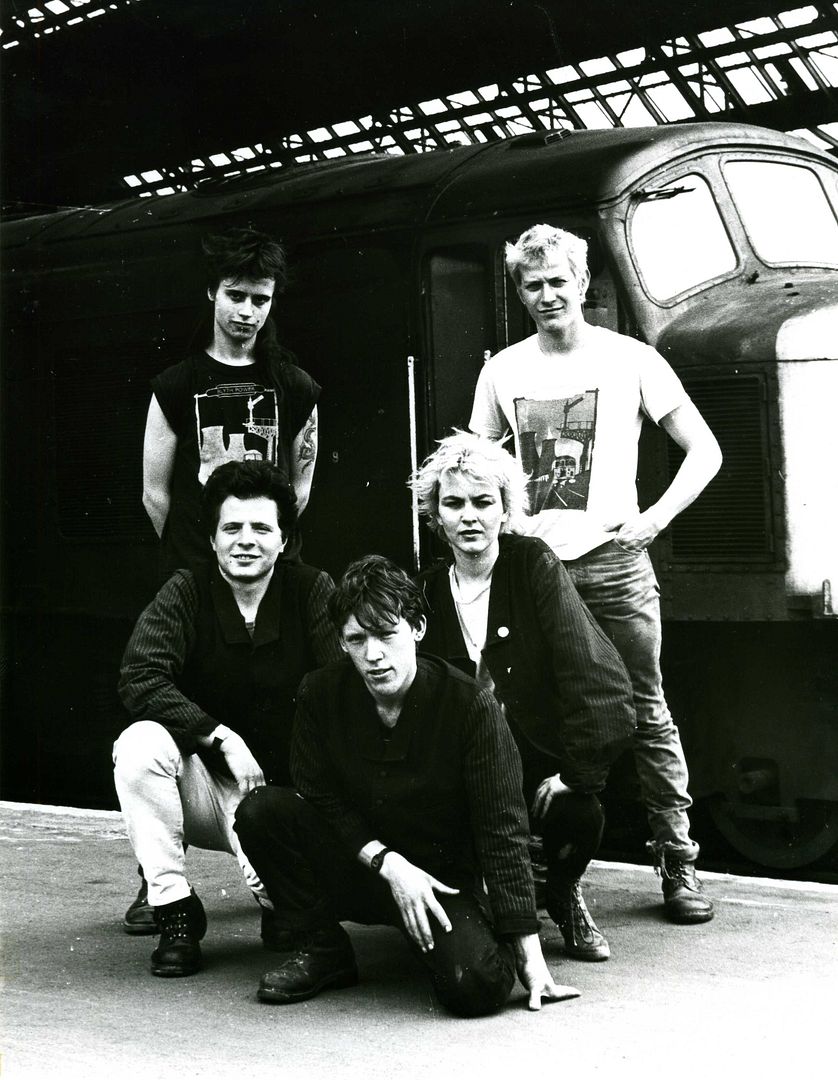 The debut album by Blyth Power was recorded between the 12th and 20th of December 1986. The last Blyth Power public performance with the line up (that recorded every Blyth Power record that was released on All The Madmen records) was a riotous affair at the Sir George Robey in Finsbury Park on the 18th December.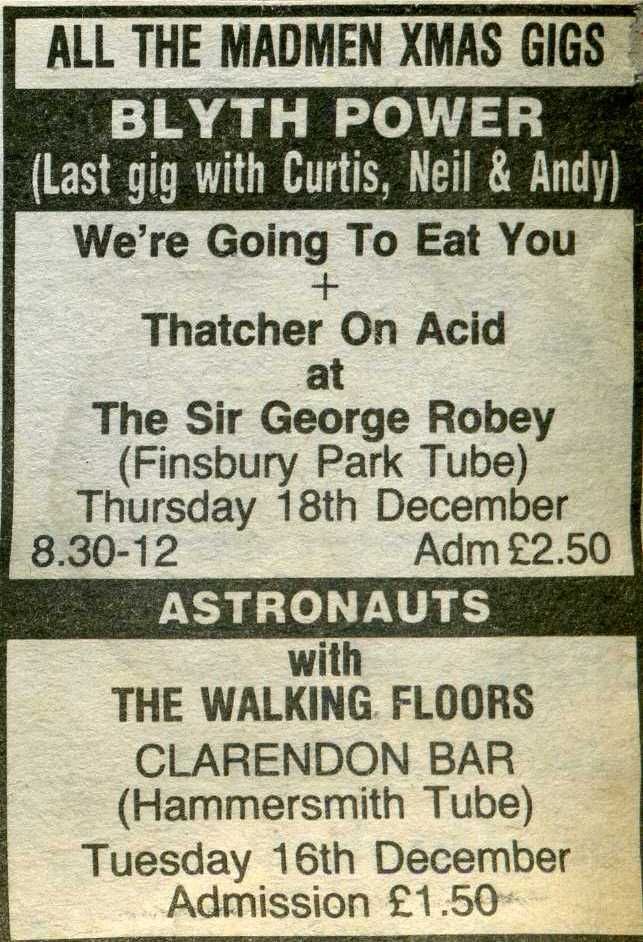 The set was around an hour and a half of good natured fun. The Sir George Robey was absolutely bursting with supporters and friends of the band that night. A gig that I will always remember with fondness, and also special to me personally as it was my 'birthday' gig and Josef made sure the crowd knew via the microphone half way through the set. A video of this last performance still exists. I still own it. I still own many other Blyth Power gigs that were filmed from 1985 to 1987.
Towards the end of 1986 there seemed to be some stirrings in the Blyth Power camp that something was just about to change. Myself, while only just a minion at All The Madmen records over the last year or so could feel something was in the air.
That 'something' ended up in tensions at the Brunel University gig in Uxbridge, where a drink fuelled Curtis was having a day off from driving the band around in his Commer truck for a change. J.C from Brougham Road in Hackney took all of the band, All The Madmen staff and a few others to the gig on his converted coach. I recall that Curtis was in a particularly weird mood even urinating out of J.C's coach door when the traffic jam delay got too much. Hope the car next to the coach did not mind!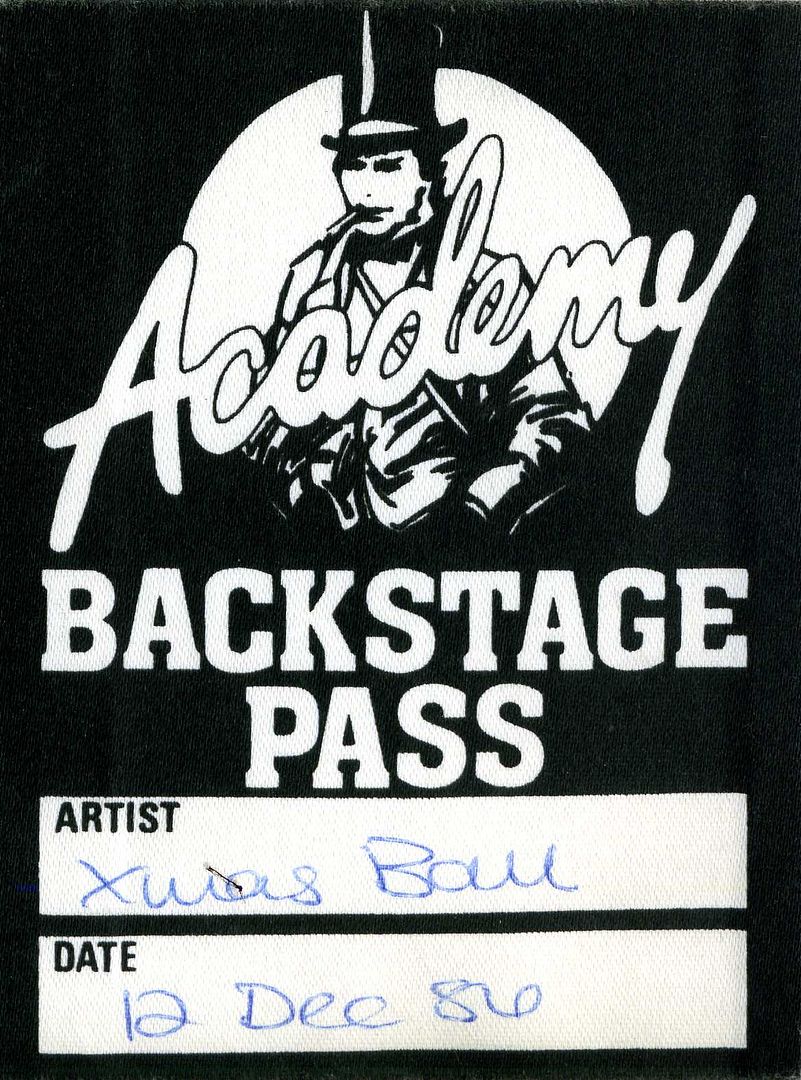 This gig in Uxbridge was on the 12th December, the first day of the sessions that created this debut album that is uploaded tonight. Curtis, Neil and Andy all knew that they would not be in the band two weeks later.
The gig itself was an end of term Christmas party with chart bands, Then Jericho and Men They Couldn't Hang also on the bill. The crowd who were present for this students only party were clothed in all kinds of finery, top hats and tails for a few of the male students. Barbie doll outfits for the ladies. It cost £12 for the students to gain admission to there own party, an entrance price that was very expensive in 1986. This gig was certainly going to be a battle as the band, myself and others all turned up in all their Brougham Road Hackney and Latimer Road Freestonia finery clashing slightly with the seemingly strict dress code of the night. No one in attendance at the gig, save for the kindly folks that hitched a ride on J.C's coach knew who Blyth Power were.
Blyth Power went on quite early at the Brunel University student ball. Curtis was for some of the band's set leaning against the stage wall for support. What surprised me at the time was that he could still perform bass duties adequately. Not brilliantly but adequately which was good enough for this audience! Blyth Power were surprisingly well received, proving if nothing else that the Brunel University students were at the very least polite even if they knew nothing of Blyth Power, which of course they did not!
The dozen or so Blyth Power supporters that did sneak into this end of term ball which was, as stated above, for Brunel students only, all felt a slight dread on whether Curtis would be OK to get back on the coach after Men They Couldn't Hang got halfway through their set. To be honest I was also a little worried. Thankfully I cannot recall any further drama that night on the way home while on J.C's coach.
My cassette tape of this whole gig at Uxbridge which was recorded via the mixing desk can be listened to in  in the link below.
Stand Into Danger / Some Of Shelleys Hang Ups / Probably Going To Rain / Goodbye General To Lose / Coriolanus / Probably Wont Be Easy / Caligula / Hurling Time / Marious Moves / Ixion / John O Gaunt / Folsom Prison Blues
The members of Blyth Power obviously fulfilled their recording commitments for that week, heavy heads or not, or this album would not be in existence. It was recorded in what must have been a difficult time for the band and no doubt for Josef in particular, who had originally issued the three members of the band their marching orders for whatever reasons known to him and the individual band members.
The Sir George Robey performance, six days later on from Uxbridge which was to mark the end of this line up went without a hitch that I can recall, and all members of the band seemed a little more at ease. Several songs were performed twice, the encores went on for what seemed like half an hour. An absolutely magnificent bow out by the band on top of their game, to an absolutely full venue of ecstatic followers and friends of the band.
How could Josef follow that?
By enlisting the help of fellow Latimer Road, Freestonia soul Protag. Infamous soundman for Meanwhile Gardens and many other alternative venues including the Rosebery Avenue Peace Centre. Protag was a sometime member of Alternative TV and also performed with his own D.I.Y band, Instant Automatons. Steve Corr was an old Glover Walk Yeovil-ite who was known to Josef in the days of early Somerset scene. Steve was involved with Idiot Strength, and in fact still is. Sian Jefferies was an ex member of the Lost Cherries who backed up Josef on vocal duties, along with Sarah who was not culled from the old line up.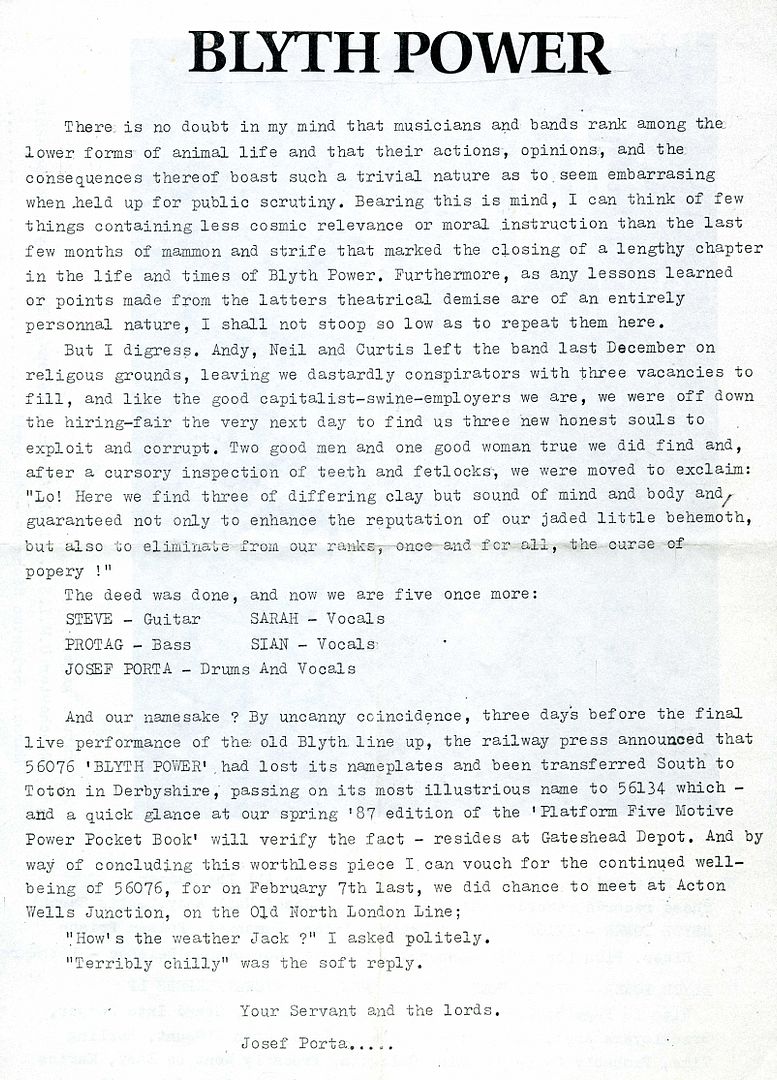 This new line up of Blyth Power were together in the new year of 1987 and performed the first gig on the 3rd March at the venue the old band bowed out of. The Sir George Robey, supported by Hysteria Ward. The next gig was at Stevenage Bowes Lyon House with Culture Shock on 28th March, the third gig was held on the 5th April in Brighton at The Richmond pub.
On the 6th April 1987 this debut Blyth Power album was released to the world. The album by the band that were no longer with us in physical form. But that earlier line up of Blyth Power was out there in the public domain never the less!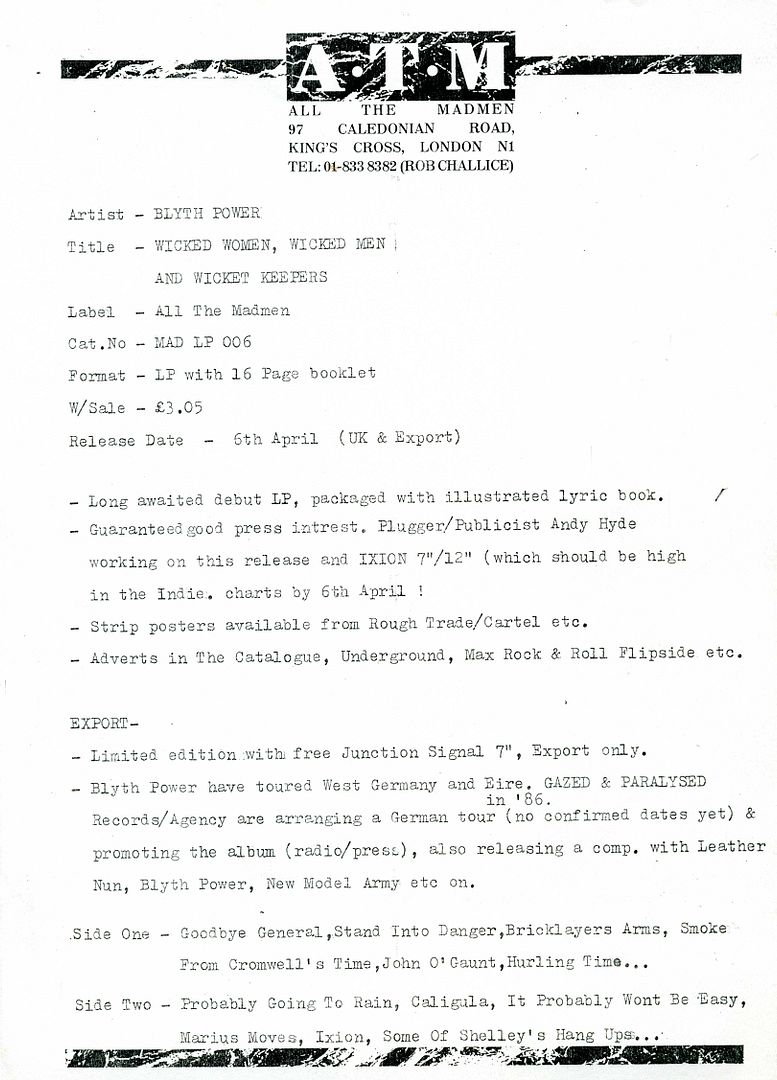 The album had a fair few live favourites amongst tracks already recorded by Protag at Brougham Road in Hackney that appeared on the 'Little Touch Of Harry In The Night' cassette. This cassette was released in 1985 on Rob Challice's 96 Tapes and was the official start of Blyth Powers musical career on any format.
Two tracks on the album that had previously never been recorded or released officially were 'Marius Moves' and 'Ixion'. Both tracks seemed, to me at least, to be songs that Josef had written to burn bridges with his old life of several years previously. The subject matter seem to be a canon shot to the 'Stop The City' demonstrations of 1983 and 1984 and also to Mark from The Mob respectively. Of course Josef's lyrics are so rich with texture, mixing historical figures in a present day setting, and generally so hard to decipher that I might be completely wrong. So apologies if that is the case. Either way, by the time this second Blyth Power line up was up and running and picking up speed there seemed to be a lot less 'Blyth Power ex Mob' stamps and / or statements on gig posters and flyers which I think Josef would have felt more comfortable with.
Interestingly though, this debut album by Blyth Power was released on the same day as the birthday of Mark from The Mob! I am not sure if that was purely coincidence or whether it was planned as a snipe towards Mark from The Mob but there you go! One for the cultural conspiracy theorists to mull over. I will settle for coincidence!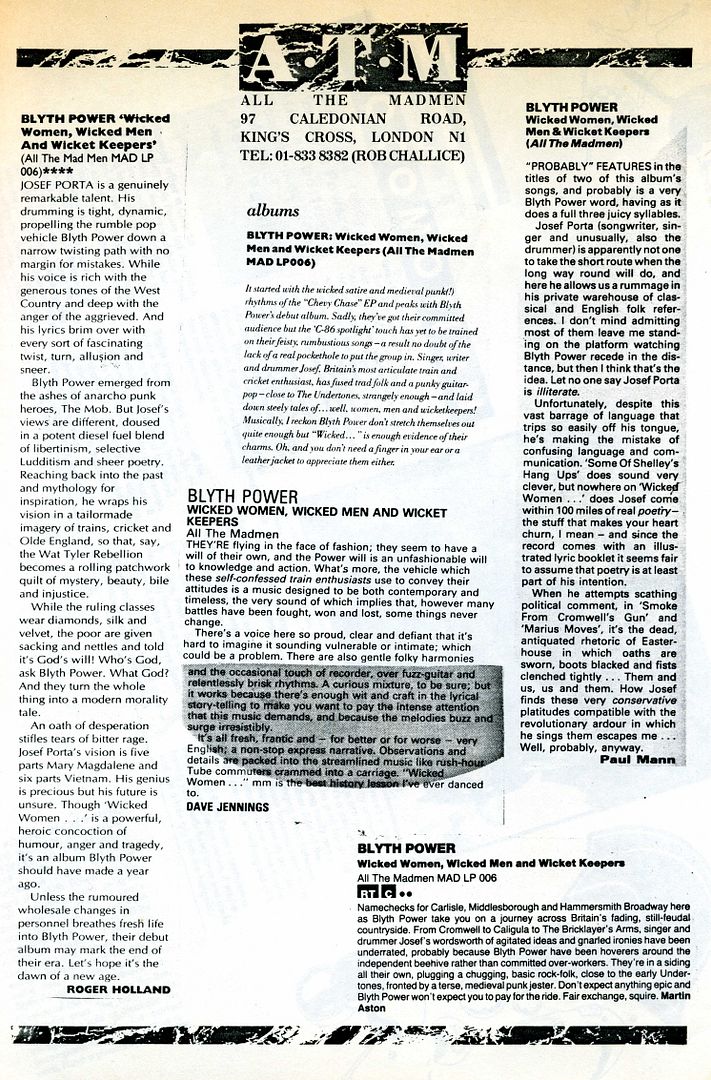 The record was released to mainly positive press reviews and sold well. My main input to this album was quite small, stapling the booklets together for the first run of green sleeved albums. The second pressing of this Blyth Power album came in a blue sleeve and had the booklet in a poster form, much to the increasing thanks of my two hands! I also went up to Utopia studios in Chalk Farm with Sean 'Gummidge' and watched the first treatment and cutting of the metal plates that were then taking along to the pressing plant for mass production. Well 5000 copies of production! I packed an awful lot of copies into mailers to send to press and to customers of the mail order side of All The Madmen.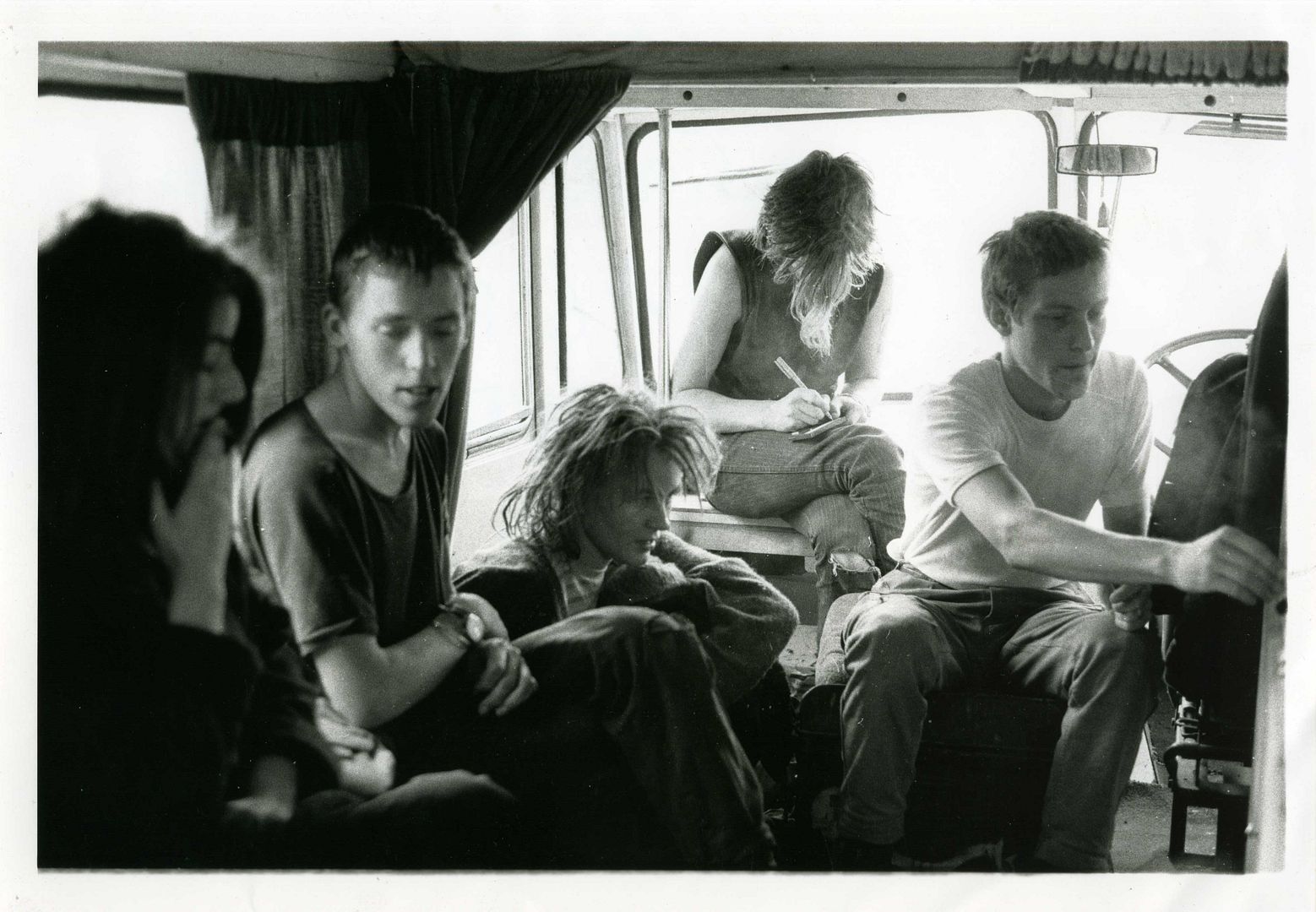 The record itself?
A decent attempt recorded in difficult circumstances with over half the band soon to be booted out to touch. I like the album. It served a purpose to get the current live set by a popular band (and Blyth Power were a very popular band in 1985 and 1986) onto a 'grown up' format, as opposed to the two 12″ singles put out on All The Madmen records prior to this release and the two tapes that were released cheaply on 96 Tapes and Sean's 69 Tapes.
Blyth Power during the mid 1980's were exceptionally good live, and because of this fact on record the band suffered to a certain degree. I still feel that the 'Chevy Chase' 12″ single is my favourite release by the band. Stating that though I played this album (and the cassette that featured four of the songs that was sent to press prior to the album being released) to death at the time so I obviously felt it was a fine piece of work back then. Listening again now I still get thrown back to those years in the mid 1980's. In hindsight I would have left the harmonica off 'Some Of Shelleys Hang Ups' as it feels and sounds a little forced.
All The Madmen records went on to release one more record by Blyth Power. 'Ixion' was released on both a 12″ and a 7″ format around the same time that the album was released in 1987. This track, as well as the B side, Emmanuel and Folsom Prison Blues, were of course, recorded by the original line up during the December 1986 sessions.
The single version of 'Ixion' ended up being featured on Radio One which you can hear on this old KYPP post HERE
That was the end of Blyth Power's All The Madmen days. Josef signed up with Midnight Music (a label that had Robyn Hitchcock And The Egyptians on it's rooster so was used to quirky English bands) and all the recorded works from the second and subsequent Blyth Power line ups until 1991 were released on that record label.
All The Madmen records were disbanded in the spring of 1988, I went onto form King Penguin Distribution, Sean went onto form Rugger Bugger records and Rob Challice went onto work for Michelle Shocked and then became a promoter in his own right.
To listen to the other Blyth Power records on All The Madmen records please go to this old KYPP post HERE
I collected all the Blyth Power records up until the last Midnight Music release, the 'Guns Of Castle Cary' album. Blyth Power both live wise and studio wise were under my radar during the remainder of the 1990's. This radar started to work again in the 2000's where I have become reacquainted with the newer versions of Blyth Power. I have witnessed about a dozen performances throughout that period. Placing that in perspective though I witnessed Blyth Power over a hundred times throughout the mid 1980s's!
Blyth Power are still working and next year in 2014 will mark the thirtieth anniversary of the bands formation in 1984. There are plans afoot to release a special CD for the occasion of three decades of Blyth Power which promises to be a wonderful statement. One problem though is that Blyth Power are not as well off as say, Snoop Doggy Dogg, so the band have devised a way we can all help in the production of the eventual CD.
To help with the financing of Blyth Powers thirtieth year anniversary CD please go to this Kickstarter site HERE and pledge what you would like to offer. Thanks.
All photographs and assorted press releases and posters from Mickey Penguin's collection.