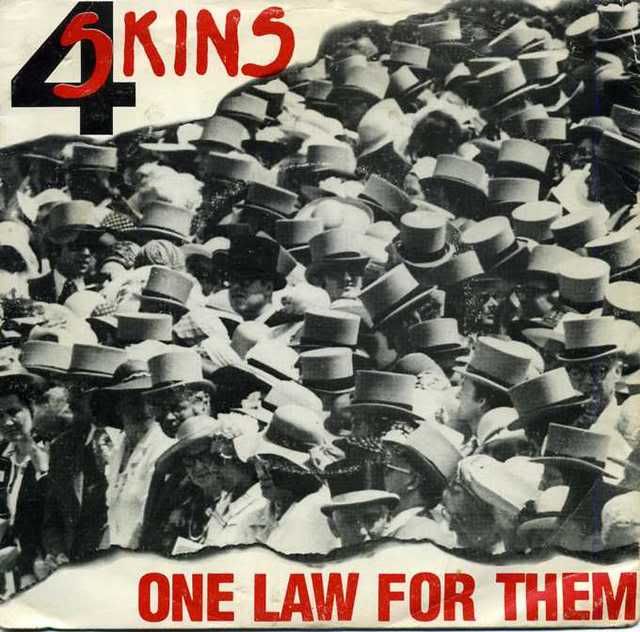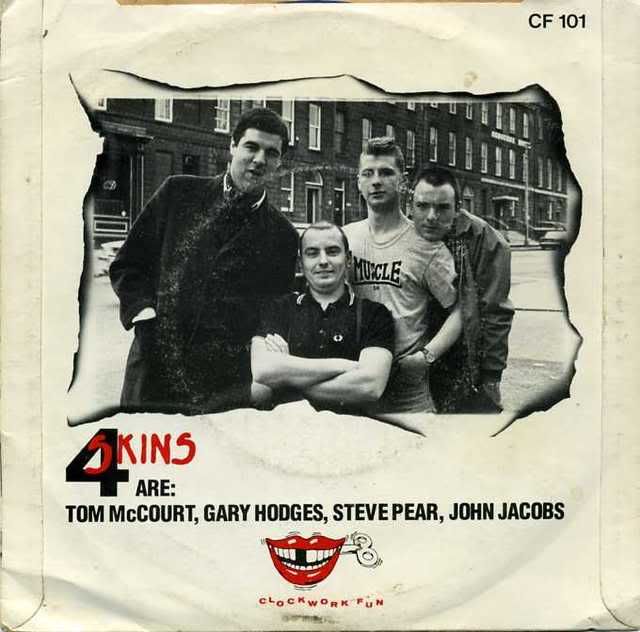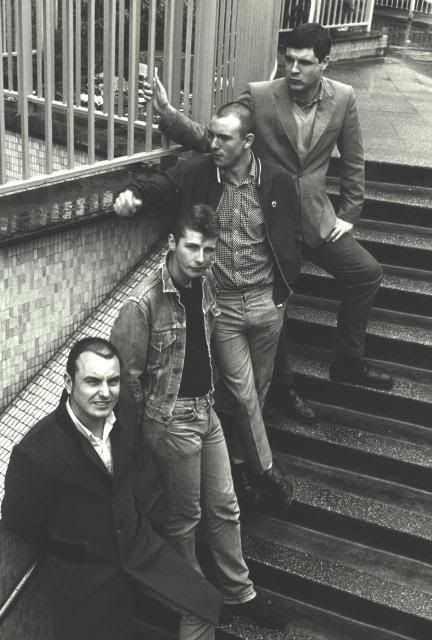 Oh dear, what have I done?
Uploading the 4 Skins debut 7″ single on St George's Day of all days!
I can feel the backlash already writing this piffle, and myself having to explain that I am in fact, not sympathetic to the lowest common denominator in 'Street Punk' or as Bushell lovingly called the small movement around the late 1970's and early 1980's, 'Oi!'.
The lowest common denominator meaning extreme right wing politics, and extreme macho stances outside off licence's and inside gig venues all over towns,  all over the country, with boot soup as standard fare.
This band claimed "not guilty" on the charges above, and there is no doubt of the extremely powerful performances on both sides of this debut single, a single that was released just before the band's most publicised split. The single was released shortly after the Southall gig with Last Resort and The Business in support. This gig in Southall ended up in the pub venue being burnt down by some members of the local community, and fighting spreading onto the street until a full scale riot took place, making news headlines in all the media outlets at the time, all over the world.
The single although being made 'Single Of The week' in Sounds (where else?), sold poorly due to failed distribution. Not many copies got into the shops to be sold into the hand's of the public. Not many shops took the risk of stocking it.
Gary Hodges the gravel voice vocalist, left the band, which I guess could be considered admirable in the context of what had happened on that night in Southall, never (to my knowledge) to bother with fronting a band again. The guitarist also upped and left the band.
Though the band claimed not guilty to anyone who would listen, in media circles, with regards to the various bigoted views allegedly held by the band, including racism, many members of the band's audience were (I am in no doubt whatsoever) either, paid up racist party members or extreme hardcore hooli's for various football firms.
I guess the 4 Skin's got judged on the company they kept, and continued to keep through various other lesser line up's of this band through to the mid 1980's, line ups that I know next to nothing about, and own nothing on vinyl or tape.
Feel free to slag off this post, I reckon a few eyebrow's will be raised as it is not really KYPP material. It is a great single though, and the fact that two members left the band and distanced themselves somewhat from the Oi! scene during the Southall aftermath, to me speaks volumes of those specific members of this band.
Then again I could be mistaken and will no doubt be corrected if this is the case…