Biafra / Target / Mr Disney / War / Subvert / Dancing / Time / Fear / Dymystification / My Mummy's Gone / More Trouble / Can't Cheat Karma / This Land / War / New Band
A crisp mixing desk recording of a performance on one of the Brougham Road eurojaunts. Zounds headlining in Eindhoven taking along them The Mob in support. By a strange quirk of fate both these bands performed together in Bristol last Friday, near on thirty years later than this gig uploaded tonight…Phil from Not So Brave records gave Mark Mob this tape at the Bristol gig and Mark lent it to me to record and place up for the KYPP browers.
Tim Hutton, soon to join Zounds was the drummer for The Mob at this gig, and Not So Brave records of Belgium had something to do with setting this concert up, but I will double check that fact and amend if necessary. According to Mark, the gigs in Holland and Belgium would always have a gang of speed dealers turning up to every performance which generally set the tone of all those short tours.
The live photographs from Holland are from the personal collection of Jen Jen, sister of Mark Mob and then girl friend of Tim Hutton.
Text below taken from the Zounds interview by the late Lance Hain from Maximum Rock And Roll magazine.
Gates Of Hell / Shuffling Souls / Cry Of The Morning / I Wish / White Niggers / Youth / No Doves Fly Here / What's Going On? / Witch Hunt / Slayed
While much of the anarcho punk movement at the start was referred to as being "hippy punk" or "peace punk", the terms usually were meant in defining ideology and practice. But within the traveler scene that had been developing for some time, there were musical bridges being created with punk bands like Alternative Television and hippy bands like Here & Now. For Zounds, the mesh of musical ideas had more to do with the psychedelia of the '60s rather than the acid rock of the '70s.
Steve, "The very earliest incarnations of Zounds were really in to psychedelic San Francisco bands. We were also in to Can, the Velvet Underground, lots of weird stuff, the early Mothers of Invention. The Byrds, the Beach Boys, the Beatles… We were really into music. That was always the thing with us. I really got into Patti Smith early on, things like "Piss Factory". The early punk stuff that was inspirational was stuff like the Fall, ATV, Patrick Fitzgerald, Buzzcocks, and American stuff like Pere Ubu and Television. But we were never trying to emulate anybody; we were trying to find ourselves through music… I think Robert Smith was also kind of marrying the weird and unusual with a pop sensibility, which I think characterizes Zounds in many ways."
But Zounds were coming to both musical camps without prejudice to either side. While many eventually identified them as a punk band, their connection was one of camaraderie rather than of punk's rank and file.
Steve, "We never saw ourselves as anything. But I personally felt very connected with the concerns of punk. The day Anarchy In The UK was banned and withdrawn by EMI I hitchhiked 300 miles to buy a copy. It changed everything and at last people had the courage and audacity to just get up and say, yea we are fucked up, but it's our world too and we are going to do what we want, even if we've got no resources. It wasn't unprecedented but at last people were sitting up and taking notice.
"I was never into the ramma lamma, identikit punk thrash sound that soon took over punk and was very tiresome and unimaginative. What was good about it was the scenes that started up all over. The metropolitan London glam-punk scene was nothing really. Just the usual old trendy, fashion crowd trying to get their pictures in magazines. That is the current official media history of punk; that it was all about these London trendsetters. But, there were more interesting things happening at the margins as usual. Us in Oxford, the Mob in Somerset, The Astronauts in Welwyn, The Instant Automatons in Hull… A whole load of weird, idiosyncratic bands creating their own lives and scenes and music."
The Free Festival scene of the '70s in England was the perfect incubator for Zounds. Drawn to the scene both by the politics and the desire to play, they found themselves entrenched in that gray area of hippies, punks and activists.
Steve, "Well Here & Now were doing Free Festivals and free gigs and seemed to be much more politicized than other bands, this of course was slightly prior to punk. There was a kind of radical hippie tradition that included Hawkwind, Gong, and The Pink Fairies centered around Ladbroke Grove. The Pink Fairies were influenced by the radical politics of The MC5 and Jerry Rubin and the Yippies. A lot of future punks lived amongst this Ladbroke Grove hippie scene. Joe Strummer lived next door to Here & Now and there were people like the Slits. Everyone was getting into Reggae at that time and there was a lot of interest in Rasta."
As the punk scene began to grow, they became more and more involved with the Free Festivals setting up tours and carrying on the tradition with other punk bands.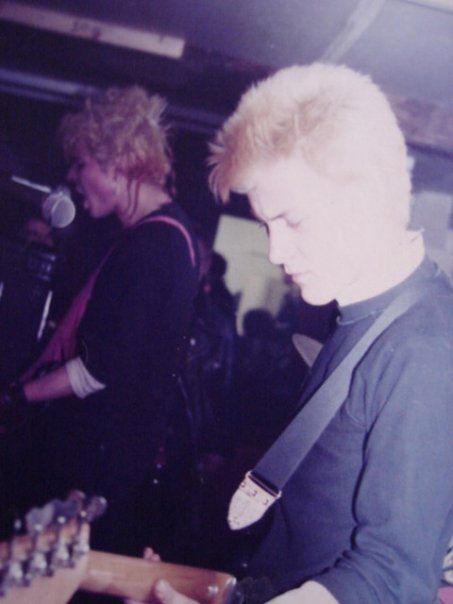 Steve, "Here & Now championed the free tours and us and the Mob dug the idea and met each other through them. We carried on the free tour idea by starting the Weird Tales tours, Zounds the Mob and the Astronauts, and of course the legendary Jonathan Barnett who was an inspiration to us all."
Through the free festival scene as well as Here & Now who were very involved in the regular details of those events, Zounds were introduced to the Mob, a band they would tour with and develop close ties with.
Steve, "We had met the Mob and had done a couple of tours with them and some other bands. And through them we met Joseph. We met the Mob at a thing called the Dursley Seventh Vale festival. And a guy called Jonathan Barnett put a tour together with us, The Mob, the Astronauts and the Androids of Mu. We all kind of were on the fringes of the Here & Now free music scene and were under the influence of their ex-drummer, a guy called Kiff-Kiff who was an amazing guy and went on to limited fame in England with a band called World Domination Enterprises. He and Jonathan Barnett put together this outfit called Fuck Off records, and us and the Mob put out tapes and stuff through them. We all hung out round Ladbroke Grove and Shepherds Bush. There were loads of gigs at the Acklam Hall and round West London. Then we did these mad free tours. During which we met Crass and Zounds dwindled to just Lawrence and myself."
As much as with Crass, Zounds would forever be linked with the Mob from then on.
Steve, "I think we met in 1978. We toured with them, lived in houses and buses with them, had the same drug dealers and slept with the same people. Despite that we were never really close."
Another band at the time were the Astronauts. More closely merging the musical ideas of punk and hippy, the band still maintains a bit of a folk edge mixed with anarchist politics.
Steve, "The Astronauts were a weird band who had a very punk sensibility but didn't play punk music as such. They still do a lot of do-it-yourself/fanzine type gigs. I sometimes play on the same bill as them at the more alternative venues we do. Us and the Mob were always big fans of the Astronauts and they were the other main band on that scene. A lot of the other bands were kind of noise terrorists, like the 012 who later became World Domination Enterprises. Yea all those early tapes were on Fuck Off records or one of its illegitimate offspring."
An engine breakdown on the last free tour led them to their first meeting with Crass. While operating separately in the same small ideological and physical space, the two groups had never met despite similar ideas and practices.
Steve, "While on tour we kept playing places where Crass had just played or were about to play. And people kept saying we should meet them because they detected some sort of similarity in something.
"So we were playing near their house and we thought we would just visit them. But our bus broke down and we walked to their house across this weird submarine tracking station and they entertained us, we got on like a church on fire and they came and fixed our bus. They liked us, though I think they saw us as quite naive, naughty children who had their hearts in the right place."
Whether or not that was the case, the meeting had a huge impact on Steve and Zounds. Crass deeply impressed him as people and how they lived. It ultimately would give Zounds a direction that had previously been missing in lieu of the comparatively casual path they had been organically following.
Steve, "Well I was tremendously impressed by all the people in Crass. They were really funny, very intelligent and had very powerful personalities. I admired their analysis and commitment and knowledge. But generally I remember just going round to their place and chatting about stuff and having a laugh. I liked them a lot, and am very fond of my memories of them."
That night ended with discussion of possible future projects together. While mostly talk, it left Steve and Lawrence with the idea that they would record a demo tape to send Crass. But by the end of the tour, they as well as the Mob were somewhat defeated by the grind of maintaining that type of idealistic free tour.
Steve, "Apart from meeting Crass that last 'Weird Tales' tour had been grueling. The Mob split back to Somerset and Zounds lost a guitar player (Nick Godwin) and decided to chuck out the drummer. After we did the demo we asked Joseph to join, he had followed the Mob up to London but didn't follow them back. Joseph had been playing in a mod band at the time but we liked him and knew he was committed to playing music. He sort of looked like a punk too, which Lawrence and I didn't. Anyway Crass liked our demo and asked us to do the record on their label."
Joseph, "I joined just after they met Crass, and were presumably streamlining the band accordingly. I was drumming with a band called The Entire Cosmos, which featured members of Here & Now's road crew, and we did some of the Weird Tales gigs."
With this new lineup, condensed to a three piece, the side of the band that lent itself to open-ended jams fell to the wayside and the more song-oriented material became the make-up of the band's set. While in some ways it was turning the band into something new, it was also working on material more suited to the new lineup
Joseph, "I moved to London to play music. I'd been drumming for Attitudes for about a year when Zounds asked me to join… All the jamming stuff ended then. It was pretty much down to short sharp songs, a lot of which were never recorded."
At this stage, the band was living in the squatted area of Brougham Road. The block of squats would become home to them and eventually the Mob. But like many of these situations, it had a self-determined time limit.
Steve, "Zounds lived in Brougham Rd which was a squatted scene peopled by old anarchists. They started to move out so we moved the Mob in and soon after came hoards of teenage runaways and the whole thing deteriorated as these things always do. It was really no different to all the scenes all over the country/world."
With a new set of material worked out, the band met with Crass in the summer of 1980 to record their first single. Spending time with them out on their farm became an eye opening experience for Joseph who was still developing his own political ideas.
Joseph, "I had no intellectual concept of anarchism when I joined Zounds. I had a vague awareness of a lot of slogans, and a great fondness for cannabis resin. Steve on the other hand, while endorsing the latter, had a better grasp of the former. I didn't care. I just wanted to be in a band."
Oddly enough, it was the discipline of Crass' anarchism that made an impact on Steve.
Steve, "We were in a different scene entirely. Much more untogether. We were all a quite a bit younger than most of Crass. Us and the Mob, the Astronauts, the Androids of Mu, Here & Now, the Fuck Off Records crew, Grant Showbiz (who went on to produce the Fall and Billy Bragg and work for the Smiths). There were gigs on the Portobello Road, Ladbroke Grove. A lot of free festivals (which is another huge story in itself). Crass and Poison Girls were quite insular and very much in control of their scene."
The recording process became as much Crass' project as Zounds'. Their control over the production work on the record extended to having a session musician brought in to play Joseph's parts!
Joseph, "Simple. I wasn't any good. While I was with Attitudes, they kept my drumming disciplined, but once free of that, and into the more laid-back atmosphere of Zounds, I regressed into a clattering nuisance. Penny, who cared passionately about production, didn't want to release a record with out of time drums on it. He was right."
Years later, Joseph is surprisingly ambivalent about his replacement on their debut record.
Joseph, "None at all. It's one less gruesome skeleton in my cupboard."
For their first proper recording session, the band was in for an odd experience.
Steve, "It was a bit weird. We did it at Southern Studios, which was owned by Crass' business manager John Loder. At that time the studio was in his house and the control room was in the garage.
"Was there any pressure internally or externally to conform to a sound or style of Crass? They chose the songs from our repertoire. We played it and Penny and John did all the recorded and produced it. To some extent they directed the performances, particularly my vocals. Crass the band, and the Crass label were both Penny's babies really. He was the man with the vision. They made us use a session drummer who played Joseph's part. That was difficult to take as authenticity is quite important to me. After the recording they mixed it without us there and brought it to us for approval."
The layout for the record was a simple black and white (like most of the Crass releases) with typewritten text and inked images including a fold out poster.
Steve, "Crass were a band who wanted things done a certain way. They had a vision and they were not into compromise. Which is not to say they were unreasonable, but if you wanted to work with them then obviously it was on their terms. Nobody forced us, or anyone else to do it. And anyway we liked them and dug what they were doing. We were happy to be associated with them. So they designed the cover, wrote the blurb and we wrote the songs and played them. Lets face it the main reason it sold so many was because of the association with them. If it had just come out anonymously maybe it would never have been heard.
"Ironically I think that Crass were an early example of what is now very fashionable and significant in western culture. And that is the whole total corporate identity. They were one of the first to have that sense of 'total image'."
With the release of their first record on the label run by one of Britain's premier punk rock bands of the time, Zounds found themselves playing out to a much more enthusiastic crowd newly made aware of the band by the one single. The band also began connecting more with the young anarcho punk scene by playing gigs with Crass. The cross pollination would continue with the Mob eventually recording for Crass as well.
Steve, "After the record came out on Crass we did some gigs with them. They were great live. Especially when they had all the video monitors and banners and stuff. But actually it was more like a cross between some dubious political rally and a dark Brechtian theatre. Much better than on record.
"But our scene was less earnest and less developed. People coming to our gigs were kind of more bohemian than a lot of Crass' audience. Other squatters and hippiefied punks. When we got our record out it expanded the audience, and outside of London there was a lot more working class kids who lived with their parents coming to the gigs."
Joseph, "We didn't see them often, but they were always very friendly. I was too young really to understand most of what was going on then though, and probably too stoned as well to take it in."
While always a bit cautious, Zounds found themselves apart from the traveler / hippy scene that they came from and in the middle of the anarcho punk scene. As is well documented, attempts at merging the two scenes had mixed results.
Joseph, "We almost played Stonehenge in 1980. We were just getting onstage when Bikers took over the generator, and decided to ban Punks from the stage. That was crap – that was the reality of Anarchy in the UK. Stonehenge was just about taking lots of drugs. That's the only reason most people went there."
But even in their new scene, Zounds found themselves in a scene at times more anarchist by propaganda then by deed.
Steve, "Ironically there was a very strict hierarchy in the Crass camp that was acknowledged but accepted. Crass at the top, Poison Girls were their second in command and Zounds, Flux and the Mob were favored subjects. But in all honesty that was about right because Crass were phenomenally popular far beyond the Anarcho scene. Their significance has never been fully realized to my way of thinking.
"Outside of the Crass thing when we were gigging a lot with the Mob their was a lot of sharing and co-operation and working together. But I think there were definitely less benign forces at work below the surface. There were definitely jealousies and petty backstabbing going on. But I prefer to remember the good things, though that can be difficult sometimes."
The band continued to exist mainly as a live act. Tours with Crass and the Poison Girls made them take more concern about their actual performance and the result was some of their best gigs.
Steve, "The Acklam hall in Portobello Road was a legendary gig and Zounds and the Mob and the Astronauts did loads of free gigs their. That was where we really got it together as bands.
A short tour with Crass and Poison Girls and Zounds in 1980 really inspired me. I realized we were just fucking about until then. It really made me think a lot more about how we should be on stage. Zounds always loved playing in Holland and Belgium most though and the best was playing in 1981 in Berlin in the heart of the anarchist/squatting quarter called Kreuzberg They were brilliant gigs, fantastic audiences and we were really happening on stage at that point."
With the one off single with Crass helping to establish the band nationally, they struck a deal with Crass' old label at Rough Trade. This relationship would last the band through most of its recording career.
Steve, "'La Vache Qui Rit'. By the time that came out I had pretty much lost interest in Zounds. It is undoubtedly our worse record, I wish in some ways it had never come out. Its genesis and history is actually more interesting than the record itself.
"It was put out by a very, very good friend of mine Phil 'The Terrible' who is a beautiful guy and still a close friend. Originally it was supposed to be a double release with us on one side and The Mob on the other, and it was supposed to be a benefit record for a draft resistance campaign in Belgium (my favorite country by the way). The Mob was going to do a version of "No Doves Fly Here" in French. That would have been good; Mark always had a lot of style for a farm boy. (In fact as I perform a lot of songs in French myself now I have considered covering it that way).
"Anyway the Mob never got it together and I don't know what ever happened to the draft resistance angle. We went ahead and did it anyway."
Steve, "It wasn't planned. On our final European tour someone recorded the gig in Leiden in Holland. And the guy who was putting the record out asked if he could put two live tracks on and make it an E.P. We just said do what you want. So he did. I was really ill at that point. Just exhausted by everything. We were cold all the time. We were staying in squats with no water and inhabited largely by speed freaks who never slept. The van kept breaking down. The whole Zounds/Mob scene was riven by petty jealousies, conspiracies and bad blood. I had just about had enough of it all. The song 'Wolves' on that EP was a really old song we had done before Joseph was in the band. Tim who played bass with us on that last tour and persuaded us to play it. God knows why. I was past caring."
In that kind of atmosphere, it was obvious to all parties involved that there was little remaining interest in the band internally. Burned out by the grind of touring in harsh conditions was becoming a drag. The high points of touring at that stage were equaled by the lows.
Joseph, "Cheap and Nasty, from Leiden in Holland were pretty unforgettable. The Androids of Mu were friends – I think – of Here And Now. I know their drummer, Susie, was one of Here & Now's singers at one point. We also toured with Theatre of Hate, which was pretty awful…"
Steve, "On that final tour of Europe. Lawrence just said to me one day that he thought it was all a bit of a drag and he and I should do something else that was musically a bit more adventurous and a bit more fulfilling than churning out "Subvert" for ever more to people who really didn't want to hear anything different. Anarchists can be a conservative lot I've discovered. Flux Of Pink Indians had the same problem. I went along with Lawrence and when we got back we spoke to Joseph and it was clear he didn't want to do the same kinds of things as us and was much happier playing with his old mates from the Mob."
Steve's growing disaffection with the anarcho scene or any of Zounds' audience for that matter was also a heavy factor.
Joseph, "Basically, Steve's measured and intelligent approach to anarchism, and life in general, was lost on the anarchos, who didn't understand Zounds at all. I think Steve got fed up with that. My involvement with The Mob was turning me into a bit of a prat as well, and in the end I think we were all relieved when he decided to call it a day."