Bringing this post forward from August 2008 to today to celebrate the life of Poly Styrene who sadly passed away earlier today at the age of 53 from the cancer that she was diagnosed with in Febuary this year. Thoughts go out to her family and friends from all at KYPP online.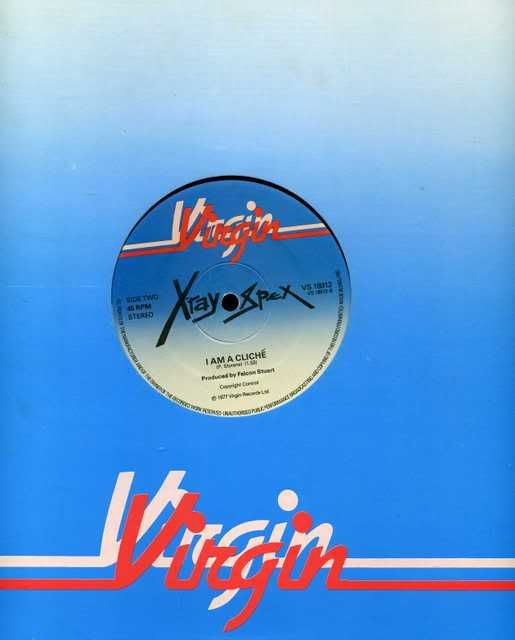 Just fancied putting this 12″ up on the site today, not sure why, just a great record I guess.
Fronted by vocalist and songwriter Poly Styrene (Marion Elliot), X-Ray Spex was a band which emphasized the lighter side of the UK punk movement. Rather than relying on anger and nihilism — not to mention lots of black — to get their point across, the Spex emphasized wit and mockery, wrapped up and presented in colorful day-glo packaging. The other members of this five-piece outfit included sixteen-year-old Lora Logic (Susan Whitby) on cheerfully off-key sax; bassist Paul Dean – yes, a different Paul Dean than the Canadian who formed the cheese-metal band Loverboy; guitarist Jak Airport (Jack Stafford); and drummer B.P. Hurding.
The Spex first became known to record buying public through their appearance on the Harvest label's 1977 live album The Roxy, London WC2, which was recorded at their second-ever live gig. The group then signed with Virgin Records in 1977, and shortly thereafter they released what is perhaps their best known recording: Oh Bondage, Up Yours. Surprisingly, despite becoming one of the quintessential punk catch phrases, the single never actually made any of the charts. This song was typical of what became their signature sound: screeching vocals and off-key sax chasing and baiting each other over a careening guitar-driven din, the lyrics cleverly worded outrage emphasizing alientantion, identity and rampant commercialism in an increasingly sterile and artificial world.
During their glory days, X-Ray Spex produced only one album (Germ Free Adolescents, released in 1978, made it to number 30 on the charts, but was not released in the United States until 1992) as well as a handful of singles, such as Germ Free Adolescence (number 19 on the charts), The Day The World Turned Day-Glo and Identity. However, Lora left to form her own band Essential Logic before the album's release. She was replaced on sax by Rudi Thompson, who used many of the riffs that Lora had originally written in the recordings, and X-Ray Spex went on to play at the Rock Against Racism rally in London on April 30, 1978.
The above text ripped off wwwdotcomnetdotca because I was basically feeling pretty lazy today. Thanks to them in advance if they find out also to sugarbuzzmagazine.com for the text below:
zmagazine.com 
Born in 1957, Marian Joan Elliot lived in Bromley, England with her mother, a legal secretary, and her father a Somaliland aristocrat. Growing up with mixed-race parents was difficult in a town where there was judgment. Packing up, they soon moved to Brixton in South London, where multi-culturism was booming in modern Great Britain, and a more accepting atmosphere.
Realizing at a very young age that she was destined to a life of non-conformity, there was a sense of ambition, adventure, fame, and financial independence that Marianne had a drive for. Following in her mother's footsteps in office work was not for her. At the age of 15, wanting to escape the world of mundane, she ran away to tour with the post-hippie rock festivals around England. This lasted 2 years then finally she returned home at age 18. This is when Marianne was first introduced to punk. Punk promised that you could be a new person, live a new life without boundaries, and to transform into whatever you wanted. She set up shop in Beaufort Market on the infamous King's Road. Using her punked-out trademarks with homespun couture, she spawned the new identity. Thus, Poly Styrene was born—and so was her new shop, "Poly Styrene." Her fashion was very immediate—an instant success. People recognized her overnight, wearing her style of bright colors and plastic clothes.
For Poly, there was a new sense of freedom. Where punk wasn't supposed to be logical, transcending labels and boundaries raised an eyebrow in shock value. This was about pushing the envelope, and it was here that she created her own stamp. It was an attractive package that paved the way for independence for her and into a new territory that gave punk and Poly strength–and a far cry from the mundane life of Bromley.
One day after picking up a day-glo tie at Poly's shop, The manager for, " The Man In The Moon," [now known as World's End Pub,] a local pub located smack-dab between Vivienne Westwood's shop, "Seditionaries," and Beaufort Market, had arranged to have X-ray Spex perform every Wednesday night.
Then in 1976, that same year, she ran an ad in the now defunct magazine, Melody Maker. Soon Poly Styrene was at the helm on vocals, Jak Airport on guitars, Paul Dean on bass, Paul B. P. Hurding on drums, and the 16 year old, Lora Logic, on saxophone. Hence, X-Ray Spex was born.
Their debut album, 'Germ Free Adolescents,' made them an overnight success despite the fact that they never took themselves too seriously. Within the perimeters of punk and new wave, Poly, unconditionally pretty, sported short hair, her trademark braces, and unusual plastic clothing style. She was well ahead of her time. Championing before the 1990's 'Riot Grrl' liberation that was spawned a good 20+ years later, focused lyrics on subjects of liberation, suffrage, her identity in a white society, and even anti-consumerism was creeping into the popular culture.
The combination of all the band members created an original and unique outfit. Poly, with her wickedly upper-register rallying cries, Lora's off-key amateur sax, Paul B. P.'s plucky bass, and Paul Dean's pop-beats on drums, along with Jak's Chuck Berry infused riffs, caught the attention of 'Virgin,' the major record label. Rapidly they built up a massive world wide following. Their debut performance was held at London's Roxy, with only 6 rehearsals in their manager's front room. So unique was their style, even John Lydon later praised X-Ray Spex, "…just not relating to anything around it—superb."
That infamous intro-cry in, "Some people think little girls should be seen, not heard…But I think, Oh Bondage, Up Yours!" was a lyrical write-up regarding slaves in all forms—"free from unwanted desires, that were desirable." It became a punk anthem and Poly became an icon. 'Plastic Bag,' and 'The Day The World Turned Day Glo,' created her signature fixation of all things man-made, with sarcastic and nihilistic tones. She sang about issues that concerned her, and yet wanted her lyrics to have some contemporary permanence.
Performing a blistering John Peel's Session, they managed a knock-out show at legendary NYC's CBGB's—making a deep impression on musicians such as, Blondie, Richard Hell and even later, Kurt Cobain. X-Ray Spex supported events such as, "Rock Against Racism," back in the 70's.
Finding herself at the center of much media attention and speculation, and the departure of Lora Logic, Poly became overwhelmed. The turbulent relationship between the band and her manager, the Late Falcon Stuart, [also was the manager for Adam and the Ants], had caused the breakdown of not only her band, but also her health. Regrettably, Poly claimed that she had been cheated out of years of royalties (which lasted in a 6-year battle), with the band to split in 1979.
f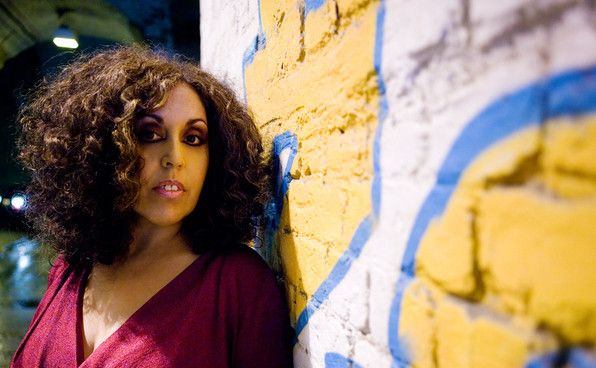 ce
Poly Styrene July 1957 – April 2011
s. Poly to become Maharani Devi in the Hareishna and  BP and Jak left to become Classix Nou