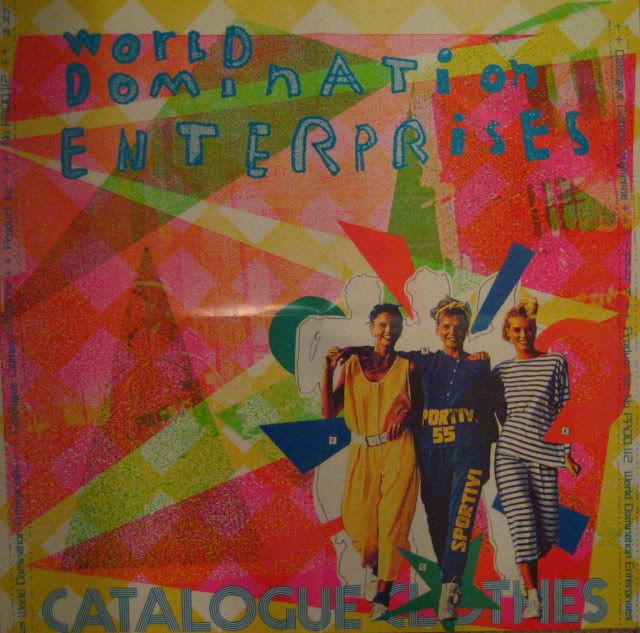 Had the enormous pleasure of witnessing this band several times in the mid to late 1980's and they rocked my world for real. All the more pissed off as I seem to have had the debut 7″ single 'Asbestos Lead Asbestos' stolen from my collection by light fingered mates no doubt, sometime between maybe 1990 (around the time when I last played it) and today. I tried to search it out earlier, could not place it, had a red mist moment, then slammed this 12″ single (the first W.D.E. release on Product Inc) on double loud (not really, baby sleeping) though loud enough. What a bummer.
Anyhow this band put together by Keith Dobson AKA Kif Kif, played some great loud, gritty, nasty rock and roll akin to bands like The Folk Devils or Screaming Blue Messiahs. But unlike those other bands, the ex Here And Now and 012 member knew the subtle touch of a reggae break, while no doubt existing in the squats of Ladbroke Grove and Latimer Road for many years. On tracks like 'Asbestos Lead Asbestos' or 'Hotsy Girl' the reggae bass peels the wallpaper off the walls if played loud enough. The basslines are that thick!
Text below courtesy of the band's myspace page.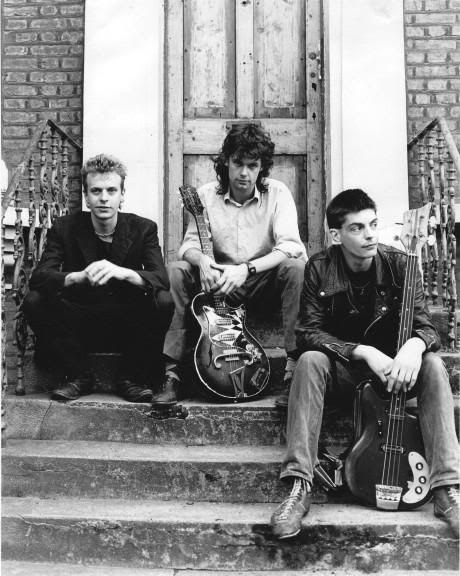 Undisputedly, THE hardest, loudest and noisiest band of all time…
Consisting of three members: Founder Keith Dobson on guitar and vocals; Steve Jammo Jameson on bass and Digger Metters on drums, World Dom came into being on Guy Fawkes Day 1984, and played their last show in May 1990.
Grown up on the streets of Ladbroke Grove in West London. A manifestation of the hard, crazy and colourful life of the UK's squatlands in Thatcher's heyday.
World Dom released only two albums, "Let's Play Domination" in January 1988 and "Love from Lead City" (late 1988). "Let's Play Domination" sustained a place in the top three of the UK Indie Charts and the band were featured on the covers of Melody Maker and NME.
WDE preferred the short sharp napalm attack of the vinyl single and released five of these, one in each of the last five years of the 1980's. "Asbestos Lead Asbestos" (1985); "Catalogue Clothes" (1986); "Hotsy Girl" (1987); "I Can't Live Without My Radio" (1988); and "The Company News" (1989).
The album "Let's Play Domination" is scheduled for re-release on Guy Fawkes Day, the 5th of November 2008, including extra extended mixes taken from "Love from Lead City". A CD release of all the singles, A's, B's and 12 inch mixes is planned for early in 2009.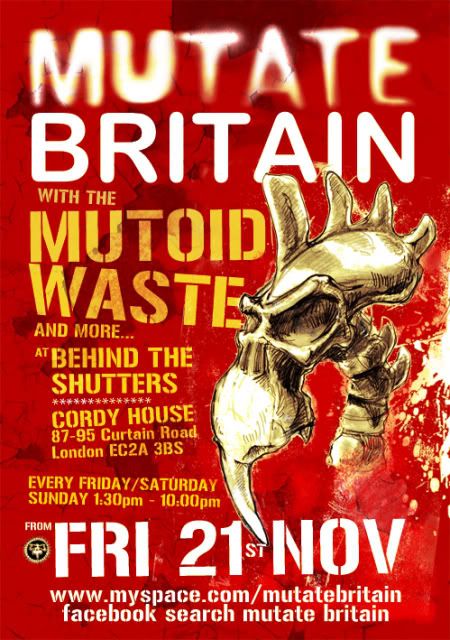 World Domination Enterprises performed at the Mutoid Waste Company parties at an old squatted bus depot down near York Way in Kings Cross during the late 1980's, so here is as good a place as any to advertise the Mutoid Britain parties being held in Shoreditch all the fridays, saturdays and sundays until the end of December 2008 at the same venue (look on the flyer).
Thanks to Min and Mark Mob for giving me the nod on these events – reckon I may get out of Penguin Towers for one of the days to see these exhibitions / performances.