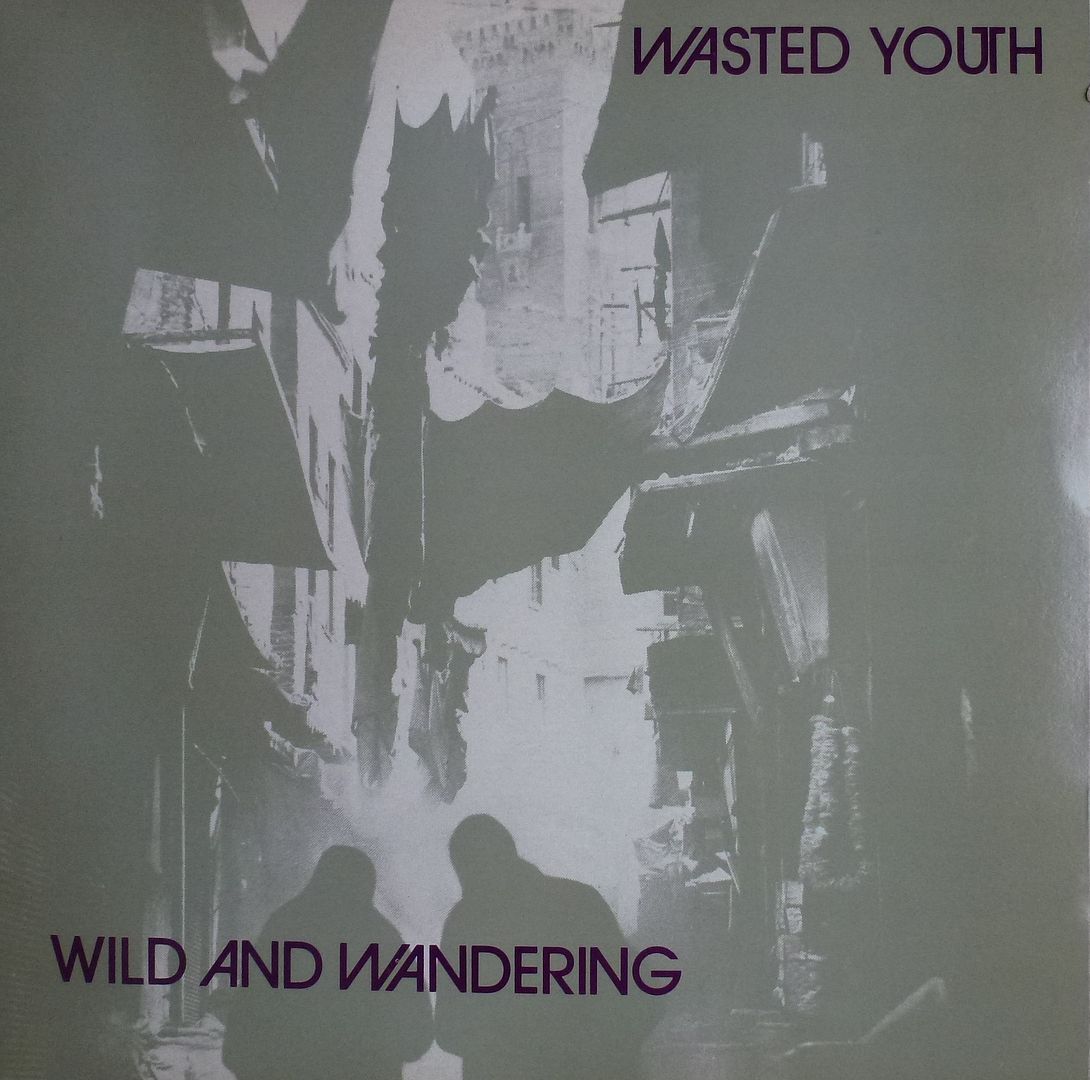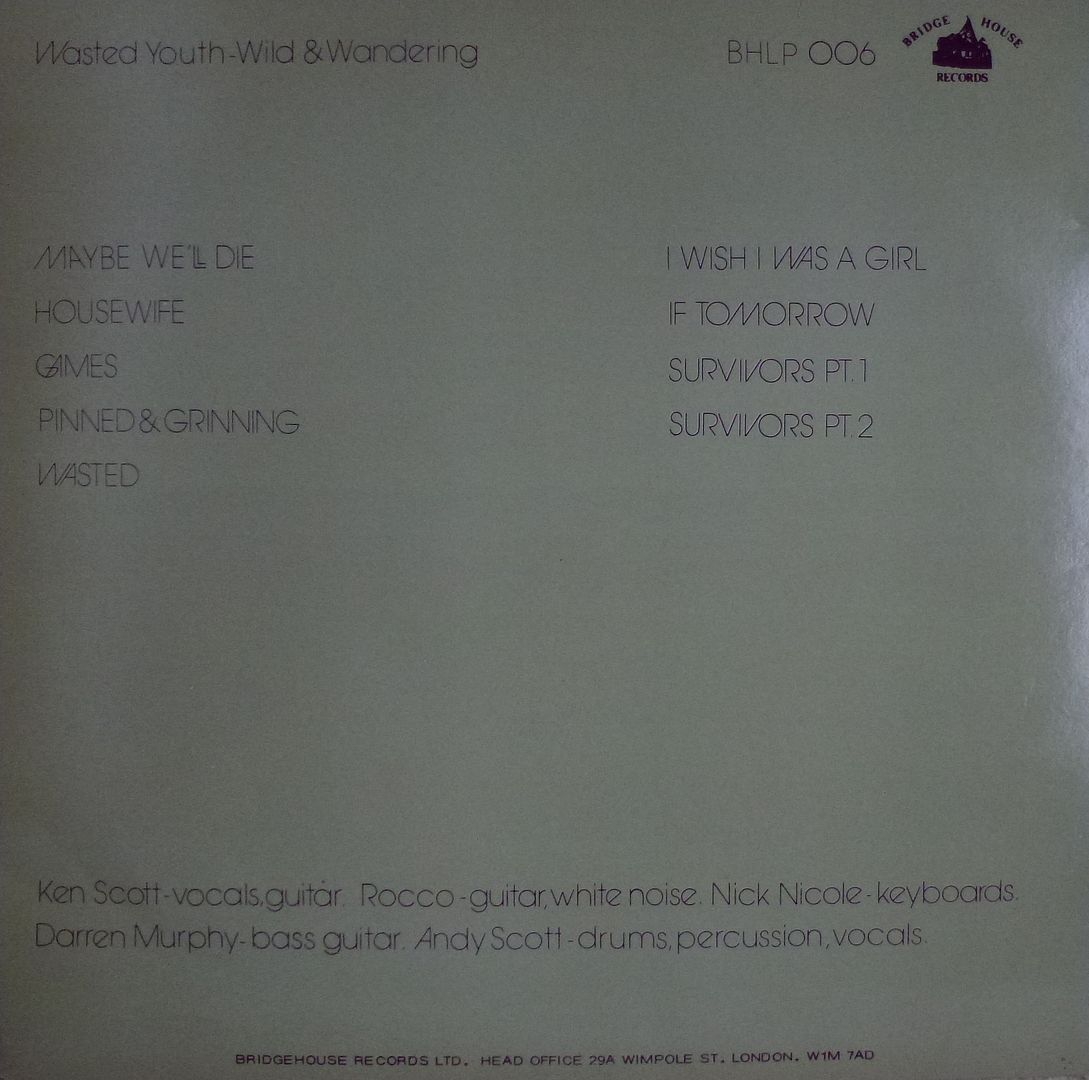 Maybe We'll Die / Housewife / Games / Pinned And Grinning / Wasted
I Wish I Was A Girl / If Tomorrow / Survivors Part 1 / Survivors Part 2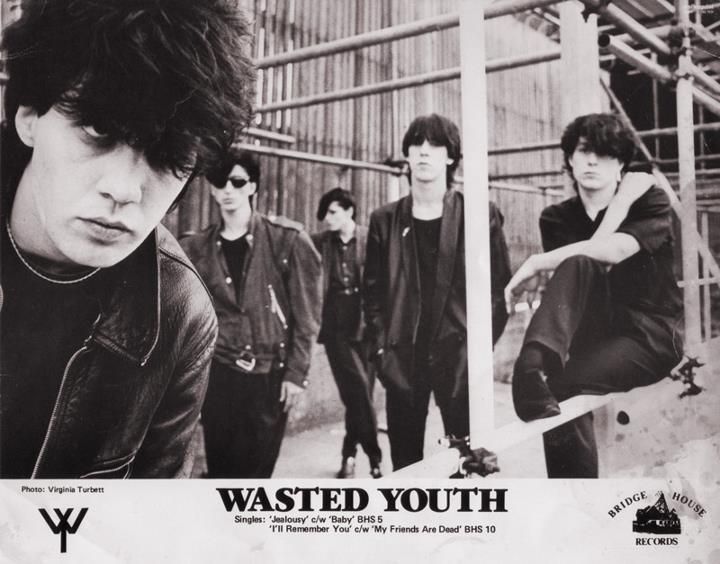 Wasted Youth were a popular post-punk band between 1979 – 1982, playing a dark psychedelic bohemian rock. Wearing all black clothes and some in shades and make-up but pre-dating goths, they embodied cool whilst paying homage to their numerous influences from the Velvet Underground to trash-garage bands. In that fertile early post-punk era, Wasted Youth threw down a marker with their unique approach.
Singer Ken Scott and drummer Andy Scott had been in East London punk band The Tickets, who appeared on the Live at the Roxy album, and released a single 'I'll Be Your Pin-Up' on Bridge House records. They both teamed up with guitarist Rocco Barker, keyboards Nick Nicole and bassist Darren Murphy to form Wasted Youth, and evolved from their punk roots into a dark, decadent, androgynous style.
Their debut single 'Jealousy' released on Bridge House records had an instant impact. Simple and dramatic, it got them immediate attention from the music press and a number of national radio DJs gave it regular radio play. Seemingly coming from nowhere, suddenly they spent months in the indie charts. They capitalised on it with charismatic live gigs, and quickly showed it wasn't a one-off. A second single 'I'll Remember You' also released on Bridge House records, was produced by the Only One's Peter Perrett and with the help of an Only Ones tour support; they built up a strong live following. The band certainly loved to tour and feed off audiences rather than just exist in the sterile environment of a studio. More tours, such as with Classix Nouveau followed, and soon the band were gigging full time on their own, not just in the UK but across Europe.
Wasted Youth often played the renowned Bridge House pub venue in Canning Town partly due to the owner, Terry Murphy, being the father of Darren, Wasted Youth's bassist. Terry Murphy was also the owner of the Bridge House record label which released all of the bands material to the public.
A single 'Rebecca's Room' was produced by Martin Hannett and issued jointly by Bridge House records and Fresh records. In France a 12" was released on Underdog of their first two singles. Playing festivals and getting movie offers, they issued the only studio album 'Wild And Wandering' which was recorded at Spaceward Studios in Cambridge and mixed at Southern Studios by John Loder. The album was followed by two more singles 'Wildlife' and 'Reach Out' both on Bridge House records.
Eventually Wasted Youth decided to go out with a bang – a big gig at the London Victoria Venue was their 1982 swan song. Rocco then went on to form Flesh For Lulu.
The album review below was ripped off the All Music site and the condensed history of the Bridge House pub venue was ungraciously cut off the Independent newspaper website and pasted with great care onto this website!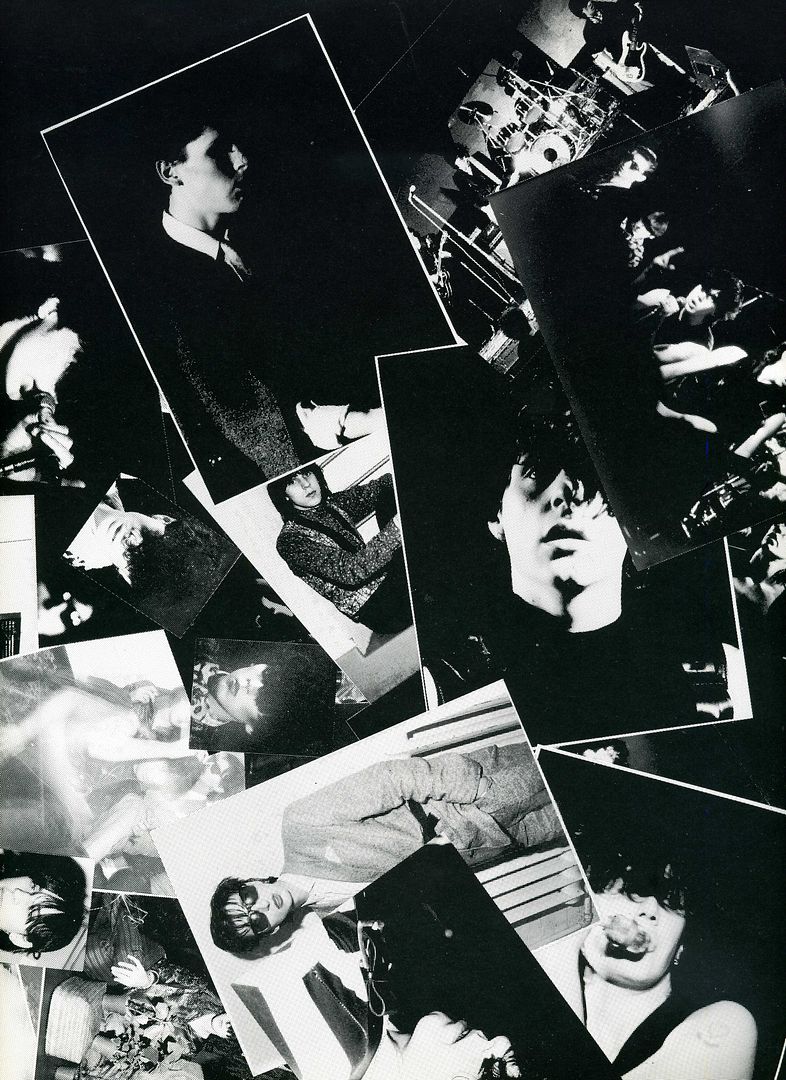 The stunning debut album by one of the most underrated U.K. bands of their age, 'Wild and Wandering' was released in the wake of three singles, each of which threatened to lift the band to new heights but all of which, ultimately, served as nothing more than a dress rehearsal for guitarist Rocco's next band Flesh for Lulu. Darkly atmospheric, but lavished with pop hooks and imagery, its nine songs are a haunted, haunting melange of urban savagery and decadent decay, the passion of the Velvet Underground shot through the energies of punk in a way that more po-faced wanderers down that same path (Echo & the Bunnymen, Joy Division) could never have imagined. Hindsight may pinpoint the likes of the Cure and Bauhaus within its textures, but that is forgetting that Wasted Youth were feared contemporaries of both, so who really lifted that drum pattern…that vocal inflexion…that guitar riff…from whom?
Dave Thompson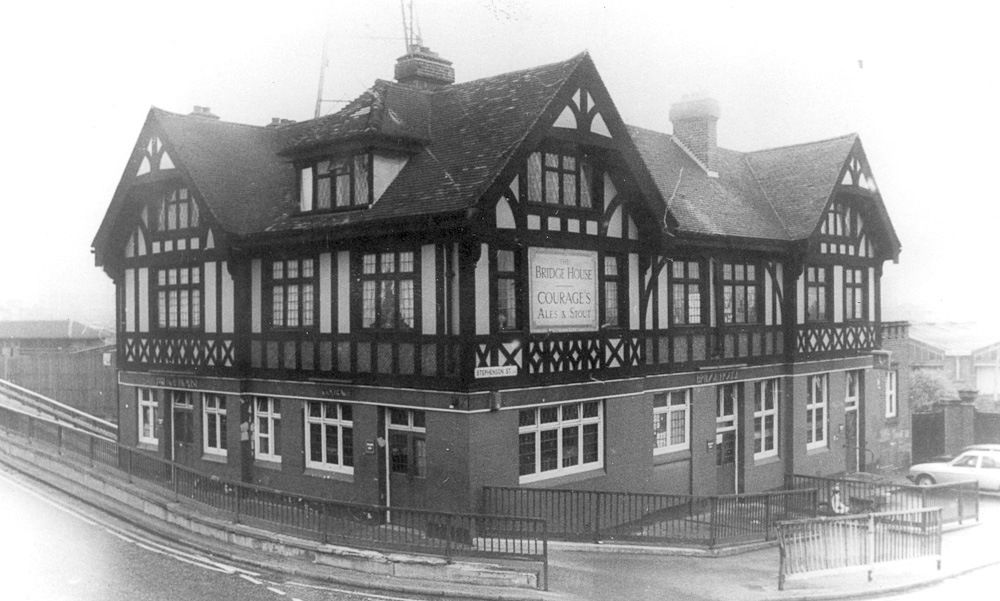 From 1975 to 1982, the Bridge House, Canning Town, in the East End of London, was the place to be. Heavy metal fans rubbed shoulders with punks, mods, skinheads and goths to watch Iron Maiden, the Tom Robinson Band, Secret Affair, Cockney Rejects and Wasted Youth. The 560-capacity pub is where Dire Straits, U2 and the Stray Cats played their first UK dates, where The Blues Band and Chas & Dave recorded live albums, and where Depeche Mode got signed.
Ray Winstone was a regular, between appearances in Scum, Quadrophenia and even in a film called Ladies and Gentlemen, the Fabulous Stains alongside Paul Simonon of The Clash and Steve Jones and Paul Cook of The Sex Pistols. He'd followed the advice of "Uncle Tel"– the landlord, Terence Murphy – and given up boxing in order to "get stuck into the acting".
That's one of many tales Murphy tells in The Bridge House, Canning Town: Memories of a Legendary Rock & Roll Hangout. Murphy himself was a light-heavyweight who lost a bout on ITV's opening night in 1955 and quit boxing in 1957.
When we meet for a pint near where the Bridge House used to be, he admits it's the venue, not his boxing, that people still talk about. "Every time I went out to dinner, boxing, football, someone would mention the Bridge House and the wonderful times they had there. I wrote the book for fun. I had all the paperwork: dates, bands, 1,500 tapes. I had a tape of The Executive, George Michael's first band before Wham!, but we never gave them a gig."
The Police also missed out. "I couldn't book them, not in Canning Town. People would think there were coppers in the band," Murphy says. "U2 played before they had a record deal. We had Paul Young with the Q-Tips, Alison Moyet with the Little Roosters, Annie Lennox. She seemed to have a new wig for every song," says Murphy, who took over from his brother John at the Bridge House in 1975.
"I wanted to put my mark on it. The first band I got was Remus Down Boulevard. I paid £20 a gig." Pub rock ruled at Dingwalls in Camden and the Hope and Anchor in Islington, but the Bridge House was way out in unfashionable East London, though that became a virtue. "Musicians like to hang out where they're not going to be hassled," Murphy says. "At the Bridge House, they could play a few bum notes, have a drink, relax. It became the place to have a jam. Paul Jones brought Tom McGuinness and Hughie Flint; that was the start of The Blues Band."
Murphy's policy of rotating styles and genres paid dividends. "We decided to try and keep people in the area, save them travelling to the West End. We had a couple of jam sessions, West Coast country rock with Clover [featuring Huey Lewis], heavy rock with Iron Maiden. Steve Harris [the bassist and leader] was a local boy. They always pulled a good crowd.
In 1980, Murphy told Mick Jagger not to dance. "He came with Keith Richards to see Charlie Watts, Ian Stewart and Alexis Korner play with Rocket 88. Jagger started dancing. I said, 'Mick, you're not allowed to dance. I've got a dancing licence but it's only for the stage.' He couldn't believe it."
By 1978, the Bridge House was established. "We were the first pub in the world with its own record label," Murphy says. He hit on the scheme of having photos of regulars on the inside sleeve of the Live: a Week at The Bridge E16 album: "They all bought a copy." The Mods Mayday album in 1979, featuring Squire and Secret Affair, made the charts. "Both bands signed to Arista. We never recorded to make hit records. We did it so bands would get their name about, do a few interviews, mention the pub and create a vibe."
Oddly, the Bridge House didn't capitalise on its place at the centre of the late-Seventies Oi! scene with an album. Garry Bushell, then a Sounds scribe, now a tabloid columnist, says: "The Cockney Rejects' story is about to be made into a film, so we'll have to recreate the look, sound and feel of the Bridge House. It's going to be tough. The place was a one-off."
The venue also spawned Wasted Youth, a post-punk, goth band who never quite reached the heights of Joy Division and Bauhaus, though their following included one Dave Gahan, later of Depeche Mode. "I introduced him to my son Darren who played bass in Wasted Youth," Murphy says. "Depeche Mode couldn't get a gig in London. They had the guts to give a tape with a drum machine to a rock pub. Depeche Mode played exactly the same as their tape, but only 20 people turned up. Then I thought I'd put Depeche on with Fad Gadget . Daniel Miller fell in love with them and signed them in 1980. In 1982, they heard we were struggling and they did a secret gig for us. They wanted us to keep the pub open."
Murphy shows me the site where the Bridge House once stood. "The pub became a club, then a hotel. It got pulled down for a new flyover in 2002. I did try to get a plaque but there was nowhere to put it, until now."
Murphy has given his blessing to the New Bridge House, a music venue run by Tony Nicholls and Tony Cook, a few hundred yards away. Remus Down Boulevard, featuring former Iron Maiden guitarist Dennis Stratton, played the grand opening yesterday.
'The Bridge House, Canning Town' by Terence Murphy is published by Pennant Books (£17.99) and is available from thebridgehousee16.com and bh2live.com