Before Crass got themselves looking and sounding in the way we now 'view' or 'hear' them in our 'minds eye' the band played a few sporadic gigs in London. This is a snippet of one of the gigs filmed by Mike Duffield at Action Space Drill Hall in November 1977. Interestingly Crass are not all dressed in black.
Below is a list of other gigs that Crass played from the bands formation until the end of 1978, around the time when the band decided to get decked out in grey / black military type clothing. There is also some information about the early period of Crass from that Wikipeedear!
The 1977 Action Space Drill Hall flyer (with guests Dead Fingers Talk and The Nipple Erectors!) from Tony D's collection the other flyers are from Toby Mott's collection.
CRASS LIVE:
??/??/77 Huntley Street, London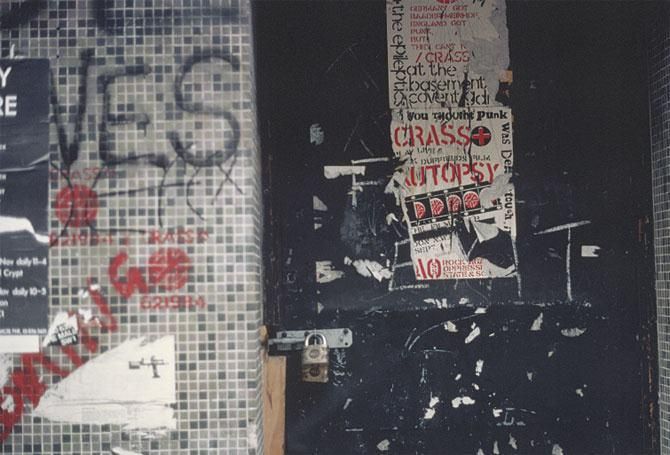 27+??/08/77 Roxy Club, London (the photograph above shows The Roxy club at that point long shut down in the summer of 1978 but still a place for Crass graffiti and posters to be shown)
16/11/77 Action Space Drill Hall, London
25/04/78 White Lion, Puntey Bridge, London
07/05/78 Rock against Racism, Action Space, London
Summer 78 New York
Summer 78 Small Theatre, New York
Summer 78 Quando's, New York
Summer 78 Gee's friends loft, New York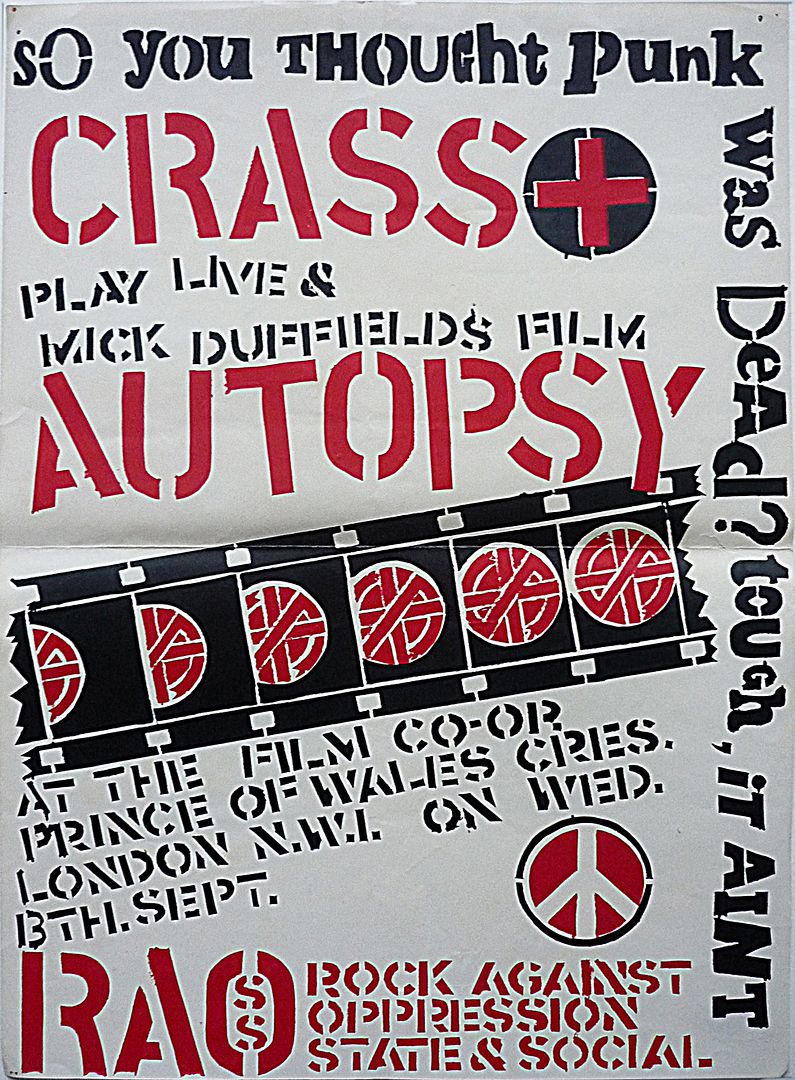 13/09/78 The Film Co-Op, Prince of Wales Crescent, London
29/09/78 Acklam Hall, London
25/10/78 Moonlight Club, London
22/11/78 Paradiso, Amsterdam, Holland
The band was based around Dial House, an open-house community near Epping, Essex, and formed when Dial House founder Penny Rimbaud began jamming with Steve Ignorant (who lived in the house at the time). Ignorant was inspired to form a band after seeing The Clash perform at Colston Hall in Bristol, whilst Rimbaud was working on his book Reality Asylum. They produced "So What?" and "Do They Owe Us A Living?" as a drum-and-vocal duo. They briefly called themselves Stormtrooper before choosing Crass in reference to a line "The kids was just crass" in the David Bowie song "Ziggy Stardust".
Other friends and household members joined (including Gee Vaucher, Pete Wright, N. A. Palmer and Steve Herman), and Crass played their first live gig at a squatted street festival in Huntley Street, North London. They planned to play five songs, but a neighbour "pulled the plug" after three. Guitarist Steve Herman left the band soon afterwards, and was replaced by Phil Free. Joy De Vivre and Eve Libertine also joined around this time.
Crass played two gigs at the Roxy Club in Covent Garden, London. According to Rimbaud, the band arrived drunk at the second show and were ejected from the stage; this inspired their song, "Banned from the Roxy", and Rimbaud's essay for Crass' self-published magazine International Anthem, "Crass at the Roxy".
Other early Crass performances included a four-date tour of New York City, a festival gig in Covent Garden and regular appearances with the U.K. Subs at the White Lion in Putney and Action Space in central London. The latter performances were often poorly-attended: "The audience consisted mostly of us when the Subs played and the Subs when we played".
During this period the band took themselves more seriously, avoiding alcohol and cannabis before shows and wearing black, military surplus-style clothing on and offstage.
They introduced their stage backdrop, a logo designed by Rimbaud's friend Dave King. This gave the band a militaristic image, which led to accusations of fascism. Crass countered that their uniform appearance was intended to be a statement against the "cult of personality", so (in contrast to many rock bands) no member would be identified as the "leader".
Conceived and intended as cover artwork for a self-published pamphlet version of Rimbaud's Christ's Reality Asylum, the Crass logo was an amalgam of several "icons of authority" including the Christian cross, the swastika, the Union Jack and a two-headed Ouroboros (symbolising the idea that power will eventually destroy itself). Using such deliberately-mixed messages was part of Crass' strategy of presenting themselves as a "barrage of contradictions", challenging audiences to (in Rimbaud's words) "make your own fucking minds up". This included using loud, aggressive music to promote a pacifist message, a reference to their Dadaist, performance-art backgrounds and situationist ideas.
The band eschewed elaborate stage lighting during live sets, preferring to play under 40-watt household light bulbs; the technical difficulties of filming under such lighting conditions partly explains why there is little live footage of Crass. They pioneered multimedia presentation, using video technology (back-projected films and video collages by Mick Duffield and Gee Vaucher) to enhance their performances, and also distributed Samizdat style literature such as leaflets and hand outs explaining anarchist ideas to their audiences.
Andy 'B A Nana' Palmer of Crass and Tony Puppy of this realm meet up again recently, after thirty years of being estranged, at Andy's garage sale in North London. Of course after Andy had left Dial House he was part of the Islington based Black Sheep housing co-operative along with a host of other notables. Myself, other Kill Your Pet Puppies and gentle Mob folk included.
Interestingly similarly to the footage of Crass from 1977, neither of us are dressed in black in 2013.
Mickey 'Penguin' kindly took a photograph or two of myself alongside Penny Rimbaud and Eve Libertine at the Vortex in Dalston. Although the photographs are in black and white, both were not dressed in black either! I had a wonderful chat with both of them, again similar to Andy 'B A Nana', for the first time in thirty years!