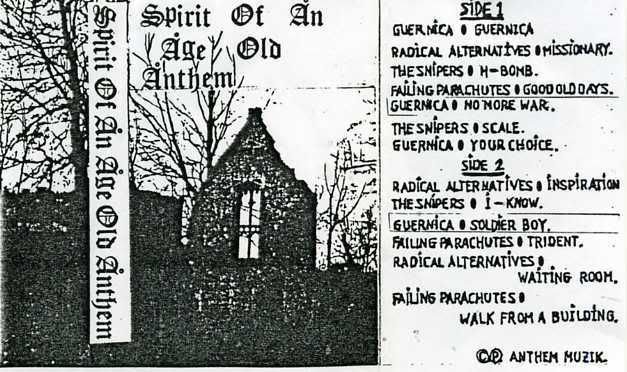 Guernica – Guernica / Radical Alternatives – Missionary / The Snipers – H Bomb / Falling Paracutes- The Good Old Days / Guernica – No More War / The Snipers – Scale / Guernica – Your Choice
Radical Alternative – Inspiration / The Snipers – I Know / Guernica – Soldier Boy / Falling Paracutes – Trident / Radical Alternatives – Waiting Room / Falling Parachutes – Walk From A Building
A cassette released by The Snipers, who I know next to nothing about except that they were on 'Bullshit Detector', and had one 7″ single entitled 'Three Piece Suite', both released on Crass Records, which I liked and all my mates hated!
I know even less about the other bands, assume they are Oxford area bands or something? Cheers to Chris Low for the lend of this cassette.
Singalongasnipers, all together now:
'Enjoy what you've got while you can, it's all sewn up say's the Media Man, its all sewn up…yeah!'
Incidently anyone thinking where are all those Crass label singles and LP tracks?
Well I have all the releases, by all the bands, ever released on the label except 'Who Dunnit' by Crass (obviously, cos it's arse…).
These tracks will not be uploaded, Penny told me he had no problem with me uploading the Crass practise tapes and interviews I had (use search function to find these), but I told him I would not put the label stuff up at this point until it all becomes unavailable. Although I was allowed to put up 'Reality Asylum', but that's all. So from Annie A to Zounds, studio releases on Crass you will not find here on this site, I am afraid. Live stuff is a different matter though, watch this space.