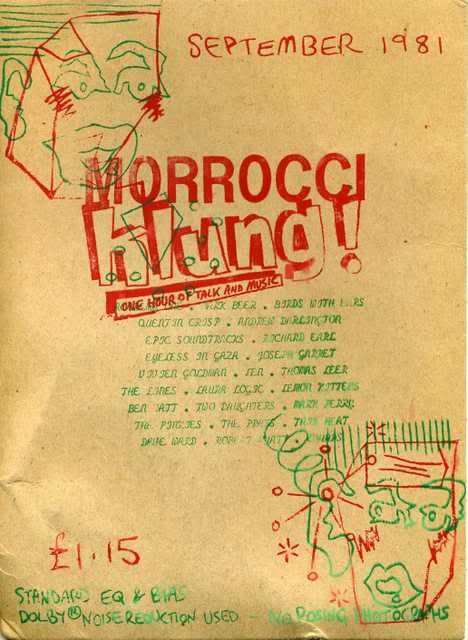 Academy One / Mark Beer / Birds With Ears / Quenton Crisp / Andrew Dalington / Epic Soundtracks / Richard Earl / Eyeless In Gaza / Joseph Garret
Vivian Goldman / Len / Thomas Leer / The Lines / Laura Logic / Lemon Kittens / Ben Watt / Two Daughters / Mark Perry / The Pinkies / The Prats / This Heat / Dave Ward / Robert Wyatt
Not sure what motives this cassette was released under, sounds like an advert for lots of post punk artists, perhaps sent to record shops so that the owners could get interested in stocking up on the likes of Eyeless In Gaza, Laura Logic, Lemon Kittens, This Heat vinyl. Or perhaps sold from record shops (like mine was) to entice the punter in buying more material from said bands.
Mixing up general chat with snippets of music, this cassette gives the impression of listening to a Radio 4 sunday afternoon show, but without the aid of super smart editing or even decent sound levels from talk to music.
What is really annoying is that some of the music snippets are just that, snippets…would have preferred a couple of minutes of each track and less artists, oh well, at least the cardboard mailer the cassette comes in, is well D.I.Y. and looks pretty cool.
Stuck Zounds on seperate just because I fancied it.
Just uploaded this cassette for the obscurity value really…normal service will resume as soon as…the next post!
Indebted to Mark 'Harry' Harris for lending me a copy of the Morrocci King! November cassette which is now ready for upload below