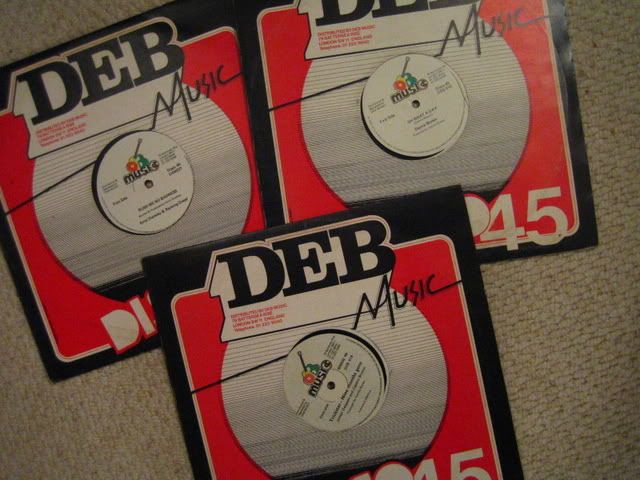 Dennis Brown – Oh What A Day / Dub
Dennis Brown – Man Next Door / Dub
Junior Delgado and Castro Brown – Trickster / Nine Months Gone
Charlton And The Shoes – Better Days
Errol Dunkley and Ranking Dread – Rush Me No Badness
Errol Dunkley and Ranking Dread – Rush Me Dub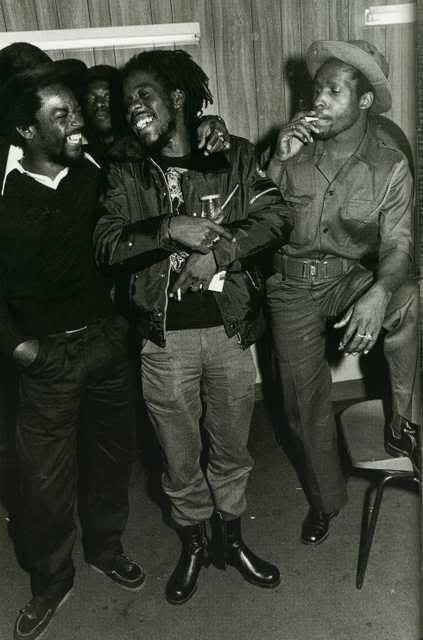 Junior Delgado, Dennis Brown and Castro Brown, Acklam Hall, Notting Hill Gate 1979 – photo Jeanette Beckman
A selection of 12″s from the D.E.B. record label run by Castro Brown and Dennis Emmanuel Brown (D.E.B.) releasing material  from 1976 up to 1981 (I think).
Firstly two tracks by Dennis Brown himself, already a veteran of the Jamaican music industry by this time in the late 1970's having worked for Coxsone Dodd in the late 1960's and early 1970's, Derrick Harriott and Joe Gibbs in the mid 1970's. Brown recorded these recording during his most consistant period between 1977 and 1979. At this time in Jamaica he was far more popular than Bob Marley, and coming a close second to Marley in the U.S.A. and Europe. Sadly Dennis Brown died in 1999. The good people of Orange Street in Kingston,  right across the road from the Rockers International record store run by Augustus Pablo painted a part of the wall in memory of Dennis Brown which I photographed for posperity in 1999 a couple of months after Dennis Brown's sudden death at the young age of 42. My photograph is at the foot of this post.
'Oh What A Day' the A side of the 12″ is masterful but is only preparation for the sublime recording of 'Man Next Door', a song originally recorded by John Holt and The Paragons in 1973. This track was in turn covered in 1980 by that fine post punk band The Slits. This version by Dennis Brown was recorded in 1979.
The next two tracks uploaded is another 1979 release, firstly the massive selling 'Trickster' by Junior Delgado who sadly passed on in 2005. Originally in the early 1970's outfit Time Unlimited Delgado left to persue a solo career, this is one of his more well known tracks, recording it in 1979 just before starting his own label Incredible Records.
The B side of this record is by Carlton And The Shoes, another set of singers that were moderately successfull with Coxsone Dodd in the late 1960's and early 1970's. These singers Carlton, Donald and Lynford Manning voiced this tune 'Better Days' in the mid 1970's with Lee Perry. Donald and Lynford had already formed The Abyssinians during the late 1960's so effectively by the mid to late 1970's were present in two massivly influencial reggae outfits. This verson of 'Better Days' recorded in 1979 is much slower and doomier than the Lee Perry version and I feel it is much better through the heaviness of the sound.
The third 12″ is a 1980 recording of Errol Dunkley again a veteran of the recording industry having cut his first vocal for Prince Buster in 1965 when he was just 14 years old. Errol Dunkley is largely ignored compared to other vocalists which is a shame as he has a fine voice. In 1979 he covered John Holts 1970 hit 'OK Fred' and performed the song on Top Of The Pops.
Ranking Dread is also no stranger to U.K. television. He also appeared on Top Of The Pops with the slack 'Fattie Boom Boom' in 1981. This  man has also appeared in the Cook Report, and other documentaries in the mid to late 1980's on programmes concerning gun running, prostitution, armed robbery, drug suppling and the like.
Escaping from Jamaica for shooting dead a couple of policemen in 1978, he ended up in the Alfreton area of Nottingham where it is said that the first rocks of crack cocaine that hit the U.K mainland in the early 1980's were allegedly from a Ranking Dread connection (ie his hand). He was involved in a murder in a blues dance in Nottingham and hid out in Stoke Newington, and caused a fuss in that part of Hackney for several years. A regular on the mic at the Four Aces club in Dalston (not many DJ's had the nerve to reject his gatecrashing techniques as he was already infamous for his actions previously and had become well known to the community in Hackney). The plod eventually grabbed Ranking Dread in Clapton in 1988 and instead of going through with all the records they had on him and charging him accordingly, they instead deported him back to JA on fake passport charges, and to stand trial for the original alledged double murders in 1978.
When in JA he was put on bail, possibly a yardie connection in or with the police force in JA got him this temperary release. From here he absconded on false documents to Canada, caused a major fuss over there and got his collar felt again by the Canadian police force, where perhaps with yardie connections again, he was bailed for the second time and disappeared again.
Ranking Dread was wanted in four countries (U.S.A, Jamaica, Canada and the U.K) in connection with around thirty murders and whether he pulled the trigger or instructed someone to pull the trigger (as in the U.S.A.) he is never the less a very dangerous man and was on the top of these countries most wanted lists. Dunno what happened to him since, but a Sunday Mirror piece in 1990 claimed to have caught up with him and he was going to return to the U.K to 'clear his name'.