First pressing of flexi
Second pressing of flexi
Crass – 'Tribal Rival Rebel Revel' flexi disc
This particular issue of Toxic Grafity is probably the most well known of the handful that were produced. It was also one of the best selling (of all fanzines, not just Toxic Grafity!) due to the free flexi disc of a (then) unreleased track by Crass being included.
It should be noted that Throbbing Gristle are also featured in this issue which was always a bonus for fanzines in the late 1970's.
I am indebted to Toxic Grafity's writer and editor, Mike Diboll for supplying the following information below on how this particular issue of Toxic Grafity got produced. All artwork on this post is from this issue of Toxic Grafity.
This edition of Toxic Grafity was put together while I was squatting in New Cross, south London and originally printed during late 1979, but it didn't really get into folks homes until early 1980, when a substantial reprint was done. Originally 2,000 came off the presses, quite how many were eventually printed, I am not sure.
Joly from Better Badges (who also printed the first three KYPP's fanzines, the last three were printed by Little 'A' Printers) used to always swing things so it seemed that I owed him lots of money (quite large sums for those days); I'm sure he may well have been diddling me, but that was my fault, because I was very naive in those days and thought that anything do with business, copyright etc, was bourgeois and reactionary, so perhaps I deserved it. Also, it must also be added that I was off my head a fair bit in those days, but of course so was Joly! Judging by the number of flexi's that were sent to Better Badges, I suspect the actual print run was over 10,000, perhaps well over.
A year before the release of this particular issue of Toxic Grafity, in 1978, and also during 1979, there had been some really nasty rucks at Crass gigs at the Conway Hall in Red Lion Square in west central London. These rucks had mainly been fought between boneheads and bikers brought in by the SWP.
I can't remember what the gigs were in aid of, but it was something the SWP had a hand in. The boneheads were used to pushing punks around, but got far more than they bargained for when taking on the bikers, some of whom were grown men in their 30s and 40s armed with bike chains, knives etc. After those experiences at there concerts Crass seemed to get a lot more edgy than they had been previously about sharing any sort of platform with members of the 'hard' left wing.
The lyrics to the Crass 7″ single 'Bloody Revolutions' is based on that feeling from the band around this time.
Basically it was the left wing causes that Crass would sometimes support, that seemed to aggravate the boneheads, and of course the boneheads would generally mill around the halls looking dangerous, and on occasions causing some real trouble.
Toxic Grafity didn't really have those left wing associations, and (luckily) I also knew a few of the bonehead contingent quite well. I had always despised their ideology, but on a human level I was quite friendly with some of them. This I think helped diffuse things when Crass performed at the Toxic Grafity event staged at the Conway Hall late on in 1979.
It was not a violent night at all, which was obviously good news at the time considering the previous gigs at the Conway Hall. There were of course some minor problems, but those situations were quickly nipped in the bud by some friends of my family that had come to witness the gig.
The flexi disc followed on from the Toxic Grafity benefit gig, it was Penny's idea, he bought it up one evening at Dial House, the Crass commune, way out in North Weald, Essex.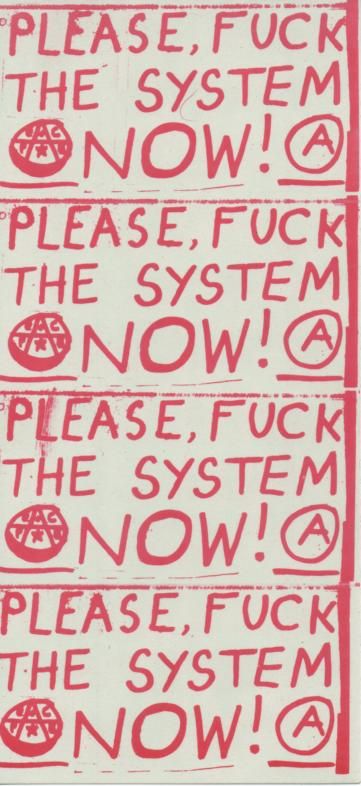 The original Toxic Grafity benefit was staged because of an incident late on in 1978 when I was pulled by the police in Soho, the seedier area of the west end of London. The police stopped me on one of those charges they used to pick punks and other ne'r-do-wells up on, the infamous SUS law. I had stopped off in Soho on my way back from a visit to Dial House, and had the artwork of an earlier Toxic Grafity on me. The police found this highly amusing, as you might imagine, destroyed the artwork, treated me a bit roughly, threatened me, and said that they'd put me on some sort of Special Branch terrorist watch list. Looking back on this as a 50 year-old I can see that this was almost certainly bullshit, but I took it seriously enough at the time!
As a result, Crass decided to help Toxic Grafity out (a previous issue had carried one of the first in-depth interviews with them), and the gig at the Conway Hall and the flexi disc followed on from that.  
The track on the flexi disc, was not one of Crass' more in-depth or enigmatic tracks, rather it was what it says it is, a protest against violent political sectarianism screwing up the young. Of course I was extramely grateful never the less.
I've repudiated so much of what I used to believe in during those days in the late 1970's, but the closing words for Crass' 'Bloody Revolutions' track "but the truth of revolution, brother, is Year Zero" still appeals to the Burkeian in me!
Joly at Better Badges did the litho printing for the fanzine and sorted out the badges. Southern Studios took care of the flexi disc by Crass, but I can't remember where they had it pressed, or how many exactly were manufactured. The Crass flexi discs were written in red for the original publication of Toxic Grafity, others were written in silver for subsequent issues of the fanzine.
Eventually there were five Toxic Grafity fanzines that were produced and sold from 1978 – 1981.
Toxic Grafity issue 6 and 7 were planned and in large part nearly prepared, but I became a father in March 1982 (I'm now a grandfather, twice), and 'reality' stepped in quite soon after so all those projects were cancelled.
The later Toxic Grafity's, including the issue above, had dropped the whole band interview thing and had became more like an anarcho-punk agit-art magazine, similar to what Kill Your Pet Puppy would evolve into.
By 1983 I was doing a lot of dispatching and also a lot of 'white van man' work until sometime in 1989. While doing these small jobs, a friend of mine, Wayne Minor (from Brixton's 121 Railton Road bookshop) and myself brought out one issue of "The Commonweal" which was a more mainstream anarchist publication in 1985.
In 1989 I entered university as a mature student.
I now live and work in the middle east.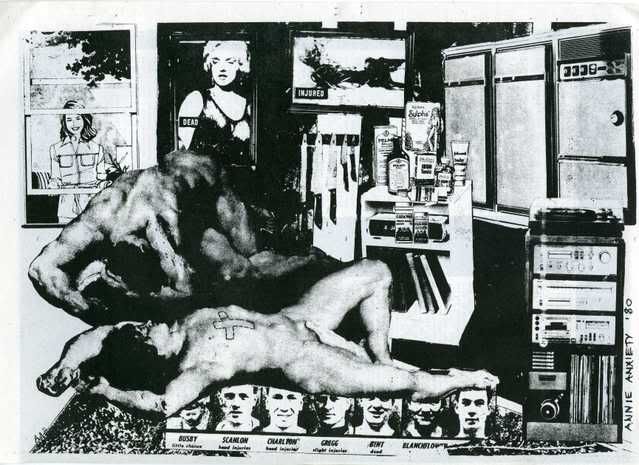 To advertise this issue of Toxic Grafity, Crass arranged to press up a few hundred vinyl copies of the same version of 'Rival Tribal Rebel Revel' to give to record stores that were ordering the fanzine in bulk. This was so the shop had a 'hard' vinyl copy that the shop could play rather than play the flexi disc from the fanzine if any potential buyers wanted a snippet pre buying the product.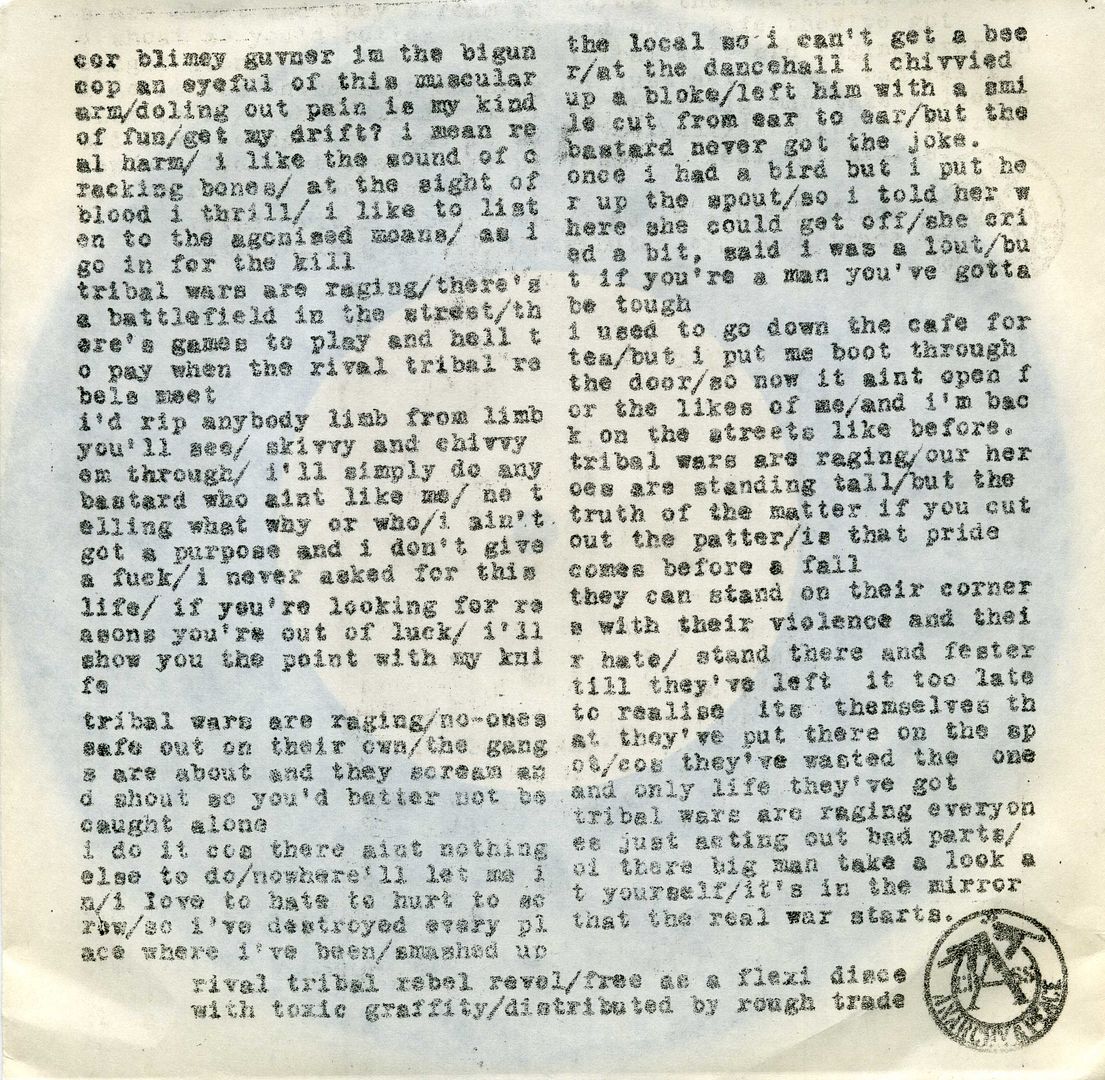 With thanks to Chris Low for supplying the personal letter from Mike to Chris