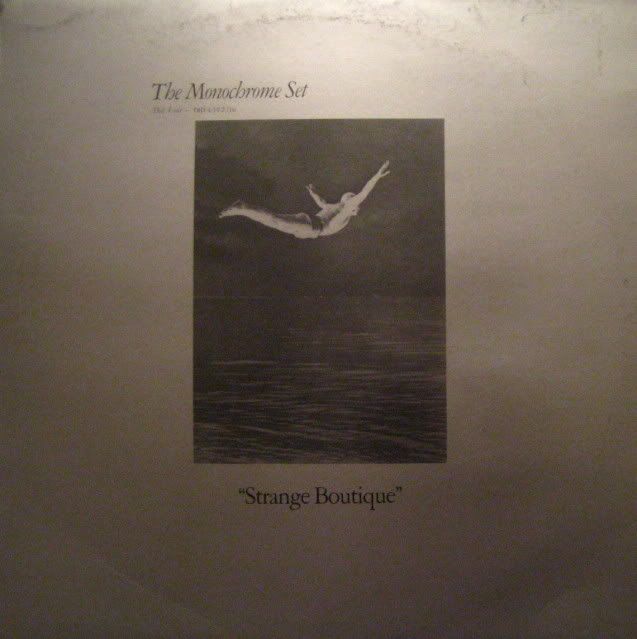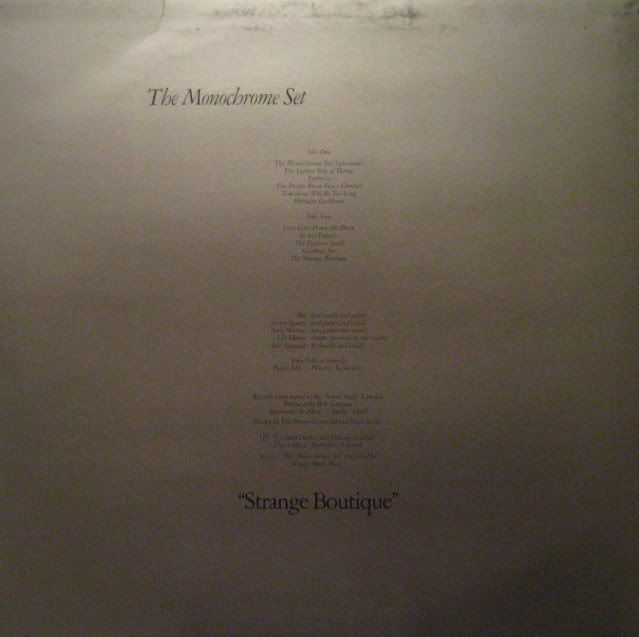 The Monochrome Set / The Lighter Side Of Dating / Expresso / The Puerto Rican Fence Climber / Tomorrow Will Be Too Long / Martians Go Home
Love Goes Down The Drain / Ici Les Enfants / The Etcetera Stroll / Goodbye Joe / The Strange Boutique
Decent debut LP by psychedelic art rockers The Monochrome Set, Peter Saville, moonlighting from Factory Records, sorts out the sleeve artwork. Text ripped from allmusic.com.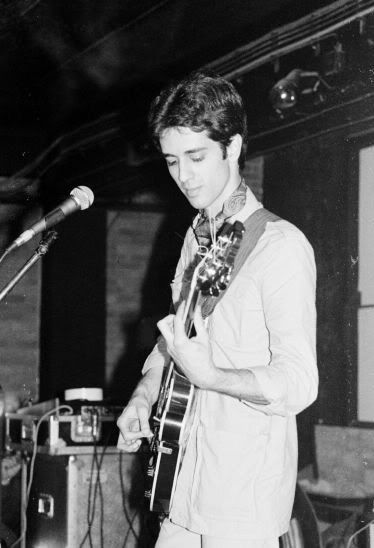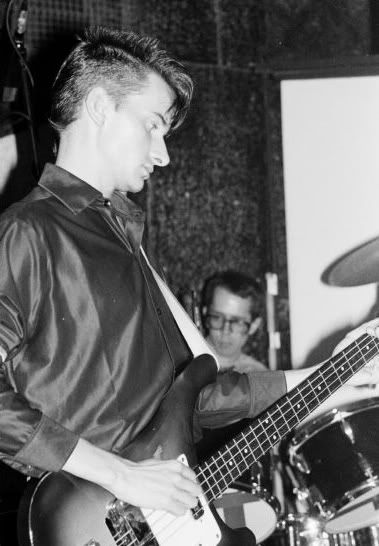 When the British art-school punk band the B-Sides changed their name and direction to become Adam & the Ants, guitarist/vocalist Bid and guitarist Lester Square opted out to form their own group, the Monochrome Set. Founded in London in 1978, the band (also comprised of ex-Gloria Mundi and Mean Street bassist Jeremy Harrington and former Art Attacks drummer J.D. Crowe) was quickly snapped up by the Rough Trade label, and during 1979 issued three singles — "He's Frank," "Eine Symphonie des Grauens," and their signature number, "Monochrome Set" — all completely different in content and stylistic approach.
After former B-Sides bassist Andy Warren grew tired of life in Adam & the Ants, he rejoined bandmates Bid and Square, replacing Harrington. In 1980 the Monochrome Set released their debut album, the cabaret-flavored Strange Boutique, followed later that year by the singles "405 Lines" and "Apocalypso" as well as another, more accessible full-length effort, Love Zombies. Complete with new guitarist Foz, keyboardist Caroline Booth, and drummer Nick Wesolowski, they returned in 1982 with a cleaner, more melodic sound on the LP Eligible Bachelors; "The Jet Set Junta," a satiric jab at the Falklands Islands conflict, became a significant hit the next year.
Reviews for 'Strange Boutique'
NME (UK): "It's like hearing serenades coming up from the sewers. The Monochrome Set are a dark blend of oppressive mystique and appealing conceit, offering elegant entertainment with troublesome undercurrents. Their stock-in-trade is old fashioned romance, subtly disrupted and re-presented with the sinister ritual of a subterranean cult."
Sounds (UK) [album of the month]: "…for once, believe it or not, I actually wish a lyric sheet had been provided…[Lester's] contributions are frequently dazzling…a very, very strong album which I'm sure I'll be unravelling and enjoying for a long time to come. It's a fine perversion."