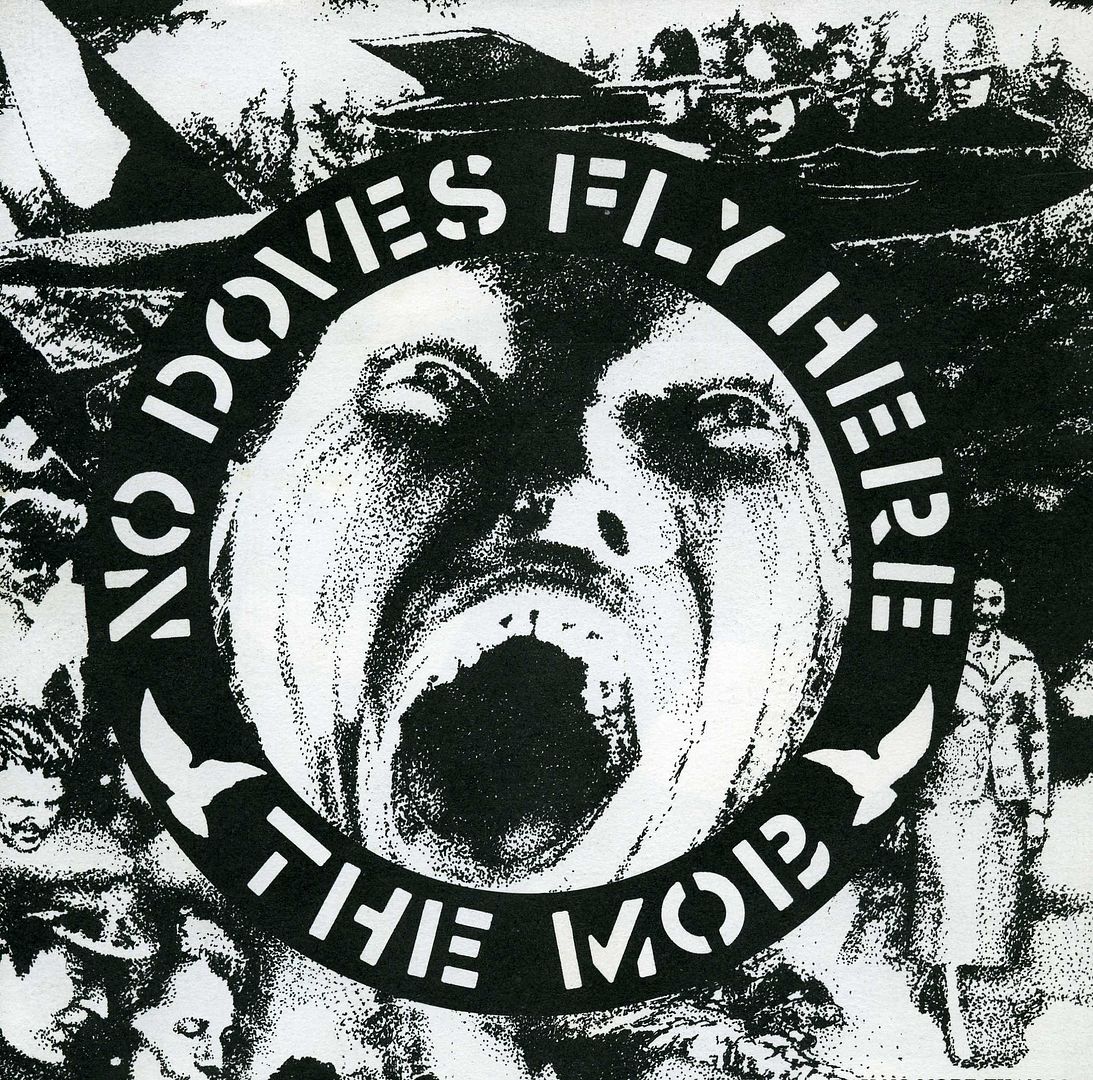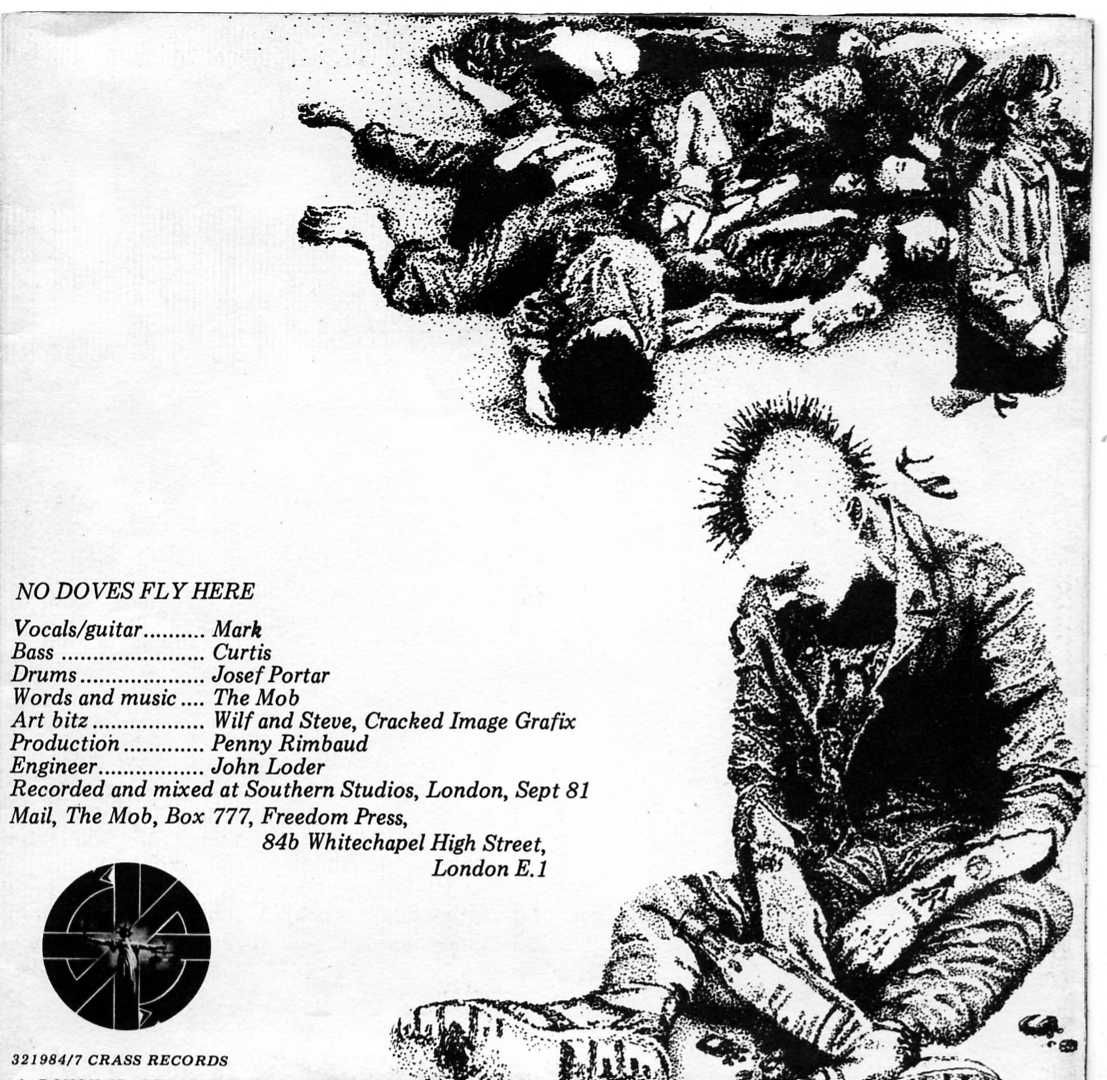 No Doves Fly Here Original White Label Mix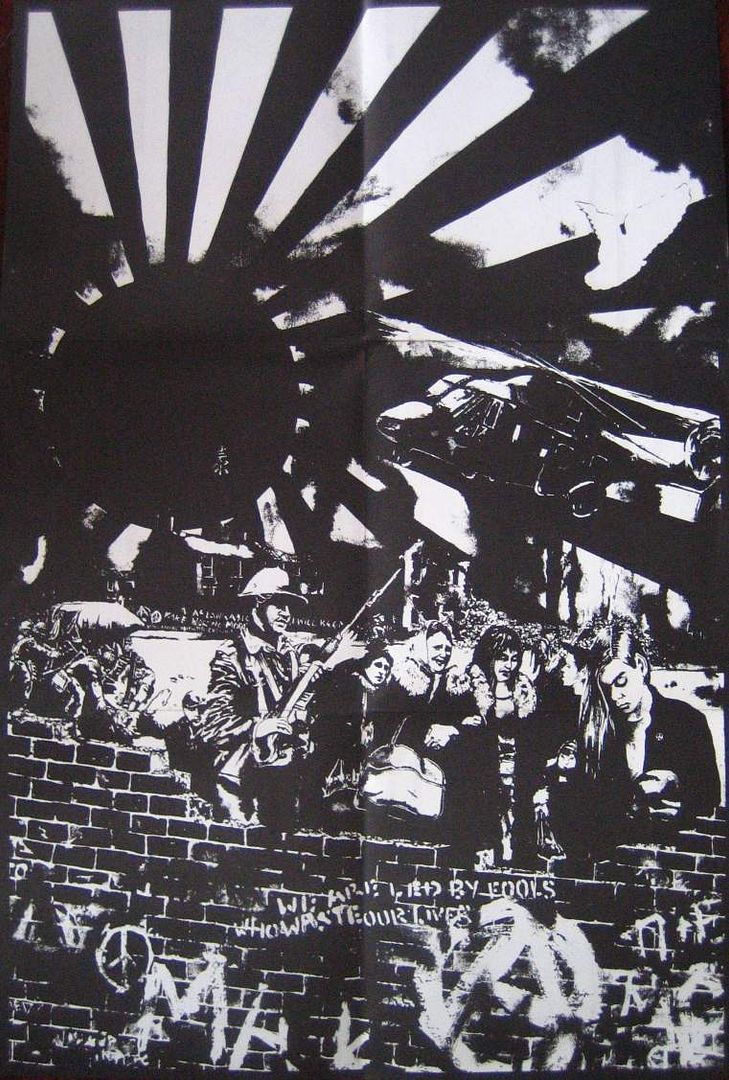 Uploaded today is in my opinion, a very special 7" single released on Crass Records in 1982. This release was eagerly picked up from Small Wonder Records by a much younger Penguin. One of my favorite bands of the time releasing material on one of my favorite record labels of the time.
For this post I have tried to get first hand knowledge of this classic release via two band members, Josef Porta and Mark Mob, just to give a little bit of extra information that would not be found on any other sites…Thanks to those two for letting me pester them into getting something down on this site. Pats on the back must also go to Nuzz who supplied the original No Doves Fly Here flyer just below this text and to Fod who supplied the picture of Mark at the bottom of the post.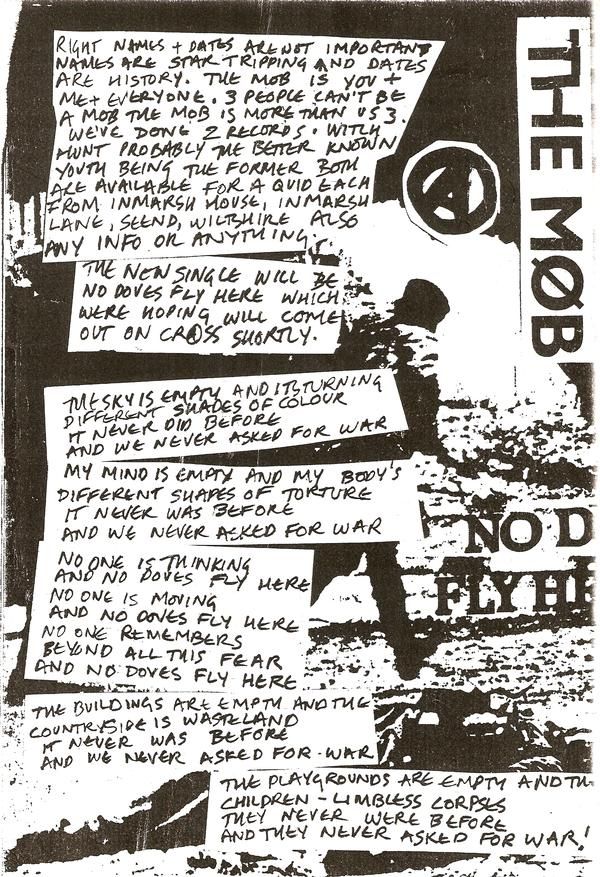 Josef remembers thus;
As I recall Penny and Pete Wright were engineering with John Loder. We were in Southern the day after Alvin Stardust. The usual Crass approach in the studio was rigidly Stalinist – as I recall bands really had no say in what went on. Not a bad idea really, as no one can fuck up a recording session like a bunch of musicians. Mind you, we had a good laugh at the crying babies after we heard it. We weren't invited to the mixing, and it was presented to us as a finished recording – I don't recall there being any 'what do you think of this' in the matter, not that it would have been any better for us being there.
I think we did it over two days. There was no fraternizing before or after, we came up on the bus from Hackney and went home again each day. I never went to Dial house with the Mob, and I presume Mark chose the tracks for the single. I don't recall it being discussed with the other Mob members at the time.
Personally, I think the artwork is the best thing about it. The tracks seemed flat. My drumming is clonky and inappropriate. Curtis' bass is, as always, superb, but the overall sound is limp and apologetic. The same I felt with the Zounds effort. I don't think Penny really knew how to produce electric guitars – I'm not saying I do, but I know a man who does, and you can hear the difference. The electric guitar is the essential element of any punk record in my personal opinion, and unless it sounds like the Sex Pistols on 'Holidays in the Sun' then it's a waste of time.
Mind you, I'm happy to have been a small part of the whole Crass thing. I thought it was magnificent at the time. Can't say it changed my life significantly, but it was an experience not to forget.
I only ever did four shows supporting Crass, three were with Zounds in the North West – Manchester Mayflower, Liverpool and one other town and venue that I forget. Once with The Mob at the Zig Zag squat all day festival.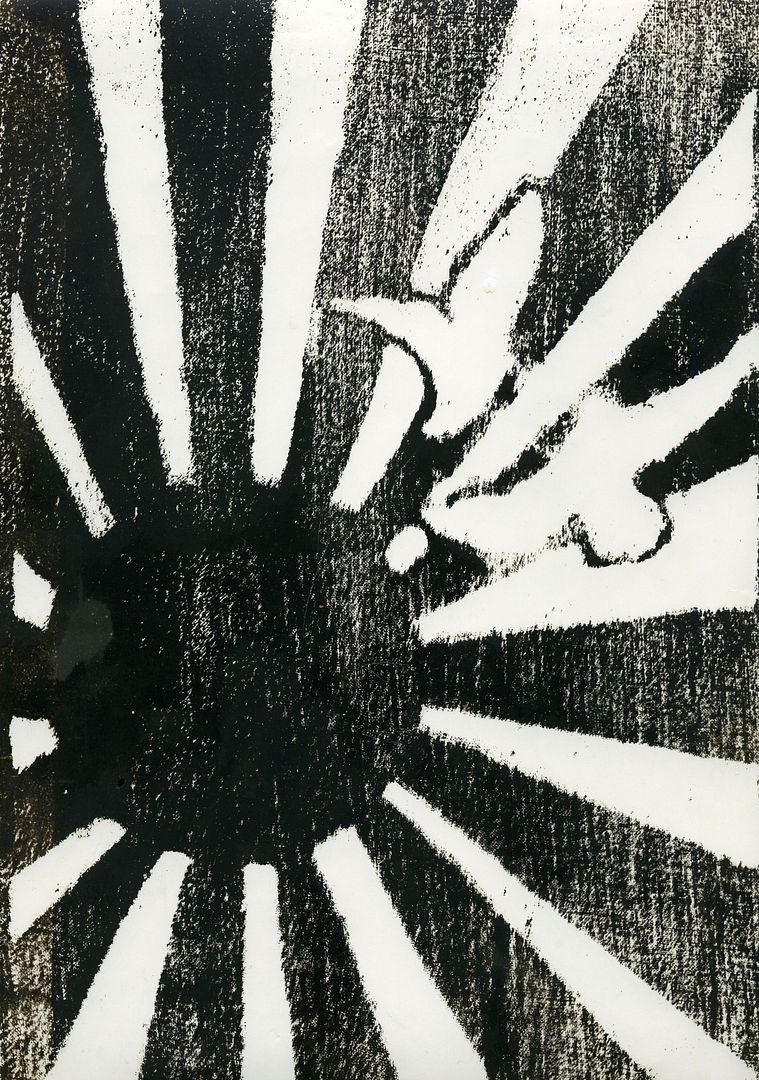 Mark remembers thus;
The recording was done over two days in September 1981 at Southern Studios, with Penny and John producing and engineering the session. Various other folk including Crass members were milling around for those days, doing little jobs when needed, like changing leads, moving amps about, and more importantly making copious amounts of strong tea.
I recorded the vocals to both tracks on the second day, one word at a time for the recording of the No Doves track, this was quite a change from the previous two releases (Crying Again and Witch Hunt both on All The Madmen Records) as the vocals on those records were recorded live. As you can imagine this was rather frustrating and somewhat draining on the spirit, but we assumed Penny and John knew what they were doing so I carried on regardless, and the single turned out  well, so good on them for pushing me to record the vocal track in this way.
I choose both the tracks, No Doves because it did not sound like any obvious Crass label recording and I Hear You Laughing which was a live favorite of the Mobs followers and supporters.
There was no pissing about in the studio, no drug use or anything. There was though many pots of tea being supplied and I also have a memory of Churchman Counter Shag rollups being smoked by Penny and the band (when offered to us). I believe this tobacco could only be obtained from around the Epping area, so I had never tried it before the session or indeed since.
On the second day, one of the studio hangers on was told to go out and hire a four foot diameter gong, bring it back to the studio and set it up to be recorded for the No Doves track. Most of the band had a go at trying to hit this gong correctly. Spent over an hour getting the gong sound right in the mix. Whether Josef's gong sound went onto the final mix is anyone's guess. It may well have been rerecorded after the band had left the studio. After over an hour of hearing just a gong sound it all sounded much the same and it could have been any of the recorded takes on the finished recording. Perhaps even my effort.
Around a month or so after the recording sessions I was sent a test pressing of the No Doves 7" single. This version had the gong, the drums, the bass and my vocals. The other track I Hear You Laughing had the baby crying added towards the end of the track. In the package with the test pressing was a letter from Penny suggesting that more should be done with the recording of No Doves. I agreed to let Penny work on the recording in the studio without my or the other members of The Mob's interference.
Wilf sent me some artwork that was, as usual for Wilf, excellent, and that artwork was sent down to Gee Vaucher for her immediate attention to which she added the usual Crass style lettering printed in the ring around the front of the record sleeve.
I got sent a 'finished' copy of the release that would become the only Mob record released on Crass Records and got a bit of a shock when I heard the synths and the choir that had been added to the No Doves track.
Wilf was happy with the finished product mainly due to seeing his artwork reaching a wider audience. The previous two 7" singles had only sold about 2000 copies between them by this time in 1982 and he was the artist for the sleeve artwork on both those previous releases. So to get his work on both sides of a massive poster on Crass Records was good for him.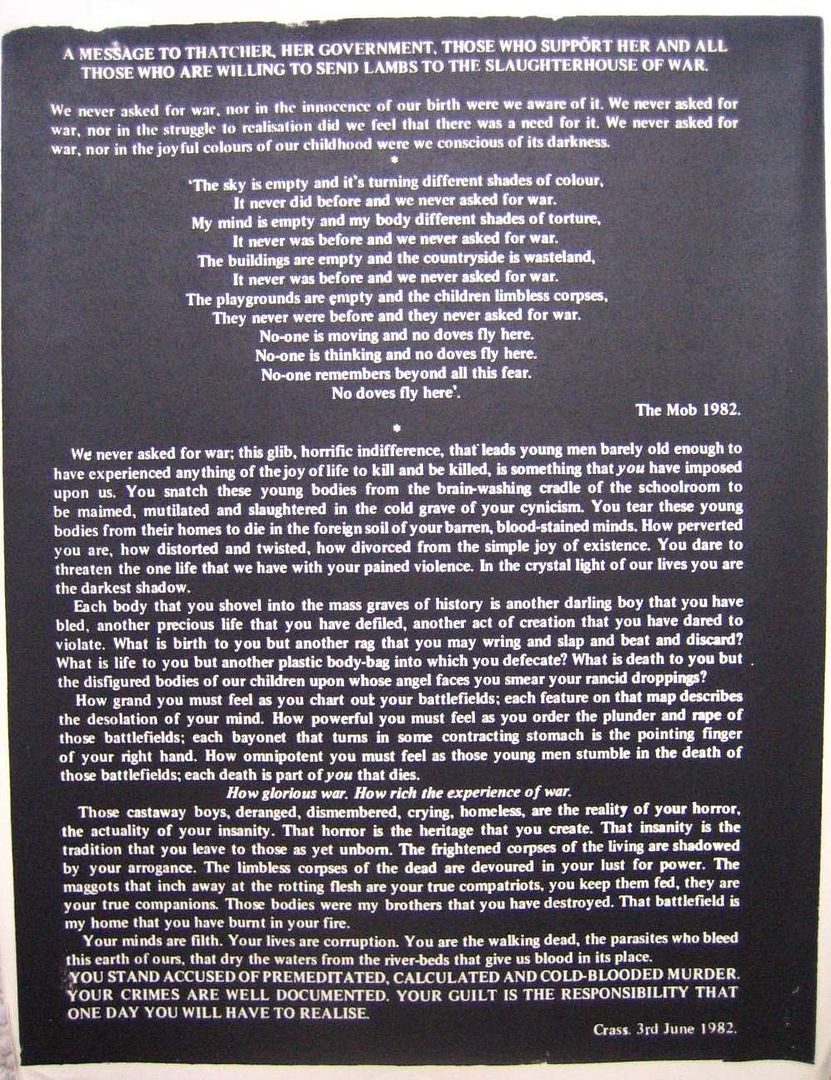 Crass got something else from this release apart from sales when it was eventually released in 1982. Great Britain had gone to war in the Falklands in 1982 and the words to No Doves Fly Here were printed out onto a massive Crass flyer that was handed out at Crass gigs and pasted onto walls around this time. The same text from the flyer also ended up in the Mindless Token Tantrums booklet that Crass printed up sometime later that was included with their box set release Christ The Album.
The Mob, although first meeting Crass on the Weird Tales Tour with Zounds and Androids Of Mu in 1980 (the bus breaking down around Epping and getting help to continue on route to a gig in Bishops Stortford via Dial House) were never actually meaning to become a 'Crass' band. I went to Dial House on a few occasions but as a band we did not really need the imagery and we were not aiming to be part of the Crass scene. We had our own scene and followers by this time, partly in the South West and partly in the squats of London. We were never asked to partake in any further projects by Penny on behalf of Crass Records.
We did perform with Crass once at the vacant Zig Zag club in West London, organized I think by Mick Lugworm,  Andy Palmer from Crass and various other Black Sheep housing Co Op members. Some help also came from myself and Andy Martin along with some of the KYPP collective and a whole host of other people. I seem to remember that Crass hijacked this gig, as originally they were not going to play but turned up on the day and then set upon taking charge, getting bands to play in order of tickets drawn out of a hat and limiting all the band playing times to 30 minutes. I was in the Zig Zag the previous night with Lugworm and others to help organise things in the morning, preparing some food and so forth. Full beer barrels were found still stored in the cellar so that was useful for the night before and for the day ahead.
One time The Mob did not perform with Crass was at Stonehenge in 1980. The Mob members and friends had visited this site on the summer solstiace since 1976 and The Mob had performed there yearly since the bands formation and including 1980. We played our set in the afternoon and suddenly 100's of studded leather jacket 'Discharge' type punks turned up. I saw a bit of The Epileptics set but retired away somewhere to dabble in various chemicals. Before I knew it 100's of these Kings Road punks, that were never ever seen at Stonehenge before that year, were getting beaten up by bikers who took offence at the punks being there. Crass never performed that night. I think Grant Showbiz had a fair bit to do with trying to stop the fighting. Grant Showbiz engineered the first Mob 7" single Crying Again.
It was great getting a record out on the Crass label, as obviously they put the money forward to get it released. When I think back I do not think The Mob ever paid for any studio recording sessions and record releases. Youth and Witch Hunt were paid for by Max, No Doves by Crass, Let The Tribe Increase LP was paid by Lugworm and Al, I think the Mirror Breaks single was as well.
It was nice to have Penny and John at Southern Studios working on the recording. The single looked great and sounded fine. I think it reached a high placing  in the independent charts when it was released. Maybe number three? I can not recall exactly.
I have added the original test pressing version of No Doves Fly Here as mentioned by Mark in his text above onto this post so you can compare both versions.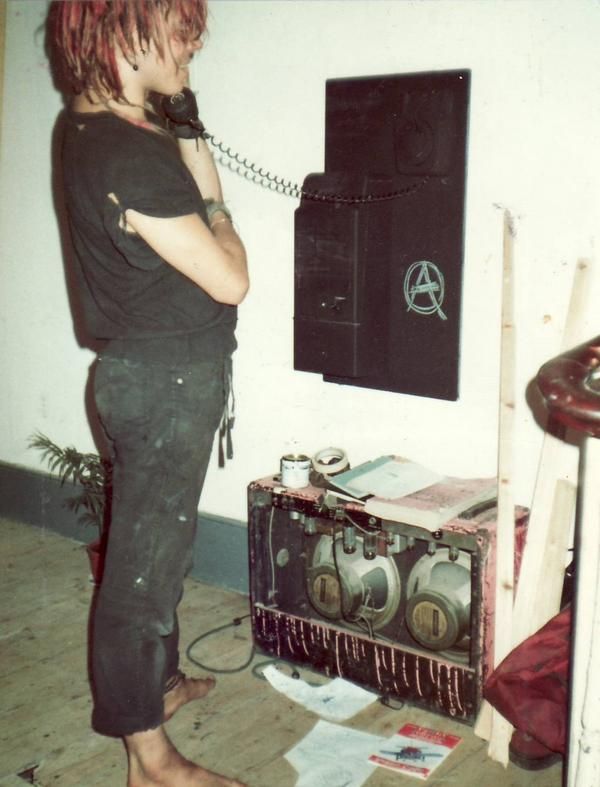 This post is dedicated to Mark from The Mob whose birthday it is today, regular browsers of this site might possibly remember that Mark shares the same birthday as my little boy Aaron who is two today.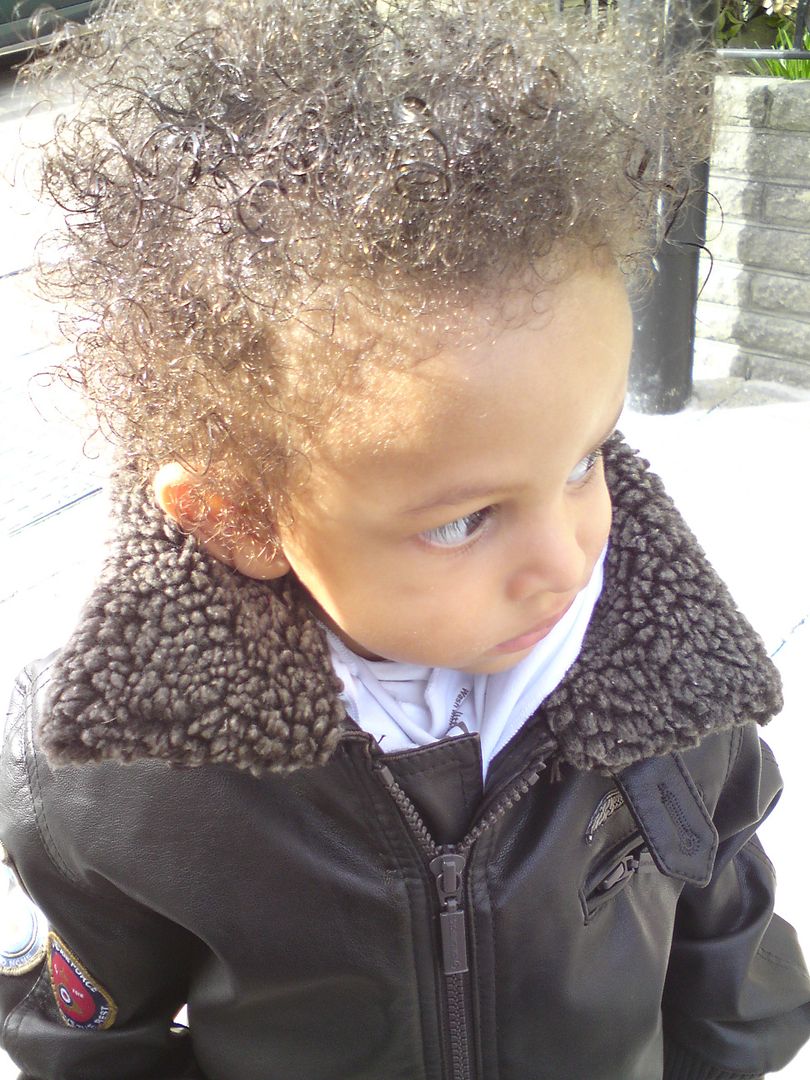 Happy birthday to both of them, and many thanks again to Josef and Mark for the memories they have shared on this site.