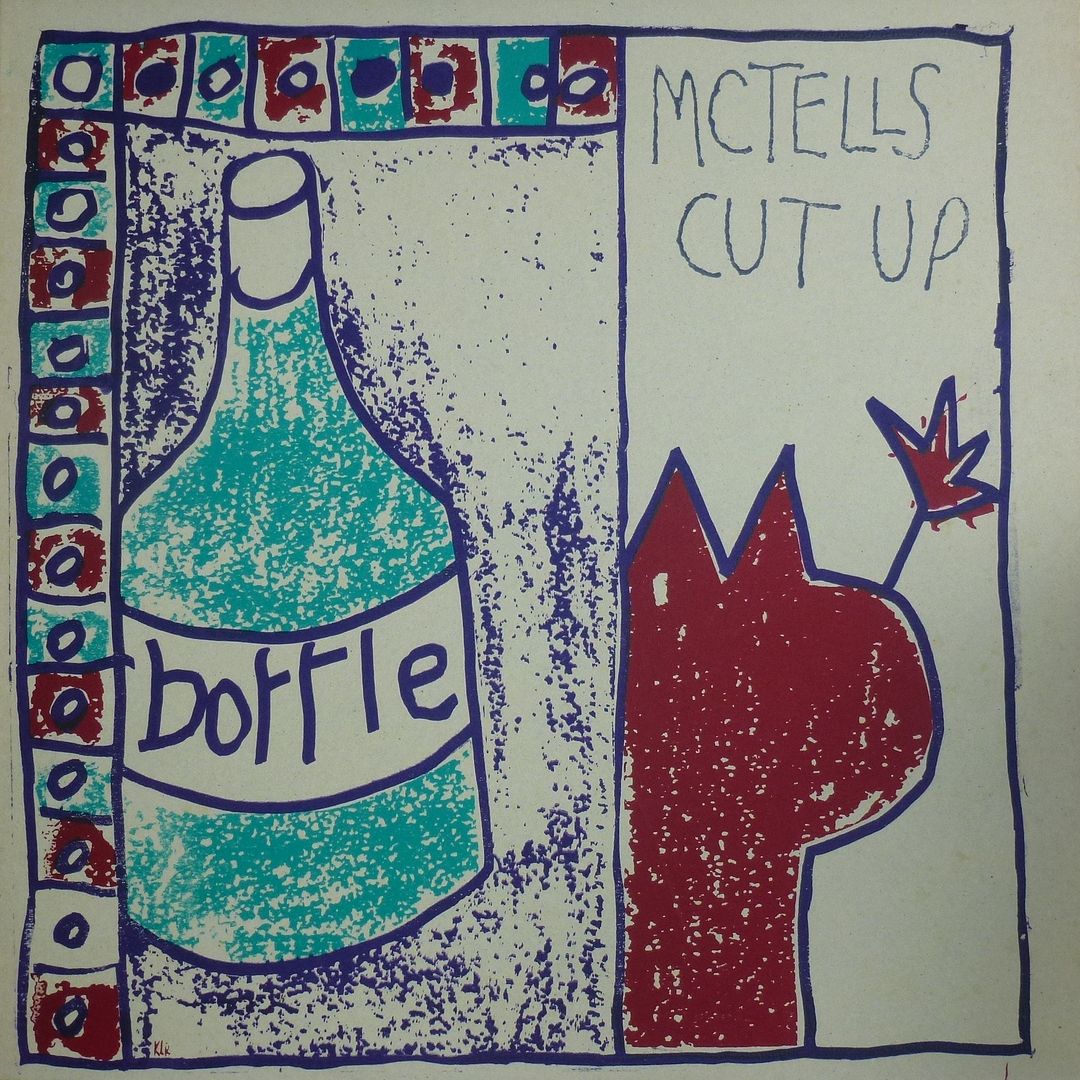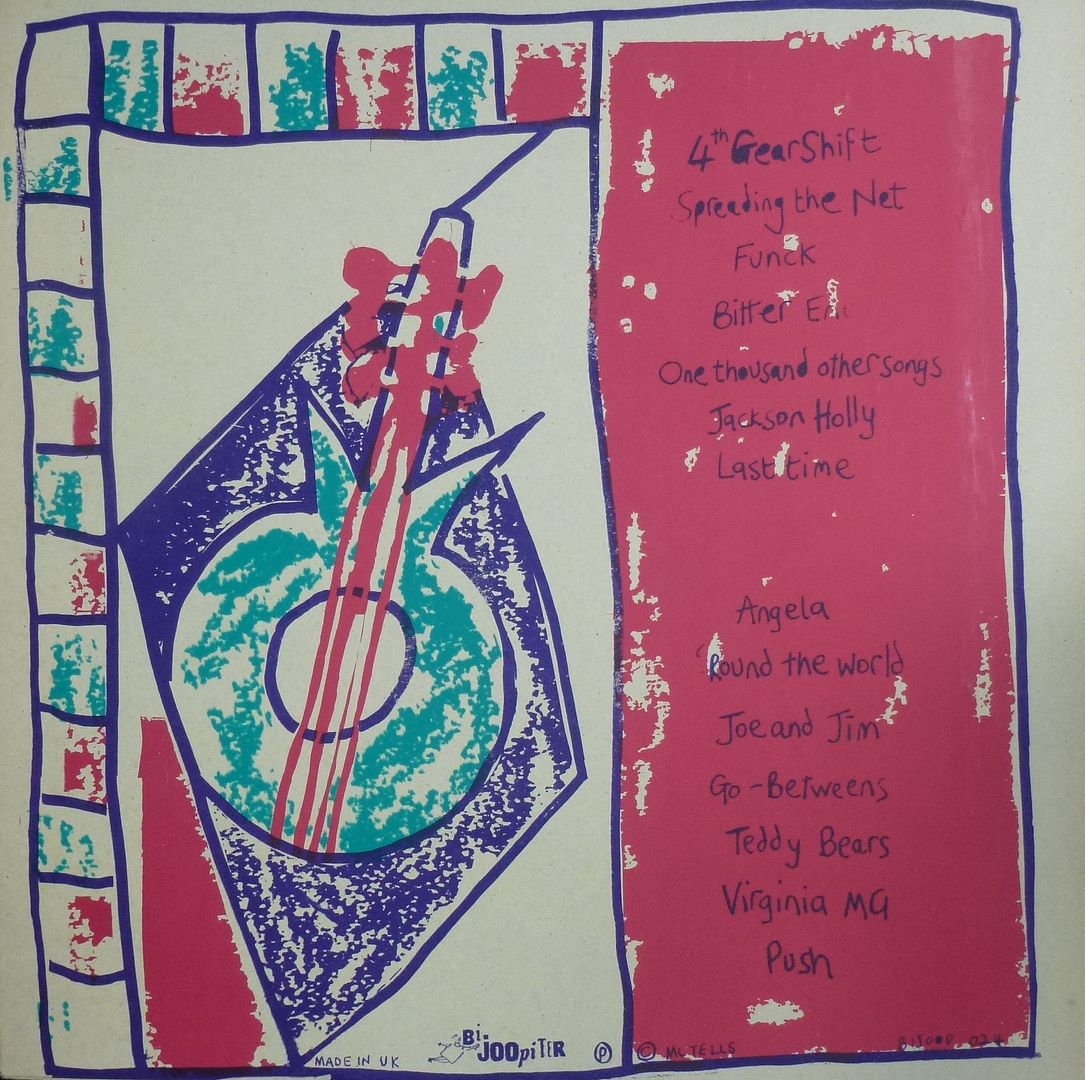 4th Gear Shift / Spreading The Net / Funck / Bitter Eric / One Thousand Other Songs / Jackson Holly / Last Time
Angela / Round The World / Joe And Jim / Go Betweens / Teddy Bears / Virginia MC / Push
The McTells; three lads from Hertford who used to be four… Uploaded today is a live performance from 1987 taken my personal stash of cassette tapes, the second 7″ vinyl record released in 1988 and also the debut LP released in 1990. This LP was one of the musical highlights of that year for me personally alongside Mazzy Star's masterpiece, the 'She Hangs Brightly' LP released on Rough Trade records.
Coming in at impressive thirty minutes of playing time and with a wonderful screen printed sleeve individual to each copy; this McTells release was the record collector connoisseurs release of the year!
Added to this, the LP with a fair bit of help from your humble scribe was distributed by Southern Record Distribution, the first release I managed to got into the company for UK distribution. The 'Manasseh Meets The Equalizer' LP (soon to be a future release on Riz records) would follow this personal milestone a year or so later on…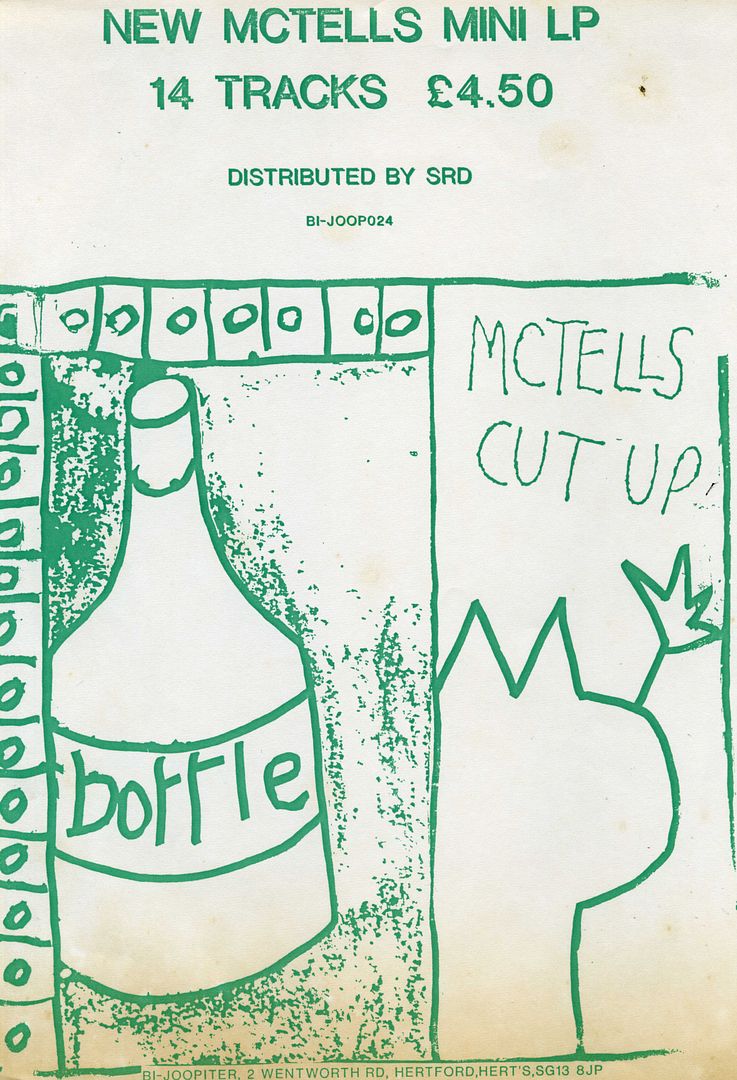 The McTells had been in existence since around 1985; consisting of various members of Rig Veda And The Twins (Paul) and Hectors House (Stuart and Bill) two bands that predate The McTells by several years. Mark Flunder; a Hertford 'face' who had been a member of The Television Personalities in 1983, as well as being in The Marine Girls 'inner circle', had just released the 14 Iced Bears 7″ single on his new record label 'Frank'. Mark who wanting to bolster his catalogue for his new record label contacted The McTells to ask if the band was game for releasing some material. He found out that The McTells had just lost Andy the original drummer but instead of cancelling the idea, Mark decided to set up a couple of drums himself and join the band for the session to record in the studio. Somehow Mark forgot to vacate the band's drum stall after the session and was a member throughout the life time of the band, even eventually sitting down to drum after starting off originally in The McTells all Mo Tuckerish!
Mark Flunder was instrumental in another record label; Complete Control records which released this classic 7″ single by the Hertford punk band Onslaught which is featured on a very special KYPP post HERE
I remember Mark as being a very nice chap and I remember being thrilled to get a ride on the back of his 1961 Vespa (sadly hand-painted in sky blue) across fields near Ball Park College one sunny Sunday afternoon.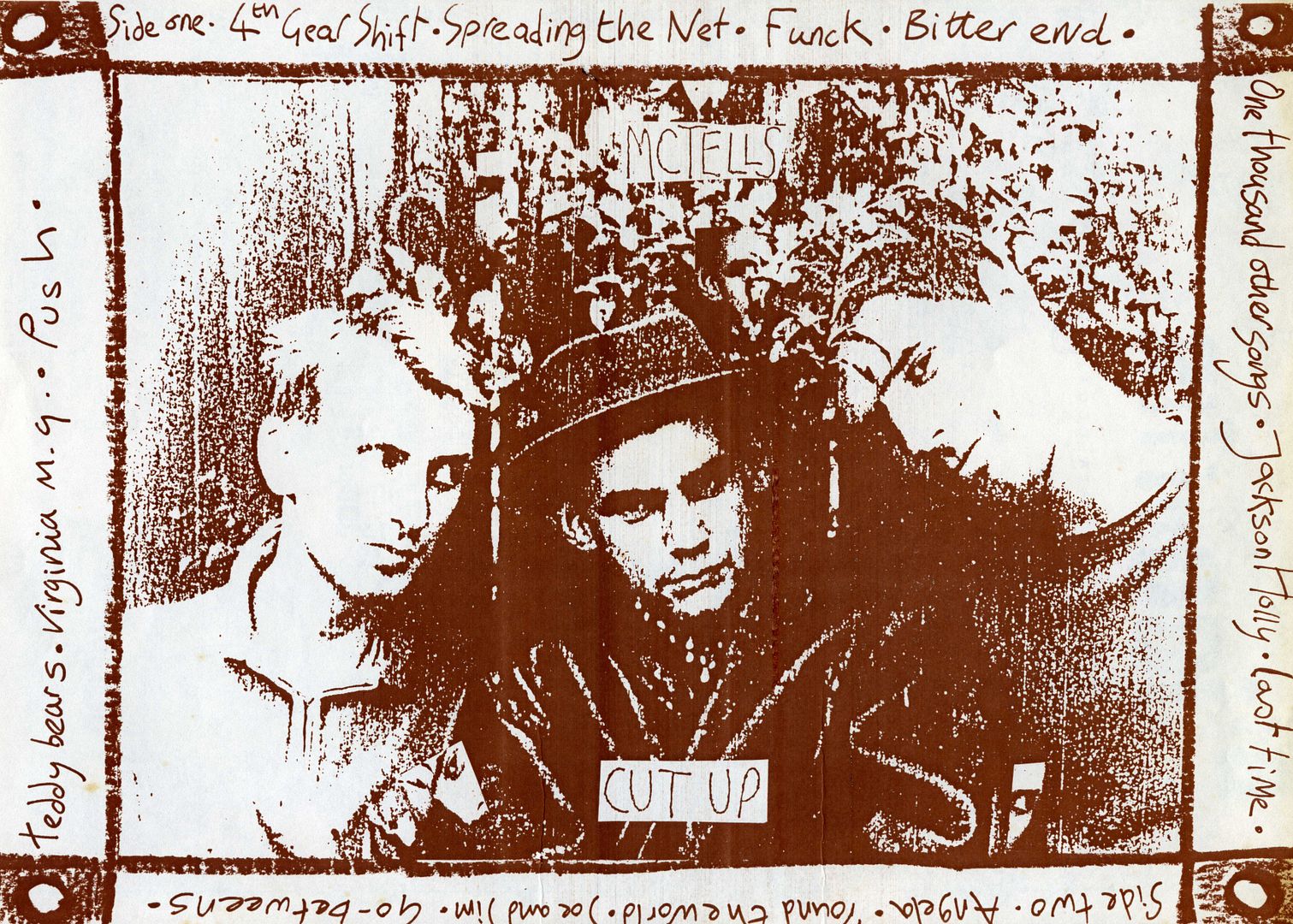 During the summer of 1987 Mark Flunder finally released the 'Jesse Man Rae' 7″ EP single on his Frank label. Paul had managed to release the 'Virginia MC' flexidisc along with a C30 cassette release on his Bi Joopiter label in 1986. Bi Joopiter was mainly known for it's cassette tape releases and the flexidisc was the first 'record' to be released on the label. Both these earlier record releases by The McTells can be listened to HERE
Bill, the original member of the band and second guitarist left Hertford to continue his further education in Brighton and therefore, not being able to concentrate on The McTells that easily, he formed a new band based in Brighton called The Big Paintings.
This left The McTells as a three piece of Paul, Stuart and Mark which remained the stable line up until the band's split in 1993.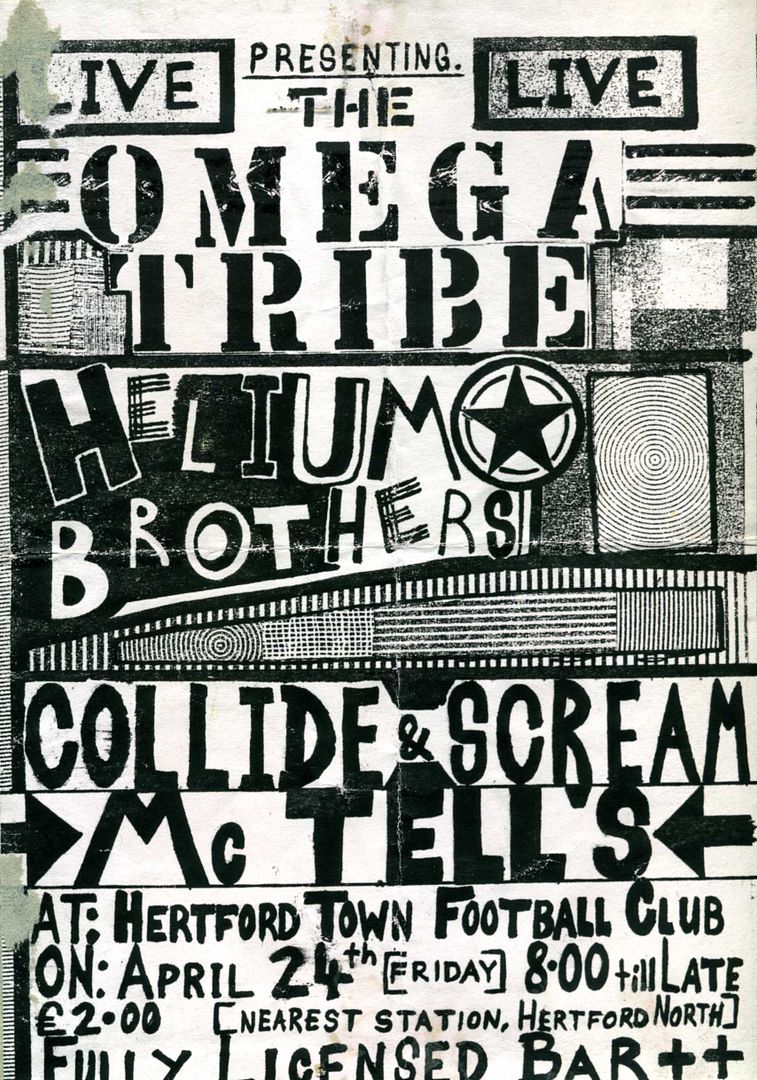 The McTells performed at many of the usual venues that were 'busy' in that era. The Camden Falcon, Kentish Town Bull And Gate, Kings Cross New Merlins Cave and the Fulham Greyhound. Some bands that ended up on the same bill as the McTells at some point or another have been The Pastels, The Television Personalities, The Astronauts, My Bloody Valentine, The Happy Mondays and The Vaselines. I went to a fair few gigs in the bands career and one of the most memorable was a gig at the Brixton White Horse in 1988 with Beat Happening. I went along with Sean 'Gummidge' early doors. We witnessed The McTells, Beat Happening and The Legend sound check. Jon Fat Beast was in charge of the sound that night. Sean and myself waited for the crowds to swarm the venue due to Beat Happening and specifically K records being a well reknowned independant record label of merit across the pond in America. The crowd that all the band members and the handful of people in the hall expected to show up never showed! There must have been only around thirty people in to witness Beat Happenings debut gig in London, and that total included the seven members of The McTells, The Legend and Beat Happening! Thankfully the vibe changed a few days later for the next gig at the Pioneer Hall in Hertford as The McTells, Beat Happening and The Legend all got rapturous reactions from plenty of paying punters. A great gig. Beat Happening created a bit of a buzz a couple of years later in the UK due to some gracious comments from Kurt Cobain, the Nirvana front man in the music press. A Saturday afternoon performance by The McTells in the basement of Rough Trade records in Talbot Road, west London was also top notch.
The band embarked on a tour in Holland with Buy Off The Bar, a dutch band that Bi Joopiter had a major hand in promoting in the UK; releasing Buy Of The Bar's LP in 1989 to a fair bit of Peel play and decent reviews. Also a visit to France for The McTells occurred.
The McTells unbelievably performed some shows in America with Beat Happening and The Mummies in the early 1990's.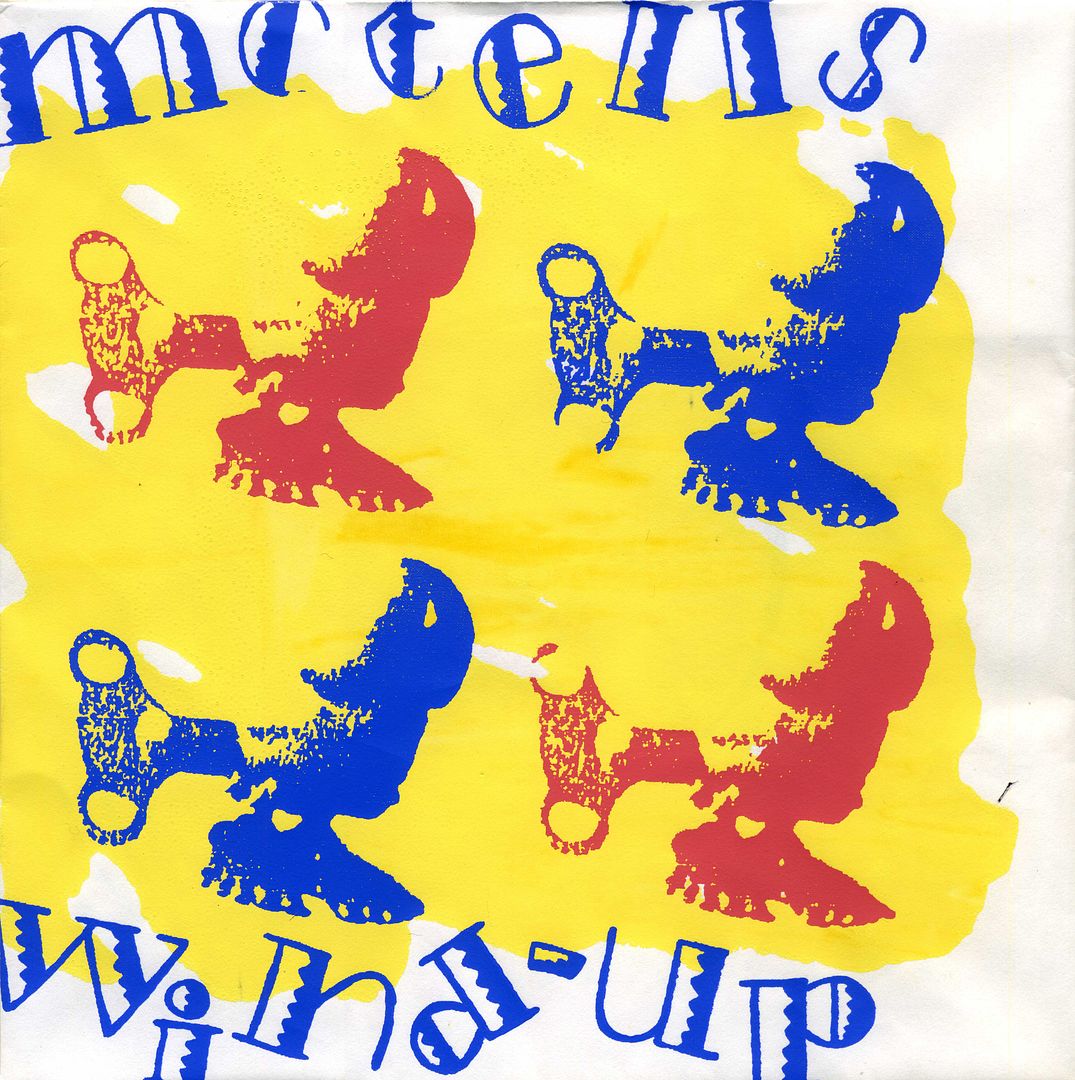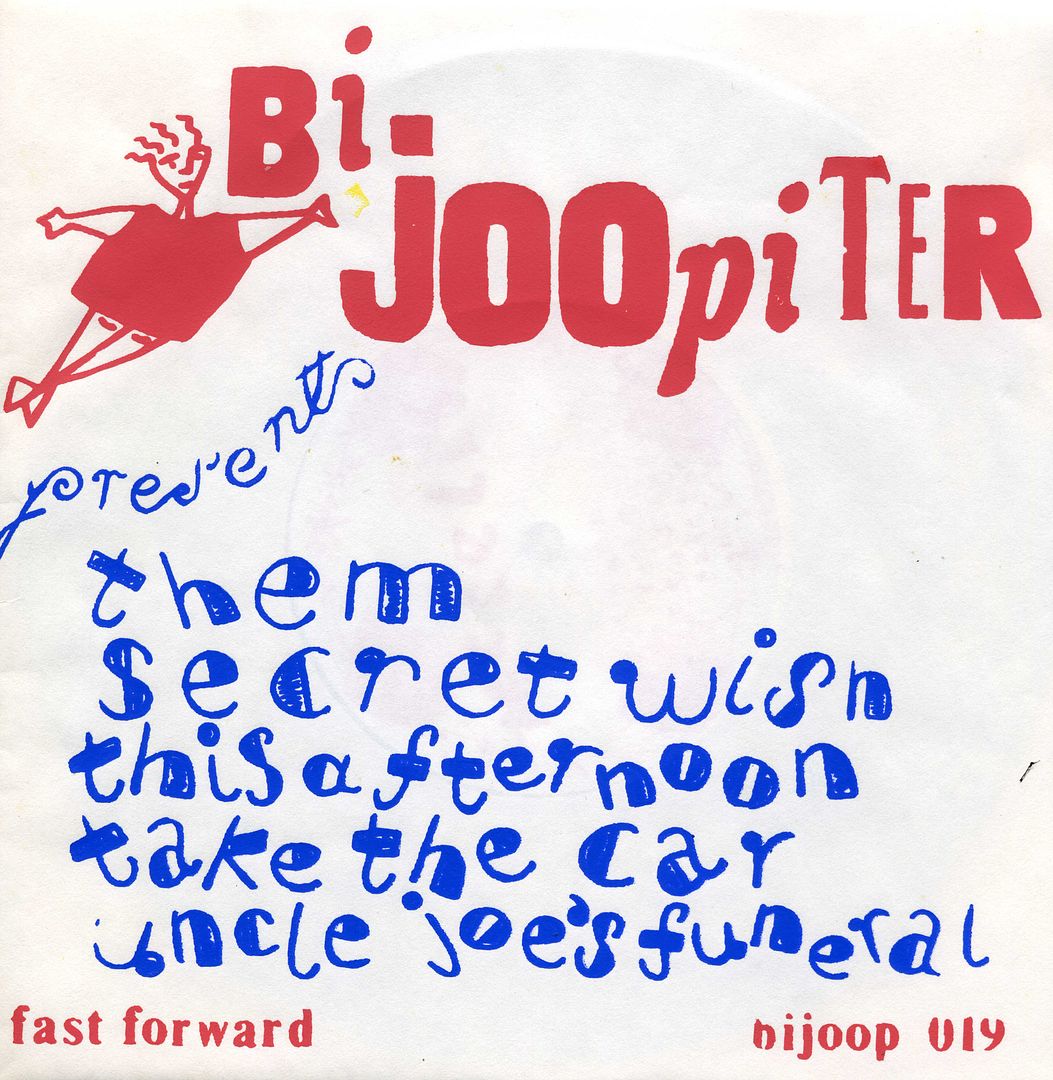 This Afternoon / Take The Car / Uncle Joe's Funeral
During 1988 the first ever Bi Joopiter 7″ vinyl single was released. This release by The McTells was a five track EP released when the band were still in the rough Swell Maps soundscape. Again the artwork on the foldout poster sleeve was screen printed so no one copy of the record sleeve is the same as another. I remember selling a fair few copies of this record in and around Hertford and taking them up to London venues and shifting a fair few there also. At this point I was working part time for Southern Record Distribution as well as keeping my King Penguin Distribution mail order company going; King Penguin Distribution was originally created by myself after the demise of All The Madmen records / WOT Distribution early on in 1988 when the company was based at 'Crucial Corner' in Kings Cross opposite Collier Street where Rough Trade Distribution was based.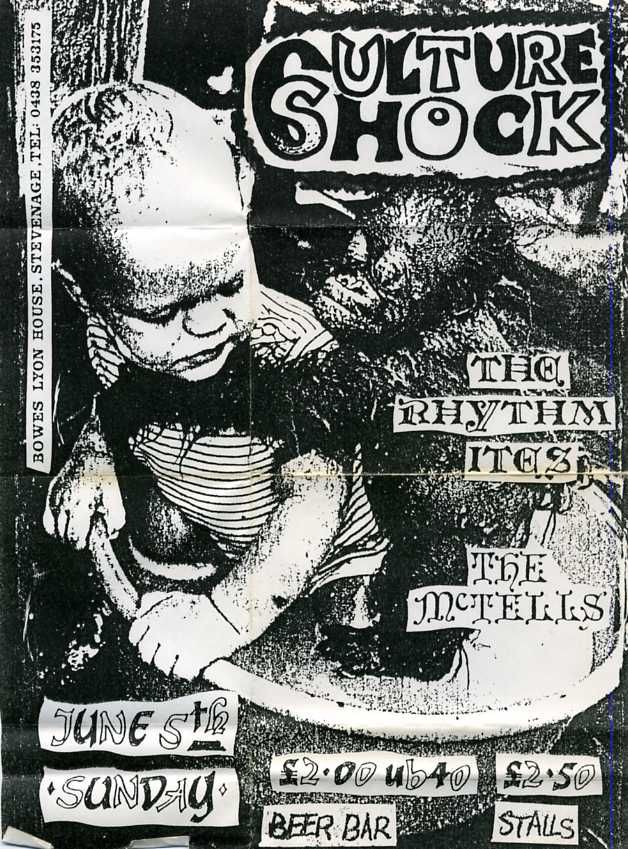 That / Sweetly Breathing / Trash Can / Take The Car / This Afternoon / Uncle Joe's Funeral / Them / Secret Wish / Jesse Man Rae / Expecting Joe / Snowy White
A gig was taking place in Stevenage at the Bowes Lyon House. I knew members of the headlining band, as well as the promoter for the night. For some reason now long forgotten (blocked out in my memory due to trauma I would think) I suggested getting The McTells onto the bill along with uber crustie punky reggae bands, Culture Shock and The Rhythmites. I am not sure what I was thinking.
Stuart the bassist from the McTells was aware of Dick Lucas, the friendly and approachable Culture Shock vocalist, and was certainly aware of Dick's previous band The Subhumans. Stuart would go to gigs by Crass, Poison Girls, Conflict and Subhumans with some regularity when he was growing up during the early 1980's. I think it was Stuart who pushed the gig onto the other band members of The McTells after I got the slot confirmed.
Stuart was the member of The McTells that I knew best as we both hung around together in his bedsit for hours on end playing his battered vinyl's on his battered music system (when he was not throwing stiffs into a freshly dug hole – he was a gravedigger by trade). The 'Front Line' reggae compilation albums were played a fair bit I seem to remember, as was 'Stations Of The Crass'. Stuart's room was next to another room with the another lodger placed within its dank and dark walls. This other lodger Derek was a serious alcoholic who seemed to have been down on his luck for many years. Derek would forever be knocking at the door asking Stuart for spare change to refill the bottle of his alcohol choice of the day, as well as asking for cigarettes and even the dog-ends left smouldering on an almost hourly basis.
Myself and Stuart had, and held onto, that Crass belief. We also both had a fondness for All The Madmen records in common. We specifically liked The Mob as well as well as having an admiration for The Astronauts (a band that Stuart was briefly a bassist for).
It probably does not need stating that when The McTells performed on that stage in the smaller downstairs hall at Stevenage Bowes Lyon House (the larger main hall a floor up was not used on this particular Sunday night) they received little appreciation.
A smattering of folk from The Blackbirds public house in Hertford had turned up to support them, but the bulk of the audience that turned up ignored the band (which I guess is probably better than heckling them or causing trouble).
The band performed well despite all this, but ending the set they quietly packed up and Paul and Mark left the hall. Stuart and myself stayed and I recorded the rest of the bands through the P.A. as I had done with The McTells previously. Did I manage to gain worldwide appreciation for The McTells via my 'promoting' at the gig? No, not really. Another day maybe.
The Culture Shock performance may be listened to HERE
What else to write? Well after 1990 The McTells released a few more 7″ singles on other labels including one released in 1993 on K records of Olympia which was run by Calvin of Beat Happening. Returning the favour somewhat for those few gigs the Beat Happening and The McTells had shared a few years previously and for a Beat Happening 7″ single that Bi Joopiter had released a year or so previously.
I moved out of Hertford in January 1990 after I suffered a brain hemorrhage in the middle of December 1989. After spending a couple of months in the Royal Free hospital followed by a couple more months at my mothers house, I ended up living in Wood Green. I knocked King Penguin Distribution on the head due to trying to get better brain wise. I was already expected to be on prescribed downers for two years to come; and would have to be off any alcohol during that same period. I ended up playing safe, staying in a bit more while still in recovery. I decided to concentrate all my energies on my Southern Record Distribution position. I had gone onto a full time position from December 1989 two weeks before the brain hemorrhage. John Loder supported me during my absence, keeping my position safe and paying me in full for the three months I was recovering. Today, twenty three years on, I am still working at Southern Record Distribution as the warehouse manager . Sadly John Loder passed away in 2005.
I lost touch with all the members of The McTells (and a lot of other people from Hertford and surrounding areas) during my long recovery in Wood Green.
In the mid to late 1990's I would see Mark Flunder perform with Cee Bee Beaumont or with Sportique at the odd gig in north London. But very rarely. Into the 2000's I saw Stuart in his band the McKenzie Break about five or six years ago, as well as Bill's band The Garden City around four to five years ago. I have not seen Paul in any music capacity since 1991 I would guess. Southern Record Distribution still had ties with Bi Joopiter records up until the mid 1990's but I was not personally speaking to Paul about label matters as that was another department's job.
The text below is an interview conducted between Paul Rixon of The McTells and Everett True AKA The Legend ripped D.I.Y style off the collapseboard.com site.
What inspired you to first start making music?
"Hard to remember, Buzzcocks were definitely a great eye opener, so were Young Marble Giants; the local band the Marine Girls showed me that anyone could have a go; it was their linkage to the tape label Inphaze that also got me excited, the idea that you could also put your music out there on cassette, you didn't have to find some record label to 'sign you up' and all that sort of thing."
Which singers did you particularly favour?
"Pete Shelley, I like his whiny voice, a little like mine (or so people have said). Stephen Pastel, as it sounds less like singing, in the traditional sense, and Dan Tracey, again he was very distinctive. I suppose I like voices that have character, that don't sound as if they had been trained, that have feeling behind them. Ones that are often very 'English' in tone."
How important was it to you to have control over what you were doing?
"Very. I suppose this was why we did what we did. By we, I mean those behind Bi-Joopiter, the label, and The McTells. For me making music is exactly that; it includes all the elements of creating something that, eventually, someone gets hold of and listens to; it is recording, writing, packaging and putting the songs out there. I think that is why we were all in to the DIY ethic, using our 4-track recorders to record, then cassette machines to run off our cassettes and then screen-printing our own covers. I know we moved into records eventually, but we were very hands on, we mostly recorded our own songs, designed and printed the covers. And, in the end of the day, marketed them and distributed them."
What informed The McTells' aesthetic?
"It was the DIY ethic I noted above. We looked to other bands that had come before which had a sound that fitted with this and our interests in music. Music that was raw, cut down and inspirational. We all liked the Swell Maps, The TVPs, The Pastels … later, bands like Beat Happening. It was the sounds of early Rough Trade, bands like The Raincoats, that sought to provide sounds and music that were not over produced, that felt like the sounds had only just emerged and had not been worked on for months; that still have energy to them. I also liked some of the cassette labels I came across in the early 1980s in Europe, that often played around with packaging, that had a more arty view of what they were trying to do."
Which other bands or individuals did you feel a kinship with?
"I know when we first came about K Records that was a kinship there. We all loved the Marine Girls and that DIY ethic. Calvin was an inspirational and supportive person. It was nice to think there were people out there like that. Also, with Stephen Pastel one felt there was someone who you could talk to, that had a similar idea about what they liked and were trying to do. Another group I felt we had a similarity to was The Cannanes, from Australia, and The Clean, from New Zealand. They had a similar sound but also similar aesthetic."
How did you measure success – ie: did you feel The McTells were successful?
"Commercially no, but that was never our aim. I think we managed to do what we wanted, to make music, to play in front of people and to create some wonderful artifacts which, to me, was a success. If a few people occasionally remember us great, that is a success of sorts."
What were some of your most memorable concerts?
"Playing Netherstowy, a tiny village near Bristol. We played a small pub there and all the kids turned up. I doubt much ever happens there. We played in Olympia, in someone's garden, with the Nation Of Ulysses, I remember the sun going down, the gentle heat and the lovely crowd. One that should be memorable was when we played with Happy Mondays at the Black Horse in Camden. I don't remember watching them, more the shame, but they were lovely people. They let us borrow their equipment."
What attracted you to the cassette format?
"Easy to copy, post while not being too expensive. The main thing was it gave us the freedom to copy and to then post the cassettes out. It was small enough to fit in a small envelope and was a world wide standard. If we had started now I wound fully endorse the web, down loads etc, there was nothing aesthetically beautiful about the cassette, just the freedoms it offered."
Did you see the influence of The McTells on any of the bands that followed?
"Hard to say. I would like to think there are or were. I know of a few people who mentioned The McTells in interviews. If nothing I hope it encourages anyone to believe they can enjoy themselves, that they can do something, that they can pick up a guitar and perform."
What drove you to write songs – what were your lyrical concerns?
"I suppose it was a mixture of things. A little politics, love, sadness … I suppose I would argue that, with a small 'p', everything is political. I liked making observations, from my own perspectives, that would offer some view on life. Often the lyrics were obscure, they were not obvious, with the view that you could make your own meanings from them."
How important was environment?
"The McTells were a band of a certain time and place. We all grew up in a smallish town, Hertford, and shared similar small town outlooks. However, we were near enough to London to have that opening to us. We appeared around the mid Eighties and were around when the indie scenes was taking off. They were lots of venues and bands touring around our size. We were products of a conservative Britain, at times unemployed, looking for a way of expressing ourselves, of making comment – but not in an overly political way."
How important was feedback?
"It is nice to have feedback, whether from letters, conversations with people at gigs, from fanzines etc. Some of this might influence us, then again we tended to just push on in the direction we wanted to go. But having a dialogue with the audience, with other bands, our peers, with critics, is important. It is this discourse that seeks to define how we judge music. We wanted to put the view that our DIY ethic was as respectable as any other."
What was the most recognisably commercial The McTells ever got?
"I think, near the end, we signed a deal with Vinyl Japan. That was the first time we had signed a contract. We then split up a year or so later. Maybe this was the nearest we came to joining the 'industry'. Otherwise, in terms of being out there for people to hear us, when we were most successful, it was when we were playing with the likes of The Pastels, TVPs, My Bloody Valentine; being played by John Peel, touring in Europe and America."
Where did the name come from?
Different views, one argument is that it comes from the Blues singer, Blind Willie McTell, the other that it is from the children's show, Tingle on my tum, hosted by Ralph McTell. I don't think we really know. It was at a time we changed names ever so many weeks, then we recorded a record and we were stuck with that name."
Everette True (The Legend)
Bi Joopiter records discography HERE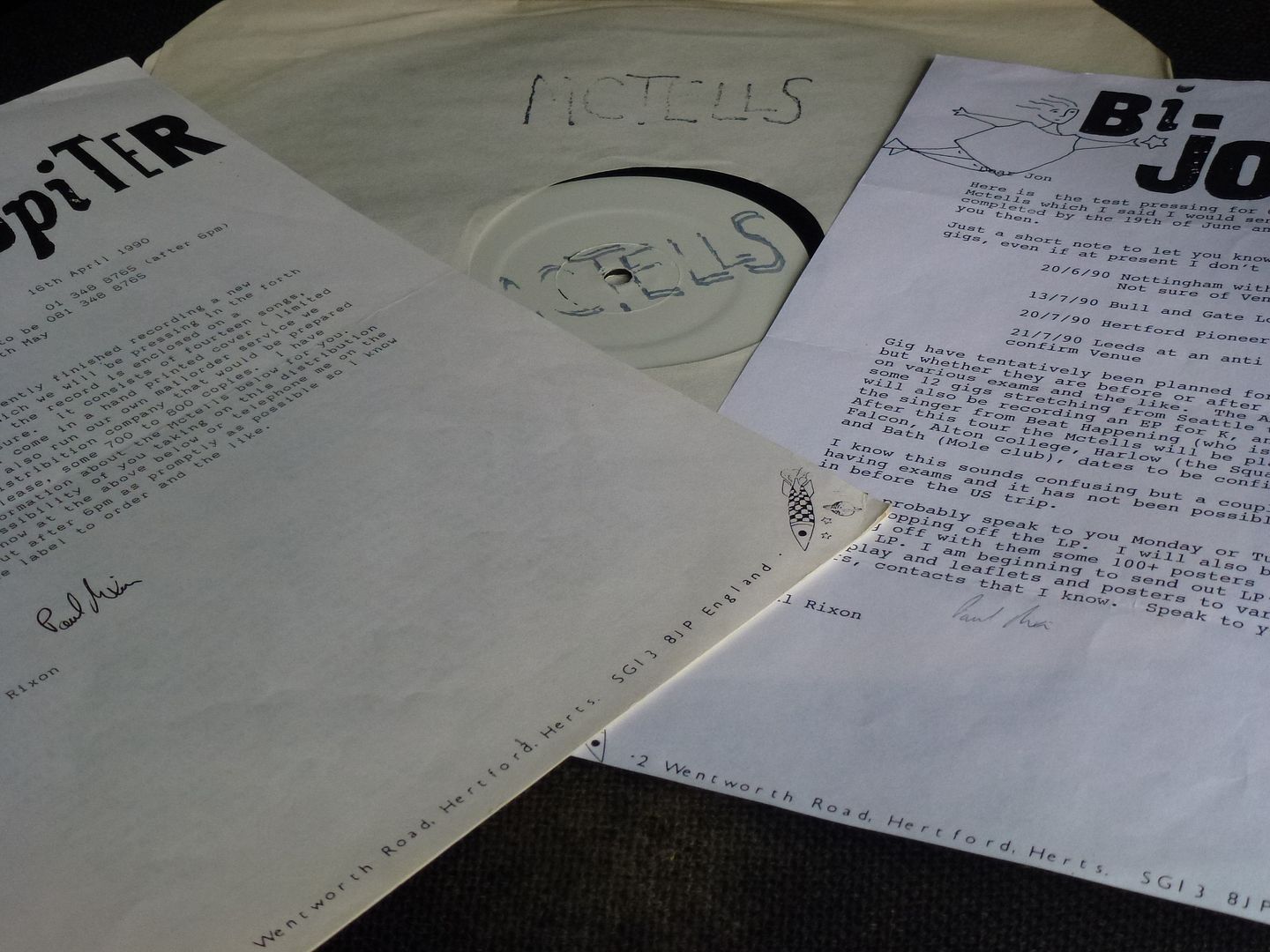 The McTells are back together again and are performing a gig at the Lexington in Islington on 5th August 2012. I am looking forward to that and will be there. Hopefully some browsers will be too.