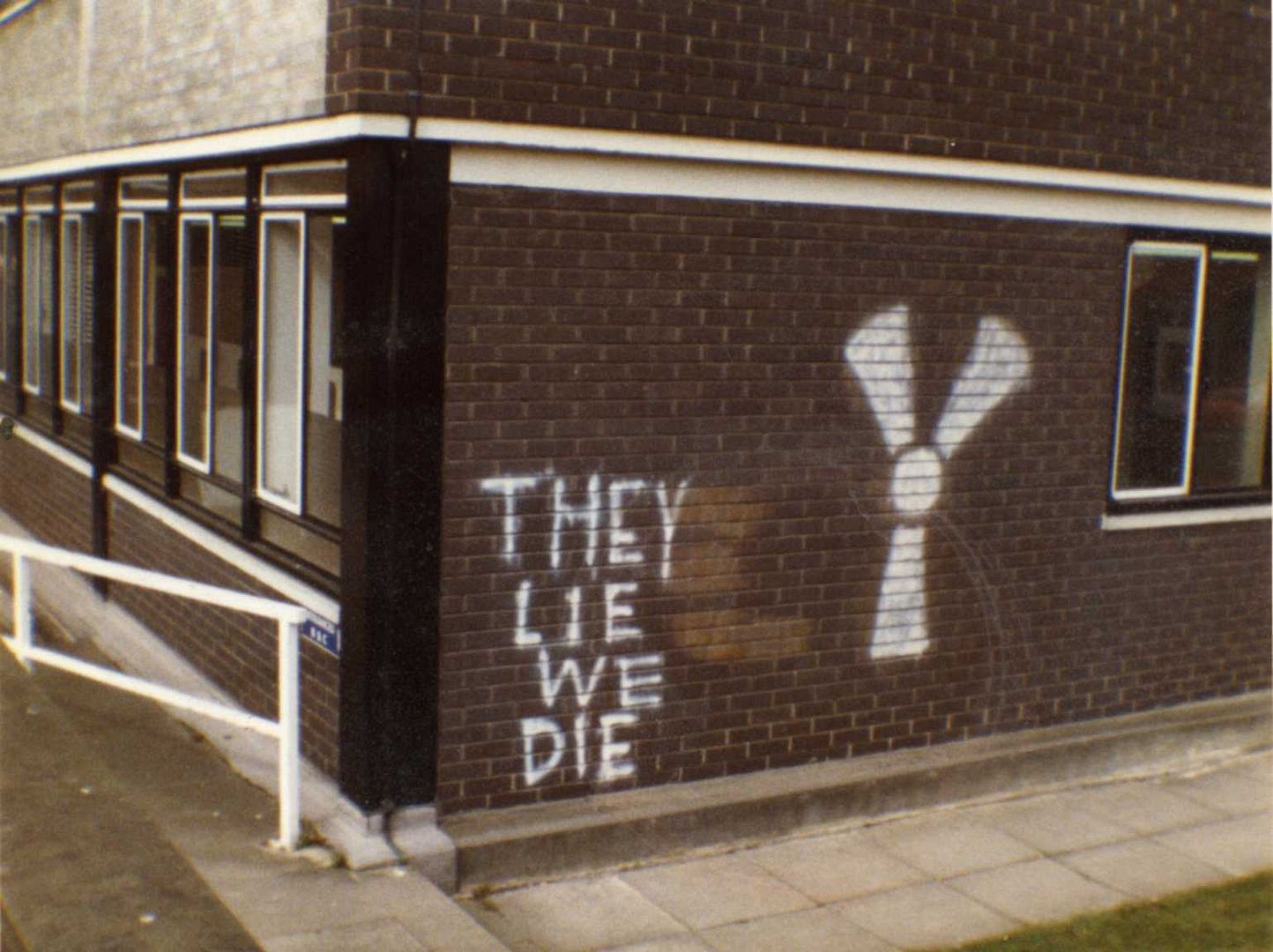 HAPPY NEW YEAR TO ALL THE KILL YOUR PET PUPPY BROWERS; THE FIRST DAY OF 2012 SEES A VERY SPECIAL POST FOR THE SITE; JUST A LITTLE PERSONAL HISTORY WHICH IN A SMALL PART HAS MY YOUNGER BROTHER ROB INVOLVED. COINCIDING (NEARLY) WITH HIS BIRTHDAY AND THE TWENTY NINE YEAR OLD CASSETTE RECORDING THAT HE GAVE TO ME AT THIS POINT IN 2010.
THIS POST HAS BEEN A YEAR IN THE MAKING!
I SHOULD THINK THIS POST HAS LIMITED APPEAL TO ANYONE OUTSIDE THE IMMEDIATE SCENE OF THOSE TIMES IN HODDESDON / HERTFORD / WARE BUT I DO HOPE OTHER BROWSERS WILL ENJOY SOME OF THIS POST. GO ON GIVE THIS RARE RECORD AND EVEN RARER CASSETTE TAPE A LISTEN; YOU KNOW YOU WANT TO.
THANKS TO TIM EX NECRO FOR THE EFFORT SHOWN WITH THE ESSAY.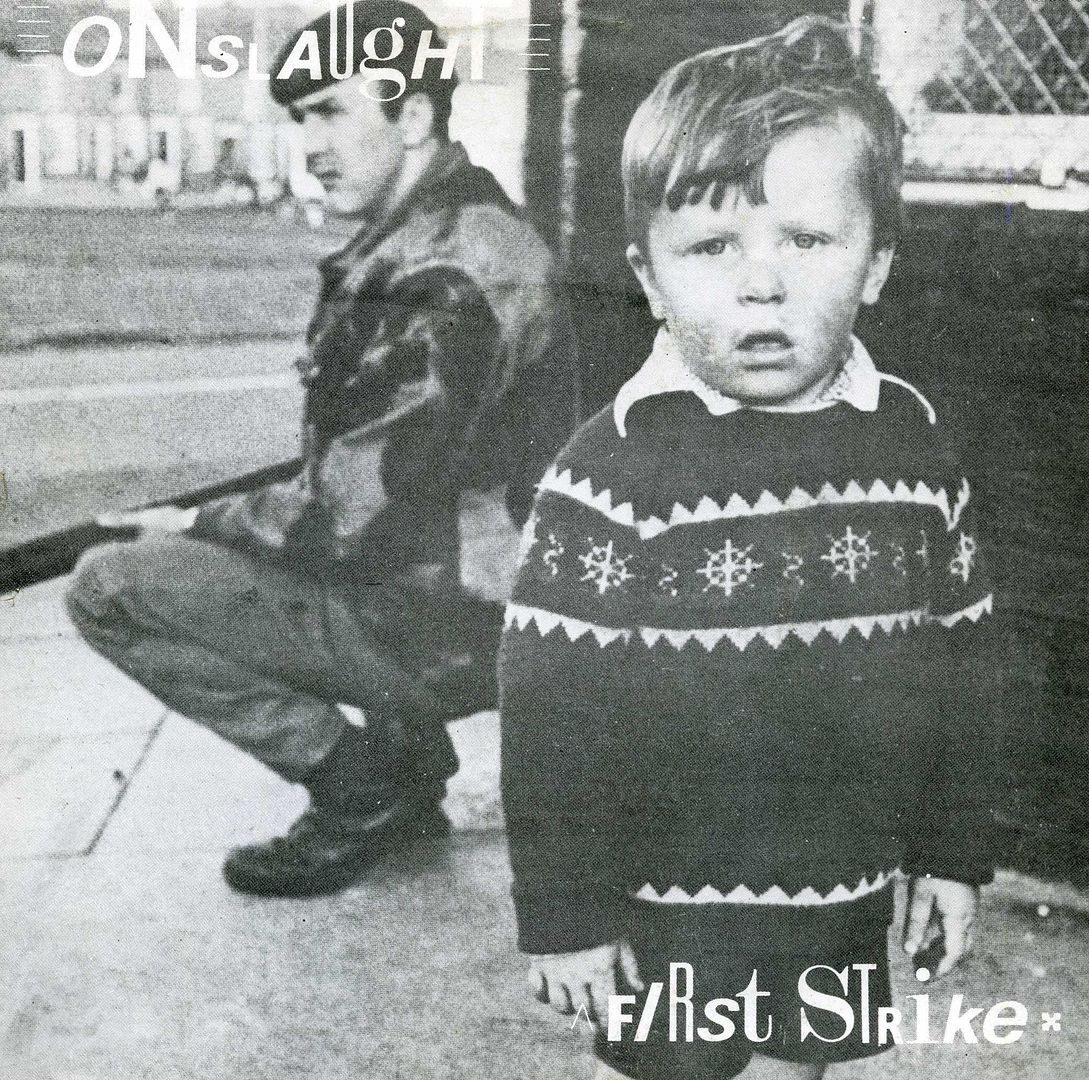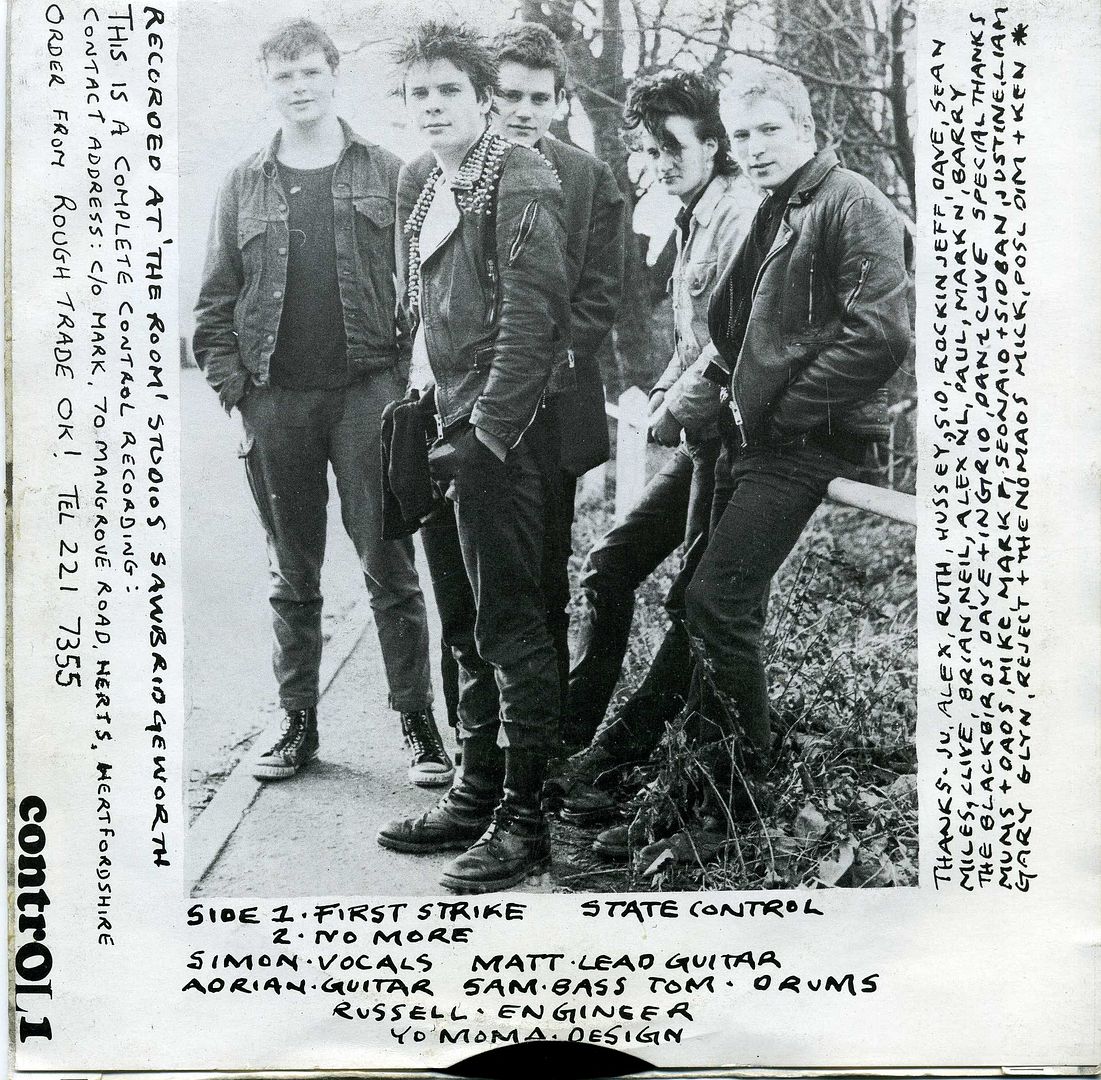 Onslaught – No More / First Strike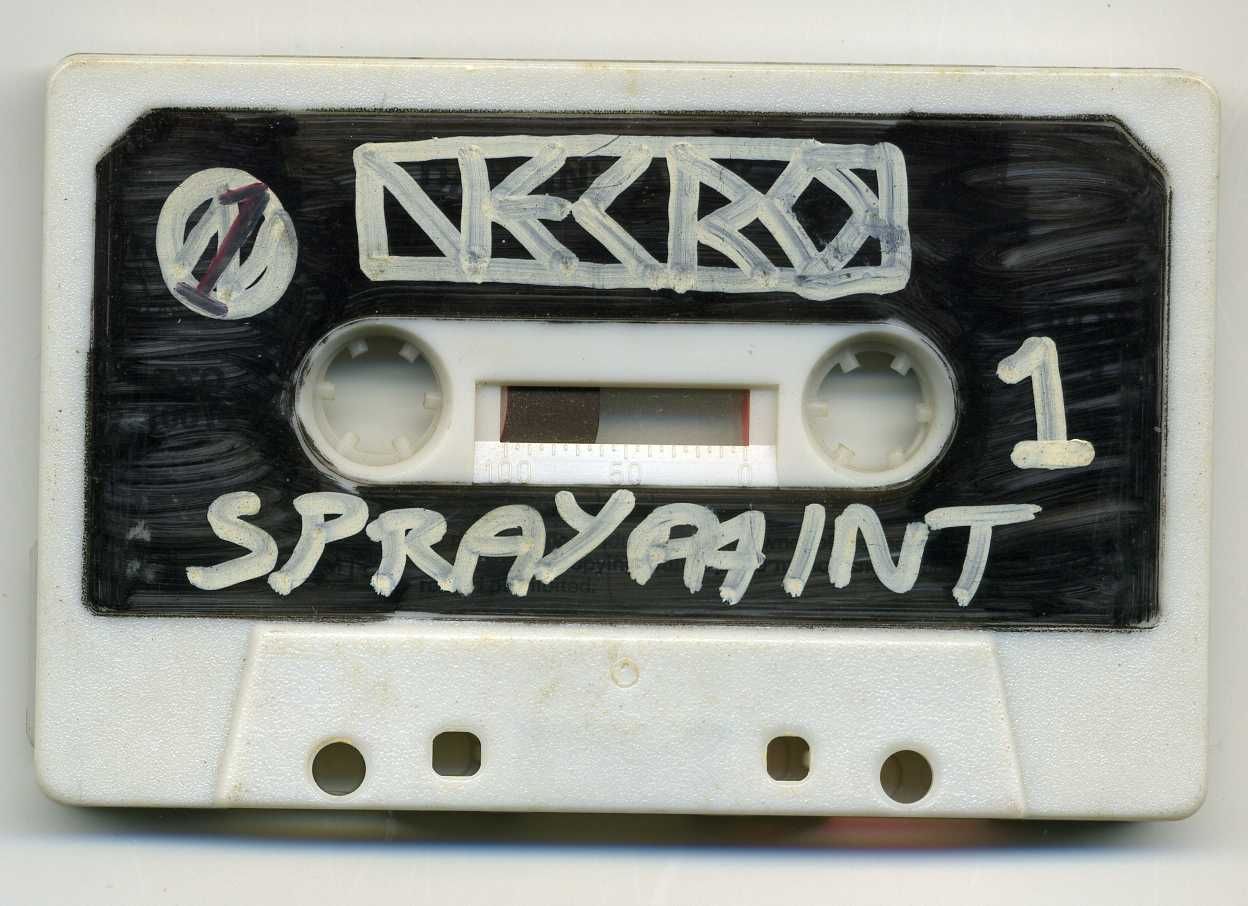 Necro – Practice – 1983 – Side One (THREE PIECE)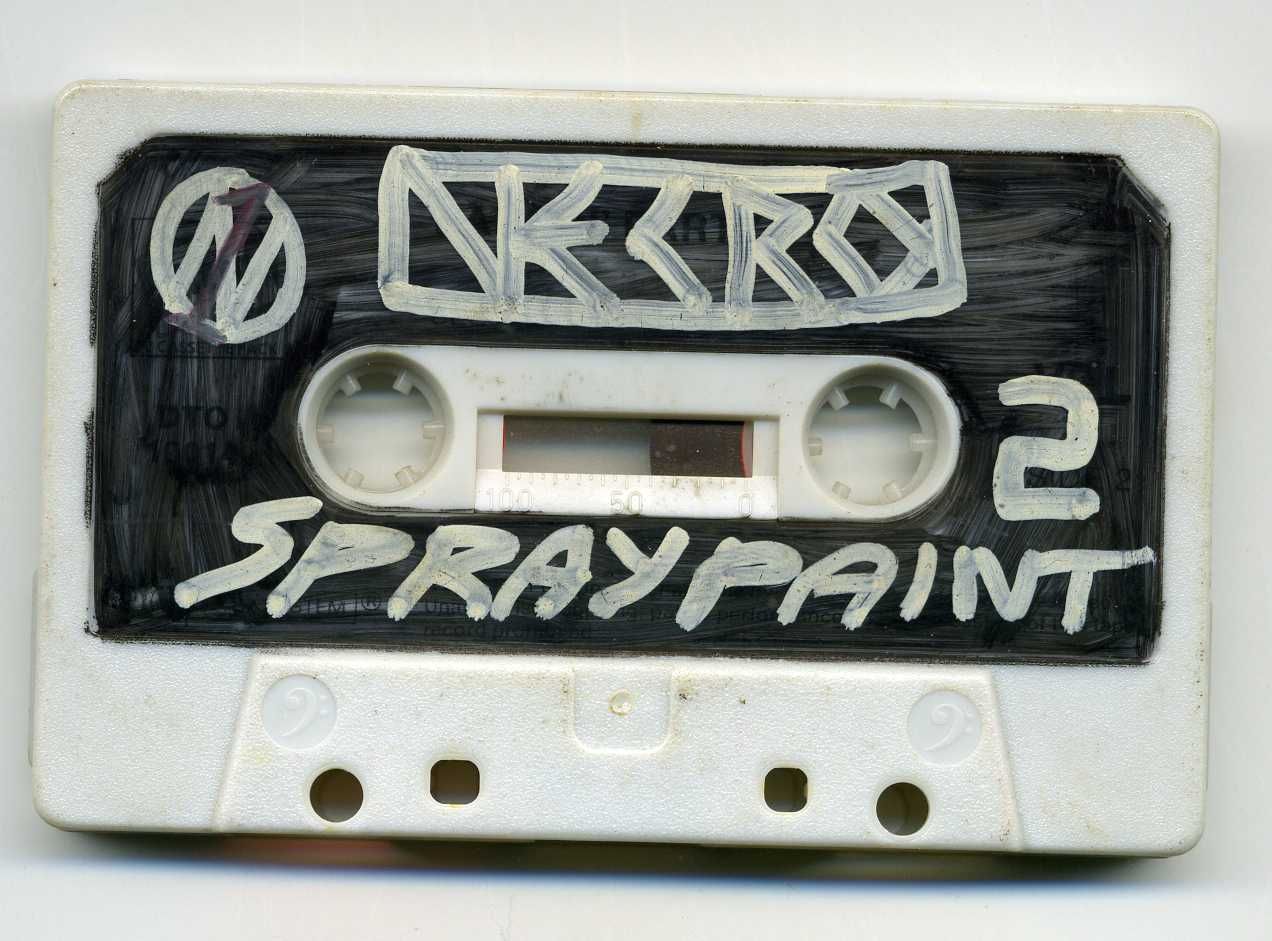 Necro – Practice – 1983 – Side Two (THREE PIECE)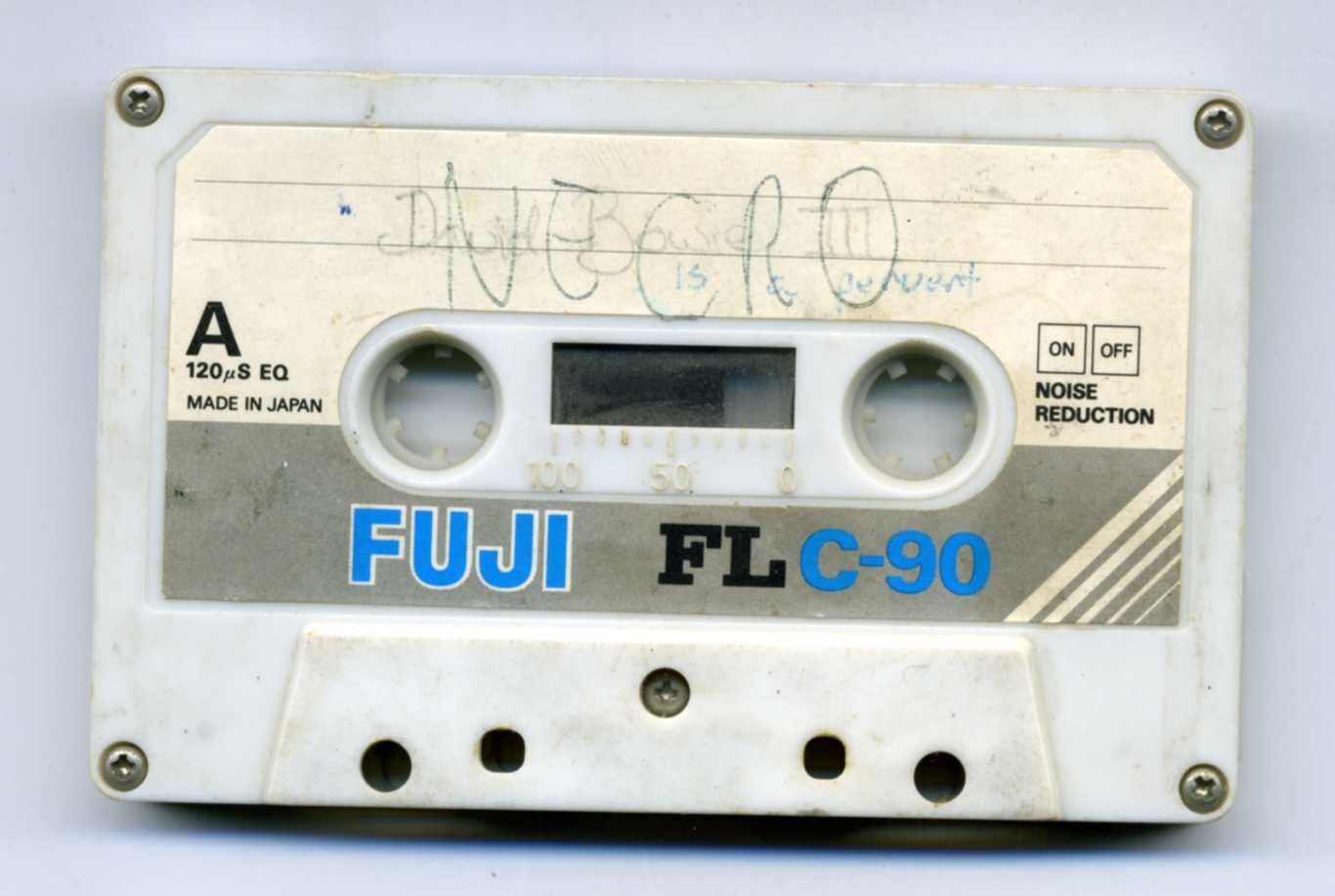 Necro – Practice – 1983 (THREE PIECE)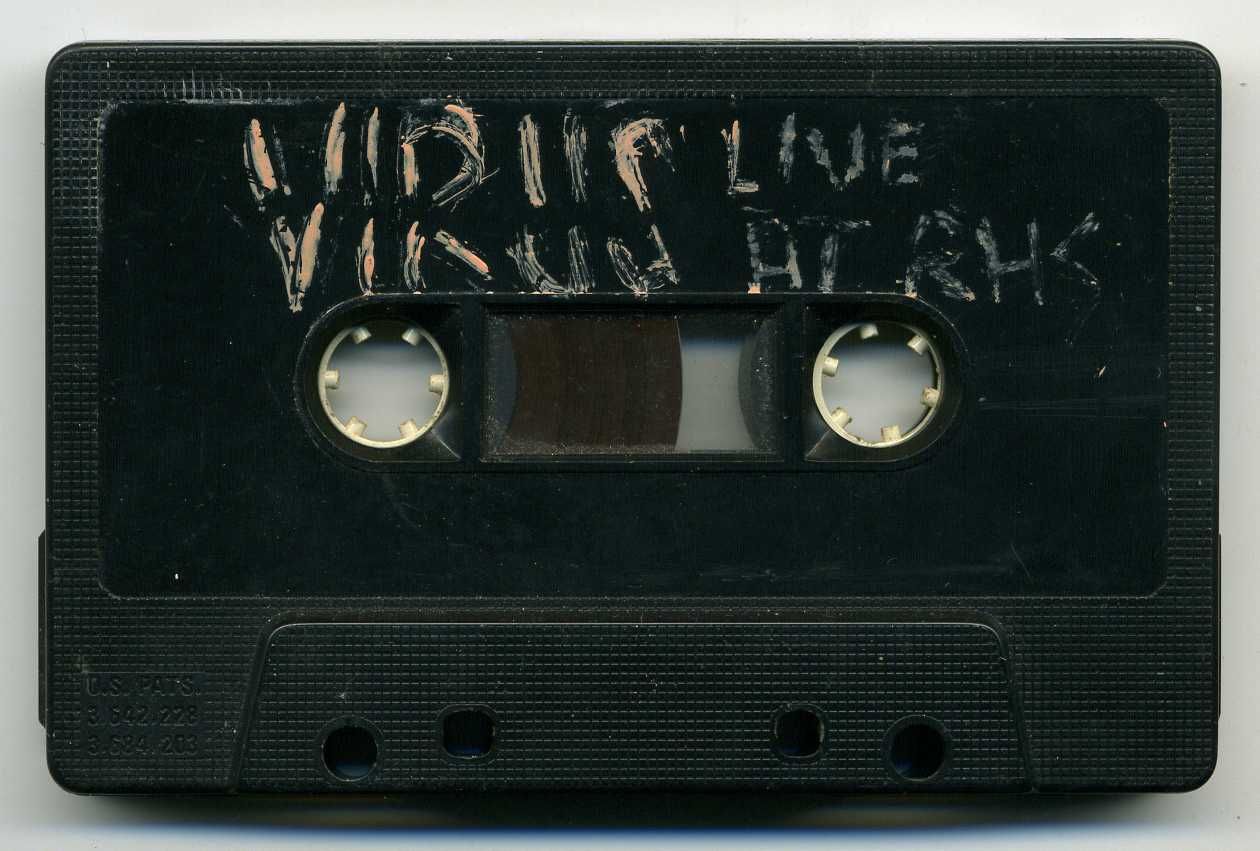 Virus – Live At Richard Hale School, Hertford 1983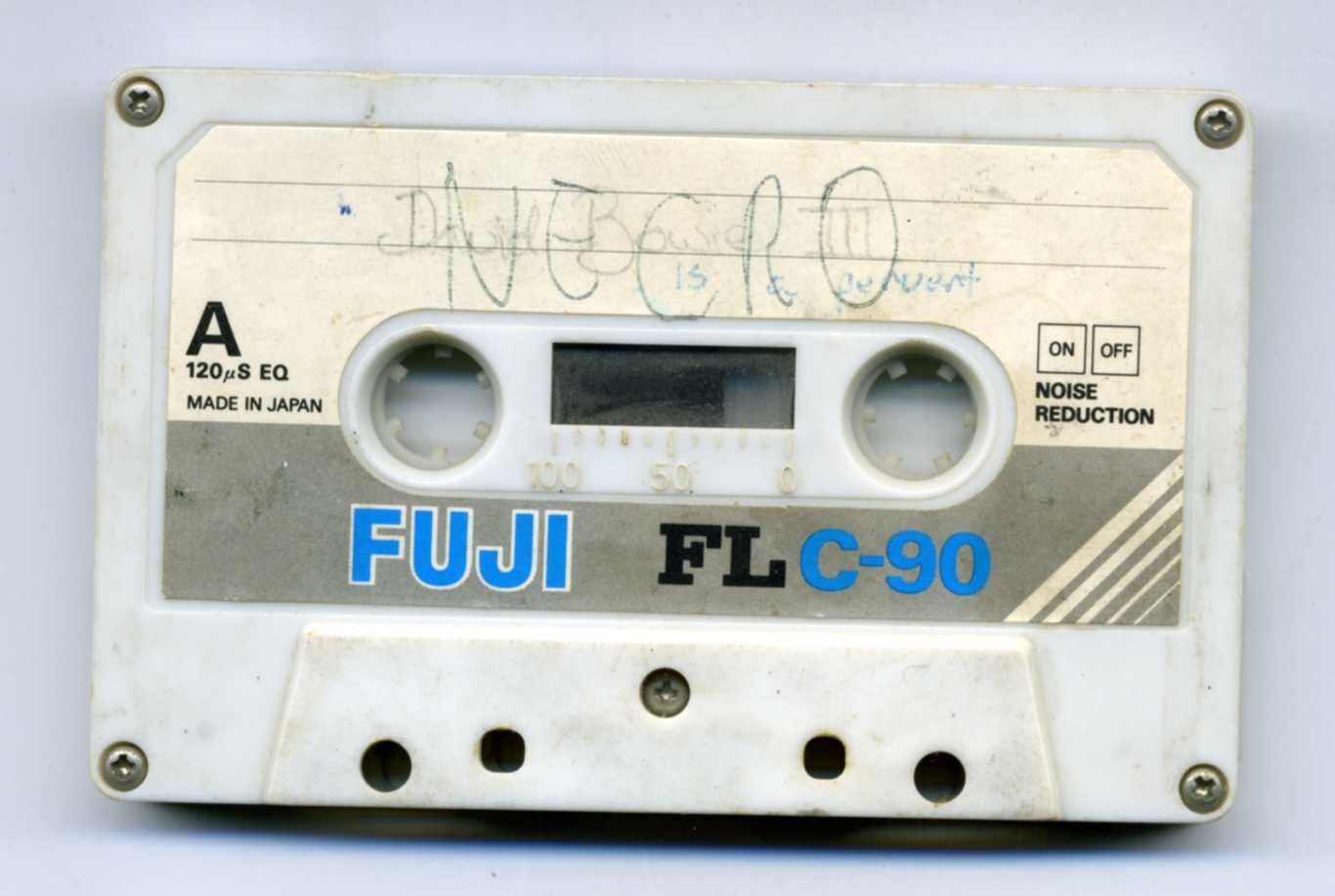 Necro – Practice – 1982 (FOUR PIECE)
Necro – Practice – 1982 (FOUR PIECE)
One person's summation and brief and incomplete history of a band called Necro and the punk / alternative scene in Hertford and Ware in the early 1980's.
The 1970's had promised so much and spectacularly failed to deliver, government was pushed around and about  by union power who in turn were governed by left wing agitators who should have been fighting the rise of the right wing movement instead of battering a notionally left wing government. Out of the boredom and frustration of the black, white and grey colours of England, punk rock blew everything apart, or so the myth goes. By 1980 the Sex Pistols had dissolved into a dead circus horse being flogged around the arena of the music business, The Clash whilst playing top rock n roll had moved stateside and seemed less and less relevant, The Damned were little more than a damned good night down the venues the band were performing in. These bands belonged to our older brothers and sisters, our older uncles and aunties. Whilst we loved the poses and the music, it offered little more to us than the fallen labour government offered to the union members and workers  who had blindly supported it… In short punk was dead and buried.
But out of the darkness and the grey, out of the sneers and gobbing a new set of groups jumped off the stages, into the record shop racks and through to the front pages of the music press. The Ruts, the UK Subs, Crisis, the Newtown Neurotics, the Angelic Upstarts, Theatre Of Hate and most importantly, dressed in black military uniforms and boots, rattling like a machine gun and shouting to us, about us,  came the huge alternative musical,  political and art movement that was spearheaded by Crass. Although Johnny Rotten had screamed 'get off your arse' here was something, a movement that seemed to mean it. Our year zero had arrived for us.
Necro, were a group of school friends with similar interests in music who spent most of their time sitting around each other's bedrooms listening to records we had bought with pocket and paper-round money and cooking up ways to form a band. Andy's older brother played bass and mine played guitar so we could talk a bit about the practical side of music. Andy, after much saving, bought a Les Paul copy guitar, covered it in C.N.D stickers and paid an acquaintance  to build an amp with built in fuzzbox (don't forget, purchasing  instruments back in the early 1980's was much more expensive than they are now). I eventually saved the money to buy a small drum kit (thanks to £100 left to me by my gran).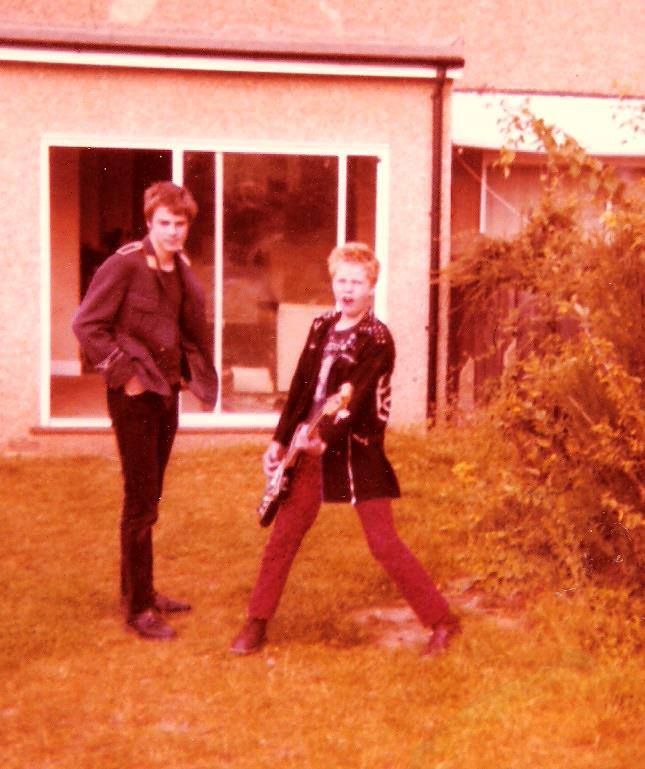 [Tim and Andy at the very beginning of Necro being formed – Photograph from Andy Lane's collection]
The band, a band, in theory, had been formed. During Saturday afternoons in the autumn of 1981 the curtains were drawn in my parents backroom as they 'went shopping' for the afternoon, bless them. The amps were fired up, drums were attacked mercilessly. It was glorious, out of time, out of tune and chaotic… Friends came around with various instruments and then left.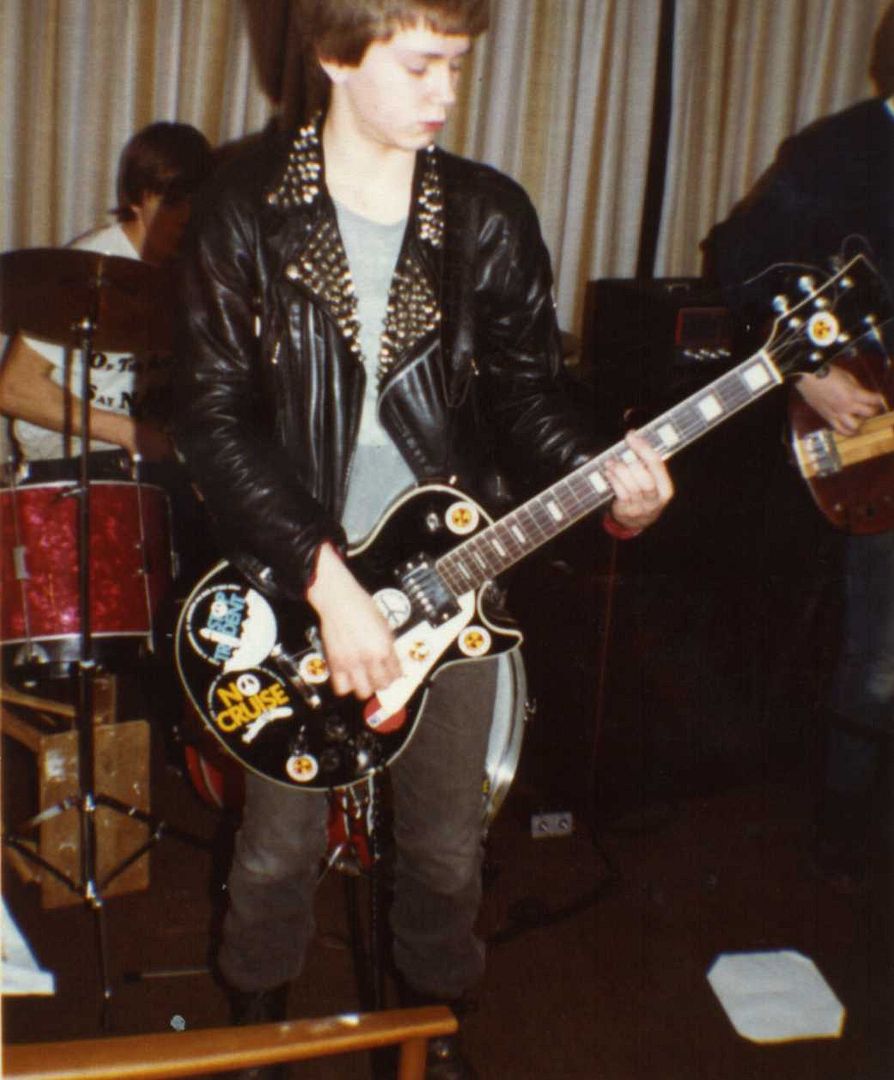 [Tim / Andy / Bill practice – 1981 – Photograph from Tim's collection]
My inept drumming was matched by Andy's belief that all you needed to know was open E and then bar chords to play any tune. We attempted to play Clash songs, Crass songs and UK Subs songs. Steve, although not around during the initial rehearsals  had the best record collection of us all, and who was quite wordy, joined on vocals and by late autumn or early winter the group had settled down to have Steve on vocals, Andy guitar, Bill on bass and me on drums.
[Steve / Andy / Tim practice – 1981 – Photograph from Tim's collection]
Andy and I had spent the half term school holiday writing half a dozen songs, Steve had come up with the name Necro. We would settle for that as a decent name to shock some of the public who actually would know what the name meant. All that we needed now was for the world to listen.
Revolution rarely happens in isolation and whilst we were planning and rehearsing to take the world on there was a whole bunch of other groups in the Ware / Hertford area doing the same. From the angry to the arty, from poets to the punks. Bands like Onslaught, Virus, Strontium, Moscovite 5, Rig Veda And The Twins, Dicotoledan, Timmy And The Wheelbarrows, The Plugs, The Frets and a whole other set of bands I can't remember the names of with so many years passing. Some bands were real runners, some bedroom pipe dreams, but all were coming out of the mire at the same time in the same place. Necro were first and foremost mates, and we would go along to hear Onslaught (the then top punk band from the area) practice and the floor shook they were so loud! Rig Veda were arty like Orange Juice and were cool. Each one of these bands and people were a crucial ingredient in the very scene that was emerging. You couldn't walk down the street on a Saturday afternoon without bumping into someone from one of the bands. Also worth noting was the relative close proximity to towns like Welwyn Garden City, Stevenage and Harlow. All these three areas having vibrant punk scenes already established with venues, record shops and fanzine culture. The centre of London was a forty five minute train journey away. Small Wonder records in Walthamstow was only around an hour away via all the public transport connections.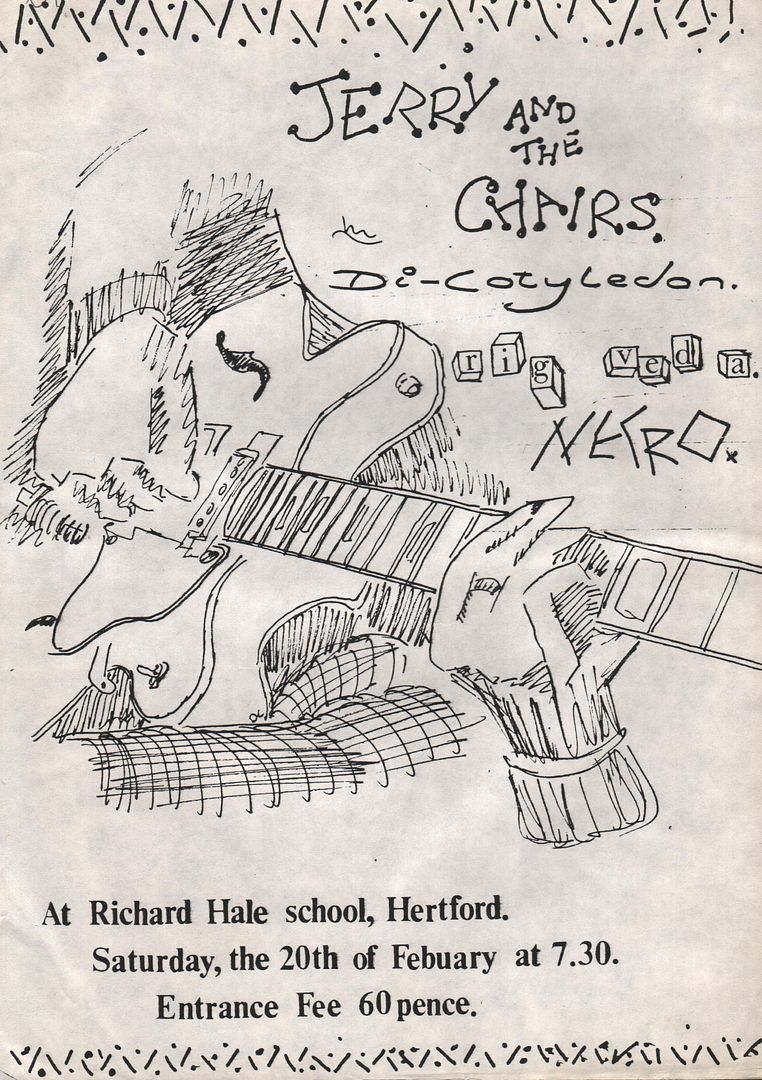 [Flyer from Tim's collection]
The winter of 1981 going through to 1982 was cold and long. A number of gigs were being arranged by friends at the Pioneer Hall and at the Richard Hale School in Hertford.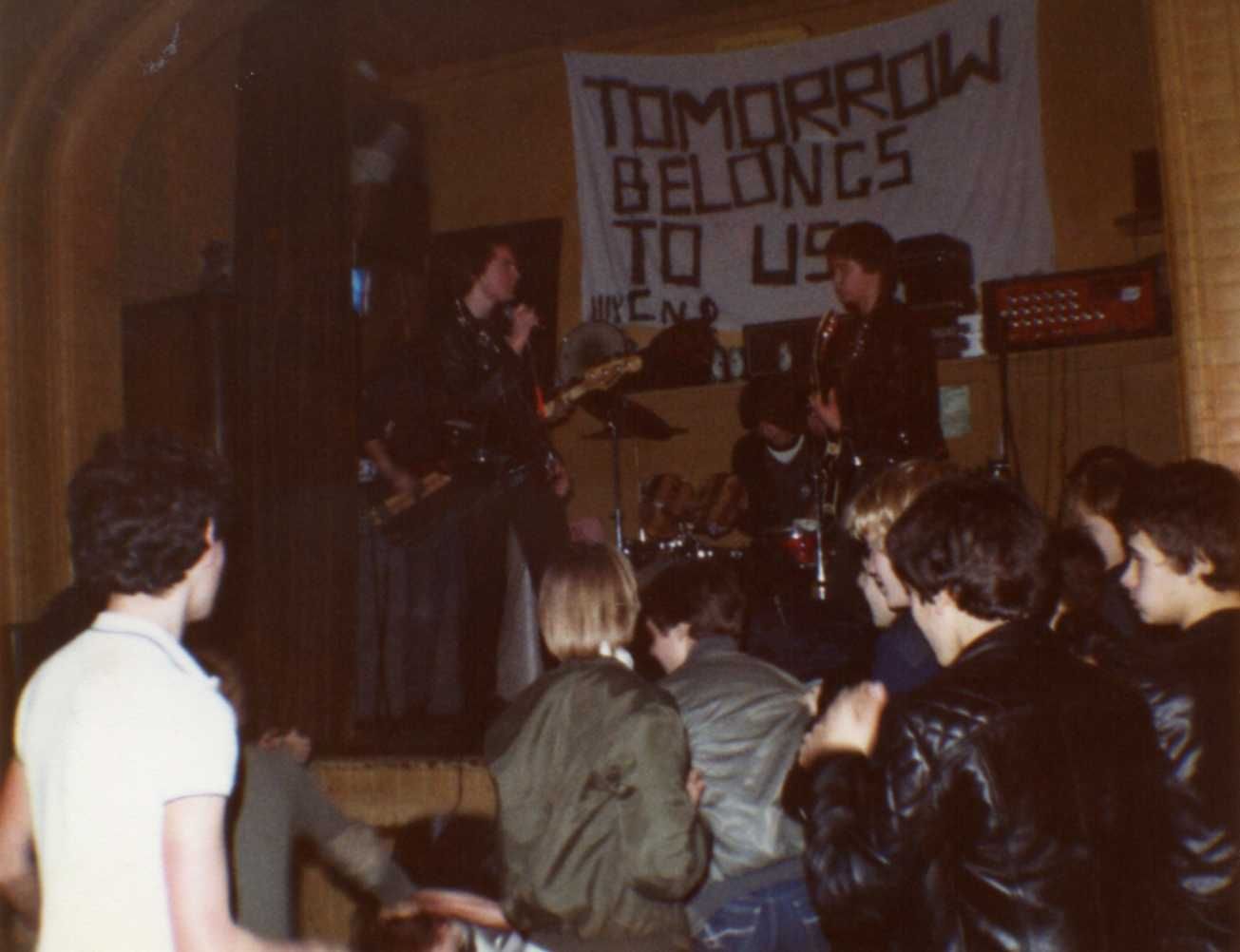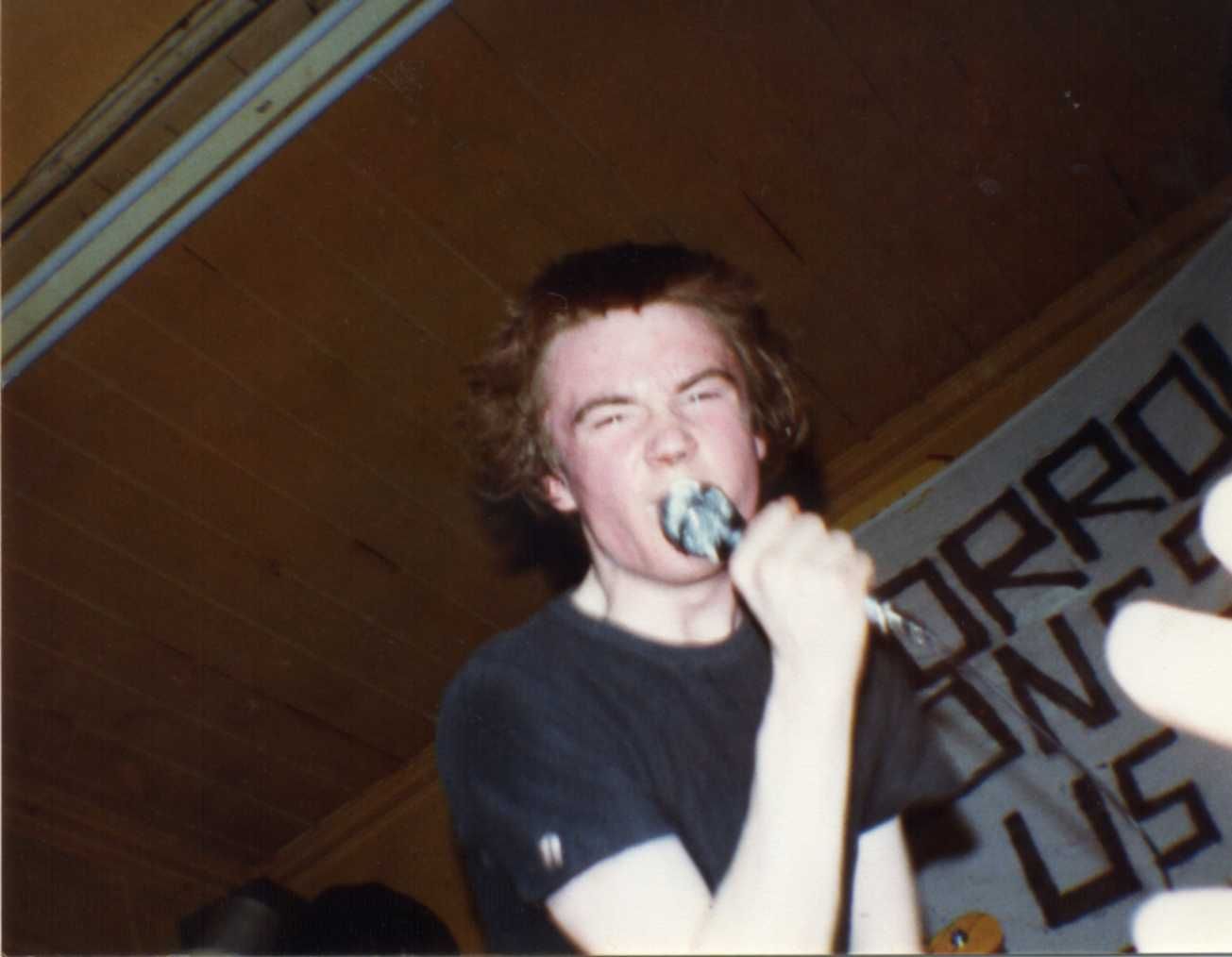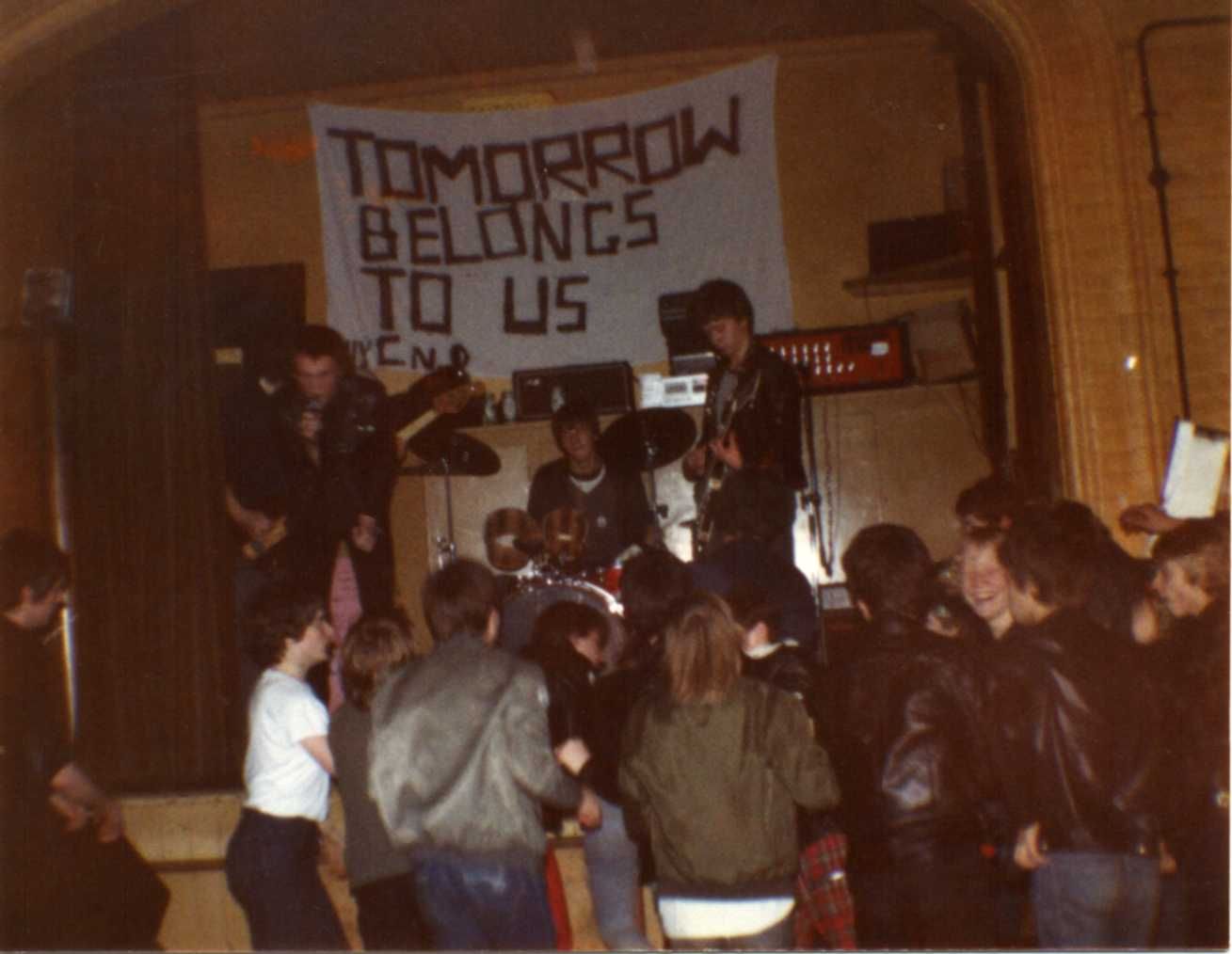 [Penguin far right of crowd drinking something with hand on wall – All photographs above – Pioneer Hall Hertford – 1982 – Photographs from Tim's collection]
All gigs were C.N.D benefits, though probably not big fund raisers as they were between 30p and 60p to get in and only around seventy people in attendance!
[Penguin remembers Onslaught performing at Richard Hale school when the bassist Sam who had missing front teeth and a one string Rickenbacker bass tried to explain to a mixed race skinhead the irony of wearing a Y.N.F shirt and hanging out with the handful of other white Y.N.F skinheads that had turned up for the gig]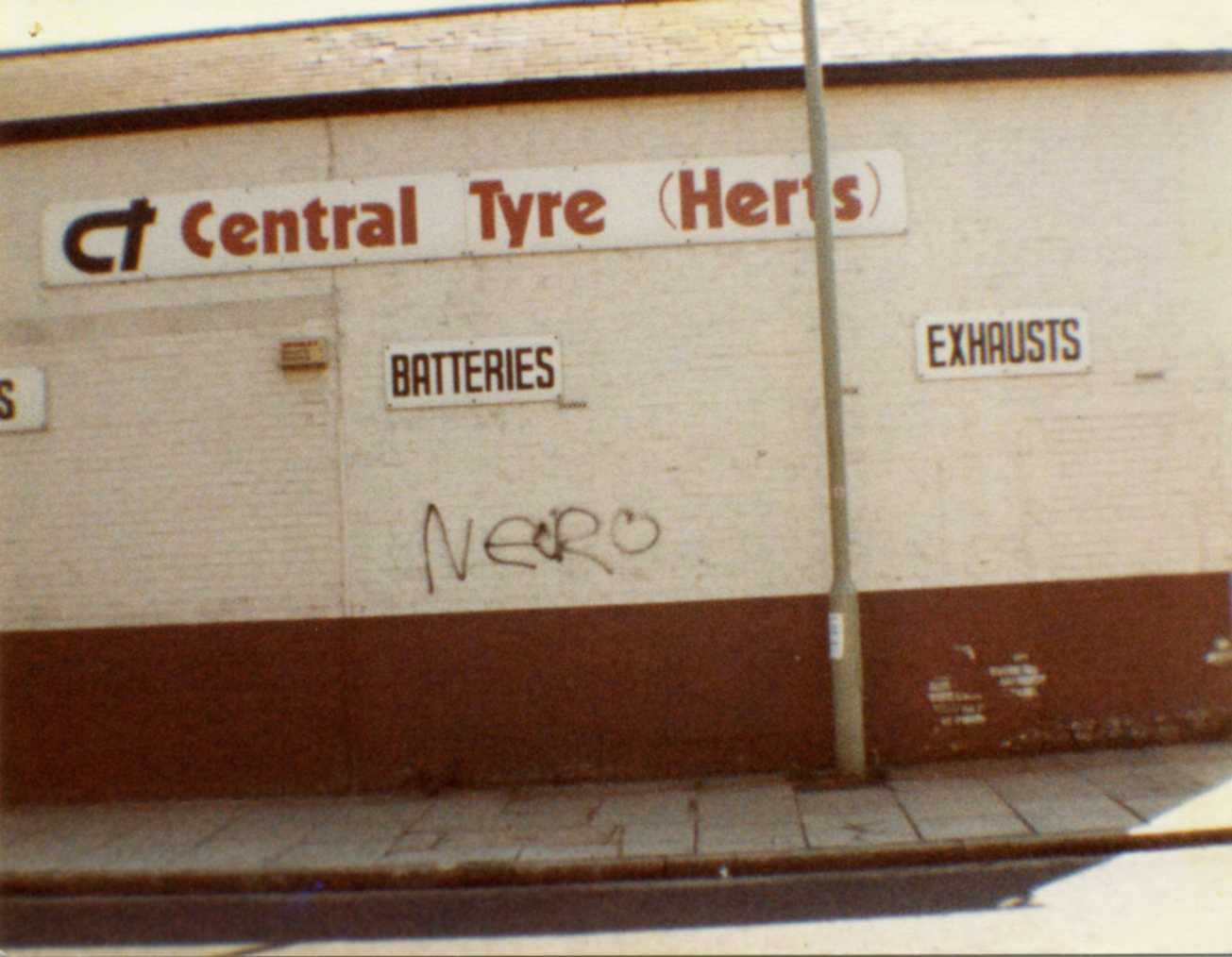 [Photograph from Tim's collection]
Posters were made and photocopied. Evenings were spent fly-posting them, usually alongside C.N.D posters. Some nights it was so cold and damp the posters fell off the lamp-posts and walls as soon as we pasted them up. Occasionally we were stopped by the police, usually when Steve mentioned his surname we got a 'take care son' and were left alone (Steve's dad was in the police). It was always good fun, there was a feeling of I fought the law and got away with it (I was never sure of the punishment for a fourteen year old bill-stickerer if anything had not gone right on the night). The early gigs were chaotic and brilliant fun, the audience being made up of mates and people from other bands. Necro played at the local Hertford Conservative Club; surely we could convert the ruling classes with our blend of music, lyrics and slogans written on the back of our leather jackets? A teacher at school was a club member and we asked if we could play on the night (he had no idea what sort of music we played). He got us a spot on a Saturday disco night. A friendly art teacher with a penchant for The Clash drove us to the club. After arriving things clearly weren't going to go as planned, and after just one song the microphone we borrowed off the D.J was pulled and Andy's lovely fuzzbox bearing amp unplugged. We were 'banned from the Tory Club…OK…never much liked playing there anyway…think they only wanted well behaved boys…etc etc'.
Top street cred ratings and the teacher went onto state "you should never dismiss seeing a band twice, but I think Necro is the exception to the rule".
We should remember that the early 1980's were highly politically charged times. Unemployment had hit three million, industry was being shut down, riots in Toxteth, Bristol and Brixton, the nuclear arms race and possible use of those nuclear arms was a very real possibility, public services were starting to get demolished by chunks (except the police and army who were given generous pay rises), and led by one Maggie Thatcher who made it clear that she was not only made of iron, she certainly wasn't for turning. Oh yes, then she declared war on Argentina, more of that later. This war was as illegal as the recent Iraq war. On top of all this, the nazi right in the form of the National Front was on the rise and certainly on the march. The mainstream politics was either right (Tory) or left (Labour), the mush of consensual right wing politics of today was a long way away…
The songs we wrote in Necro were about the world around us and how we wanted it to change. Songs were written about the right wing press, about the (then soon to be) development of Stansted airport, about the arms race, about the police state and Maggie's stooges. In fact we wrote about all the usual political targets. As we played more we got slightly better, we recorded the rehearsals on hand held Binatone and Soundhog cassette recorders, to us they sounded great. Andy showed up one day with a new fuzzbox, it made his guitar buzz even more like an angry wasp caught in the Ramones guitar amp! We walked around like a gang and all was going well until…
Our prime minister, Maggie Thatcher, whilst festering in the opinion polls engaged in an illegal war with Argentina, the start of hostilities from the UK was the sinking of the Belgrano whilst it was sailing away from the exclusion zone around the Falklands. After a jingoistic build up 'our lads' sailed to the Falklands and fought a war resulting in the deaths of between 900 and 1300 soldiers and the maiming and injuring of several hundred others. From feeling we could change the world the world had been changed in front of our eyes, the carpet pulled from under the punk and wider protest movement  and the political landscape in this country was changed forever…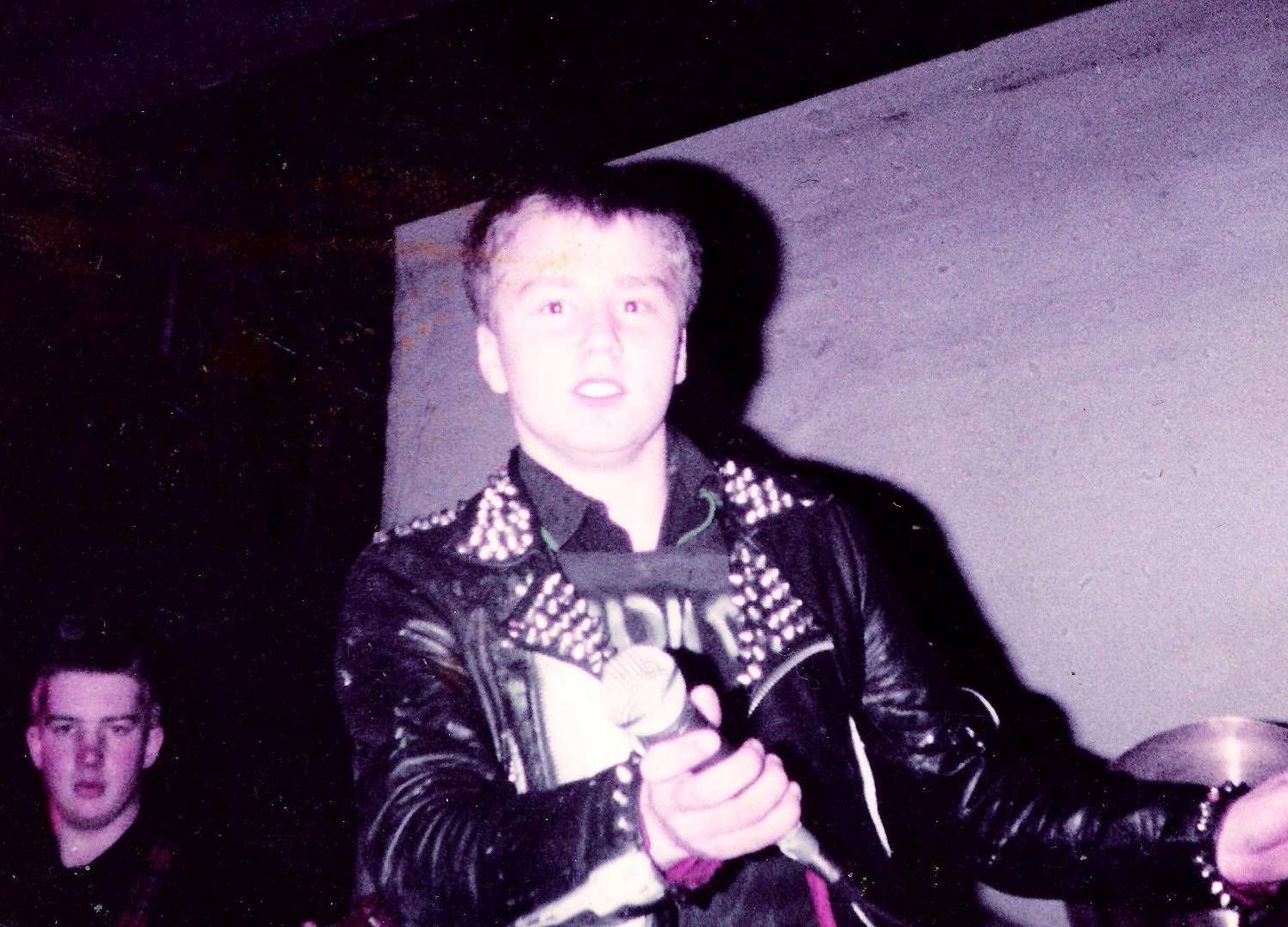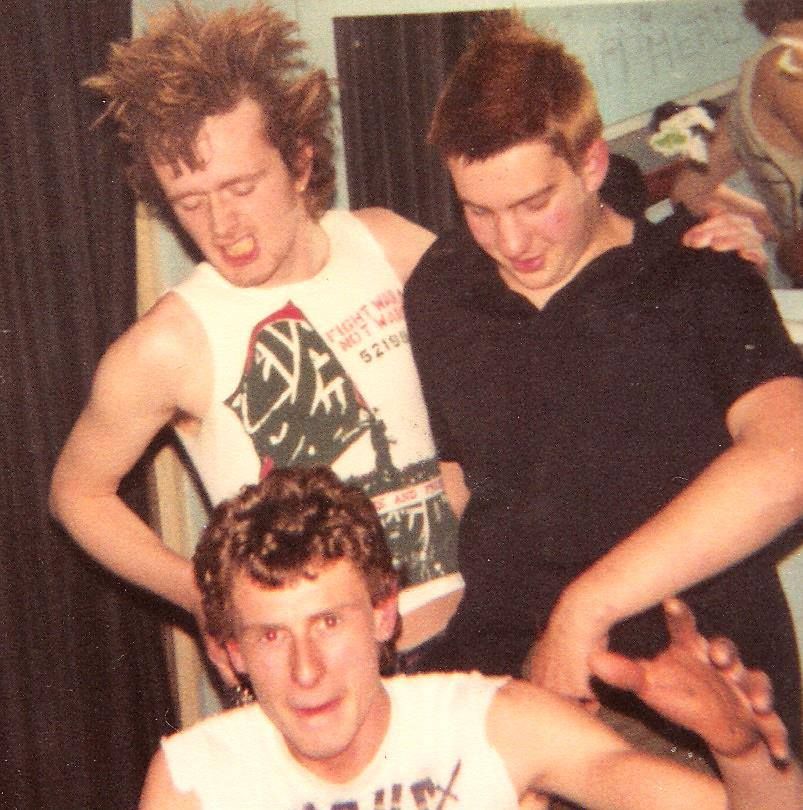 [January 1983 – Virus performing at Stevenage Bowes Lyon House – Andy ex Necro on vocals – Other members of Virus backstage at Stevenage Bowes Lyon House – Subhumans headlined the gig – Destructors also supported – Both photographs from Andy Lane's collection]
Andy left Necro to sing for his brothers band Virus (Skinner on guitar, Andy on vocals, Richard on bass and Russ on drums). Necro were left directionless and a bit let down.  Steve, Bill and I toyed about but without Andy's bar chords and one string guitar leads driving us forward we didn't know what to do. Another Andy joined us on guitar briefly but it didn't quite work out. As Virus and Onslaught gained a reputation and played more gigs, Necro languished in those bands shadow.
The Autumn of 1982.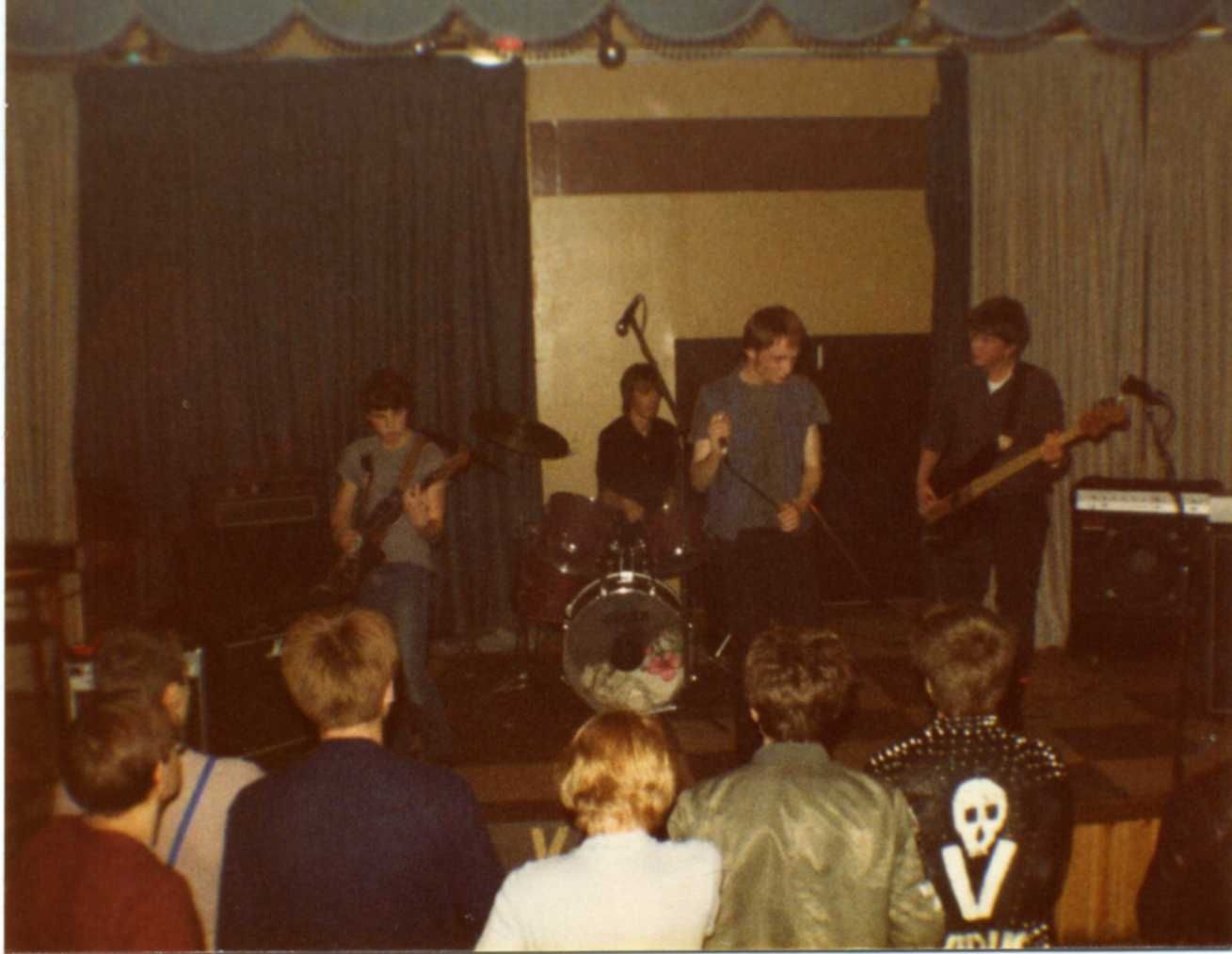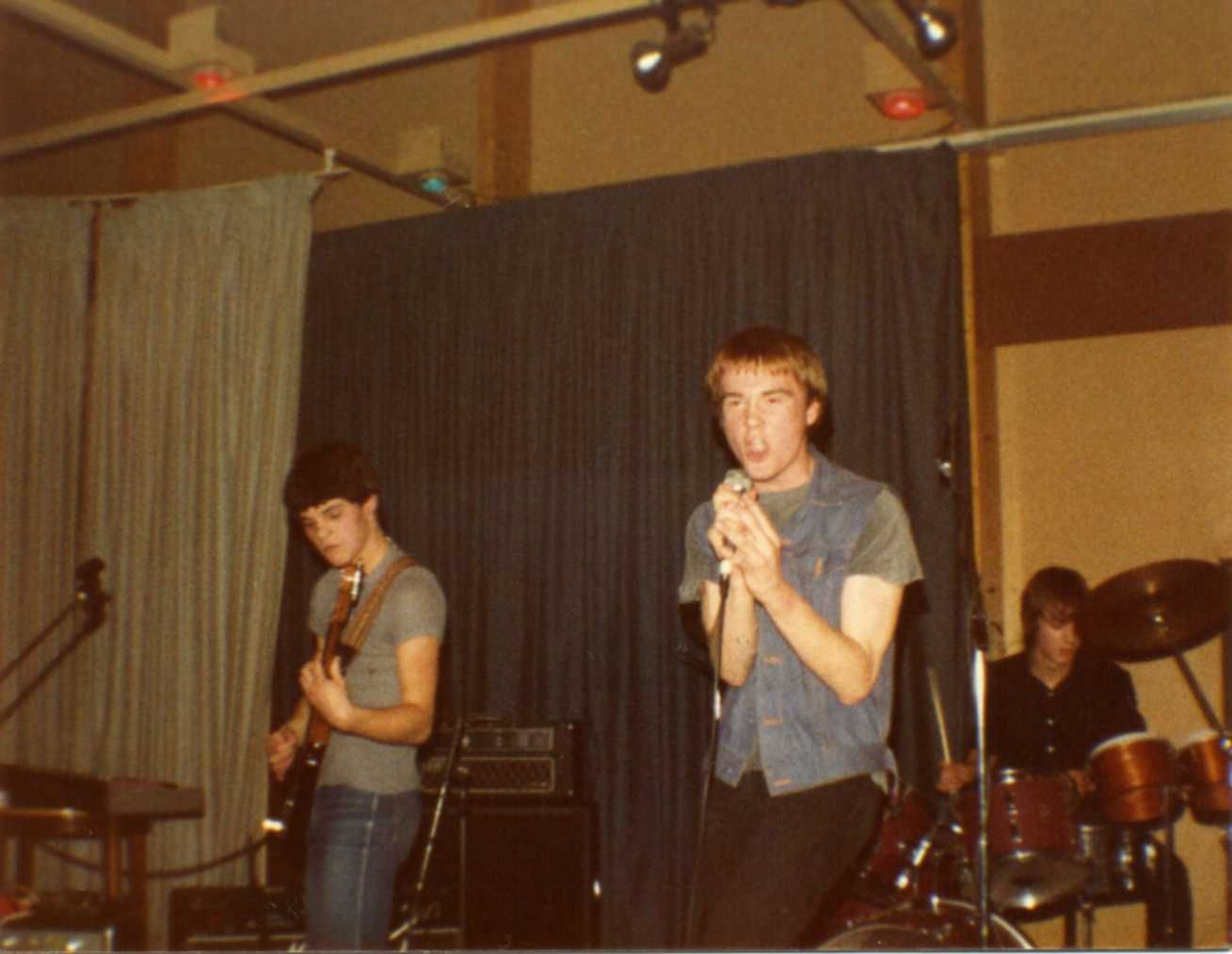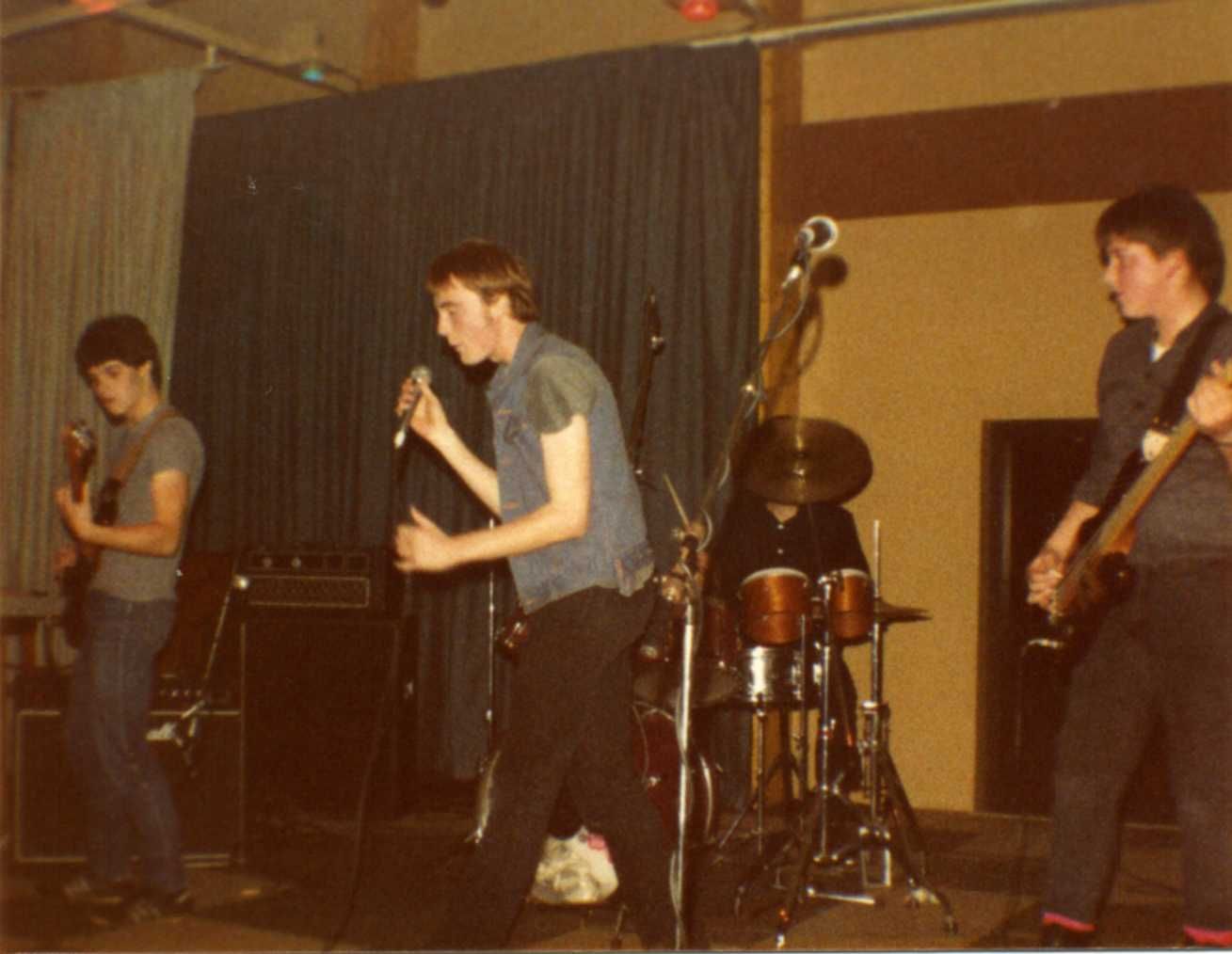 [All photographs above – Stevenage Times Club – 1982 – Photograph from Tim's collection]
Paul, another friend and a proper bonafide guitarist came to our rescue. We rehearsed new songs, landed a C.N.D benefit gig at the prestigious Times Club in glamorous Stevenage and were ready again to take on the world. We swapped the fuzz box for a more 'pop' Clash influenced sound. I'd learnt to keep time, Bill could walk a bass-line, Steve's lyrics were intelligent and personal. The first song we wrote during this line up was about the self-expression of spray-painting. At this time 'graffiti' artists were not about getting exhibitions at art galleries. Walls and hoardings were fair game and there for political slogans and ideas to be painted onto.  For the Stevenage Times Club gig, we took a coach load of mates over and got the blame for the windows being smashed later that night!
[Penguin remembers Virus had a distinct Discharge sound and Andy looked similar to Cal from Discharge at that time; The members of Virus, Strontium  and Necro went to Stevenage Bowes Lyon house for a Subhumans and Destructors gig and Virus were first on support for that night]
In true Necro form things fell apart again, Paul left to pursue a more musical direction, and Bill petulantly declared he needed to play with proper musicians. The gloves were off and Steve and I were looking for a guitarist and bassist. Rob Baxter came along with a bass guitar and a top record collection no doubt some pilfered from elder brother Mickey (at some point much later in the 1980's to be known as 'Penguin'). Simon was a friend from another band who joined on guitar.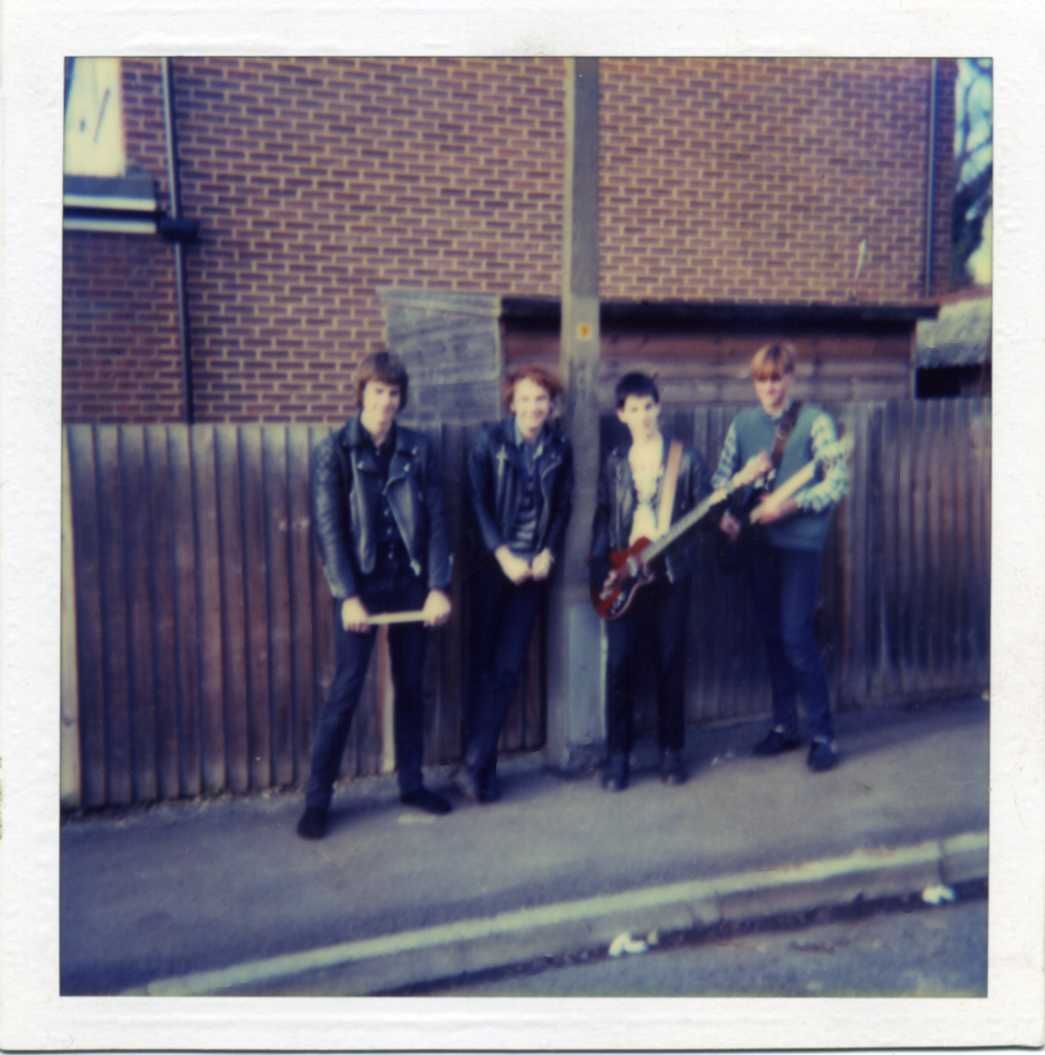 [Short lived four piece with Simon – Tim / Steve / Rob / Simon – 1982 – Photograph from Tim's collection]
Although Simon was a good friend he didn't really get what we wanted to do and after a disastrous gig at the Triad club in Bishops Stortford, noted for all four of us travelling in Rob and Mickey's dads car with a guitar amp across our collective legs, a confrontation with skinhead Nazis and sadly missing out on a trick as Steve and Simon from the Newtown Neurotics along with Colin from Flux were in the audience to witness our band Necro's performance. I very much doubt that performance impressed them.
[Rob at fourteen years old at the time of Necro with donkey jacket and Spurs scarf – Photograph from Penguin's collection]
Simon left and we were on the search for another guitarist. We rehearsed with a heavy metal freak called Martyn, but those rehearsals were thankfully short lived. So the solution came from within the band itself. Rob was learning the guitar and Steve the bass, so it made sense to follow our noses and become a three piece. I think rehearsals were probably torturous for my mum and dads neighbours, but we battled on and the sound took on a more raw quality. The cassettes of these rehearsals sounded OK and we had a couple of gigs to aim for. Rob developed a nice trebly sound to his guitar, which was exciting and angular and Steve could hold a simple bass-line down as he shouted along.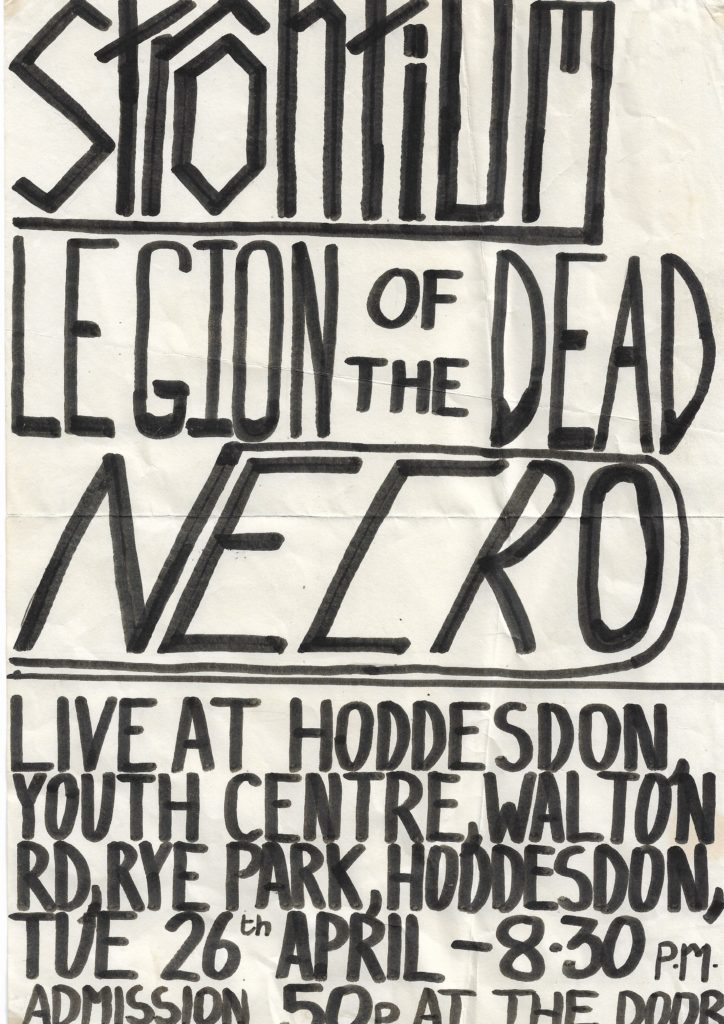 [Flyer from the collection of Stephen Base]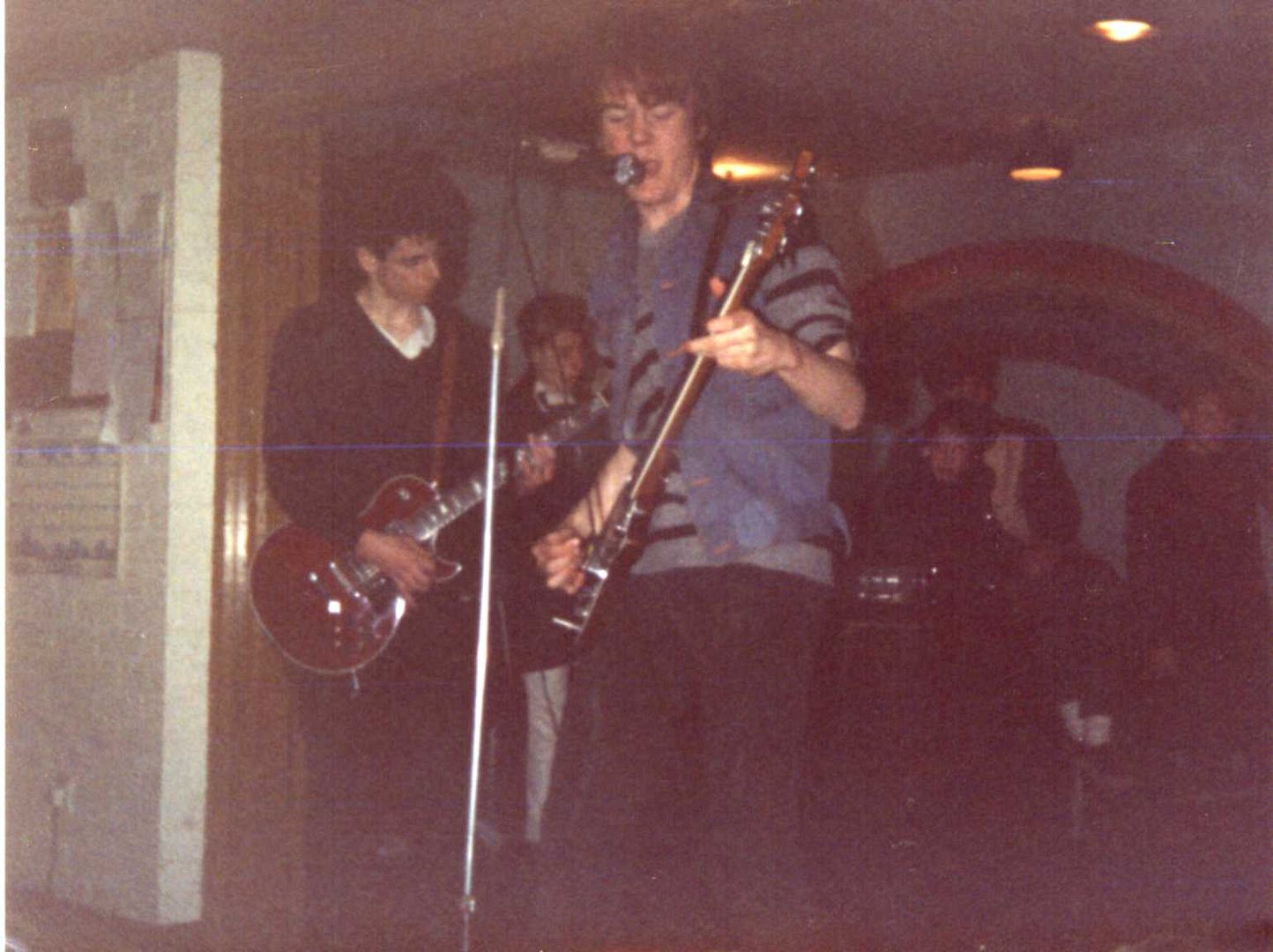 [Penguin with his Spurs scarf, Crombie overcoat and sta press trousers on, captured on this photograph standing in-between Rob playing guitar and Steve the bassist / vocalist behind the amps. Some other Herberts are also sitting around the back of the amps and a splendid rainbow wall mural livening up the place – Rye Road Youth Centre – 1983 –    Photograph from Tim's collection]  
[Penguin remembers Rob painting a back drop for Necro on an old bed sheet photographed above – He used the wrong kind of paint so it was not that easy to fold the sheet after the paint had dried onto it, in fact impossible, it was like folding a garden fence – Rye Road Youth Centre – 1983 – Photograph from Tim's collection]
Gig number one as a three piece was at the Rye Road Youth Centre in Hoddesdon in February 1983, it had been a snowy, cold, wet winter and a thick layer of slush lay on the roads as the mini-bus we were using with mates in pulled up outside the youth club.  Myself and Steve not really knowing the Hoddesdon scene that well, chatted to the other bands and got to know each other. Rob and his brother Mickey lived just around the corner to this youth club in this rather unglamorous town with a large skinhead population on the Essex / Hertfordshire border.  Necro played, we were quite good, there was a bit of aggro from some Hoddesdon skinheads and then the Malteser incident happened!  What was a single Malteser wittily sent flying at the band by someone in the audience, which I thought was hilarious, soon turned into Necro being 'maltesered' off the stage in local Hoddesdon folk-law! I only wish our exit had been that dramatic! Some of the local skinheads threw lighted match boxes (full of a complete set of now ignited matches) at Rob's head several times throughout the heckling, but that was good natured (I think) as Rob and Mickey vaguely knew those skinheads.     
[Rye Road Youth Centre – 1983 – Photograph from Tim's collection]
[Penguin remembers Necro also performed at the Rye House Tavern in Hoddesdon in front of the same skinheads around this time, and it was well behaved, it had to be as in those days the landlord ruled those skinheads with an iron fist. The band were not allowed to drink alcohol in the pub though, being at least two or three years under age]
By the summer of 1983 Thatcher had singlehandedly claimed victory in the Falklands, had broken much of the trade union movement and weathered the storms of northern Ireland and the riots. She was returned to power in the general election with a landslide majority, for those who thought the battle was being won, how wrong we were. Worse (or at best more of the same) was to come  in the form of the breaking of the miners' strike during the Orwellian year 1984, the dismantling of local government as it then stood and the erosion of personal freedoms. Whatever in-roads the movement had made, or believed it had made, were spat back out. The in-roads became personal journeys of awakenings and realisation  for individuals and groups of like-minded people, but any sting we hoped we'd make on the government or the 'system' was swatted away by the media, the police and the army. A vivid memory of this time is going on the C.N.D demonstration at Greenham Common on April 1st of that year. We arrived early and stood around talking to each other and groups of police, who were quite chatty and kept telling us that not many protesters were going to come along. Then some coaches appeared on the horizon, followed by some-more; then a never ending convoy headed towards the air-base, 'fair-cop gov'! The U.S airbase was surrounded and we marched in tight formation, as you got to the top of one hill the ground would dip down to reveal thousands upon thousands of people, wearing black (the chosen colour of the movement), in a sea of protest, there was certainly no lack of a feeling of strength.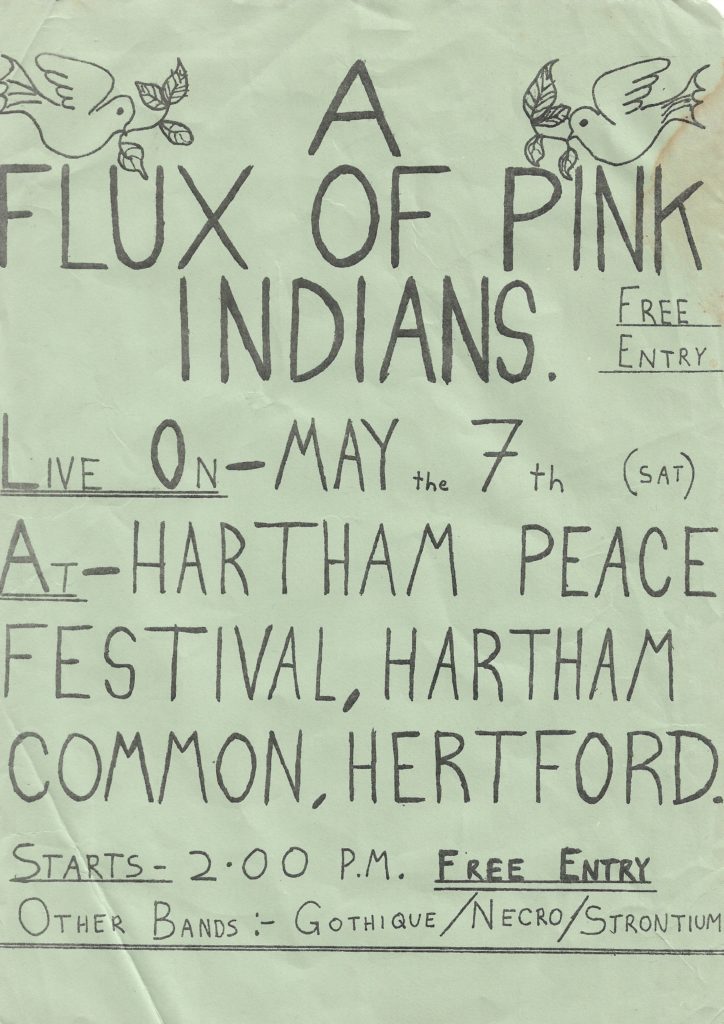 [Flyer from the collection of Stephen Base]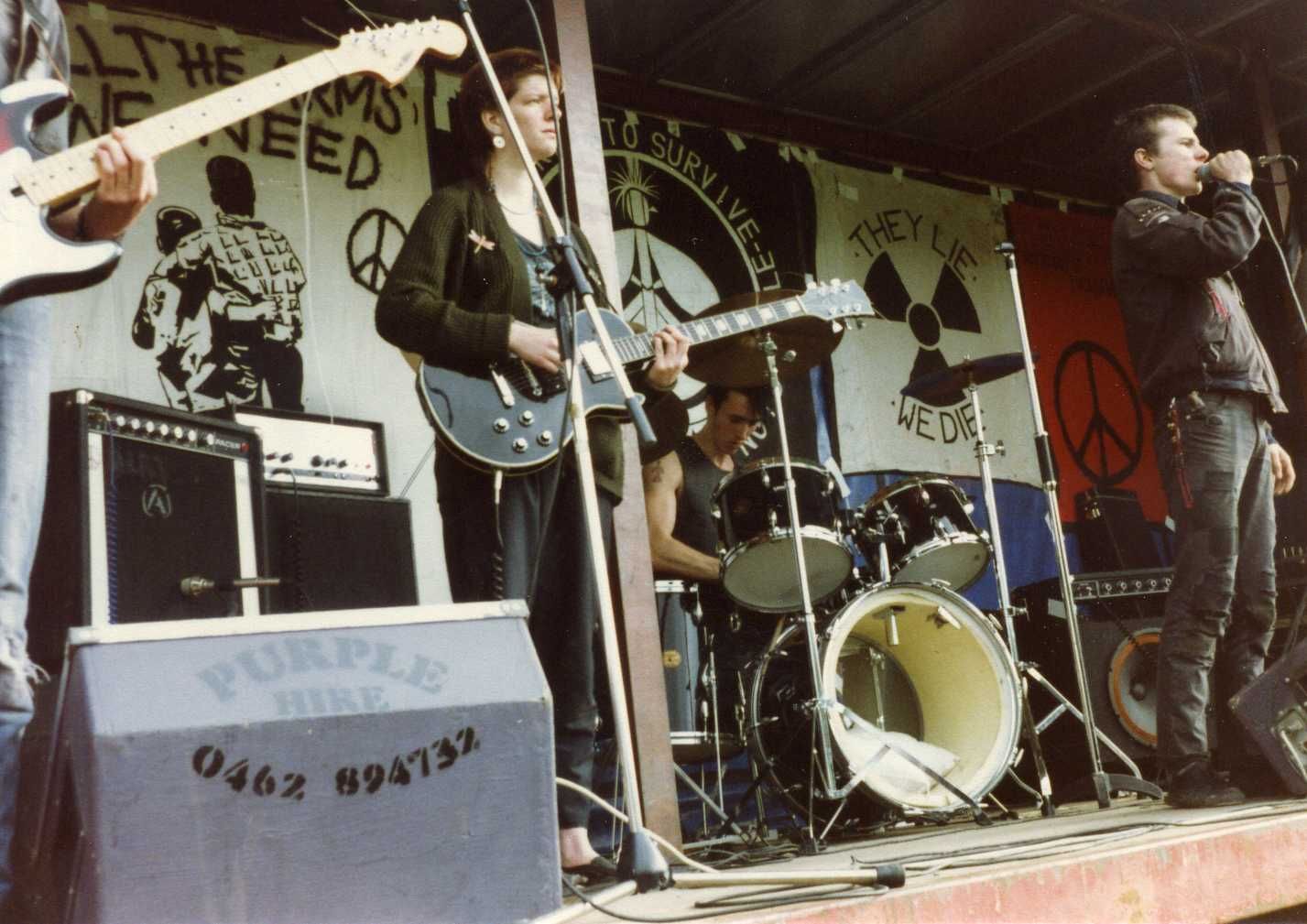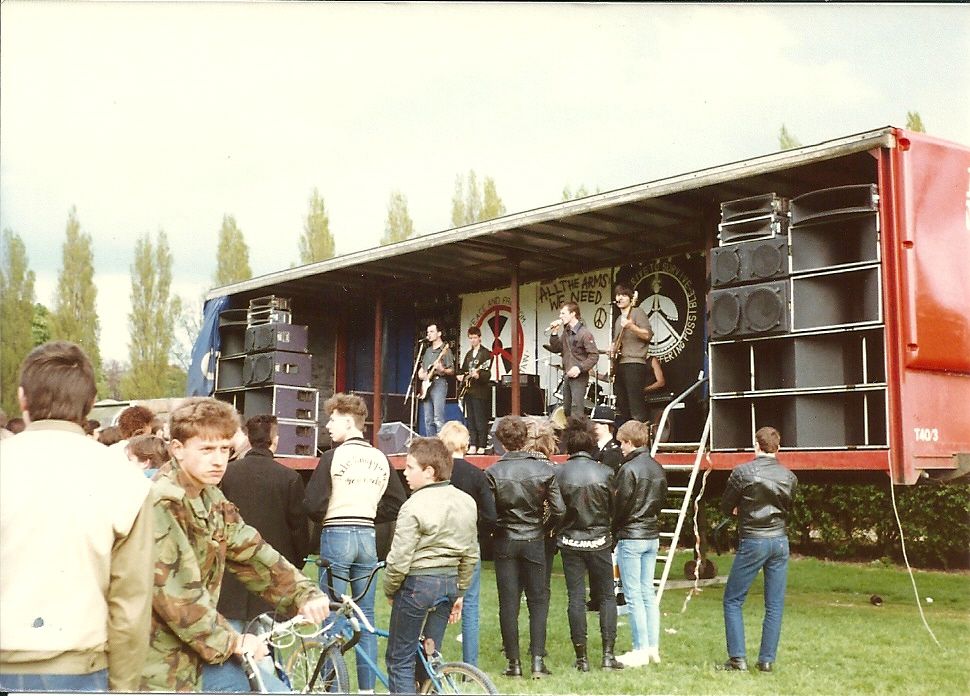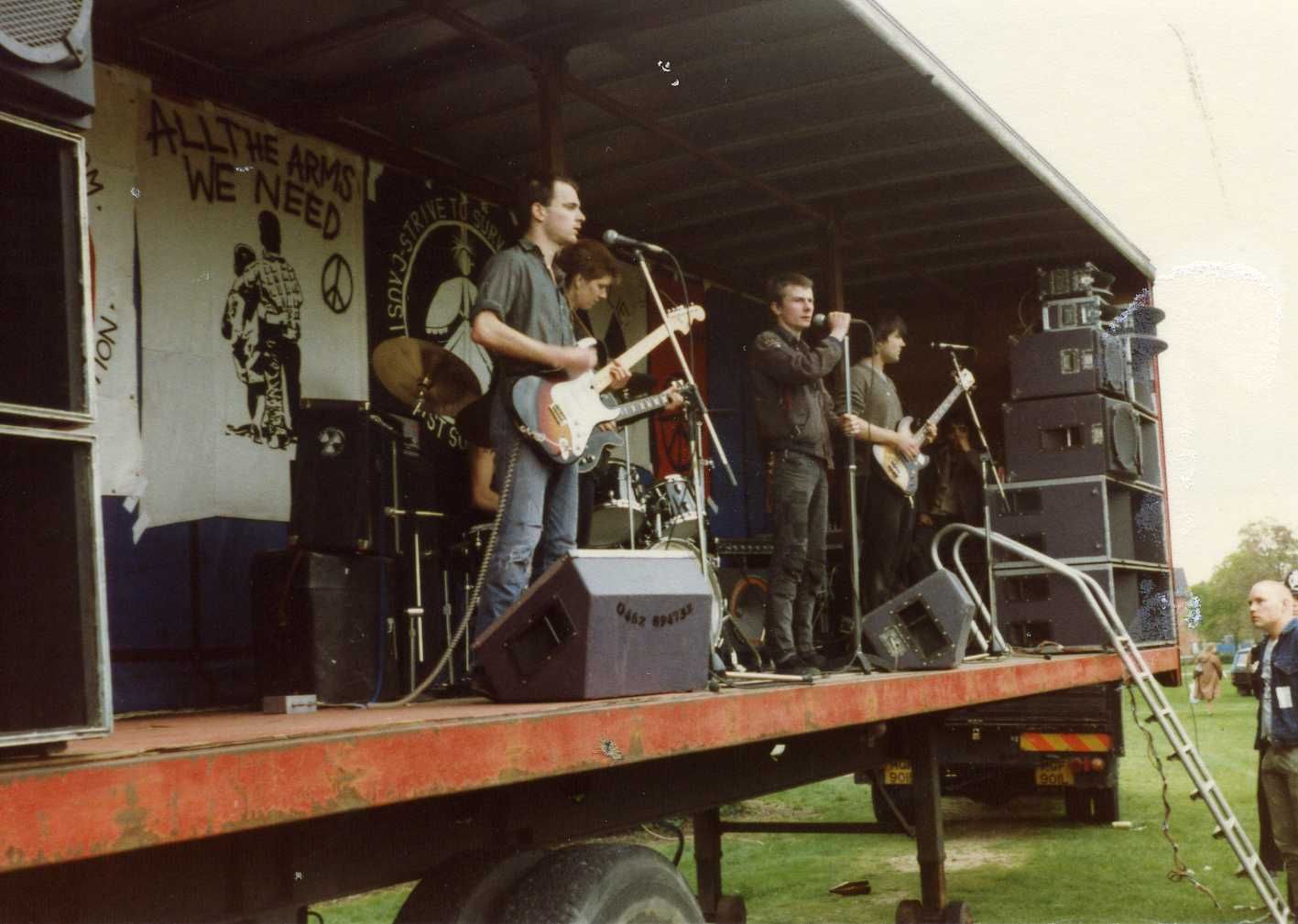 [Flux of Pink Indians – Hartham Common Peace Festival – 1983 – Photographs by Penguin]
The next gig was to be at the Hartham Common Peace Festival in Hertford.
Myself, Steve and other friends had been instrumental in organising the festival. A friendly lorry driver had been persuaded to park his lorry there to form the stage, it was true DIY and we had bagged Flux Of Pink Indians to headline. Necro and Strontium were also to to be performing on the day, in what was planned as a celebratory afternoon in aid of C.N.D, but in true fashion things didn't quite go according to plan.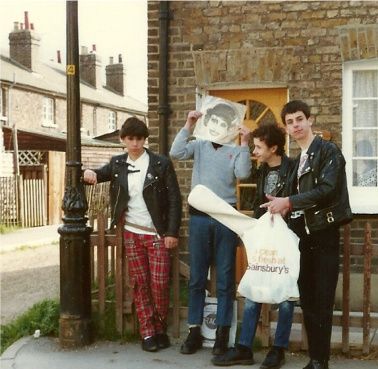 [Rob with some school friends turning up to the Hartham Common Peace Festival gig ready to support Flux Of Pink Indians; which sadly did not happen – Photograph by Penguin]
We and other C.N.D factions marched from Ware to Hertford and arrived on Hartham common to be greeted by a group of N.F skinheads. A 'peace' festival this was not going to be. Some of the N.F skinheads were from further afield, Harlow and Stevenage, but many of them were idiots that could be seen in and around Hertford starting fights and generally being arseholes. With these also came a largish police presence, who were unwilling to ask the N.F to leave. Wonder why? Me too…!
[Penguin remembers the march to Hertford County Hall at the end of the C.N.D march where Steve, the vocalist from Necro unfolded a Crass 'Nagasaki Nightmare' sleeve and read from it word for word to the crowd in attendance whilst the poster was being blown around by the wind. I think it ended up ripped in half]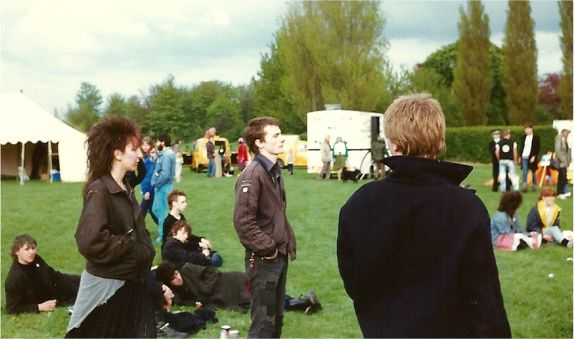 [Colin from Flux of Pink Indians – Hartham Common Peace Festival – 1983 – Photograph by Penguin]
During the event it became clear that the tight stage time plan for the festival had gone and the time slots allocated to the support bands had just slipped away. D and V showed up with Flux Of Pink Indians and took the stage unannounced to perform! Flux Of Pink Indians were planning to meet the N.F 'face to face' on stage, and for these reasons, among some smaller organisational hiccups, I had to explain this to people in the crowd and to the members of the bands. The bands all walked around with guitars and drumsticks looking lost. When Flux Of Pink Indians took the stage, Derek Birkett, in an attempt to show the stupidity of the NF's arguments offered them some of their set time to debate the issues of C.N.D on the stage [refer to a previous KYPP post for a recording made on my Binotone cassette recorder for the full debate. (Hear that tape HERE ]. Flux Of Pink Indians' strategy worked and the N.F 'intelligensia' took the stage. The main bonehead mouthpiece could barely string three words together, he  contradicted himself several times, said he'd prefer to be called a Nazi, and generally proved what a bunch of misguided and nasty bastards they were.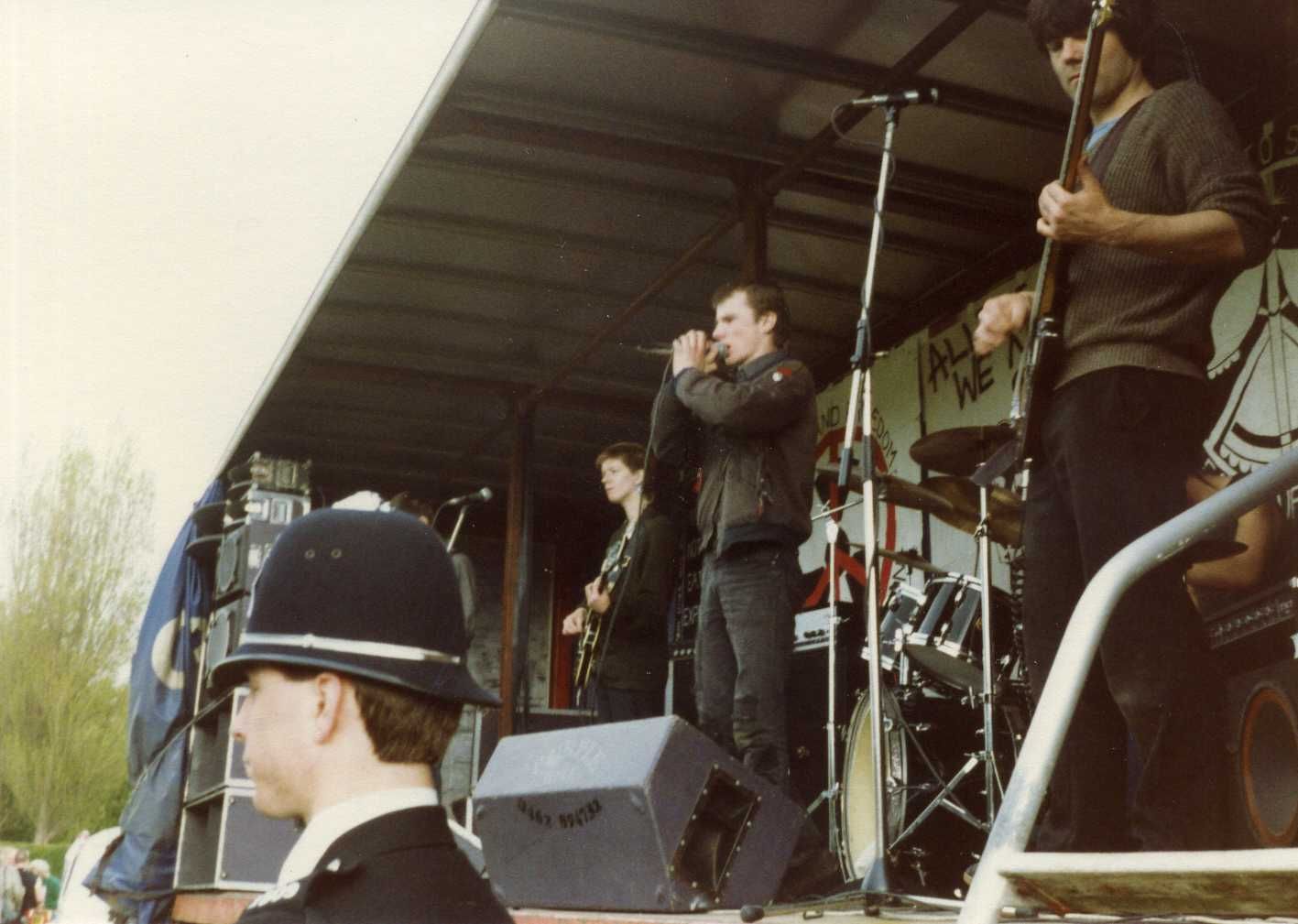 [Flux of Pink Indians – Hartham Common Peace Festival – 1983 – Photograph by Penguin]
Flux Of Pink Indians then played a glorious set with the steps up to the 'stage' being guarded by a single police officer!
The P.A during Flux Of Pink Indians set was so loud that a wedding in a nearby church had to be stopped as they couldn't hear what was being said. One of the elders of the festival organisers did mention to me that he hadn't been told that this would happen… Truth was, no-one knew…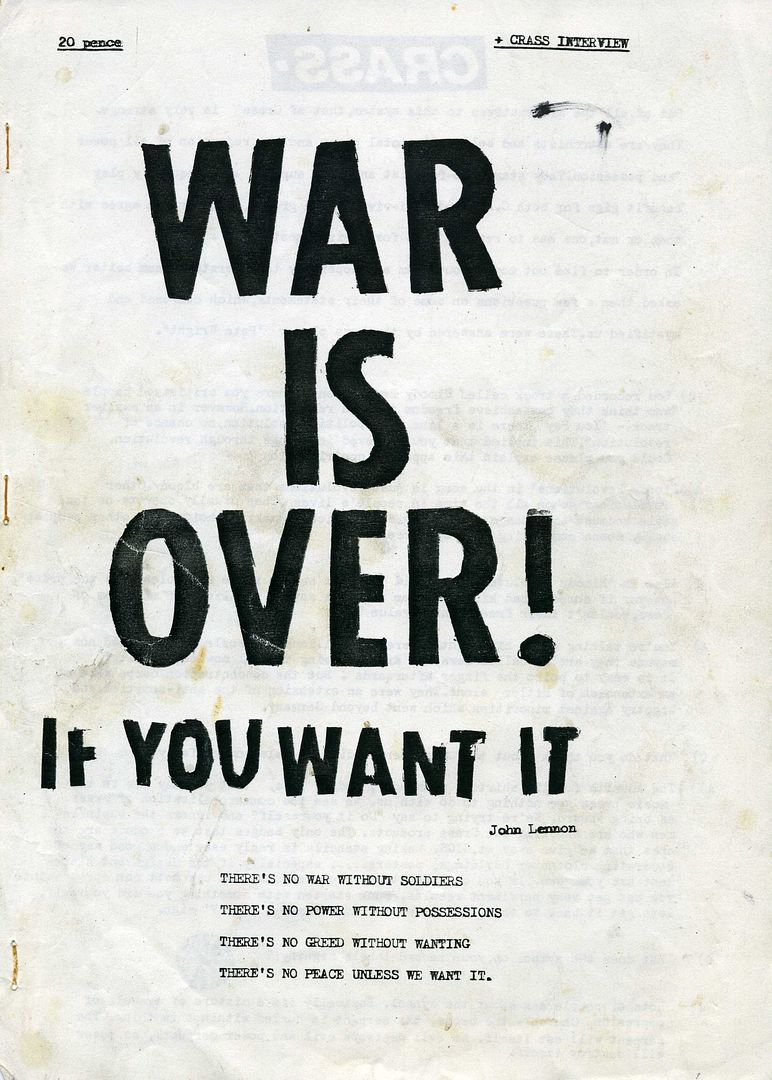 [War Is Over fanzine from the collection of Penguin]
[Penguin remembers around this time Tim from Necro produced the only issue of his fanzine 'War Is Over' which had pieces on animal rights, the riots from the previous year and of course the obligatory Crass interview (with Pete Wright on a visit to Dial House) amongst its pages]
After the Hartham peace festival, Steve who I had a feeling had been thinking of moving on, decided to leave the band. I was quite upset. Steve had become my closest mate and the band had been a platform for that friendship. But I knew that he'd had enough of it and wanted to concentrate on other things in his life. Although I'd formed a good friendship with Rob, and we both tried to carry on for a short while, Necro wasn't going to work without the main lyricist and vocalist so the band just drifted to an end. I did feel a little bit guilty about the band finishing just as Rob had started to stamp his mark on it but that's rock'n'roll folks!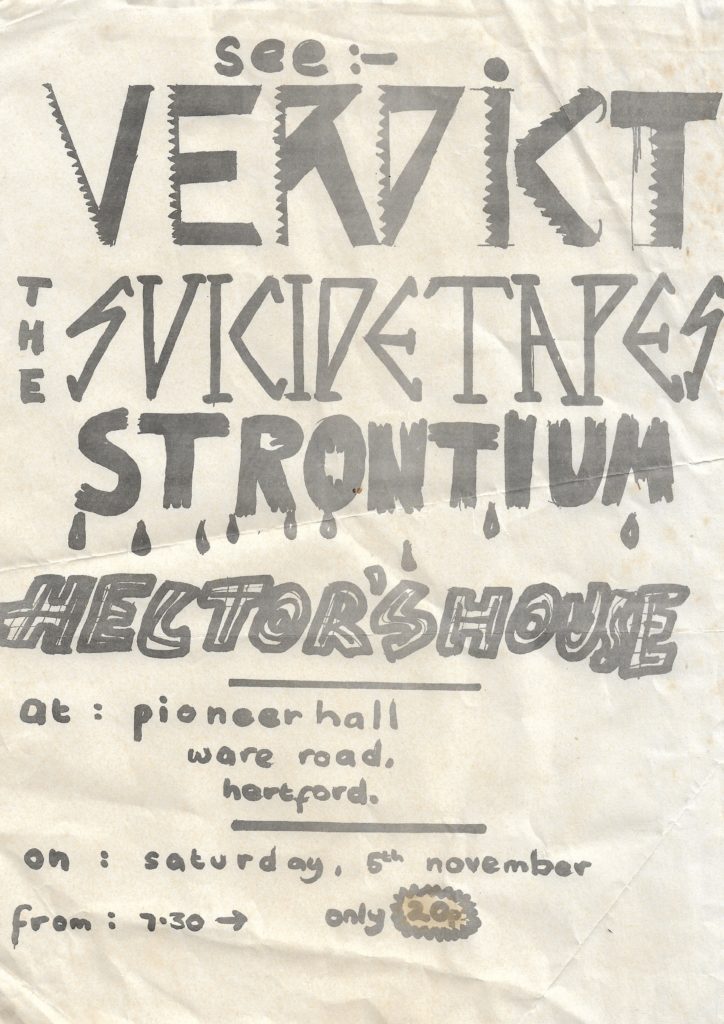 [Flyer from the collection of Steve Base]
[Strontium – Pioneer Hall Hertford – 1983 – Photograph by Penguin]
I joined a band from Hoddesdon called Strontium in the Autumn of 1983. Strontium had had a couple of line-up changes in the previous year, and Necro had performed with Strontium in the past. Strontium was the band that Paul, ex Necro, was already in. The band's line-up when I joined was Nadine on vocals, Steve on the bass,  Richard and Paul on guitar and myself on the drums. Necro had finished a few weeks previously. Paul and I joined within about a month of each other. I knew Paul well as a mate, and he was a top guitarist. Strontium ended in 1985.
[Penguin remembers that both Nadine the vocalist, was at the same Comprehensive School as myself and Steve the bass player was at the same Primary School as myself]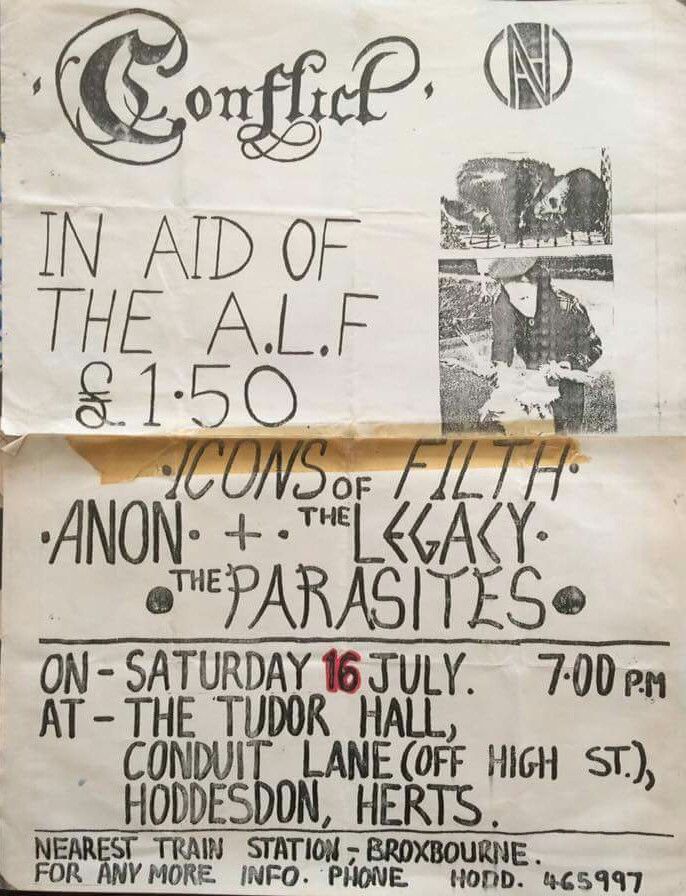 [Poster from Penguin's collection – with thanks to Dave Manlove – The poster for the gig was designed by Tim]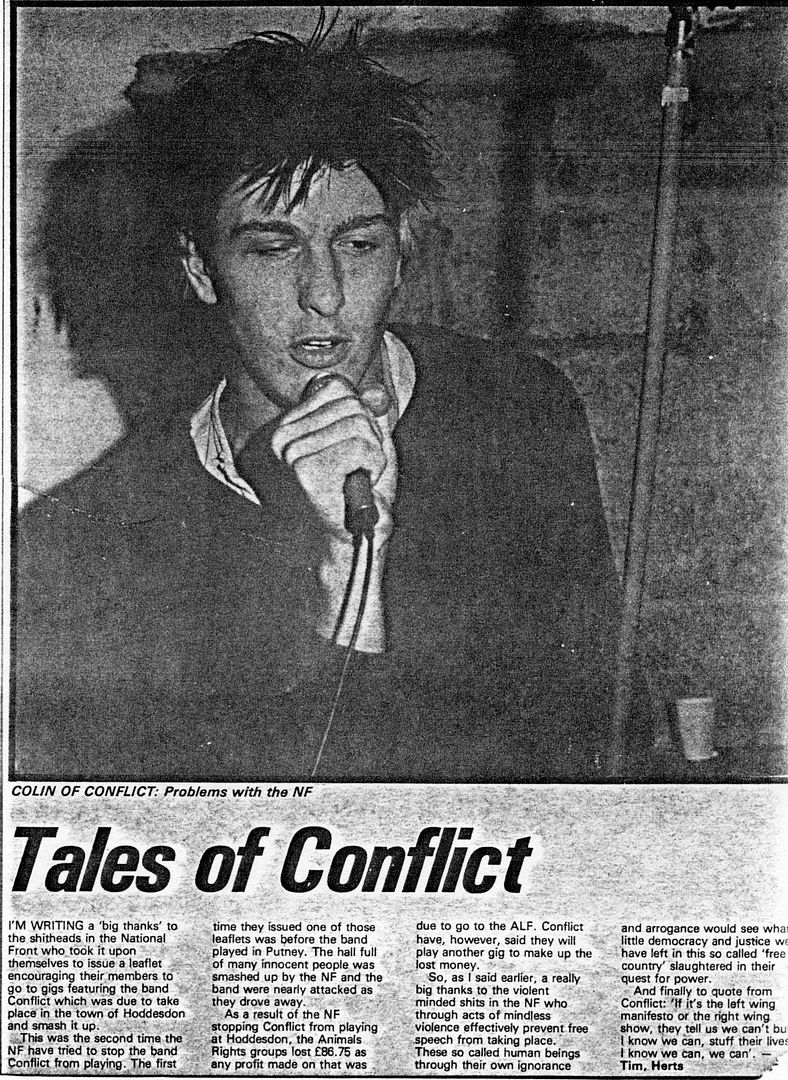 [Sounds music paper clipping from Penguin's collection]
[Penguin remembers Conflict were meant to perform at the Tudor Hall in Hoddesdon, a gig that Tim from Necro part organised but sadly never happened due to threats to the venue from the N.F skinheads in the area on the afternoon of the gig. Some of the crowd expecting to attend this gig were already in the area when it was cancelled, and some of them had travelled some distance. They were largely left wandering around the town. This aborted gig was later to be highlighted by Tim via a letter to the  Sounds music paper. The letter managed to end up as the main article in the Sounds letter pages!] 
Although only a tiny bubble in our local music scene, the era of Necro and the other bands Onslaught, Strontium and Virus was a gloriously creative time where almost all things seemed possible and maybe they were. The bubble burst around the time of the Hartham peace festival. The backdrop of politics at the time was crucial to both the development and ending of the movement and maybe moving onto to try and change things in different ways was the right way to go…
But above all the times were fun!
[Penguin remembers buying The Onslaught 7" single from Kensington Our Price record shop towards the end of the summer in 1983, a rare and fine record indeed. It was released by Mark Flunder who was a well known face in the Hertford scene. Mark had a stint performing and recording with the Television Personalities in 1982 and was also involved (in an organisational way) with The Marine Girls and Ten Cubic Feet. He performed later on in the McTells, and  much later on in Sportique and Cee Cee Beaumont – Matt the guitarist of Onslaught joined up with west country band Idiot Strength as that bands drummer. Matt sadly is no longer with us]
Rob as a guitarist helped to form other bands throughout the rest of the 1980's (hear anothor of Rob's mid 1980's bands on KYPP HERE )
[Penguin remembers one of Rob's latter bands were banned from the Harlow Square due to the vocalist taking all his clothes off and hanging upside down from the lighting rig. Rob performing the gig at the time did not notice this oddity on the stage but only knew when I told him later on after the band had wandered off the stage. How he missed that I still do not know!  Rob must have been well out of it. Rob was also in a band with one of our dear friends Simon N who later on became known as Ossian Brown. Ossian now performs in Cyclobe. Rob has now lived in Sheffield for decades and is an art teacher]
Written by Tim Voss – Necro / Strontium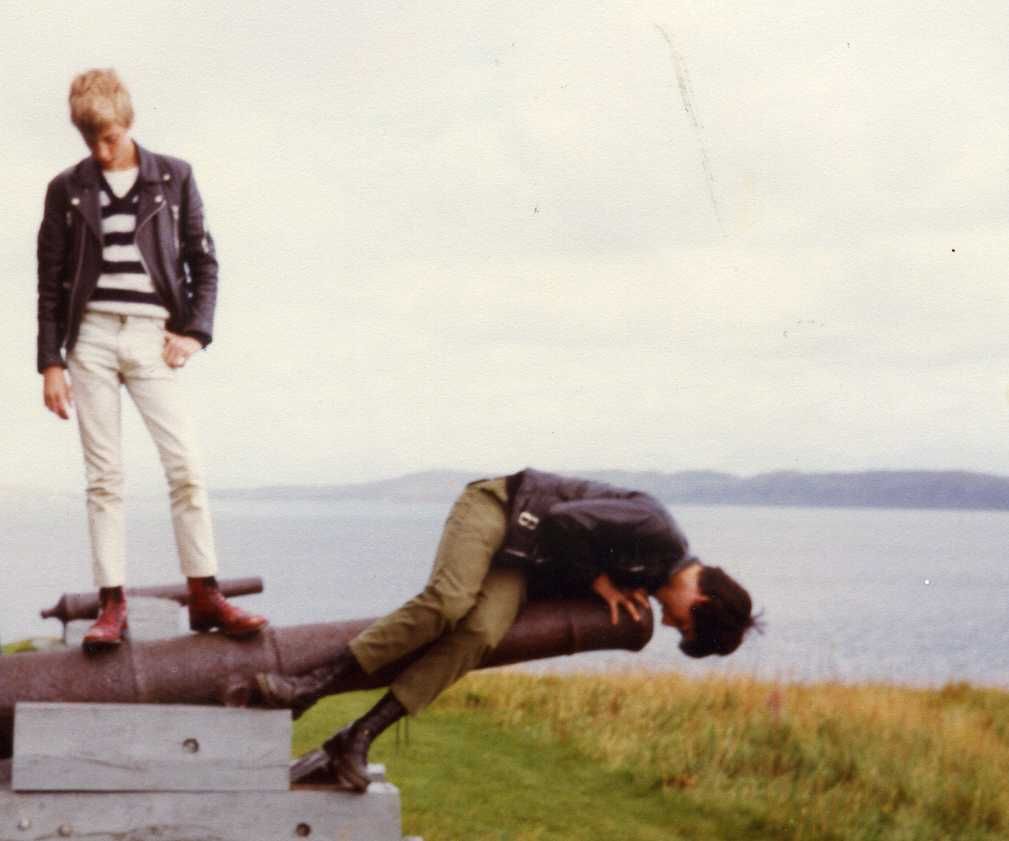 This post is dedicated to my younger brother Rob (pictured above with Mickey 'Penguin' circa 1982) who is celebrating his birthday on the 2nd January.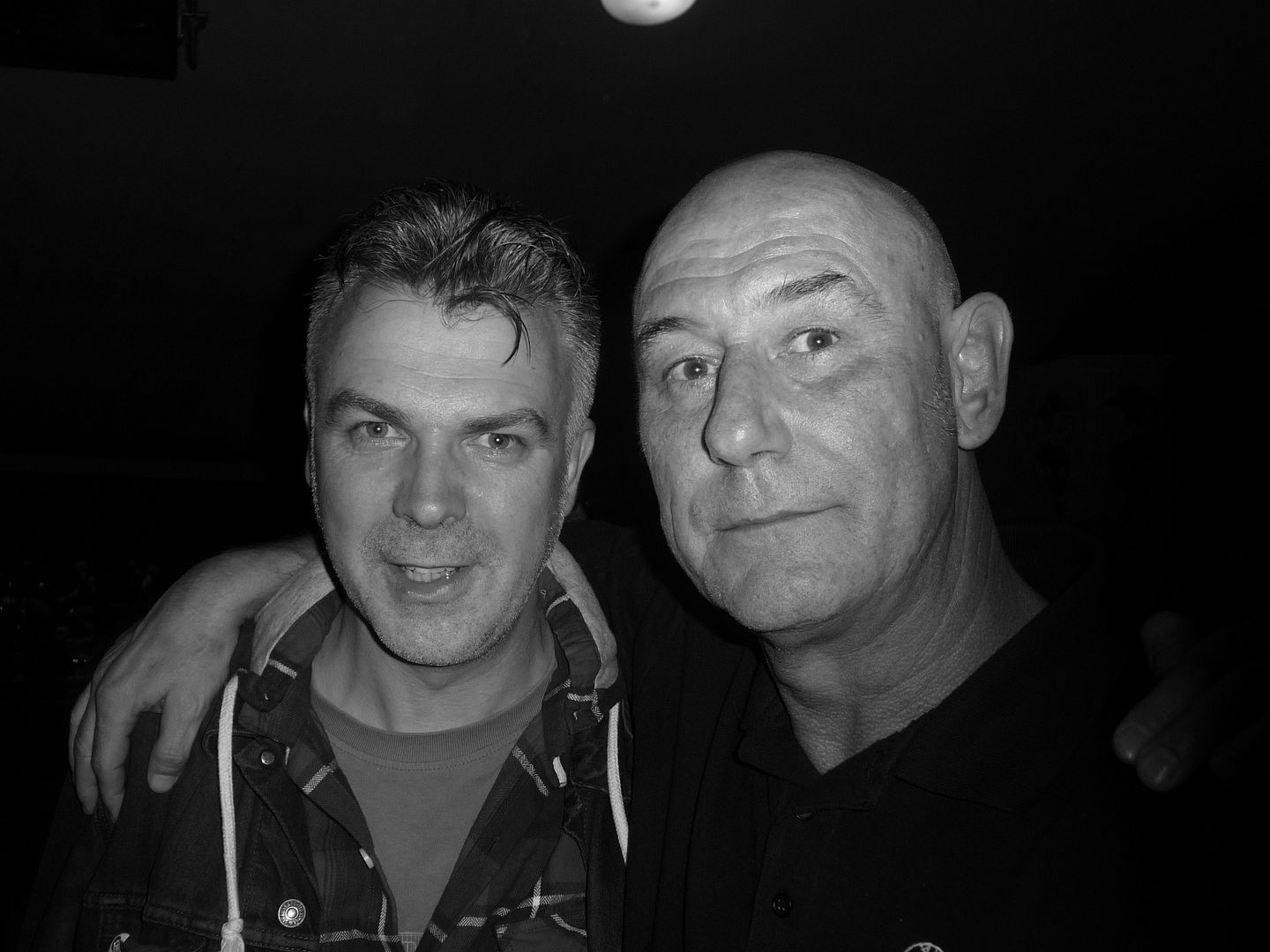 This post is also dedicated with love to Tim Voss who has crossed our paths once more for the first time in almost thirty years. Photograph of Tim taken by Mickey 'Penguin' at Steve Ignorant's last night of performing Crass songs. Thanks for the essay you wrote for Kill Your Pet Puppy Tim.
ALL MATERIAL FROM MICKEY 'PENGUIN'S COLLECTION except the live performance Virus cassette tape and the photographs credited to Andy Lane's collection. Other Necro photographs are courtesy of Tim's collection which are also credited.