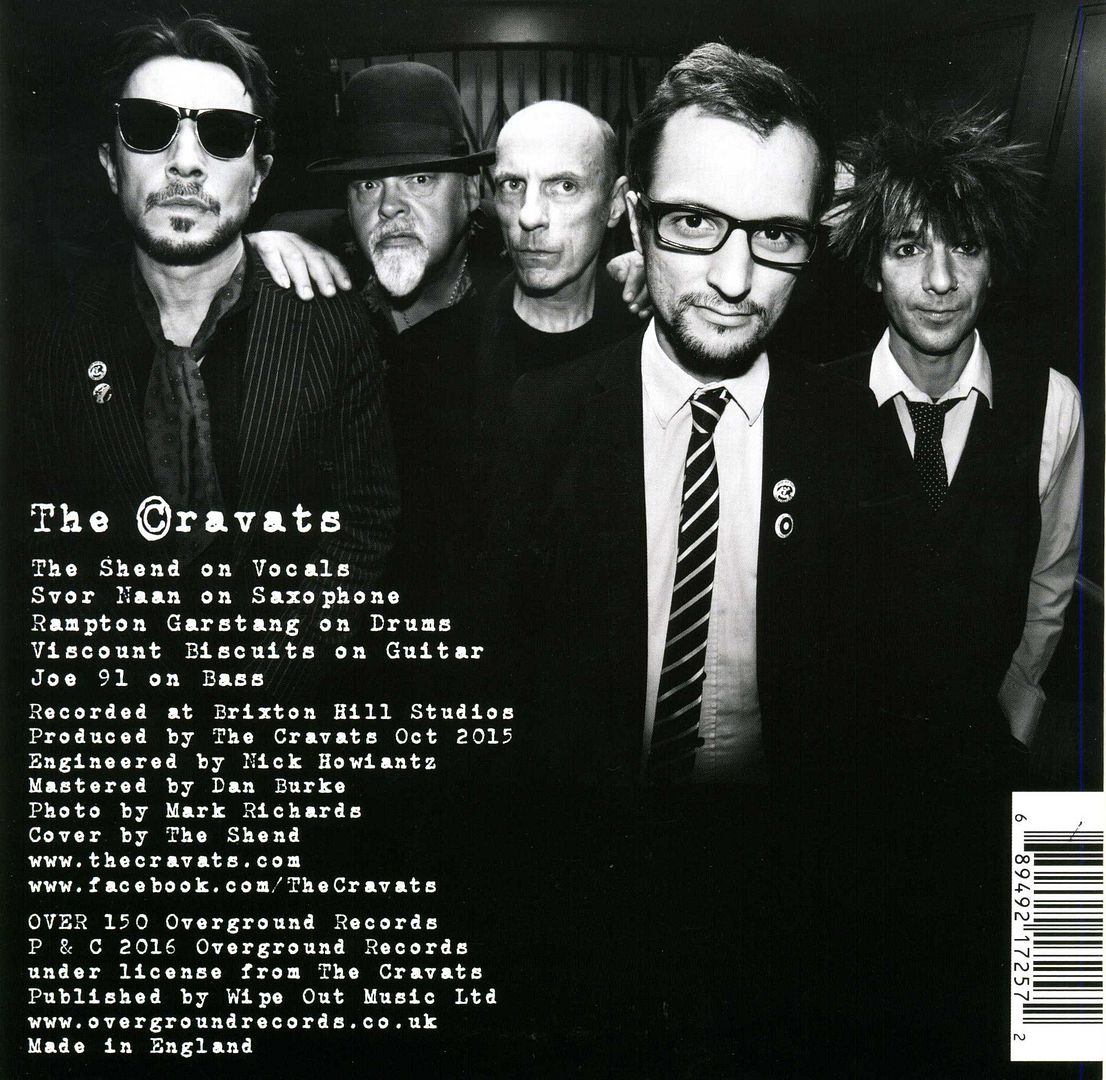 Anyone who has had even a vague love of punk music over the last thirty five  years will know The Cravats or, at least, be aware of their existence.
Championed by John Peel with four sessions, releases on Small Wonder and Crass; the sax-riddled, bass-laden weirdness, the humour, the love of Dada and the infamous Redditch 'Dustbin of Sound'.
Never mainstream, never hugely popular but always utterly unique they ploughed their own musical furrow in the peripheral vision of the music biz since forming in 1977, which was fine by them.
Those that loved them loved them to death, those that didn't, didn't.
They stopped in the mid-eighties for a cup of tea and it wasn't until the 2006 release of 'The Land of The Giants' double CD compilation on Overground Records that many folk realised what they'd missed.
Co-founder The Shend and original sax-riddler Svor Naan, along with fellow Redditcharian Rampton Garstang on drums, resurrected a live version of the band in 2009 at the bequest of admirers old and new.
Steve Albini's curated ATP, the final 'Feeding of The 5000' Steve Ignorant Crass show, a host of European festivals including four years at Rebellion Festival, a Marc Riley BBC6 session and a bunch of selective UK gigs followed to much critical acclaim.
But it is only since the addition, of Viscount Biscuits on guitar and Joe 91 on bass that they have finally decided the ingredients are right for new material and the Jingo Bells / Batter House single is the first offering of this burst of productivity.
With a second 7″ already recorded and an LP due for release by the end of 2016, plus a host of upcoming gigs The Cravats are well and truly back.
Still drenched in sax, obliquely angry, raucous and sounding like no other band in existence they have remained faithful to the sound that made them unique. Eccentrically frantic on stage, odd but on the ball on record and definitely not normal, the world needs bands like The Cravats.
For now though, it'll have to settle for just the one.
Get the numbered limited edition 7″ single HERE
The Cravats – Small Wonder Records – Original Southern Studio mixes – 1981
The Cravats fourth release for the Small Wonder record label, was the result of the band hooking up with Penny Rimbaud, the drummer with Crass and was recorded at Southern Studios in Wood Green, North London…
Penny managed to capture a darker sound for the band culminating in the tracks.'You're Driving Me / I Am The Dreg' which became The Cravats fourth attempt to tentatively stick its head above the parapet.
Although the eventual 7″ single, didn't fare very well on release in March 1981, it was the start of a more cohesive sound for the band that seemed to be finding it's feet in the studio.
These versions of 'Dregs' and 'You're Driving Me' are on a cassette tape from Southern Studios labelled 'Original Mixes' and are different to the official 7″ single release.
The photographs of the actual recording session at Southern Studios that are featured in the middle of this YouTube post are from the collection of The Cravats.
Penguin chats with Penny
I love The Cravats; and I thought I would spend a few minutes talking about the band with Penny Rimbaud of Crass.
Hi Penny, I wonder, can you remember how you met the Cravats?
I met them at Southern Studios when Pete Stennet, the proprietor of the Small Wonder record shop asked me to produce a single for The Cravats, to be released on his Small Wonder record label.  Pete had already heard records that I had produced and that John Loder had engineered. I produced 'Hex' by Poison Girls, and 'Feeding' by Crass, at Southern Studios both with John Loder engineering, both released on Small Wonder Records in 1979.
Can you remember whether The Cravats performed at the Small Wonder Records showcase at the Camden Music Machine in 1979?
No, I do not think so. Crass performed with The Wall, Patrik Fitzgerald headlined. I think The Cure performed.  Was it 1979 or 1978?
I think it was around the beginning of 1979. Tony D went, he might know. 
Sounds about right Pengy.
What was your interest in helping The Cravats to go to Southern Studios in 1981and produce their single on Small Wonder, had you heard the band's music at all?
Well Pete asked, and I was always willing to help out if asked. I had never heard The Cravats prior to the studio sessions, and I liked them when I heard them. The bounciness, and a kind of cabaret sound. More of a Beefheart sound than Sex Pistols. The saxophone was always interesting, actually a sax was interesting in any band of that era! The name The Cravats interested me as well.  I used to wear cravats when I had modernist pretensions in the early 1960's. At Dagenham college where I was going to during those years, there was a building department for builders, painters and decorators, plumbing and all those trades. Most of those apprentices were very sharply dressed, and when not in overalls were sporting all kinds of flash modernist clobber. Cravats included. Most listened to Jamaican bluebeat records.
The band recorded a 7" single for Crass Records a year later in 1982. 'Rub Me Out'. I assume that you were eager to have the band onto the label. Was this generally seconded by the other members of Crass? In other words, did other members of Crass like the sound that The Cravats made and were other members of Crass involved in the decision making?
Well, to be honest Pengy, it was myself who more or less chose the bands and artists that were to record, and have records released on the Crass record label. Steve and Andy suggested some bands to record. I think Andy put up the idea of Lack Of Knowledge. Steve put up Conflict I think.
The other day Penny, some numbnut placed a comment up on social media about the Crass record label. It was a post about new punk music I think. Someone mentioned something, and I paraphrase; "All that stuff on Crass Records, all bands sounding the same". This always annoys me, probably because I know the back catalogue rather more than that social media post person. Annie Anxiety, The Cravats, Zounds, D&V, Lack Of Knowledge, KUKL, Hit Parade, Rudimentary Peni, The Snipers etc.
Yes, sadly we get that a fair bit. Funny you mention The Snipers, and other members of Crass in your original question. No one from Crass liked that single. Everyone thought it was truly awful. I loved it! D.I.R.T and Alternative could possibly be compared to Crass. I doubt that those bands would like to be compared to Crass to be honest, as they were doing their own thing. It's a little lazy to state that 'Crass type bands' that released records on the Crass record label are similar.
Indeed Penny. Jane Gregory sounded more like Conflict than Flux in my humble opinion.
Steady on Pengy. The other way around!
Can you remember the Southern Studios sessions for the Small Wonder and Crass recordings? Have you got any Cravats anecdotes?
Oh. No I don't think that anything odd happened. The band seemed capable, they seemed to know what they were doing and caused no bother.
No stories similar to The Mob recording 'No Doves Fly Here' at Southern Studios where a gong was recorded dozens of times before you were happy with the sound?
Ha! Yes, I remember that. We hired a huge gong. And yes that gong was banged and recorded a lot of times. Another thing that I remember about that session was Mark from the band sounding quite asthmatic on the day he needed to lay down the vocal track. It was bad enough for him to sing one lyric at a time on the recording. The backing track reel was stopped at the exact moment for the next lyric to be recorded.
So none of that for sessions that The Cravats were involved with?
No, nothing like that.
Did The Cravats perform alongside Crass at all? The band did not perform at the Zig Zag all dayer for sure.
No, The Cravats were never on the same bill as Crass.
AROUND THIRTY FIVE YEARS LATER
How did you get involved as the bus driver on The Cravats video? Were you contacted via Shend or via Overground Records who released the record?
Shend contacted me. There was going to be a video and they needed a conductor. I was sold straight away and asked him to get me a hat. If you look carefully at the hat, there is a sign that looks like 'Crass Tours', as the video is filmed on a tourist bus driving around central London. The sign actually reads 'Crass Touts'.
Are there any anecdotes to share about the filming on the bus? Did you enjoy the experience and seeing Shend again?
Well, for starters it was a lovely day for filming, bright and sunny in the winter. The bus just spun around London while we fucked around. The drums did not slip sideways every time the bus took a sharp turn thankfully. We filmed around Westminster, Parliament Square so personally I was surprised that we were not ushered away by heavily armed police persons, while driving around there, around and around. Actually we did drive near to 10 Downing Street, and the police were keeping an eye out, looking over at the bus.
Shend and I do communicate with, and is one of the few people from the bands the released records on Small Wonder or Crass that I have always been able to contact and vis versa. I last saw Shend, prior to the video shoot, at Steve Ignorants gig at Shepherds Bush a few years ago when The Cravats supported. Where you there?
Yes I was there. I don't think I was 'all there' to be honest. The Mob and loads of other bands had put on a gig in Brixton the night before, and I was pretty exhausted after all that. Recording all the bands, taking photographs, staying up late. Going to Shepherds Bush after a self-organised and self-promoted gig with something like seven bands in two rooms in the same venue, seemed like a bit of a downer. People seemed to enjoy it, I thought it was fine. I didn't buy a T-shirt. Or a coffee mug. Or anything else being punted out on the stalls. Steve was clearly emotional and gave 1000% so I think it was my mind-set rather than the performance, or any of the band members. I was on the huge video screen for a few seconds at the back of the stage, so who knows I might be on a YouTube video somewhere!
Did you know that I remixed the tracks on the 'Cravats In Toytown' album for Overground Records?
Yes, I knew of the release, but I was not aware you were involved, or if I was, I have forgotten that you were.
Yes, a few years ago now. Tony Barber and Harvey were involved as well. One side of a double C.D set.
Harvey? I haven't seen him since seeing both of you at Southern Studios remixing Crass master reels. It was the same night as Tottenham beating Liverpool  4 -2 in the Carling Cup. I went to see the second half after leaving you both to it. Hope he is well.
Yes, I hope so too!
Was it fun remixing that old album? I have the original vinyl. I bought it from the Small Wonder shop in Walthamstow in the early 1980's. It's a great record.
Yes it was great listening to the master reels and doing some work on them. And yes it is a great record. We were very happy to be a part of this project. Hopefully the version on sale now from Overground Records will be appreciated by people as much as you appreciate your copy.
Thanks for this Penny. I'll get all this written up.
Thanks Pengy darling.
The Cravats – 'The Cravats In Toytown' – Overground Records – 2012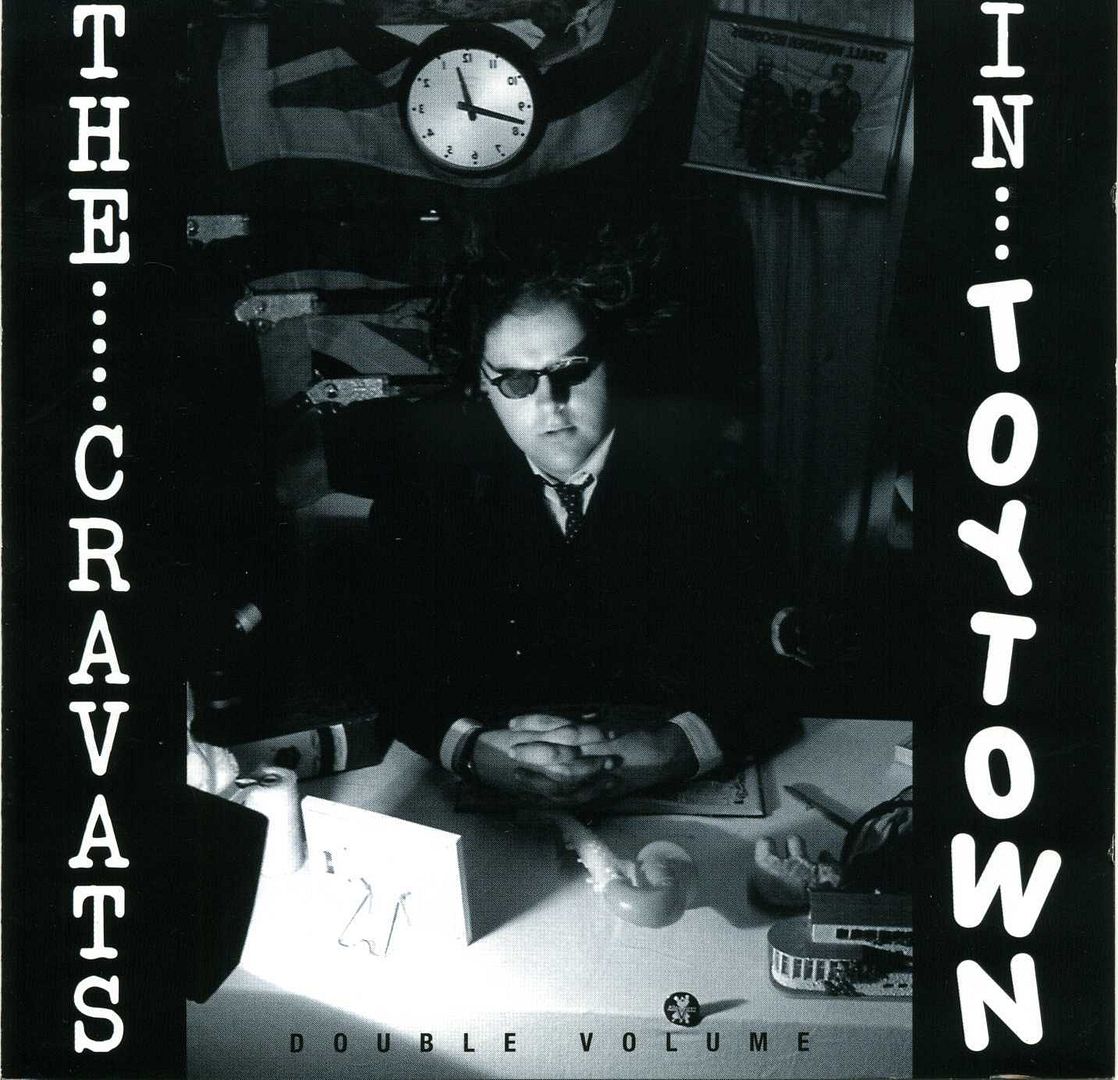 The complete Small Wonder recordings: The Cravats In Toytown album and five singles, newly remastered, plus a bonus disc of In Toytown remixed from the original multi-track tapes by Penny Rimbaud.
John Peel: "I hate Toyah records and they all go whizzing into the charts, and I love The Cravats and play all their records and nobody buys them. Whenever I start to feel important I think, 'Well, I never did much for The Cravats and I didn't stop Toyah'…" – Smash Hits, 1982
The Cravats' one, great musical handicap was that they were indescribable. Incisive, innovative musicianship was everywhere, yet the songs themselves defied comparison to anyone else's. The lyrics, meanwhile, were uncommon, vivid, and forcefully-delivered, so reviewers (both friendly and hostile) focused on those. But the part that burrowed straight for the wee chunk of your brain marked "fight or flight" on the meat-cutters' chart was the unsettling throb and lurch of the massively-amplified sax, guitars, bass, drums, and whatever other alien sound-forms and distortions The Cravats felt like heaving into the mix.
Their devoted record-company, Small Wonder, had no idea how to present them, either, but they kept on releasing Cravats records long after they'd bid adieu to the rest of their visionary catalog (among them The Cure, Patrik Fitzgerald, Crass, Poison Girls, Menace, Bauhaus, and Fatal Microbes). Peel played and played them, recording four Cravats Peel sessions 1979-82.
The Cravats formed after a Stranglers show in Birmingham in 1977: they borrowed £400 from Shend's mum and self-released their debut 7" Gordon in July 1978. Small Wonder liked the single so much that they picked up 500 copies and booked the band into the studio with producer Bob Sargeant; the result was the Burning Bridges single, soon followed by Precinct. Next, the band relocated to Torquay for a full week in 1980 to record their first album – on an 8-track in a hotel basement: The Cravats In Toytown made it into the Top 20 in the independent charts. Two more Small Wonder 45s followed, You're Driving Me and Off The Beach, sandwiched around their first project with Penny Rimbaud (who succeeded in making them even darker with 'Rub Me Out').
Despite their collectability, the Small Wonder records remained un-reissued until Penny Rimbaud obtained the recently discovered multi-track Toytown masters and re-interpreted and remixed them in his own unique, eccentric style, as Alice's Adventures In Toytown.
The singles and the 'original' LP mix are fully remastered here as well.
Buy the C.D HERE
Thank you for supporting independent music from independent record labels.