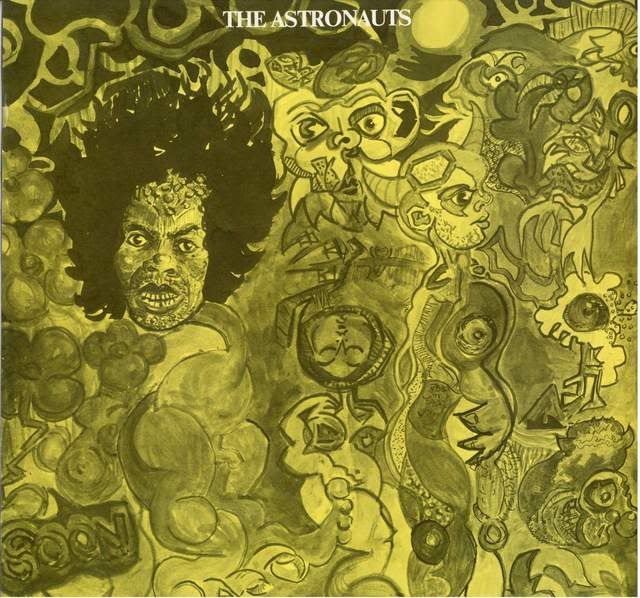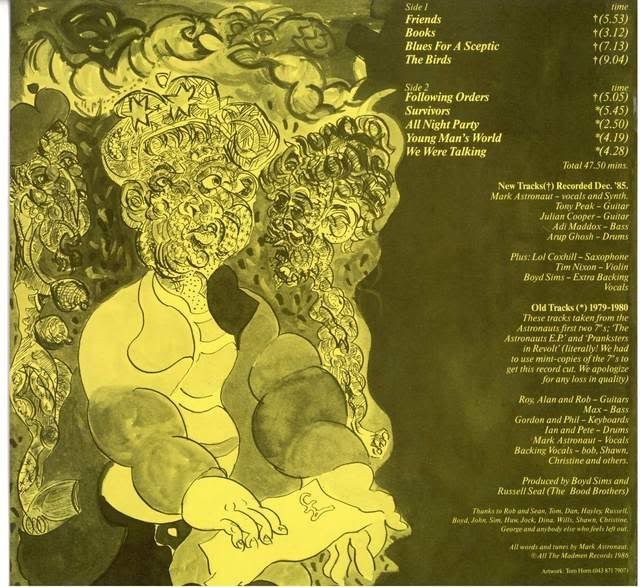 Friends / Books / Blues For A Sceptic / The Birds
Following Orders / Survivors / All Night Party / Young Mans World / We Were Talking
First side of this LP was new material recorded with the help of Lol Coxhill on saxophone, the second side included five out of the eight tracks possibly available from the first two 7″ singles from 1979 and 1980. These singles are somewhere else on this site in full if you use the Search function – although the quality of my original singles is a little worse than the copies used to cut the second side of this LP at Utopia in Chalk Farm…
Text below written by Robin Basak of Zero fanzine fame and ripped with love from his Acid Stings site.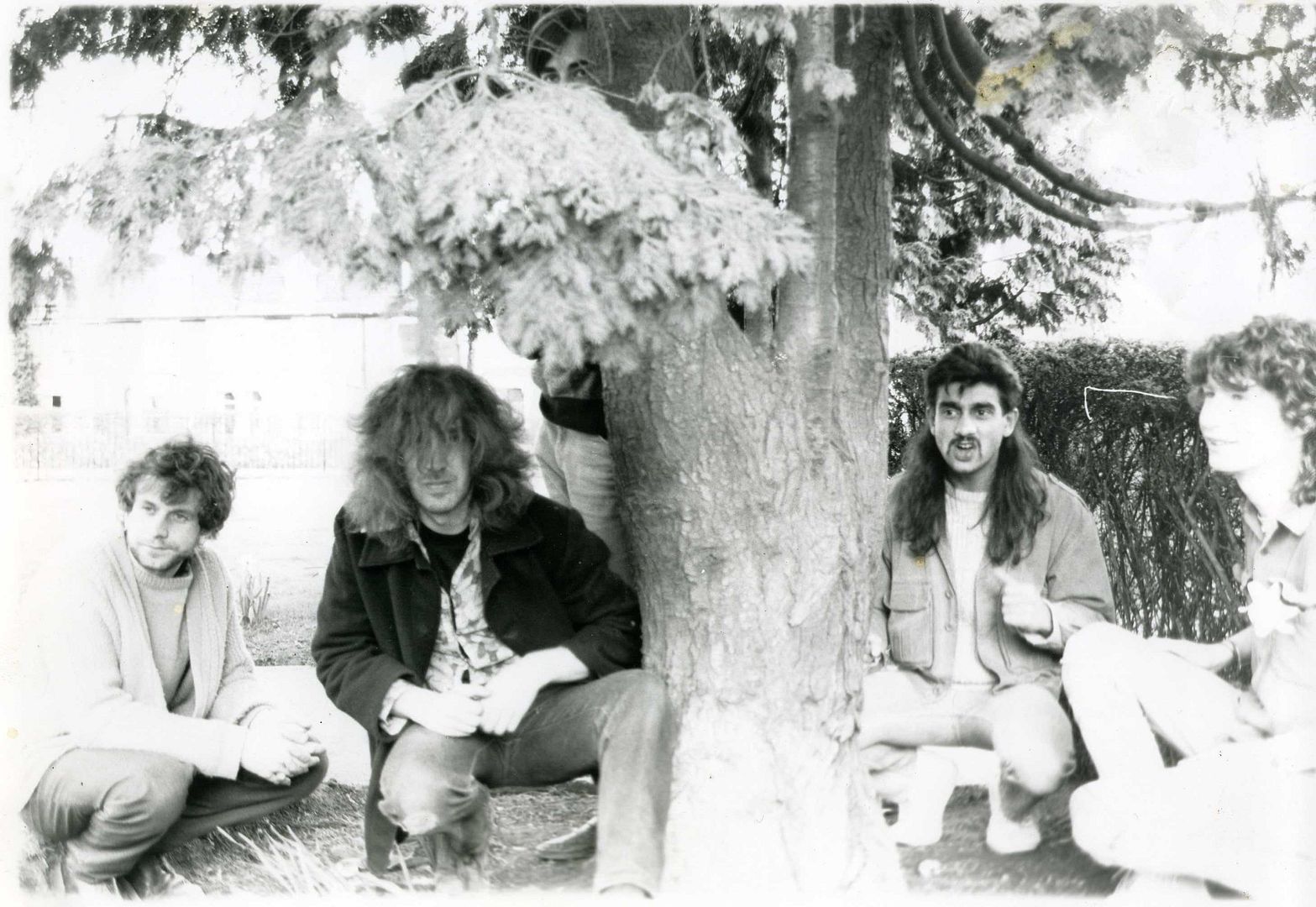 Eternal long-haired losers who also have some of the best tunes this semi-legendary band has only released six albums in its long existence but each of them is a bonafide classic. The Astronauts second album 'All Done By Mirrors' judged by those who heard it as among the best albums of all time was a stunning collection of explosive pop songs and traditional folk ballads recorded at a time when all their gigs were with anarchist punk bands. Their fifth album 'In Defence Of Compassion' experimented with ambient house music years before other conventional bands even thought of doing so.
With so many excellent songs (many never recorded it is probably the Astronauts enthusiasm for drugs and music over career and changing fashions which has stopped them becoming as well known as they should be).
Inspired by the UK punk explosion Mark Astronaut formed the band with a few friends in 1977 and began playing local gigs in their hometown of Welwyn Garden City. By 1979 The Astronauts were regularly appearing at free festivals and gigs in London organised by a hippy collective known as Fuck Off Records and from these began a close friendship with then London based punk bands Zounds and the Mob. That year the first Astronauts EP was released on local label Bugle Records and musically it reflected the hippie drug culture combined with the energy of punk. 'All Night Party' still sounds like the paranoid nightmare it did back then. The record established the Astronauts on the local gig scene among the non mainstram hippie/punk/biker crowd. Also in 1979 an EP was released under the assumed name of Restricted Hours on the Stevenage Rock Against Racism label. 'Getting Things Done' attacked the political apathy of smalltown life while 'Still Living Out The Carcrash' was musically a typically nightmarish theme.
By 1980 gigs throughout England with Zounds had won over an army of fans and the 'Pranksters In Revolt' EP sold all its copies within weeks. Musically the four songs were not as adventurous as the first EP although the lyrics were as incisive as ever. Like many great bands from the postpunk era the Astronauts were completely ignored by the UK music press which then as now was only interested in anything trendy, fashionable or middle class. Local fanzine Zero began to champion the band as did the local newspapers.
'Peter Pan Hits The Suburbs' album was released in 1981 to widespread acclaim. Incredibly it received great reviews in virtually all the UK music press. The typical Astronauts audience at the time was largely hardcore punks attracted by the energetic gigs and a handful of hippies so the album was something of a surprise. Full of heartfelt folk ballads and featuring legendary jazz saxophonist Lol Coxhill the album was not what fans had expected but appealed to a different audience. The contradiction of heavy chaotic punk performances and structured melodic alternative pop/folk/ambient songs continues to this day.
Throughout 1982-1985 there were hundreds of gigs with the many anarcho punk bands of the era and 'All Done By Mirrors' was arguably the finest album to date. The 'Soon' album featured great songs but was let down by lifeless production while the 'Seedy Side Of Paul' album combined a scathing indictment of the 1980s attitudes of greed with some truly wonderful songs. By 1986 Mark was fed up with constant gigs and decided to slow down. Astronauts songs were always socially aware and 'In Defence Of Compassion' album had the usual great tunes but was also very bleak. By contrast the 'Constitution/Please Don't Come Around Tonight' 7″ was an upbeat pop punk gem.
In 1991-92 the Astronauts recorded their finest album for Acid Stings. For once it captured the heaviness of their live sound but due to instability within the band and lack of cash the album has yet to be released. Despite this the Astronauts can still be found playing gigs in forgotten parts of London and Welwyn Garden City.