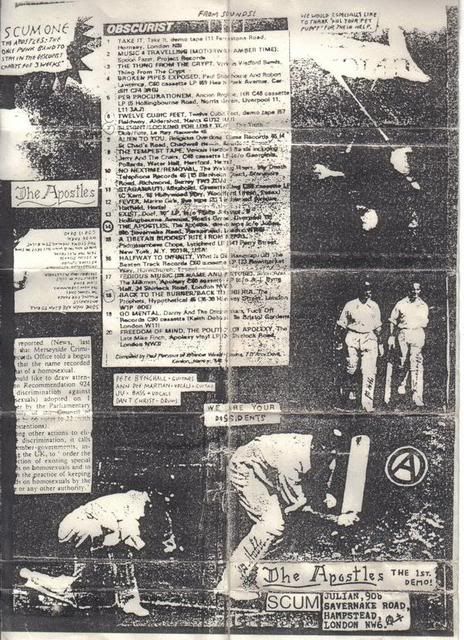 Erics Detachables / Some Men Are Born To Rule / Killing For Peace / Solidaridad Proletaria / New Crimes / Unknown / Proletarian Autonomy / The New Subhumans / Hyde Park / Time Bomb / Indian Thing / Drop The Bomb / No Clear Future
Absolution Of Guilt / Anti-Christ / Pete The Plectrum /Hyde Park / A Social Disease / The Stock Newington Eight / N.W.3 / Unknown / The Uniform / God Is Dead
The first line up of The Apostles, that actually got to record anything on tape, included Andy Martin, Pete Bynghall, Julian Portinari and Dan MacKintyre.
There was an earlier version of The Apostles with the members above, but they had a guy called Matt MacLeod instead of Andy Martin. This line up had been around for a little under a year or so.
Around the same point in time late 1980, the band Black Cross featured Andy Martin, The Innocent Bystander featured Dave Fanning, and Libertarian Youth featured both John Soares and Martin Smith. Eventually all these individuals from these bands would converge to make a most excellent version of The Apostles sometime in mid to late 1982. This line up recorded  the very good 'Libertarian Propaganda' cassette uploaded somewhere else on this site.
The first demo cassette was recorded by the band in a bedroom and released via the fanzine network and sold at the odd live performance by the band. It is not a studio release and should be treated as 'historical' interest only.
The sound is raw, sometimes muddy Punk Rock, recorded at different levels, sometimes through one speaker (at least on my cassette – maybe I have had a dud all these years?). There are some decent attempts of songs like 'Drop The Bomb' and 'Stoke Newington Eight' but most of the cassette is pretty rough stuff to listen to.
Would suggest this tape is for 'experienced' Apostles audiophiles only…If this is your first Apostles experience then turn it off and listen to 'Libertarian Propaganda' or 'Punk Orbituary' instead (somewhere else on this site) absorb these releases mentioned and play them over and over and then later, much later, return to this release!