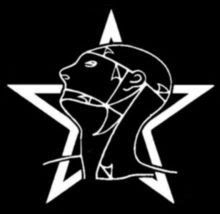 Kiss The Carpet / Alice / Anaconda / Valentine / Burn / Jolene
Heartland / Andrenochrome / Floorshow / Gimme Shelter / Emma / Body Electric
A Sisters Of Mercy concert around the time of the release of their finest record (in my opinion) 'The Reptile House' EP, which was slow and doomy, just how I liked it at the time!
Before 1983 was over, the band lost (or got rid of) original member Benn Gunn, replacing him with Wayne Hussey.  Merciful Release Records, The Sisters Of Mercy own label, released the 'Temple Of Love' 12″, the last record with Benn Gunn contributing on which catapulted them into a major record deal with WEA (the band were allowed to keep the moniker Merciful Release through the WEA contract).
After completing a large UK tour in 1984 playing in much larger venues than before, and releasing a hugely succesful LP 'First And Last And Always' in 1985, the rest as they say is history.