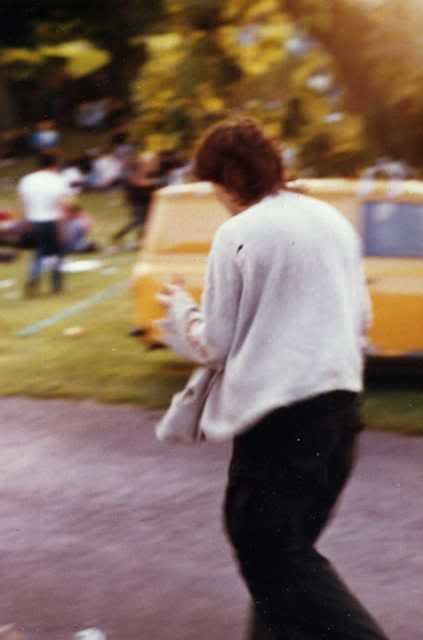 Indebted to Sean for the lend of this tape…Sean ex All The Madmen Records, 69 Tapes mogul, Wat Tyler vocalist, then drummer / vocalist. Hard Skin vocalist (with members of Thatcher On Acid), Rugger Bugger Records supremo, and now putting out some good stuff on his Demo Tapes label. Releases include Touch Of Hysteria, The Mental, Solvent Abuse so far, all on limited vinyl. More in the pipeline including Blyth Power 'A Little Touch Of Harry' on vinyl.
Any info please contact Sean at PO Box 357, London, SE19 1AD.
Sean is such a lovely guy, who helps people all the time, so please give him a smile if you pass through one of the Rough Trade shops W11 and E1 (yes E1). He is still active in those shops (he will not be at both the shops at the same time though…he is a big bloke but not THAT big!).
Anyway here goes, first a band featuring Dig from (later on) Earache Records, who made his first label success with bands like Heresy and Napalm Death, with his noise band The Scum Dribblers. Not for sensitive ears this one…
Second up is The Passion Killers, a band that spawned Chumbawumba a little later on in the mid 1980's. I must admit I had to do things around the house, so I left this cassette running. I did not expect the Scum Dribblers to be quite so short! So instead of two separate posts you have chalk and cheese with both these bands following on in the download…sorry' 'bout that! 
Scum Dribblers – Alferton, Nottingham 02/12/83 –Noyze Song / Yahoo / Oh Yea / Motorbike Song / Flea In A Tree / Skateboard Song / Language In The Road / Walking Down The Street / Eat Wheat Not Meat / Steamroller / Down Song / Smily People / Got A Show / Anything Song / Bum Feeler / Gnome Song / Caterpillar / Crop / Kill Tunz / Kalu / Soap Factory / Write A Song / Yahoo / Aeroplane Song /// Passion Killers – Station, Gateshead 14/01/84 – Fighting Carries On / What's Inside / Start Again / Suffering / Judging By The Headlines / Stand As One / Big Tough Hardman
See what I mean about the Scum Dribblers set being actually quite short!
Heres some text about the history of Scum Dribblers courtesty of Huggis from the band:
Scum Dribblers was formed in the summer of 1983 on Pleasley Hill, Mansfield (Adie Gills bedroom, actually, tho I can't remember the house number). 
The band was: Adie Gill, myself and Phillip "Pip" Edge.  I had 2 guitars – a cheap 1st guitar and my then new VOX Standard 24.  I swapped the cheap guitar with Adie for some old punk t-shirts (DKs, Sex Pistols). 
Pip was living rough at the time and was sleeping over the road in the bicycle shed of the defunct Pleasley Hill School with just an electric guitar for company (Memory: Pip had a pair of leather trousers hed made from an old coat hed found but the crotch went nearly to his knees.  He slept in and wore an old sheepskin-type coat the likes of which I'd never seen and have never seen since!   
Lucky for us I had an amp with 2 inputs (a huge dirty orange combo (no makers name).  It had 2 huge 14″ speakers in it and it took the 3 of us to carry even 1 yard.  We organised a proper jam session in a small room in the school that was being rented by 1 of Adies mates brothers as a workshop or something.  We were joined by a youth (cant remember his name Im afraid) who lived on Abbots Croft just up the road from me.  I think he was expecting us to start playing like Deep Purple or something…bit of a shock for the poor lad (he was older than me actually).  I was crap BUT FAST, Pip wasnt much better BUT FAST and the amp was LLLLOOOOOOUUUUUDDDDD!   
Adie by this time had decided to stick to "vocals??" (good job I had a microphone then-innit?) (I remember some lyrics about avoiding dog shit in the park when its dark). Sometime after (days or weeks, but probably days) Adie announced that his mate (who I presume is this Dig fella) had scored us a gig in Nottingham supporting The Sub Humans.  Jeez, a couple hours jammin thrash and no actual songs AND WERE PLAYING IN FRONT OF PEOPLE NEXT WEEK. 
Well, some may say that that is or was or was partly the epitome of the whole punk culture but it was a bit scary too.  The nite of the gig is indelibly etched upon my brain albeit 25 years ago (almost to the week!!).  It was late September and hot – blue sky, little fluffy clouds, etc.  I caught the 63 to Nottingham in the evening.  I was wearing dockos, ripped black stretch jeans, Dks t-shirt (gun to the head of statue of liberty), leather jacket with Crass emblem painted on the back, me dogs collar and name tag, mirrored sunglasses.  The hair as always spiked with soap.  Pip was late and I had to go without him (I was getting really nervous by this time cos I thought I was on me own).  However, my being lost in Nottingham gave Pip a chance to catch up.  My mam drove him trying to catch up the bus but ended up taking him all the way to Nottingham (good old Mam). We met up in the square in the middle of Nottingham.
The venue was the Ad Lib Club (that later became The Garage) but we didn't know where it was.  We saw small groups of punks walking around heading in a general direction so we followed them and hey presto arrived. We wandered in and Adie was already there with Tim Cairns.  All the punks in Mansfield had planned to see Sub Humans in Sheffield but a small group came to Nottingham just to give us support – Shirley Cotterhill, Dave "Slob" Dukes and Tim Cairns.  It was Tim who coined the name Scum Dribblers rejecting my idea of Mutant Veg (fine by me). 
Before I forget… the Ethos of the band was simple – to be the WORST, MOST CRAPPEST, but FASTEST and NOISIEST absolute CLIFF OF WHITE NOISE band EVER (with the WORST NAME too!!!). Pip and I stashed our guitars and went outside to get stoned.  Up to this point none of us had given any thought to the fact that we had no drummer!!!!!  Sitting outside was another familiar face from Mansfield – Pommi, Riot Squads most excellent drummer.  Pip and I took a managerial decision (ah ah) and said we would get him in for free if hed drum for us, "Find me some sticks" he said jumping up.  I was feeling a whole lot better n better.  The gig had 6 bands and we were first up.  Pip walked to the far end of the stage and plugged into the guitar amp.  He had loads of trouble with 1 of his effects pedals and it kept cutting out.  I had to plug my Boss DS1 into the bass amp but that and the Super Distortion pickups on my guitar gave only feedback so I had to dispense with the DS1. Pommi squeezed in behind the drums and got ready.  Pip was sorted and Adie was looking back wondering when we were going to start.  I had positioned myself behind a large square pillar at the front of the stage because my nerves had returned. My hands were ringing wet – and I couldnt move my hand on the fretboard!!!  A guy from another band tapped me on the arm and handed me a bottle of talc which cured the problem.  I played fast thrash non-stop for 20 minutes, Pip played a fast lead riff non-stop for 20 minutes, Adie jumped about, fell on the floor, gyrating n such and making up lyrics on the spot Im sure, Pommi had to keep stopping cos hed never had to play so fast before and was knackered. It was a complete anarchic experience – no plan, each of us just went nuts and played what we wanted fast n loud.  My nerves were gone after a few minutes and I came out from behind the pillar and had good look at the crowd. 
Absolute calm had come over the crowd.  100+ folks standing around with their arms folded and grim looks on their faces – what were they expecting fucking DEEP PURPLE?????????????????  After 20 minutes someone made us stop!!!!!!!!!!!!!!!!!!!!  By that time I'd noticed 2 or 3 people tapping their feet.  The "performance" was supposed to have been taped by the soundman (who might have been that Dig fella? not sure) but he thought it was the sound check!!! Then some other bands played and we went home.  Due to artistic, lifestyle and personal differences Pip and I never played again with Adie and Pommi carried on as normal with Riot Squad. 
As far as I am concerned Scum Dribblers was an EVENT that took place. A complete 1-off EVENT that was seminal in all our individual lives that can now (sadly) never be repeated.  Our mates Shirl and Dave have always maintained that the show was really really good and they are honest folks.  Pommi always remembers the gig with a big grin.  Pip and I see each other twice a week or so – guitars being present (still having problems with them effing pedals).  
I lost touch with Adie and Tim and never saw the other Scum Dribblers play.  I thought at the time that  they should have renamed the band but then no-one would have remembered the Scum Dribblers.
I hope that reading this ramble down memory lane has entertained you as much as it has entertained me to remember it and write it down.
Facts:
FIRST GIG – Ad Lib Club, Nottingham, late September 1983
ORIGINAL FOUNDER MEMBERS – Adie Gill, John "Huggis" Hughes, Phillip "Pip" Edge, Pommi