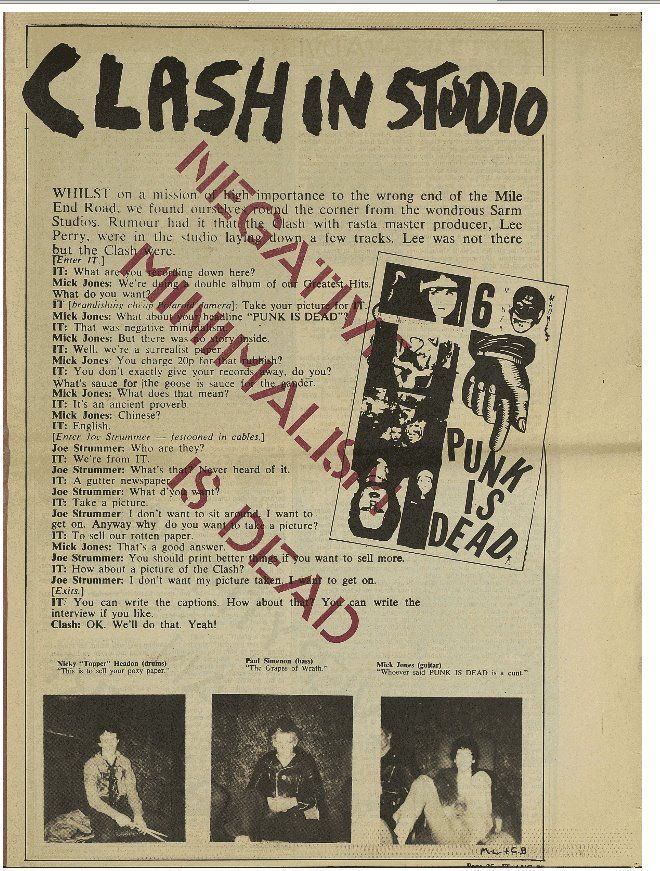 This is the International Times interview with the Clash from August 1977. The pic of Mick Jones from this and his quote "Whoever said PUNK IS DEAD is a cunt" was used as graphic by Crass for their 'Punk is Dead' on 'Feeding the 5000'.
In the interview Mick asks IT about their February 77 headline "Punk is Dead". Although Mark Perry of Sniffin Glue/ ATV did say "Punk died the day the Clash signed to CBS", the IT headline was not based on Mark P's quote – he hadn't written it in Feb 77. He was a still a fan of the Clash then. In Sniffin Glue 9 (April/ May 77) he reviewed the first Clash album and called it "The most important album ever."
Mark's "the day punk died" quote [probably] came from the last Sniffin Glue, issue 12, September 77.
So it looks like the Crass song was part inspired by International Times. Although IT had been a sixties/ hippie counter culture mag, by 76/77 it had acquired a punk edge:
'When the mode of the music changes', IT said originally, 'the walls of the city shake.' Well the walls have been replaced, the sky lowers on sky rise buildings, and the mode of the music has settled into comfortable soft rock, such as The Eagles, slagged out and professional, with crystal clear production to ping in the foggy ears of hash smokers sitting comfortably, 'laid back'. Everybody's just as bored, scared and unoriginal as they ever were – perhaps more so.

Punk is trying to burn through it and all the slickness, but could be easily sabotaged by 'Very punk, very Joan Sanderson' type stuff. How can we ever change anything if we cultivate stupidity? – The transcendental moron, the punk moron, the fashionable moron, the cool moron. We could be offensive, but you wouldn't give a shit when you've bought your nice new stereo…The only sign of life is an occasional exuberance shown in cruelty, and atoned for by sentimentality, all blanketed over by an incredible self-absorbed apathy which stops you from thinking, emotion or suicide. And you probably can't even understand the words we're using, let alone apply it to yourself, and as for ourselves this applies also, and all we ever need is a little love and understanding. But how do we get there, how well, and how often? What can one ever do? Going down the pub?"
Apart from playing their first gig at the Huntley Street squat -which was London's largest squat in 1977-one of Crass first gigs was at 'festival' in Covent Garden. Thanks to some ace detective work by Tony Puppy, who spotted a reference to 'Cras' in the IT archives, it looks as if this was the James Street squat where IT had their offices…and where Tony himself later lived. [Tony has also found info on the Demolition Decorators who were based at James Street.]
In 'The Story of Crass' (page 83) Penny R. said that Andy Palmer was 'vaguely involved' with International Times and [allegedly] 'pilfered a guitar from the IT offices'.
What is emerging out of the IT archives is another strand to the London punk/ pre-punk counter culture cross over, one in which Crass are more entangled than the image of them 'isolated' out in Epping would suggest. Even with the main stream of punk there is untold / half-told story. I have just checked, but can't see any mention of IT in Jon Savage's 'England's Dreaming' – yet if you go through the back issues for the period, punk is there. IT was like a big circulation fanzine, but one which was selling mainly to people from the pre-punk counter culture and exposing them to a version of punk as [see IT editorial above] a renewal/ reformation of the counter culture.
Certainly it had that impact on me as a reader. If it was being read by [future members of] Crass in a similar way, it may have influenced Crass particular construction of punk.
AL Puppy
(insertion of IT snippet showing 'Cras' and more IT/James Street published links can be seen in the Puppy photo album under Print Material and International Times folder HERE