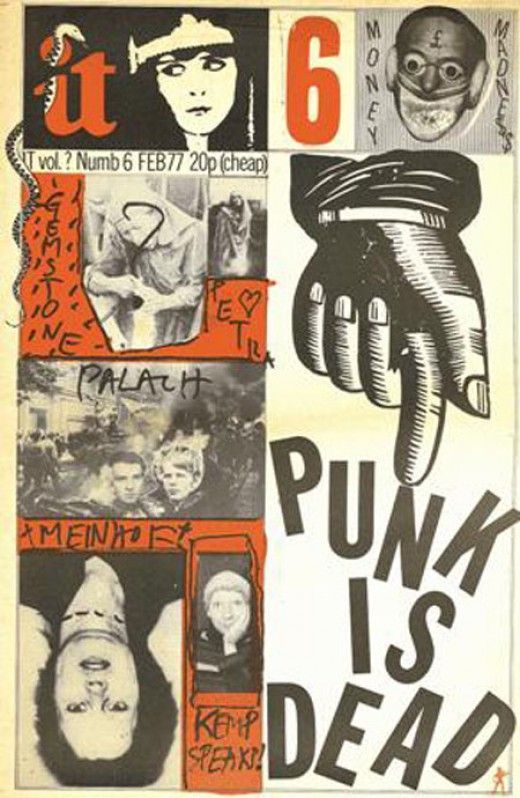 STOP PRESS
Thanks to Gerard (see comments below) we have Crass link. After the above IT cover came out in February 1977, IT did a brief interview with the Clash in August 1977 – from which came the Mick Jones quote "Whoever said punk is dead is a cunt" which was then recycled by Gee/Crass as image for their song "Punk is Dead" on Feeding the 5000 … so Crass and the Clash were reading IT in 1977.
Now back to 1976…
In the summer of 1976 I spent a week in London. It was very hot. Punk was still an unknown, so instead I wandered round west London in search of any traces of the Hawkwind/Pink Fairies era counterculture. I did not find any such traces.
I did find a copy of it /International Times which had just been re-launched again. The details are vague – but I must have subscribed since I recognised quite a few of the covers/ contents of later issues from this International Times archive.
What the archive shows is that there was at least some continuity of the counterculture from the sixties (IT began in 1966) through the seventies and into the eighties – which included punk.
There is another archive here, which is searchable. I found two articles by Kenneth Grant written for It in 1969. One includes this very strong warning to all dabblers in drugs:
What I wish to emphasize here is, that in the unrestrained
and uncontrolled vision induced by drugs taken without
proper magical knowledge and skill, great danger lies. It is
a danger, not, so much of the drugs themselves as of obsess-
ion by entities which seize upon the magically unprotected
consciousness of the drug taker.
Just a shame all the hippies did not take Mr. Grant's warning more seriously. If they had there would have been no need for punk…
I also  found something I wrote for a later re-launch in 1986 and – which I had totally forgotten – something I wrote for IT in 1979 as well.
THIS IS A FILM





This is a film, seen before




On TV one night, too late




Black and white, old and worn




Sound gone hard to discover




The action, the place, the time,




the players.





A train in steam, a city lit by gas




Hotel room mirrors




White and a maid, she seems Chinese




Arranges flowers, careful decorations





Outside in the centre, old cars,




slow traffic




Horses,cobbles




Skyscrapers ultra new, electric trams




Close up faces sullen heavy




Hungry, empty.




Demonstration in the docks




Anger roused, violence begins




Airship high gleaming silver




Shoots into the crowd,bodies fall




A child cries lost, uniforms,horses




People running.





Factory chimney black smoke




twisting over rooftops




Glistening leaded slates back




to back




Fading into each other crowded close




Gathered below a pyramid of 




slag, smouldering.           




By night a volcano                       




Tattered children playing by a railway                                           




Slow shunter curving lines of trucks                                         




Unemployed vacant staring            




Others picking refuse                     




On a beach collecting coal                  




A grimy sea spills lifeless waves




dying on a barren shore.     





Empty prairie, lines of steel          




Pillar of smoke, a cloud becomes    




an armed train                             




Shooting telegraph poles             




Bloody flag once black                  




Desperate faces, knowledge           




of death.                             




Betrayal. 





An office steel furnished              




Ticker-tape talking, papers fallen   




on the floor                                




Green/grey useless notes, dying money                                         




In streets below                             




Armed ex-soldiers, machine-gun    




Mounted on a solid tyred truck                           




Frei-Korps hunting the remnants    




of a revolution.                             





ALISTAIR LIVINGSTON International Times 1979