Debut 7″ single by Psychic TV, with the Holophonic 3D effect featured on the B Side track 'Breakthrough'. Great Velvet Underground inspired stuff. The A Side 'Drifting' is all about Genesis love for his, then, new born daughter Caresse which sounds as far away from Throbbing Gristle as you could ever imagine. Think that may have been the point though!
I have also uploaded the debut 12″ version of this Psychic TV release as it features different tracks.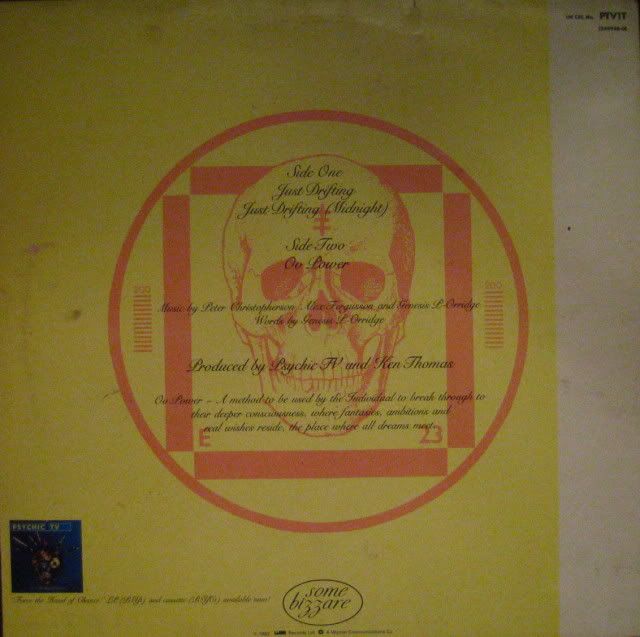 Just Drifting / Just Drifting Midnight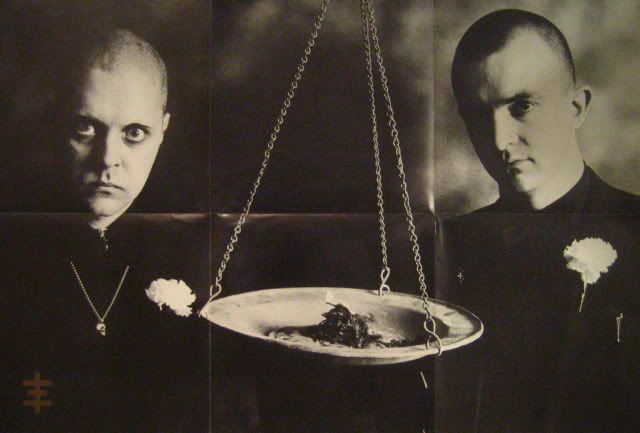 After Genesis P-Orridge dissolved the seminal industrial rock outfit Throbbing Gristle, he and Gristle cohort Peter Christopherson, plus Geoff Rushton and Alex Fergusson (ex Alternative TV), formed Psychic TV in 1981 as a means of continuing their confrontational, shock-oriented approach to music and their multimedia live performances. Paula P-Orridge, Genesis's then wife and mother of his daughter Caresse also joined up a little later on, in the career of the band. Psychic TV draws much of its inspiration from the literary underground, including situationist philosophy, William Burroughs (a professed fan), the Marquis de Sade, and Philip K. Dick. The group also claims to be the mouthpiece for its own quasi-religious group, the Temple Ov Psychick Youth. P-Orridge has been branded a dangerous deviant in several publications, and police raided his home in 1992, seizing videos, books, and magazines following a television show concerning child abuse in which a Psychic TV performance art video was shown out of context. P-Orridge settled in the U.S.A after this trouble with the police.
As for the music itself, Psychic TV's earlier years continued in the experimental vein of Throbbing Gristle's work, encompassing melodic pop, barely listenable white noise, gentle ballads, industrial found-sound collages, spoken word pieces, and experiments with ethnic instruments and world music, all tied together by a dadaist sensibility. 'Force the Hand of Chance' the group's debut LP, was released in 1982 on Some Bizarre via WEA Records. The second most excellent LP 'Dreams Less Sweet' was released on Some Bizarre via CBS Records – Stevo the Some Bizarre supremo was definately up for a Malcolm McClaren style business deal! After falling out with Stevo in 1984, Psychic TV set up Temple Records to release material from Psychic TV, and other likeminded and sympathetic artists and bands, independantly of the major record labels. During the mid to late 1980s, Psychic TV's prodigious output totalled over 20 LPs and several 12″ singles. Much of this stemmed from a publicity stunt beginning in 1986 for which the group attempted to release one live LP, each from a different nation, on the 23rd of each month for 23 months. After 10 LPs were purchased the collector could then send off for a limited picture disc LP only available for the loyal fanbase, there were tickets in the packaging of the first 10 LPs to collect… Even though the group didn't quite achieve its goal of 23 live LPs, the 14 LPs Psychic TV released in 18 months were enough to get the group into the Guinness Book of World Records.
Christopherson and Rushton both left the group late on in 1983 to form Coil, and Psychic TV has since become an open-ended collective with contributors such as Alex Fergusson leaving and returning, John Gosling, Rose McDowell, Marc Almond, Mathew Best, Monte Cazazza, Dave Ball, ex KYPP collective member Mouse and David Tibet.
Psychic TV scored a minor U.K. pop hit in 1986 with "Godstar," a tribute to Rolling Stones guitarist Brian Jones, and 1988 saw the group's first LP  release Stateside with 'Allegory and Self.'
Plenty more rare Psychic TV material on this site if you care to search it out.