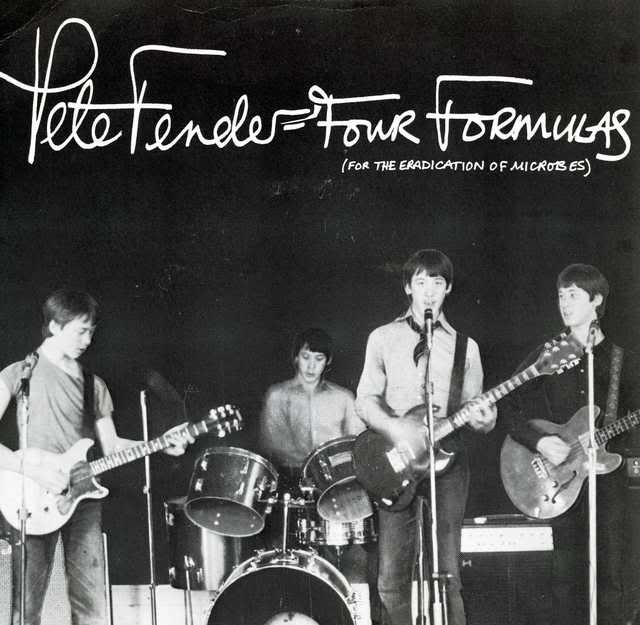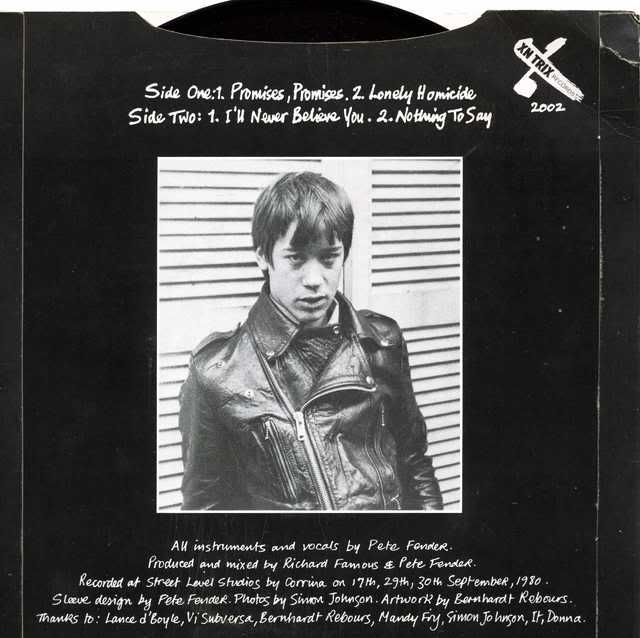 Promises, Promises / Lonely Homicide
I'll Never Believe You / Nothing To Say
Wonderful Buzzcocks and Ramonesy riffs on 'Promises, Promises' and 'I'll Never Believe You'.  A great and rare punk pop masterpiece on 7″ platter from the guitarist that previously was a member of Fatal Microbes with Honey Bane and would then join up with Rubella Ballet. 
Fatal Microbes singles on 7″ and 12″ (split with Poison Girls) released on Small Wonder Records are both on this site if you care to search for it using the search function. Also there is a load of Rubella Ballet material. Text below ripped from geocities.com/rubella_ballet/biography
The Fatal Microbes were a UK punk group that existed in the late 1970s. Honey Bane was the lead singer. Other band members were Gem Stone on drums, Pete Fender on guitar, and Scotty Boy Barker who was briefly replaced as bassist by 'It' (Quentin North).
In 1979, Small Wonder and Xntrix Records co-released a split 12″ EP entitled "Violence Grows", which also featured the Epping based Poison Girls (whose singer, Vi Subversa, was also mother to Gem Stone and Pete Fender).
Due to the popularity of Fatal Microbes, Small Wonder Records released a 7″ single featuring "Violence Grows", which was hailed as a classic by John Peel. Honey Bane later had a career as a solo artist, a film and stage actress, and a model. Pete Fender subsequently went on to join Rubella Ballet with Gem Stone.  
Rubella Ballet got together seriously in the summer of 1979 in East London around a nucleus of teenage punks Zillah Minx, the pink haired chanteuse on vocals and her boyfriend Sid Ation the 6ft 9″spiky giant powerhouse on drums.
Zillah and Sid had met earlier at a Crass gig in 1979 before they started to live together in a house with Crass cohorts and long time touring partners the Poison Girls. Sid had previously worked as a chef under the now celebrity chef andresturanteur Brian Turner, but had lost his job and home. Zillah was a student.
Other occupants in the Poison Girl household were Gemma and Pete Fender. They were already in a band called Fatal Microbes along with Honey Bane and Scotty Boy Barker.
"One night at a gig we the audience were told we could use the equipment so Sid played drums and Zillah sang for the first time using any one who wanted to play the guitars, we just made it up as we went along" thus sparking the bud of an idea to form an actual band in their own right.
The Fatal Microbes record 'Violence Grows' had been released in late 1978 and was a big hit with John Peel playing it on his national Radio show which earned the Microbes plenty of press attention. However lead singer Honey Bane left the Fatal Microbes and went off to record with Crass before signing to EMI as a solo singer and later also acting in a stage play 'Scrubbers' which was later made into a film. This left the remaining Fatal Microbes with out a vocalist and no bass guitarist coz Scotty Boy Barker disappeared too. So Zillah, Sid, Pete Fender and Gemma who had now moved to bass and lived in the same house began jamming together using the Poison Girls equipment. Gem despite being only 12 and Pete Fender who wasn't much older at 14 had already had in their short musical career a band with a great record out that earned them radio play. And now along with Zillah's vision and Sid's rhythm they soon began crafting their own unique songs which ultimately became Rubella Ballet.
Other early transient members included a who's who of the underground anarcho scene including Annie Anxiety and 'It'.
Anxiety became the lead singer, but when she dropped out, drummer Sid, suggested his girlfriend Zillah fill in the vacant vocalist position (at extremely short notice) and so the band were morphing at an alarming rate.
An important note at this stage is Sid would also work start work with Flux Of Pink Indians during this period and was responsible for giving them their chunky new heavy drum-based sound. He also wrote two of the tracks that would later appear on Flux's anthemic 'Neu Smell'  EP released in the summer of 1981.
However back in East London with a now stable line-up secured consisting of Zillah, Sid, Pete, and schoolgirl Gemma Stone. They made their official world debut at bottom of a fantastic bill….Crass, Poison Girls, Charge, Rubella Ballet  at Conway Hall Red Lion Square London WC1 on Friday May 11th 1979.
In 1980 Pete Fender released a 7″ EP, "Four Formulas", under his own name on Xntrix records.
Pete Fender and 'It' had originally met when they formed the band Punktuation in 1977. With an average age of just 13 years, it would make them probably the youngest punk band in the country at the time.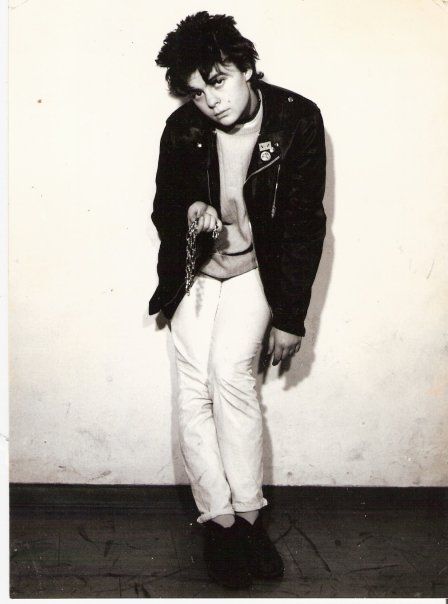 This post is dedicated to the honourary Puppy Collective member,  Cristina Mazzoni, whose birthday it is today. Have a nice day Cristina.
Photo above Cristina circa 1979 from Cristina's collection, and the photo below, from Phil's collection, shows Cory, Phil, Cristina and Anna Teresa attending Phil and Anna Teresa's wedding at Finsbury Town Hall in 1983.