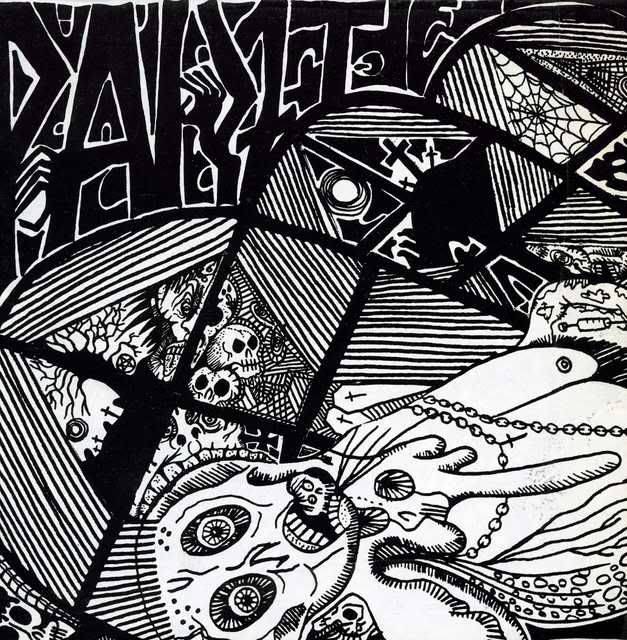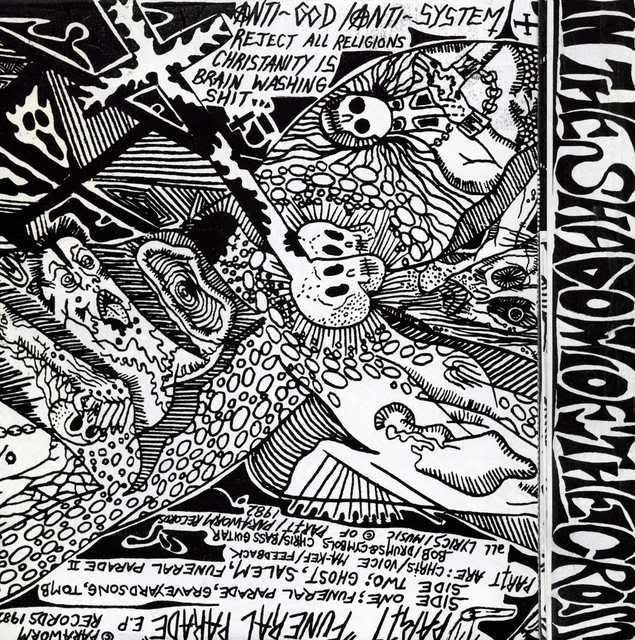 Ghost / Salem / Funeral Parade
Funeral Parade / Graveyard Song / Tomb
Massively fine EP by Milton Keynes based ghouls Part 1 – A very rare slice of 1982 proto-goth at it's best. Even more rare when you consider what happened to several hundred copies of this 7″ gem. For that small bit of inside information you will need to continue reading the text below! 
Indebted to Mark F from Part 1 (pictured below performing at Wapping Autonomy Centre courtesy of JFB) for the text that he has written specifically for this post.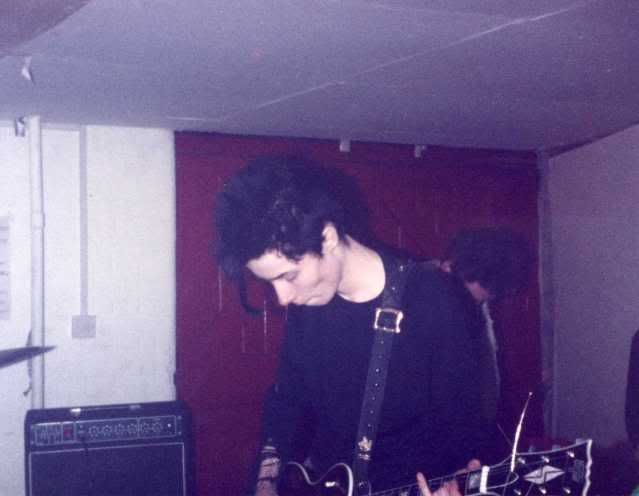 …and yew really have to imagine this:  a brick cell, some kind of bleary, damp and very archaic structure, deep underground, sealed except for some rusted kind of sluice pipe, entering at flagstone level.  Sometymes admitting aire.  Sometymes a frothy mix of slurry, rank vegetation, sea water…and within the pitch black darkness…an occupant.  In fact, the form of something akin to an octopus, moaning and slapping out bruised tentacles to walls slick with a thick, greyish moss. And here we be!
In regret, I'm not totally sure it is an octopus…for it has a single, baleful eye, caught to its imprisonment, burning in the dark with a luminous, hypnotic rage…
Why we, Part 1, had travelled all that way, to just outside Cambridge, and that particular recording studio to lay those tracks for the 'Funeral Parade' E.P. I am not really sure.  I have a vivid memory of coming 'above earth' after the eight or so hours we'd been in there, work done, and standing at the edge of a farmer's field, the July 1982 sun setting over a far meadow, blazing gold, red, those wild sickly yellows, my skinny elbows pricking into hedgerow…the bark of a rabbit.
Yes, 'Octopus Studios' were in a spot that rural!
Having decided to travel so far from Milton Keynes for this recording, I think we were all suffering from some bizarre form of agoraphobia.  Our first attempts at recording 'Graveyard Song/Tomb' a mere 16 months previous, had seen another far visit to alien lands, the neat little 8 track 'Crypt Studios' in Stevenage, buried 'neath a de-consecrated church no less. 
From Milton Keynes to Stevenage…what a daft show of neurotic masochism!
Cruelly green, we soon gathered from 'Mr. Engineer' at Octopus, rather proudly, that the Grandee Royal of 'Custard Pie Punk', Mr. Ray 'Captain Sensible' Burns, had been to said same a mere weekend afore, worming pantomime and getting his sticky fingers into tuck shop 'Dolly Mixtures'.  I expect he used every single, bloody one of those 16 tracks…we didn't, not out of some snarling antipathy toward the recording techno, but again, I surmise, through a whiff of the nascent agoraphobia…that had primarily caused us to van drive the 80 or so miles from MK.  Everything, every crime, had to occur 'far from home'!
That afternoons recording did indeed catch something of the intense, spiteful malignancy we had been exhibiting that year, in the gigs that we had played, especially with those cultured, backwater yobbos from Hertfordshire, Rudimentary Peni.  Sound wise, its as close as close can be to 'live' as, not wishing to offend 'Mr. Engineer', we got our collective skull-caps down-pat and it was all first take.  Except I must confess to a little over-laided riffing amid my desperate cries for "more reverb!  I must have more fucking reverb!"  Plaintive wordings which all fell like scales from the mulched cochlea of 'Mr. Engineer'.
To give due credit, both Nick and Grant Peni helped much in this subsequent uneasy, first (and only) birth from PARAWORM RECORDS, stumping out some 'ackers from the honeyed pots of 'Farce'.  The master tape itself was taken by Blinko and F out to' S.R.T. Records and Tapes' of Finchley, a hack enterprise that had done all the 'Outer Himalayan' releases, and whence for the blood-sum of three-fifty nicker,1000 gleaming, rounded beasties sliced, spiced, diced, labelled, were wetley borne…I thank ye kindly.
They also 'mucked in' as regards 'penile muscle', i.e. the hernic-rupture inducement of 'escorting' dirty great suitcases brimful of 'Funeral Parade', up and down, up and down tube escalator, bus etc after its pressing…back to Bletchley vaults.
The disc did represent probably our four strongest tracks of that tyme.  The instrumental intro/outro 'Funeral Parade' was borne out of some morose, elongated 'jam', a rich paean to necrophilia, incest, agoraphobia…a sure fire hit!
The original studio version of this instrumental rambled on for about twenty minutes. 'Mr. Engineer', slacking of jaw, decided to cut and cauterise various sections for consideration, i.e. for the beginning of side one and the close of side two.  But 'Mr. Engineer' lazily repeated the opening section on his spool, and dispensed with some other equally darkling parts…why?  Why 'Mr. Fucking Engineer'?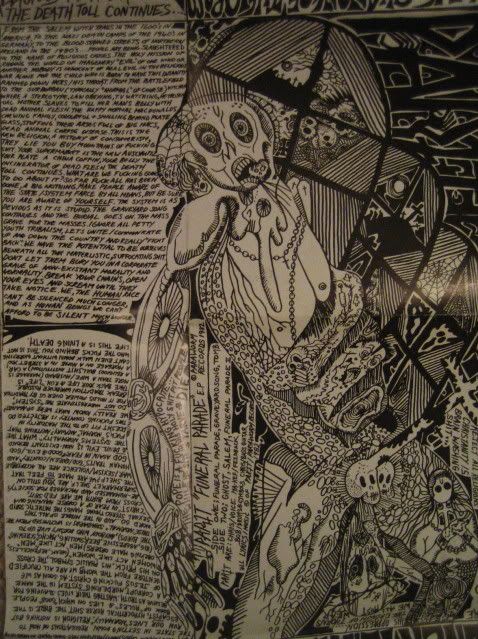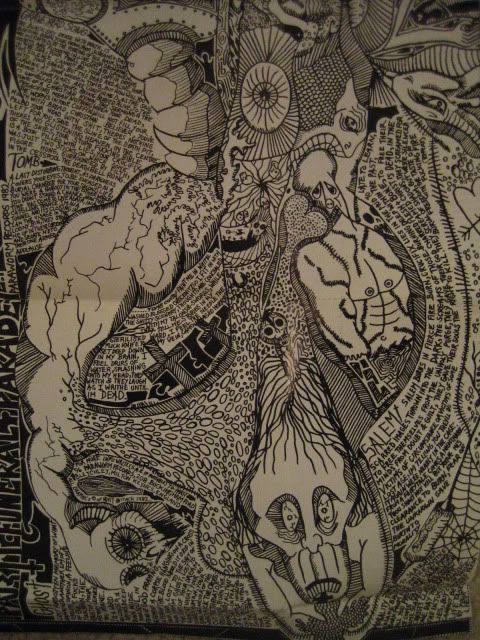 The printing of the A3 sized fold-out sleeve, littered with F artworks and rantings,  took place on a quiet Saturday, circa September 1982, at the Bletchley print works where Bob (Part 1 drumming utterances) had his employ.  Bletchley…Oh home of ire and sedition! Of course, having responsibility for the keys helped, as did the boss sunning his scaly mutoid body in Majorca, or similar.  My designs led to a painful thousand-fold act of blasphemous origami, a veritable 'death by a thousand paper-cuts' for any bleeder vaguely associated with the band.  The PARAWORM RECORDS staff were in up-roar.  But my…it did look good.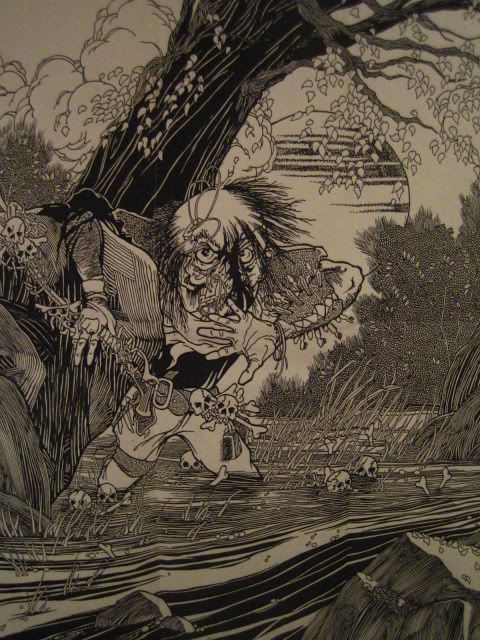 Out of the thousand folds, a few hundred went to the slack-jaws of Rough Trade, another couple of hundred to Sir Peter Gnome of Small Wonder…and then…
…an octopus in darkness, slapping its bruised tentacles against dungeon walls…
Feeding into the cochlea, 'Ghost' still seems to carry something of an evil portent, what with its aggressive growling bass sound and the insane 'bird calls' of guitar.  The lyrics are amongst favorites of mine, tyme wrote.  I mean, what better than, 'fuck the cross, cut the throat of religion' and 'at night you're no longer human'…I mean, they still carry charm.
'Salem' seems to suffer from that lugubrious, sliding bass which dominates and grieves a little too much, threatening to overwhelm the whole proceedings, 'till the ominous strains of the 'Funeral Parade' outro return, pulling all back to some ill-holy balance.
Long after the inevitable fold of Part 1, many a 'remaindered' copy of 'Funeral Parade', sleeved and boxed, still in those damn suitcases, met an ignoble end I'm ashamed to state.  During 1985, tired and annoyed at the presence of a large number still cluttering the parental shed, I literally skipped four hundred copies into the Milton Keynes municipal dump, there to mulch as fodder for concrete cows or, more hopefully, to join entombed 80's landfill awaiting just resurrection and that judgment day of 'Charlton Heston/Statue of Liberty/Shock'…a moment that surely must await us all…man, ape, barking rabbit or…octopus.
…yew can take the Octopus out of the Crypt, but never the Crypt out of the Octopus…
Mark F 2009