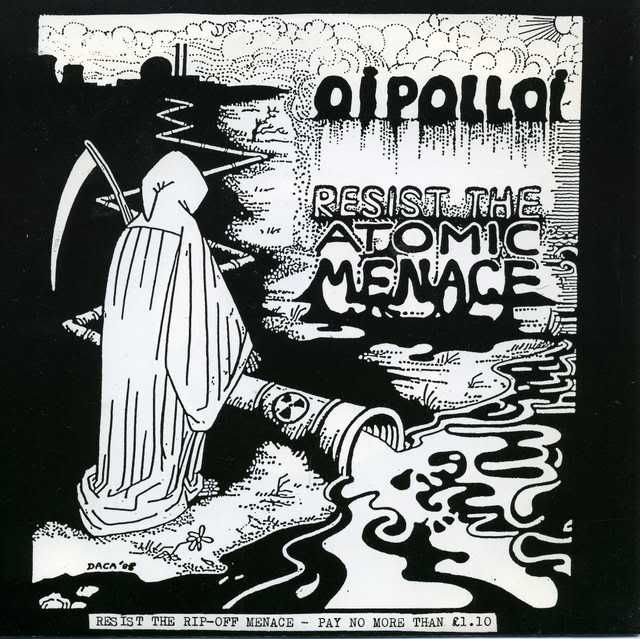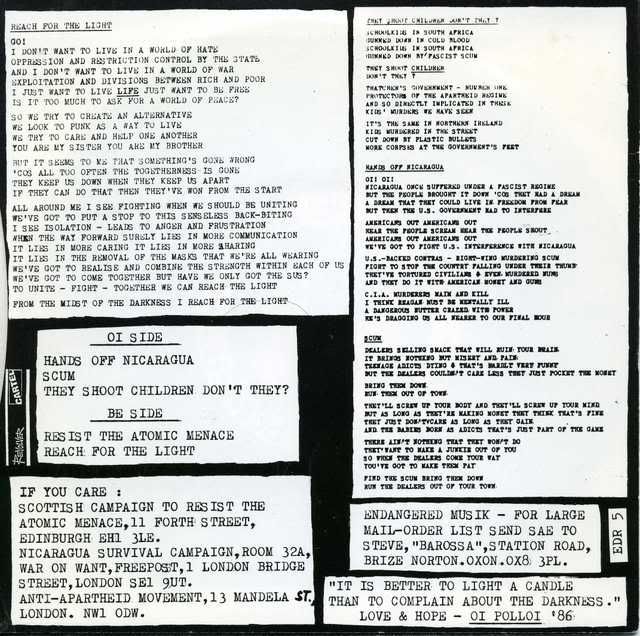 Hands Off Nicaragua / Scum / They Shoot Children Don't They?
Resist The Atomic Menace / Reach For The Light
(Chris Low collection)
Scorching debut 7″ single from Oi Polloi, a band that are brutally honest in what they believe in, and as human beings are not afraid to sometimes break down doors or pull down fences to get the personal messages across.
Oi Polloi are massive supporters of Earth, humanitarian, and animal rights issues, throwing themselves into all kind of benefit gigs world wide whenever the band can.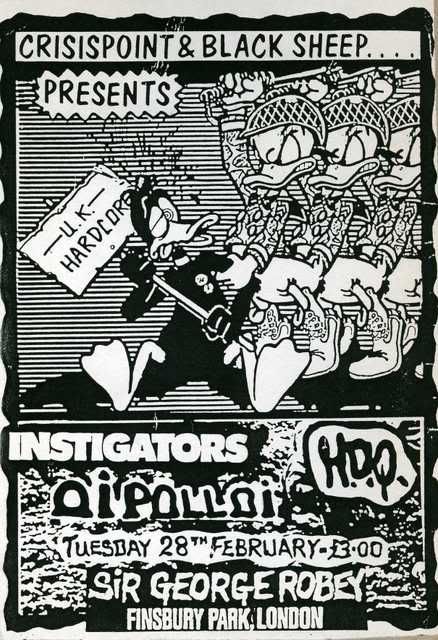 Wikki pee duh text below, one small mistake though, 'Pigs For Slaughter' was an Apostles track that Oi Polloi covered, not a track written by David Rat Connolly as far as I know.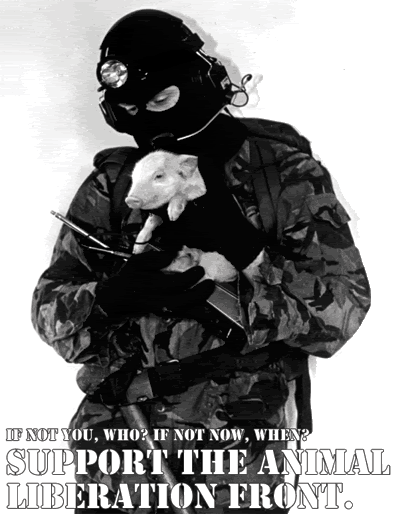 Oi Polloi's first studio recording was a demo entitled Destroi the System, which is believed to have been released in 1984 or 1985. After the now defunct music weekly Sounds gave their previous home-recorded demo a favourable review, demand increased for gigs further afield. A second studio demo, Green Anarchoi followed before the release of the first vinyl offering, Resist the Atomic Menace. The line-up of the group has starred an impressive fifty members since their formation, making up the countless incarnations of the band. The band is currently based in Scotland.
Attacking world leaders and multi-national companies with humour and anger in different languages The band holds a political view which some call ultra-hardline ecologism, with the motto "No compromise in defence of our earth". They support direct action in defence of the environment, and endorse resistance against racialism, fascism and imperialism. They are considered by many to be one of the premier faces of anarcho-punk. They have recently started singing in Scottish Gaelic and use the language in day to day communications. They see the use of Gaelic and other endangered languages as important to maintaining the biocultural diversity of life. They recently toured Europe with Seattle-based punk band Mill a h-Uile Rud who sing entirely in Scots Gaelic. Singer Derek has recently become involved in Gaelic television and has appeared as Moses on a Gaelic comedy programme. Despite what some believe, the band did not start out as a "skinhead band" but was in fact formed by a bunch of teenage schoolkids (with a long haired lead singer who had a fear of skinheads!!) who played their first gig at Stewarts Melville College in Edinburgh in late 1981. After numerous other gigs in the Edinburgh area and the recording of the group's first cassette demo "Last of the Mohicans" on a home hi-fi, drummer Stu "Doccy" Dunn left to become a karate instructor and was replaced by Muz who later recorded with the Apostles. Apostles and Political Asylum original drummer Chris Low also did a stint on the kit for a time while various other one time Oi Polloi members went on to play in such varied bands as Disorder, Exploited, Gin Goblins, Newtown Grunts, Moniack and In Decades Decline. Drummer Murray Briggs who played on several of the band's 7" records as well as the "Fuaim Catha" LP now plays in Scottish Indie band Aberfeldy along with brother Riley who himself had a brief spell as Oi Polloi guitarist back in the '90s. David 'Rat' Connolly was the guitarist through much of the early years, playing his last gig and album in 1991. Rat wrote the music for classic songs such as Pigs for Slaughter and Boot down the Door, he went on to become an Archaeologist and Middle Eastern adventurer.
The name Oi Polloi is a greeklish(Greek with Latin characters) spelled noun (Greek : Οι πολλοί). It's literal meaning is "the many", however it is extended to mean "the masses" or "the common people". Oi! also refers to a form of punk music.