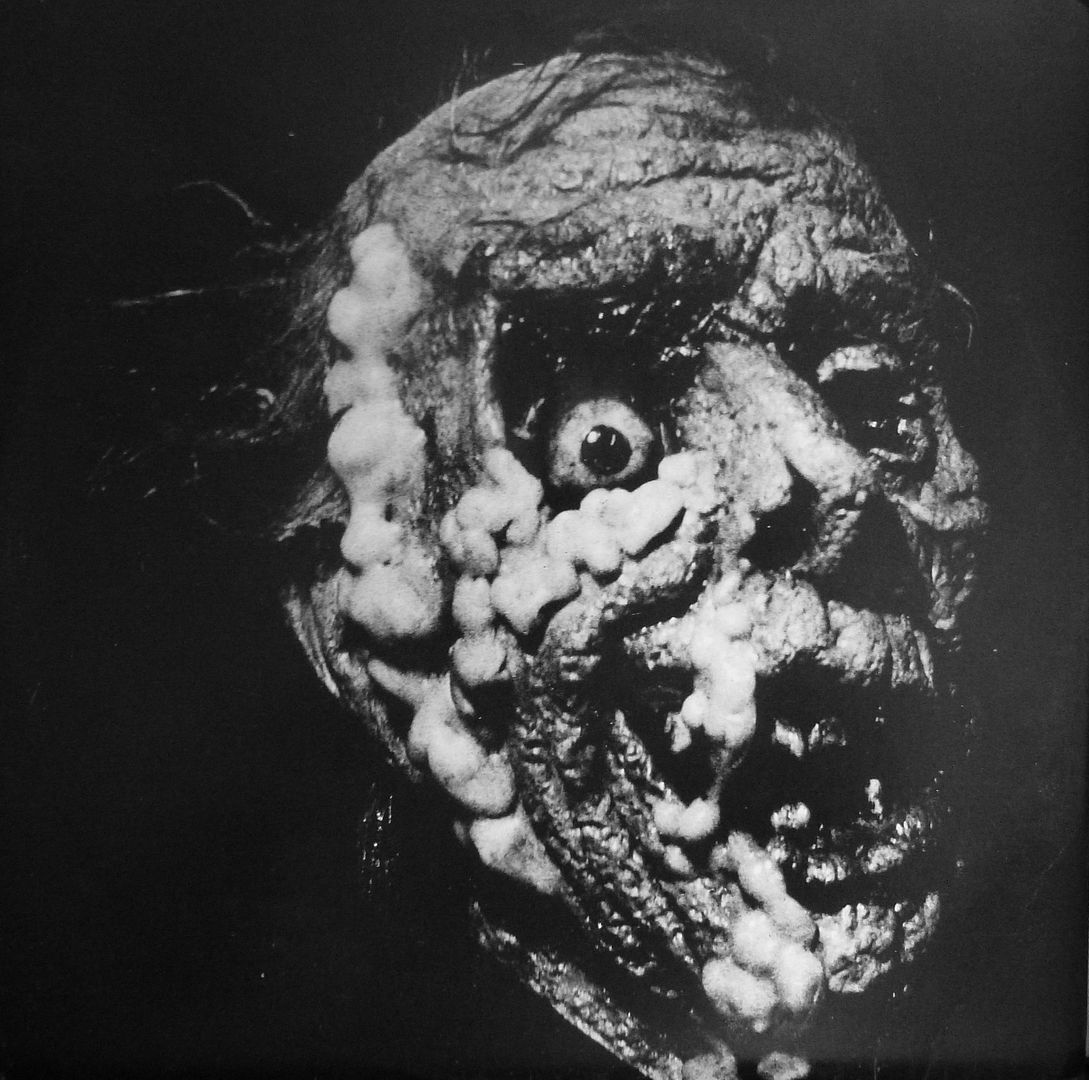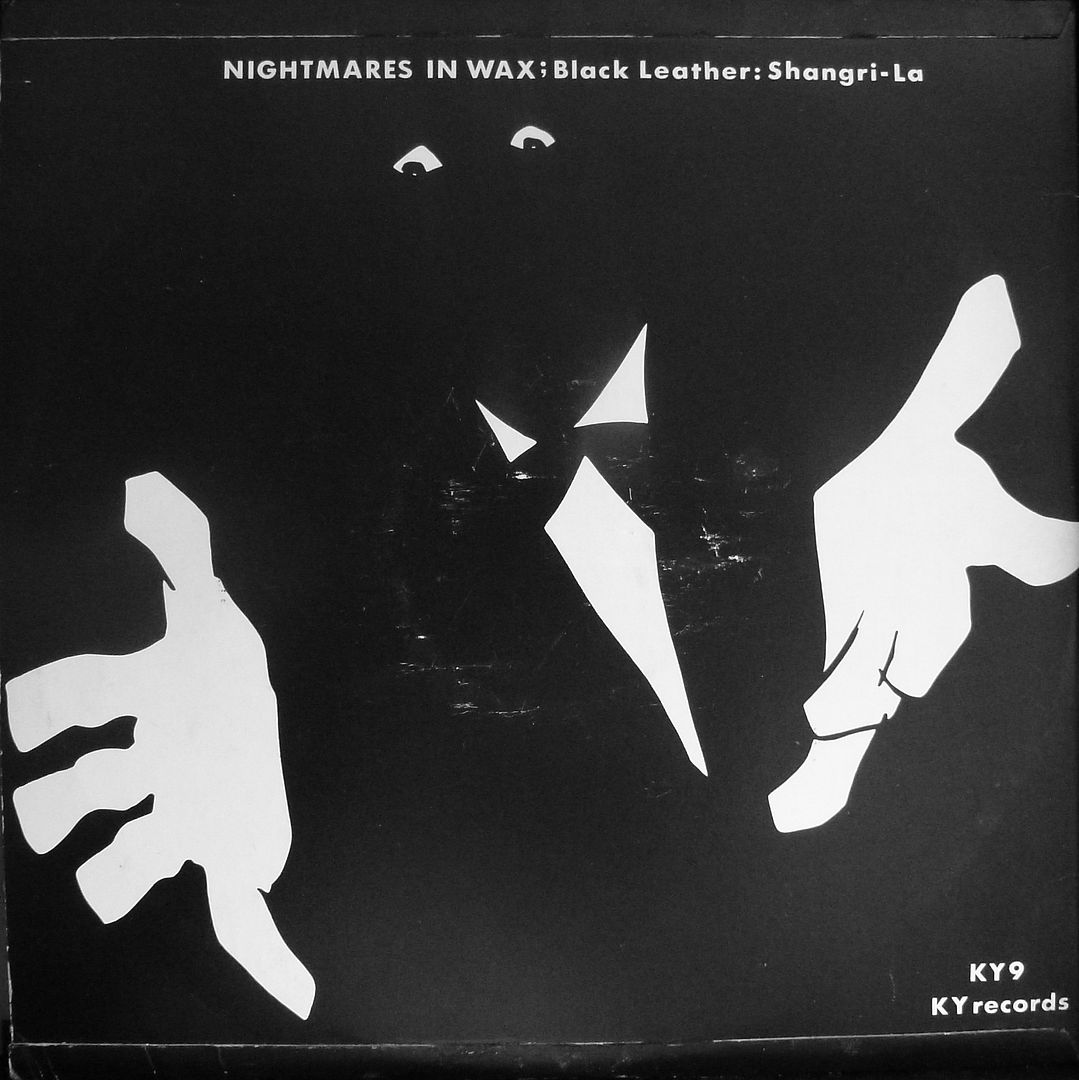 Uploaded today is the re-released 12″ vinyl by Nightmares In Wax that was originally released as a 7″ single on the Inevitable record label in 1979.
I was originally attracted to the sleeve artwork when I purchased this 12″ vinyl in the Ugly Child record shop in Hoe Street Walthamstow, east London around its release in 1985. Ugly Child Records was in the same location that Small Wonder Records had been only a couple of years previously.
The Dead Or Alive angle did not bother me at the time as I was blissfully unaware that there was a Dead Or Alive angle! After repeated plays and asking around whether anyone had heard this 12″ single I finally found out that there was an angle. I think it was my friend Simon, who is now known as Ossian that alerted me to the history of this record, unearthing to me the Dead Or Alive links.  By that time though I was not particularly bothered as I liked this record on it's own merits.
Although this KYPP post 'celebrates' Nightmares In Wax from Liverpool I have also placed up two essays written by Ted Polehemus and Steve Strange about the Covent Garden Blitz Club circa 1979 – 1980. I have no idea if Nightmares In Wax performed at the Blitz Club or whether Rusty Egan played the 1979 version of this record for the punters in the Blitz Club disco to dance along to. But I figured it might just fit otherwise I would not really know where else to place these Blitz Club essays on KYPP which highlights another part of London's subculture in the late 1970's early 1980's. I do not think I actually own any 'Blitz Club' style records or cassettes apart from Roxy Music or Bowie of course (David Bowie's video of the 1980 single 'Ashes To Ashes' had a handful of Blitz Kids prominently featured on it) and possibly B Movie, a band I really liked at the time!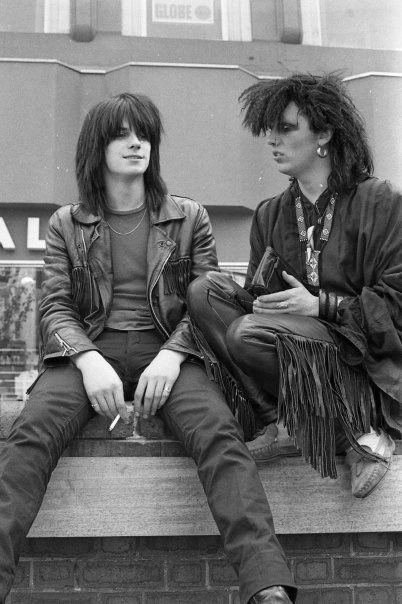 "Oh I am a young man fascinated by my profile in my mirror…."
Pete Burns' innovative style and creativity may have been in his genes. His mother, Eva, hailed originally from Austria and, according to Smash Hits magazine, learned her way around Liverpool by marking buildings with chalk for use as landmarks. She seemed to understand when Pete was having trouble in school because of his own uniqueness, and persuaded the authorities to let her educate him at home.
Born August 5, 1959, to Frank and Eva Burns in Port Sunlight, near Liverpool, Peter Jozzeppi Burns was, by his own admission, a solitary child. He preferred drawing and painting to playing with other kids. When he neared adolescence, he gave up the pens and paintbrushes in favour of powder and panstick, and began experimenting with his own appearance. His gift for self-beautification did not sit well with his schoolmates or teachers, who reacted with derision.
"I dropped out of school," Pete recalled later, "because it got to be too dangerous for somebody who looked a little different. At that time, I was experimenting with hair dyes and stuff like that and I was going to a particularly macho-oriented school and causing too much controversy."
In retrospect, dropping out of school was a career move for Pete.
Liverpool in the Sixties and Seventies was a place of high dreams and low employment. Inspired by the Beatles' phenomenal success, a lot of young people formed music bands to escape low wages or the dole. Pete initially took a string of casual, dead-end jobs, but at age eighteen found work at Probe Records. Probe Records illustrious clientèle included Ian McCullough (Echo And The Bunnymen) and Julian Cope (the Teardrop Explodes). Pete Wylie, of the Mighty Wah! was a fellow shop worker at Probe. Surrounded daily by so much musical creativity, (and even MORE ambition), it was only a matter of time before Pete himself was bitten by the performing bug.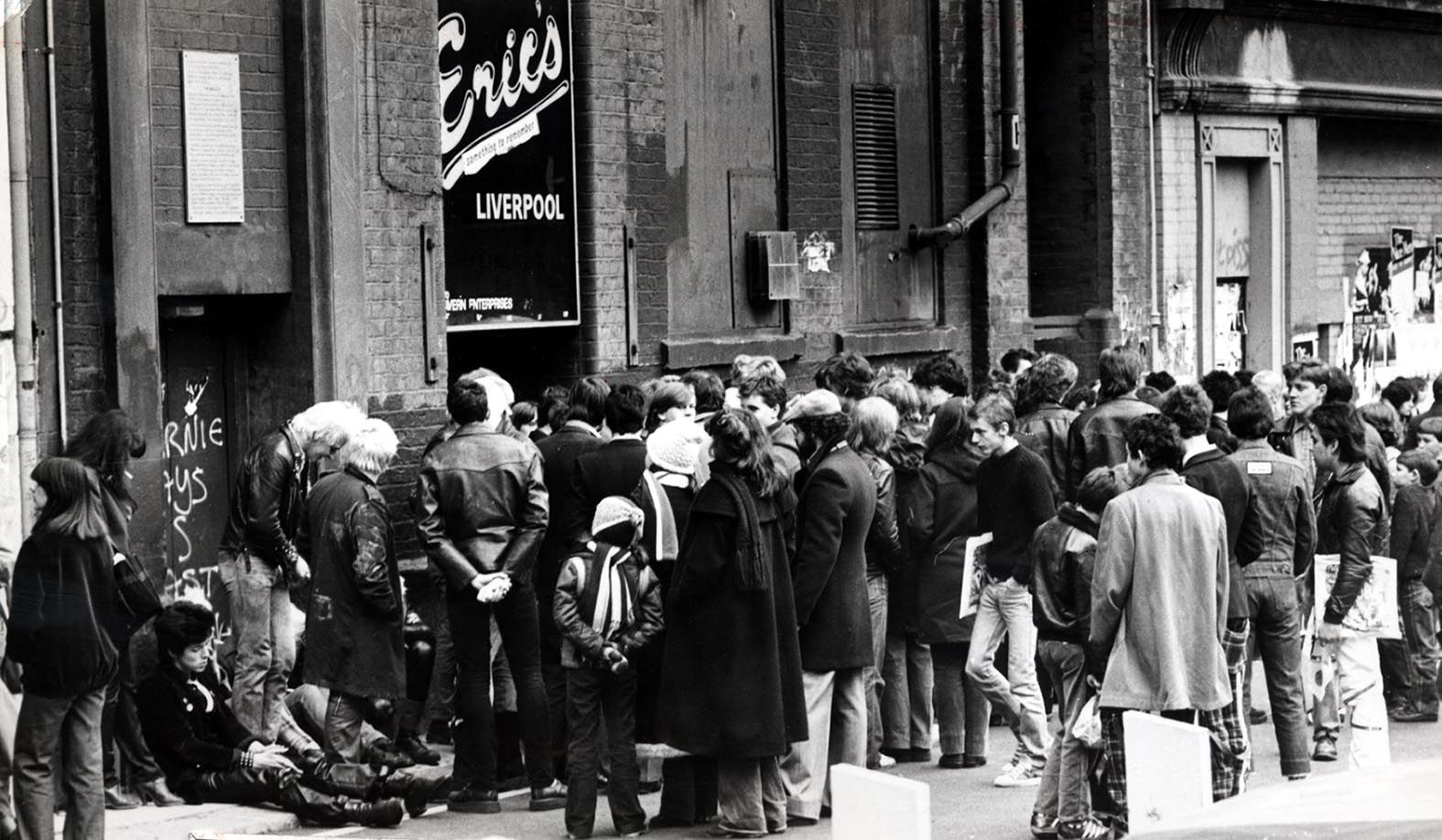 On November 4, 1977, an androgynous, amateurish new band opened for Sham 69 at Liverpool's famous Eric's Club. They called themselves the Mystery Girls, after a song by the New York Dolls. Regulars howled when they recognized Pete on vocals, backed up by Pete Wylie and Julian Cope. The three unlikely queens for the night bounced and bungled their way through a slew of cover versions and a few originals, and then vanished into posterity. The Mystery Girls were a one-night stand for all involved, and Pete did not perform again publicly for a year.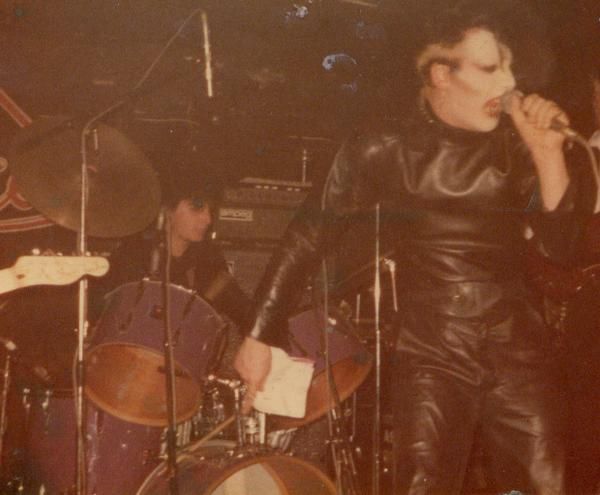 Then, in February 1979, he formed Nightmares In Wax. The inspiration for this new project was a stolen keyboard that they had to do something with, and Pete described their aim as to be the worst group in history. "We were pure rubbish," he said, "performing one-note songs for ten minutes." Regardless, Nightmares In Wax did slowly gain a following, mainly comprising "real loony's" as the singer himself described them. Despite this self-denigrating philosophy and continual line-up changes, Nightmares In Wax were asked to record some tracks for Inevitable Records, run by the Eric's Club manager, Pete Fulwell. The band's line up still hadn't solidified. Burns was joined at the session by his former Mystery Girls' compatriot, drummer Phil Hurst, keyboardist Martin Healy, bassist Walter Ogden, and guitarist Mick Reid. The ensuing EP 'Birth of a Nation' opened with 'Black Leather', a roaring homage to homosexual leatherclad bikers and musically a tribute to Iggy Pop's 'Sister Midnight'. The song also contained a hint of things to come, when halfway through, the group suddenly broke into K.C. And The Sunshine Band's 'That's The Way' subsequently revived by Burns for Dead Or Alive's first hit single.
The EP was released in February 1980 and sold respectably, but 'Black Leather' was frowned on by the distributors as sexist, although Pete saw it as merely an offshoot of his dark humour.
The line up had already splintered. Bassist Ogden was first to go, replaced by a new member named Ambrose, who subsequently followed his predecessor into Hollycaust, an early incarnation of Frankie Goes To Hollywood. Reid, left too, and filling in the now considerable gaps were ex-Upsets Sue James, the singularly named Mitch, and music veteran Joe Musker, formerly drummer with Merseybeat legends the Fourmost. Nightmares In Wax now continued to exist more as a concept than as a functioning band; still, in May 1980, the group was offered a local radio session. There, without warning and mere minutes before recording began, Burns decided to change the group's name to Dead Or Alive. This, he claimed, was because he didn't want to be associated with the arty bands now permeating the Liverpool scene: Echo And The Bunnymen, Orchestral Manoeuvres In The Dark, Dalek I Love You, and so forth. Nightmares In Wax was dead, Dead Or Alive was born, and Pete Burn's rise to stardom was now beginning in earnest.
Dead Or Alive's début single for Inevitable record 'I'm Falling' was released in May 1980, and separated them even further from their peers. It was a new sound, something more spontaneous, melodramatic, and macabrely funny than anything else being recorded at the time. It drew attention to the band and more gigs resulted, including a spot on Granada TV's arts programme Celebration.
The Granada TV appearance featured Dead Or Alive in a smokey studio set, performing 'Flowers' (the B-side to 'I'm Falling'). Pete's black hair had been crimped to an electric frizz, he wore a nose ring that touched his lip, and his make-up and clothes were garish. Some viewers reacted violently; the father of the band's bass player Sue James declared that "he should be shot!" Pete responded to the outcry with calm egotism; "I look like whatever I want to look like. I can't be different or I'll be unhappy".
In August 1980, he married hairdresser Lynne Cortlett, who had been a customer at Probe Records. "I was immediately attracted to Pete" Lynne said later. "He was as outrageous as I was and we both had so much in common." She laughed when recalling her parents' reaction to the match. "At first (they) thought Pete was just a gay friend of mine. They thought he was sweet and nice. But they didn't like it when they found out we were serious. My dad always wanted a son-in-law he could watch football games with."
By 1980, Pete was a cause celebre in Liverpool. His innovative clothing, make-up, and hairstyles aroused the envy of less creative associates and the wrath of everyone else. People jumped out of cars wanting to hit him, and occasionally an old lady would thump him with her handbag. Pete's razor wit, which later was a cornerstone in his celebrity, came into being out of necessity. "After all," he explained later, "when you've got a gang of boys surrounding you with Stanley blade knives, you learn to be witty pretty fast."
JO-ANN GREENE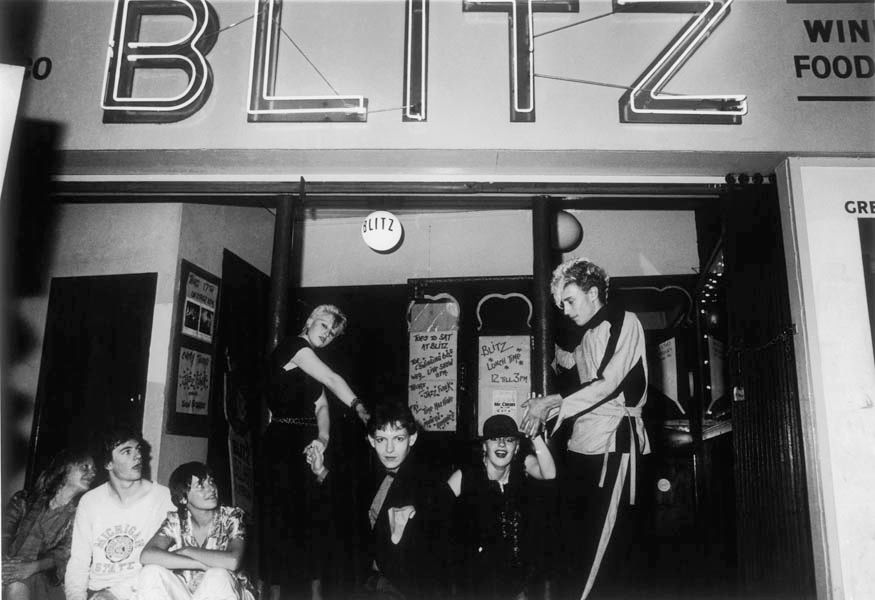 Once upon a time – say last year – the world was populated by Normals and Punks.  It was all very straightforward.  Now, however, things have returned to a healthy state of confusion.  Post-Punk is a term which some have grasped at in order to get a handle on this present situation.  It sounds good, it's obviously true but it's also rather like calling the Renaissance the post-Medieval Period.
Consider a typical post-Punk night in the Electro-Disko at Blitz, a wine bar in Covent Garden which revels in the low-tech decor of war-time austerity.  On the dance floor a teen-age girl dressed like Audrey Hepburn in Breakfast at Tiffany's is dancing with a boy in a jet-black plastic space suit with such baggy trousers that a couple of spacemen and a good-sized alien could live happily inside them.  His hair is slicked back Valentino-style and hers is neatly permed.  The music is German electronic pop with J G Ballard-ish lyrics about life in a crashed car.  Their dancing style is jitterbug step but it is executed with the efficiency of robots.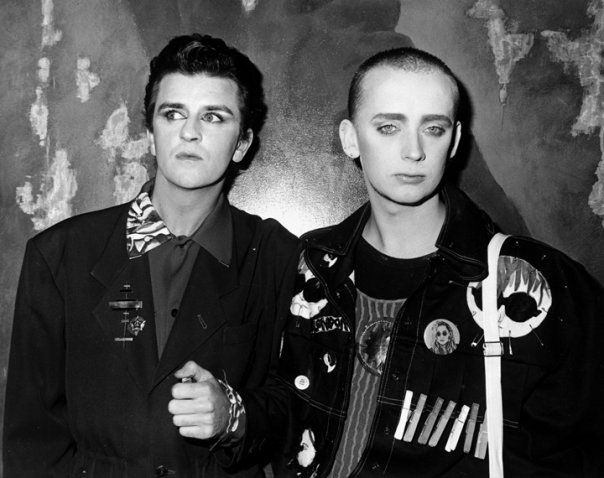 They are not smiling.  No one is – especially not Mr Steve Strange who is furtively glancing out the door to decide who's got the style and can enter, and who will be doomed to wait outside.
Watching Strange scan the crowd it's difficult to believe that, like St Peter, he was once a mere mortal.
Back in the primordial period Before Punk, Steve Strange was called something else and lived a frustrated life in South Wales. With the advent of punkdom Steve became less frustrated but Stranger and moved to London where he, like countless others, found the elbow room for experimenting in style and music.  Unfortunately, it wasn't long before the great punk ice age set in with rigid uniforms and fixed attitudes.  Individual style was put down as "posing" and Steve and friends took the hint and left the fold.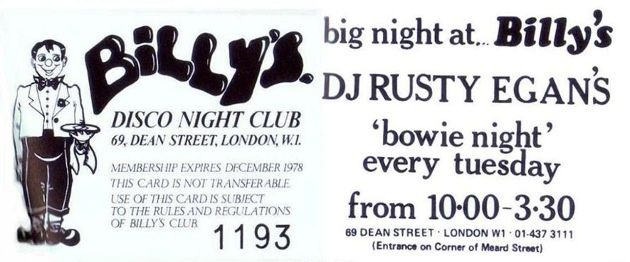 They started hanging out in a soul club in Soho called Billy's.  Eventually they asked the boss if they could run a 'David Bowie Night' every Tuesday.  It was a great success, and there in lay its demise.  The management let in hordes of unstylish types who had heard about it from the gossip columns and who thought it would be cheaper than going to the zoo.  Hideous photographers came in bus loads from the tabloids.  It was horrible! One week the whole crowd switched to Blitz which offered Steve control of the door and the last that was heard of Billy's was that true-blue punks had moved in and preached anarchy by busting up the toilets.
At Blitz the 'Bowie Night' label was dropped, but his influence continues to linger on.  It was, of course, Bowie who had insisted on giving style equal billing with music – something which the punks, like the hippies before them, have now come to see a anathema.  This tradition has been carried on in Steve Strange's own band Visage, on the genetic (soon to be christened 'New Romantic) label, and the postures, dance ability and even what you choose to drink.  This gives not only a post-punk, but actually an anti-Punk tone to the proceedings.  It comes as quite a shock to discover that the vast majority of these kids sipping their cocktails and taking care not to mess their hairdos were once pogoing punks throwing beer at each other.  This is the flipside.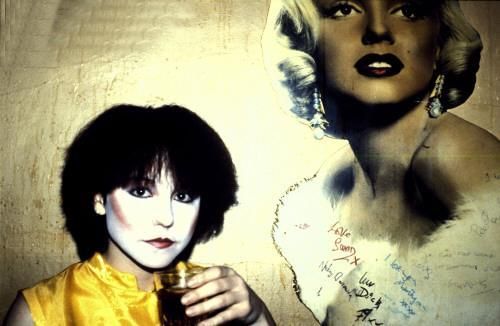 Some of this crowd are New Mods, but to reduce this pot-pourri of extravagant styles to that of any other easy label is a mistake. Except for dressing in a stereotyped punk or hippy style anything goes – as long as it's extreme.  Steve and his crowd are attempting to tap our image resources.  They're digging into Top Hat and Barbarella, Thunderbirds and Stingray,  Modesty Blaise and Dan Dare,  not to mention of Fredericks' of Hollywood catalogues and re-vamped versions of classic outfits of Mods, Teddy-boys and even cowboys (no Indian yet ).  They are a tribe without a name and even if I could think of one, I'd hope to keep it to myself.
With or without a name, however, they are being noticed.  Gossip columnists have pointed them out, established fashion designers like Zandra Rhodes and the Howies are checking them out and music moguls wait to hear them out.  But meanwhile Steve Strange peers out of the window looking upon those who would enter his post-punk kingdom of heaven and hell.  Many knock, few enter.  He maintains that even Mick Jagger had to queue up, pass inspection and pay his money if he wanted to gain access.  Like Steve Rubell of New York's Studio 54, Steve Strange knows that the secret of his impresario's craft is to judge a book by its cover.
TED POLEHEMUS – THE OTHER SOCIAL PAGE – TATLER MAGAZINE 1979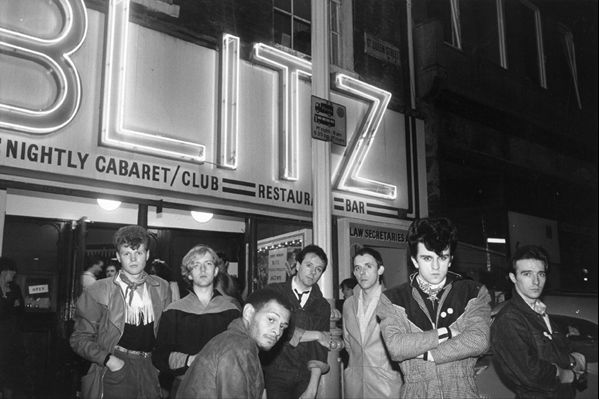 On 6, February, 1979,  'Bowie Night' moved to a much bigger club on the other side of Covent Garden.  Blitz was a wine bar on Great Queen Street, near Holborn Tube Station, decorated with images of World War Two, such as murals of St. Paul's Cathedral under fire and war planes flying overhead.  The 'Bowie Night' name was soon dropped as the club developed a unique identity of its own.  Every Tuesday, 350 of the most creative, individualistic young people in London would cram into the club.  Many were ex-punks, fed up with a scene that had burnt brightly, but all too quickly turned in on itself.  Others were young fashion students from the nearby St. Martin's College on Charing Cross Road turning the place into a personal catwalk.
Queues were soon forming around the block again, and I was busy all night on the door.  I had lots of enemies by trying to make the club look good.  Barely a night would go by when I wasn't spat at least once.  An evening would not be complete without someone threatening to punch me out.
The club was a platform for new talent.  Apart from the fashion crowd, there was journalist Robert Elms, who wrote  about the scene, and photographers Gabor Scott and David Johnson who recorded the visuals for posterity. Ben Kelly, who went on to design the Hacienda in Manchester, was part of the crowd. The brilliant thing was that everyone involved had a role.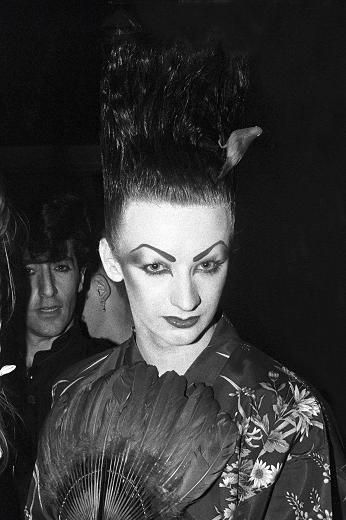 George was in the cloakroom in his white-faced kabuki made-up and kimono, Rusty, in his fifties suits, played the records, and I was on the door in my high hair and high heels, carrying a silver-topped cane.  I only every tried DJ'ing once, on a night when I tried to set up a kind of cafe society, playing Shirley Bassey, Dusty Springfield,  Frank Sinatra and escalator background music.  But I only dabbled, because I was always needed on the door. I didn't trust anyone else to do the door until one day a Blitz regular called Rosemary Turner asked if she could do it. She watched me to learn my techniques and then she was ready to do it herself.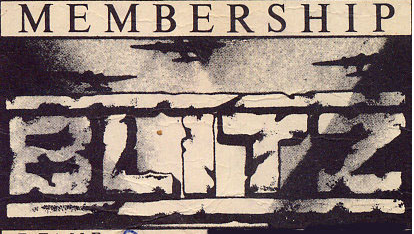 My door policy was always very strict.  Membership was two pounds, entry was one pound and everyone had to pay  even the regular faces and the people who would become Spandau Ballet.  If people didn't want to pay, and thought they were above it, I'd say "who the fuck are you?"
Look back at the pictures of Blitz or the documentaries and you'd think it was a poseur's paradise, the home of the beautiful people, but it wasn't always like that.  People were often either speeding or drunk, or both.  There was plenty of glamour, but it was also very debauched.  There was always someone falling over. The men were always in the ladies toilets putting their make-up on because it had the best mirrors.  Sometimes you'd walk into the toilets and the scent of hairspray would almost knock you out.  But one thing you can say about Blitz is that there were no barriers.  The women didn't feel threatened at all by men using their toilets.
Gradually the media started to pick up on the success of blitz.  Boy George was becoming known in his own right, but I was the one who was initially singled out and courted by the press because of my striking appearance, and because I was one with the power to allow people in.
Everything was going well at Blitz, George and I were being seen at parties, and a day later it would be in a gossip column as the national newspapers tried to give a name to the movement. The Face and i-D had started and they were reporting on the scene as well, dubbing it the 'Cult With No Name', 'The Blitz Kids' and the 'Now Crowd'.
Pick up the Evening Standard, and there was my stark, white face, scarlet lipstick, jet black, spiky hair 12 inches high, steamed and crimped with steel steamers, staring out at you.  We didn't get any coverage in the NME or Melody Maker because that sort of paper liked to think that they had discovered you, make you their darlings, build you up, and then knock you down. We didn't care; we were making it without their support, having gone straight into the mainstream.
It was just my luck that a quite drunk Mick Jagger turned up at the door with his entourage.  It has always been said that I held a mirror up to his wrinkly face, as I did with a lot of potential customers, and said, "would you let yourself in? "  Although I did refuse entry to people who didn't have the right look, sadly that's not what happened at all. I explained "we were over capacity what what would the fire officer say" to Mick's friends, who were more sober.  Meanwhile Mick was getting annoyed, saying, "Don't you know who I am?" I tried to be polite and his friends tried to calm him down as he went off in search of night life elsewhere.  But it just happened that a tabloid journalist was there at the time.  By the following day, the story had to out, with typical press embellishment, and the legend of Blitz being the ultra-exclusive club for the new young elite was established.
STEVE STRANGE