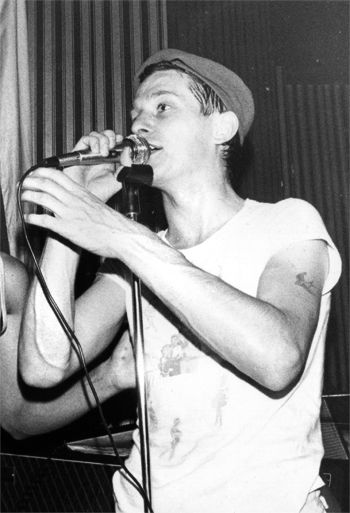 Brilliant power pop 7″ single from this Brighton based band released on the equally brilliant Small Wonder Records. Very catchy and well worth a listen. Photos courtesy of Simon Woolval.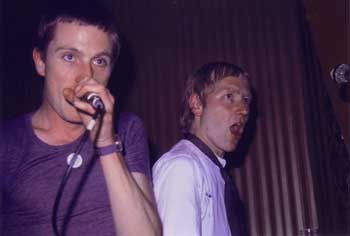 Not an awful lot of history about this band on the web right now which means I can not cut and paste anything off any relevant sites! But for what its worth Nicky And The Dots were formed late on in 1977 by two art students Nick Dwyer and Chris D'Ouseley. The band were favourably compared to Talking Heads and XTC of that era, 1978.  The band played a fair bit with The Piranhas and Attrix (the band, same name of the record label and of the shop). Nicky And The Dots also had tracks released on the Voltage 78 compilation LP along with The Piranhas and the first Peter And The Test Tube Babies offerings (pre Oi! genre and No Future Records). This LP was on Attrix Records – the best indie shop anywhere on the south coast at this time in the late 1970's early 1980's.
I have no idea where the connection with East London's Small Wonder Records came from as I would have assumed Attrix Records would have or should have released this single, but anyway…Actually thinking about it, the same could be said for Cockney Rejects debut 7″ single 'Flares And Slippers' released on Small Wonder Records. Why did this not get released on Terry Murphy's Bridgehouse Records, a label that were active around the same time of that Cockney Rejects release? Spooky!
An answer to the above riddle came through on the KYPP wire:
"It was asked why a Brighton group were on small wonder and not on Attrix , well being on Attrix was not all hearts and flowers, in fact I was personally told by a number of people in bands that were on the Attrix  LPs, that they were charged for being on there, and the money raised paid for the LPs to be made. I know the two people who hand screen printed the original covers for the first pressing, along with people from most of the bands involved.
There was some sort of promotion going by Small Wonder and I believe they asked for groups to submit songs to be considered for a contract. This led to the Small Wonder showcase gig which included ( if I remember correctly 5 bands ) including Nicky & the Dots, The Cure, Patrick Fitzgerald, The wall ( I think ) and I can't remember the other one. I travelled up to this on the Dots coach with them, and it was a fantastic night at The Music Machine in London".