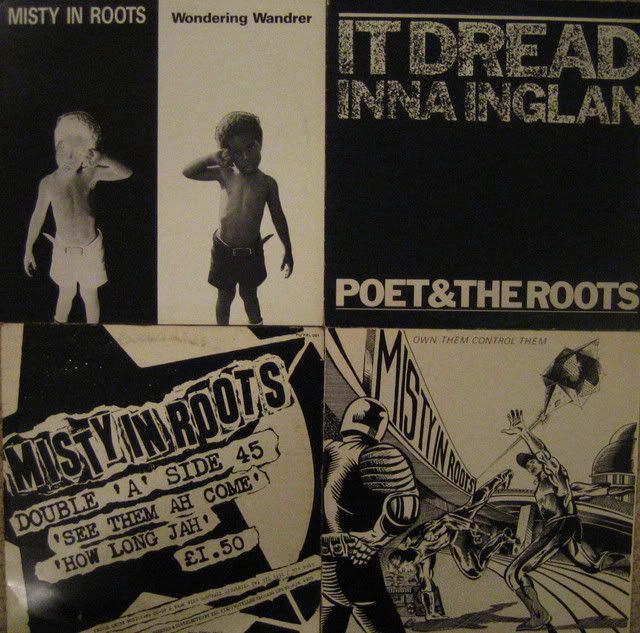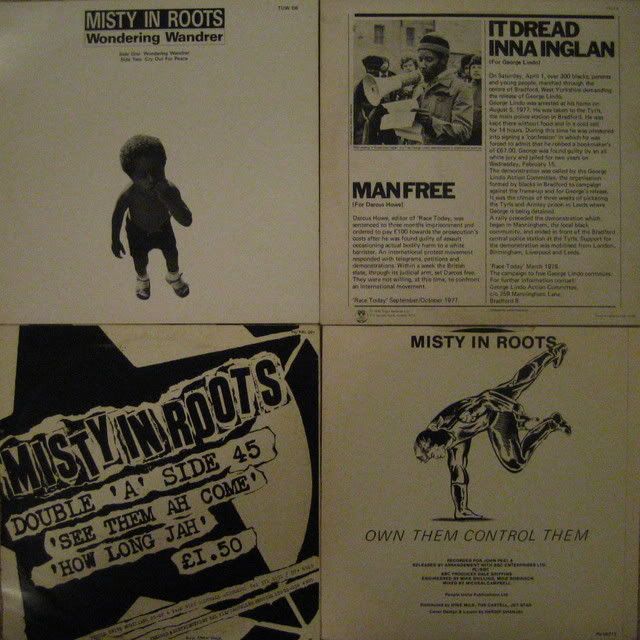 MISTY IN ROOTS – See Them Ah Come /  How Long Jah
MISTY IN ROOTS – Wondering Wanderer / Cry Out For Peace
MISTY IN ROOTS – Own Them Control Them / Version 1 + 2
POET AND THE ROOTS – It Dread Inna Inglan / Man Free
Misty in Roots first selection on this post is the first ever People Unite Records 12″ which was released in 1979 and is one of the baddest UK roots tunes I own. Misty In Roots were massive in punk circles and was a huge favorite of John Peel who supported the band with countless plays of this 12″ and the 'Live At Counter Eurovision' LP debut LP which John Peel held close to his heart from the day he first heard it and for the remainder of his life. Supported the late 1970's Rock Against Racism organisation and enjoyed recording and sharing stages with fellow Southhall band The Ruts.
The second selection posted here from a 12″ released in 1982 is slightly less heavy than the first 12″. A pretty melody carries the tune along. Two wonderful tracks that makes the sun shine on the most darkened of days. This 12″ came out shortly after the first studio LP 'Wise And Foolish'.
The third selection was a later People Unite Record release from 1986. Actually recorded for the John Peel show in 1984, with in-house producer Dale Griffin. This 12″ I feel is nowhere as good as the track off the 'Earth' LP, Misty In Roots second studio LP. Dale Griffin speed-ed up this track to a rather curious degree, more than likely so that the student / white listeners of the Peel show would accept it, which seems strange as some heavy reggae was played nightly.  This is still a great record but put it against the LP version it is slightly lame (and far too fast) by comparison.
Poet And The Roots was the original name Linton Kwesi Johnson performed under. This is LKJ debut release on a Virgin 12″. LKJ went onto to create the London version of Dub Poetry. Artist's Michael Smith, shot dead in Kingston 1982, and Mutabaruka (still around) were doing this stuff a little earlier than LKJ. Michael Smith 'Mi Cyaan Believe It' LP on Island and 'Check It' LP by Mutabaruka on High Times Records are must haves of the genre. The first two LKJ LP's 'Dread, Beat And Blood' under Poet And The Roots on Virgin Records and 'Forces Of Victory' on Island Records are in my opinion his best work. Dennis Bovell in the band and on the mix. Marvelous stuff, and again a definite punk / reggae crossover artist, who shared stages with many screaming punker bands trashing away.