This is to flag up the case of Gary Critchley who is still in prison for an alleged murder at Campbell Buildings in 1980 – see recent posts on Bob Short's Trash Can book thread for more details and also the official website and also this website.
The challenge is to get this miscarriage of justice overturned.
But how? I suggest it needs a twin track approach
Firstly to raise the public profile (as Jock has suggested) via myspace / facebook / blog sites like KYPP – for example by putting a slide show of Gary's paintings plus a relevant soundtrack eg Raised in a Prison by the Mob on youtube or organising a UK exhibition of Gary's paintings…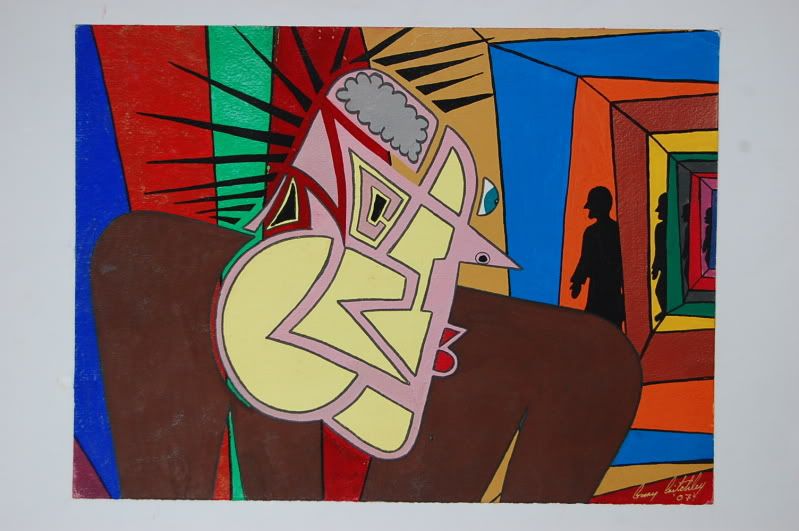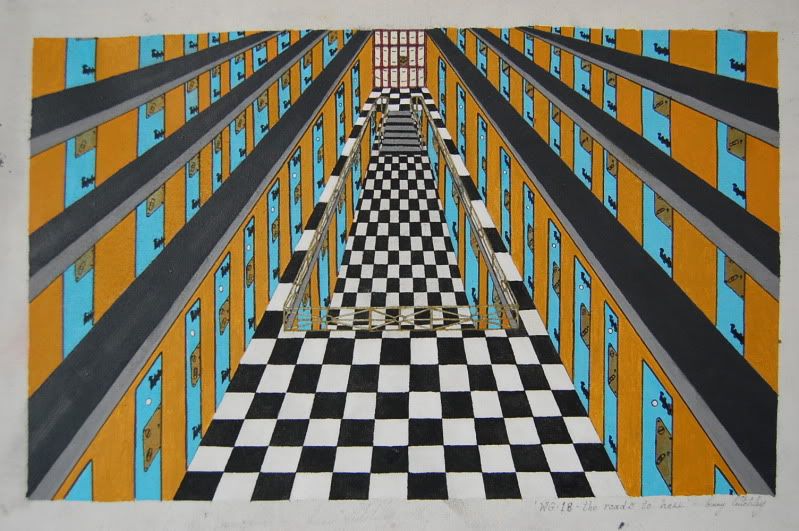 Secondly using official channels eg letters to your MP and the Rt Hon Alan Johnson MP
Home Secretary 2 Marsham Street London SW1P 4DF.
Gary is also being supported by Wendy Thurley and Julie Coimbra.
Julie and Wendy are librarians in Cambridge and contacted KYPP about the case.
Julie said [edited]:
"Myself and another librarian have become involved in trying to publicize this extraordinary miscarriage of justice. We happened to purchase some of Gary's paintings and began corresponding with him without ever asking why he was inside. When the Private Eye article came out in July we were flabbergasted to say the least and began our campaign. Fifty of his paintings were sent to Adelaide and were in a recent exhibition there. Prior to posting them we photographed them all and have made them into cards to sell, 12 are at present on the website.
If you have ANY INFORMATION WHATSOEVER that could be helpful could you let us know and we can pass it on to Glyn Maddocks, the solicitor who has taken up his case. Anyone who can provide ANY INFORMATION should be encouraged to contact us as soon as possible".
Julie and Wendy have created the website from which the following bio of Gary is taken.
Finally – don't wait for someone else to act. If you think this is important get on and do it yourself.
Biography- Gary Critchley "Raised In A Prison".
"England is a supposed model of democracy and justice, yet ironically I have so far been made to serve longer for being rebellious and non-conformist than the Yorkshire Ripper has for 13 serial Killings. Nowadays, painting is the only thing that keeps me alive."
Gary Critchley
Born in Birmingham and raised on an estate that bordered on two mental hospitals, visiting and often staying with his elder brother in care homes and approved schools,
Gary was introduced to institutions at a very early age. At 8 years old he got drunk on alcohol and by the age of 12 he was drinking on a regular basis. Aged 14, Gary became a punk rocker, was recruited to the Young Socialist party and excluded from school for leading 'pupil-power' marches and picketing the school. Also aged 14 Gary was sent to juvenile detention centre for criminal damage and theft. During his time there he was physically and mentally abused and he describes this as a very negative period of his life.
Upon release he quickly deteriorated, abusing various drugs and becoming involved with crime. In 1980, six months after being released from borstal, he moved to live in London. In June of that year he was discovered severely injured four stories below the flat he was squatting [in Campbell Buildings] and was taken to hospital with a broken back, arm, legs and head injuries. When police investigated the circumstances, they found the body of another man in Gary's squat. Charged and bailed for this man's murder, Gary returned to Birmingham where even on crutches he continued his life of punk rock gigs and substance abuse.
In May 1981, he was found guilty of murder (despite numerous forensic discrepancies) and sentenced to be 'detained at Her Majesty's Pleasure', the juvenile equivalent of a life sentence. The then Lord Chief Justice recommended that he should serve 'no more that 8-9 years'. Despite this it was a full 20 years before Gary was first released in July 2000.
Gary was recalled to prison three months later for having sexual relationships with two female peers at his rehab unit and running away with one of them. After another three years in prison for these breaches of his license conditions, he was again released in 2003 to another drink /drug rehab centre. Twelve months later in 2004 he was again recalled to prison for missing a probation appointment. He's still there.
Over the last five years in prison, Gary has suffered from severe depression and made three serious attempts to take his own life. After the second attempt, Gary was introduced to drawing and painting for the first time in and has since become a prolific painter. He has won a Koestler award for one of his paintings and has been both encouraged and inspired to paint by the staff of a Cambridge University library that have bought and exhibited several of his early works and sponsor him with materials etc.
Despite unanimous recommendations of release and the parole board agreeing that he does not constitute a risk to the public, Gary was recently refused parole on the grounds that if he was ever to relapse into drink /drug use there was a "possibility" that he "could" re-offend violently. This was despite all professional opinion and the masses of evidence to the contrary where Gary has been in active addiction without any such incident.
This ruling is currently the subject of a judicial review, being in breach of not only the Human Rights Act but also several judicial rulings regarding Lifers. There are also investigations still going on into the events surrounding the index offence, of which Gary to this day has no memory.
Gary describes his on-going imprisonment as "warehousing". He has now actually served more than three times the recommended sentence. He maintains that he never murdered anyone, never intended to hurt anyone and has never before or indeed since the age of 17 been involved in any violence. He says he is now semi-institutionalised and a true product of the system. No longer jailed in relation to the original offence, he has become somewhat of a political prisoner: being punished over and over by a retributive system for his years of rebellion and breaches of petty rules.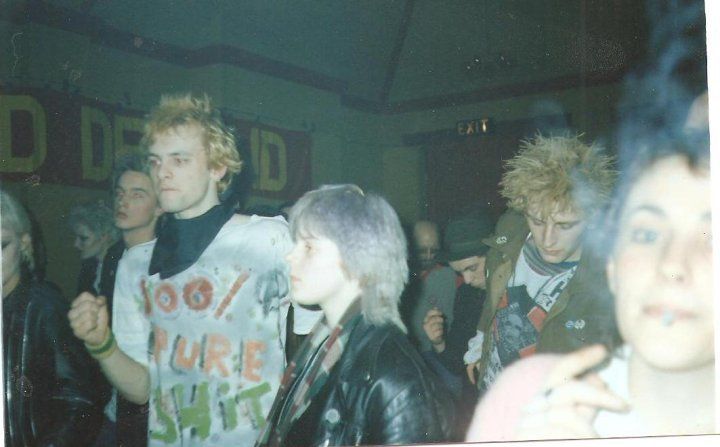 Gary on right with green jacket and blond spikes 1979/80 – photo courtesy of Carol Coombes.
Some of Gary's prison artwork may be viewed HERE 
http://www.justiceforgarycritchley.org
Template for contacting MP's and other officials or media. Please cut and paste the document below onto a word document and print it out to send by post or fax.
Dear …………………..,
I am contacting you regarding Gary Critchley, prisoner no B39969 (A1473AK), convicted of murder in 1981.
The Judge at the time recommended he serve no more than 9/10 years.
This is now his 30th year of incarceration. The conviction is unsafe and according to his solicitor one of the worst miscarriages of justice Britain has ever seen.
Briefly the case is as follows, however please read the Private Eye article
(http://www.b39969.org.uk/pdf/private_eye_24July2009.pdf)
for full details.
Gary allegedly killed a man in 1980. During this murder he sustained frontal lobe damage to his brain, by being hit with a hammer. He also broke his back, ankle and wrist and was found in the street covered in blood.
The victim sustained more than 20 blows with a hammer.
The blood on Gary was found to be from his injuries and there was not one speck of the victim's blood on him.
The victim was discovered in a room on the upper floor in the building, Gary was found outside on the pavement.
The only evidence to link Gary to the crime was a trainer, two or three sizes too small for him, on his left foot. On his right foot was his own boot which fitted him.
Gary apparently killed the victim, avoiding any blood, changed one shoe, hit himself on the head with the hammer, and then jumped out of the window.
The truth indicates that both Gary and the victim were attacked by a third party, who remains at liberty.
I feel that this really is a grave miscarriage of justice.
Unfortunately, this is not a high profile case, merely the case of an ordinary citizen who was in the wrong place at the wrong time. A person who nearly lost his life, but who ended up in prison himself, for something the forensic evidence suggests that he didn't commit.
I am asking you to look into this, because I know if you do, you will want to take it further.
……………………………………………… Signature.