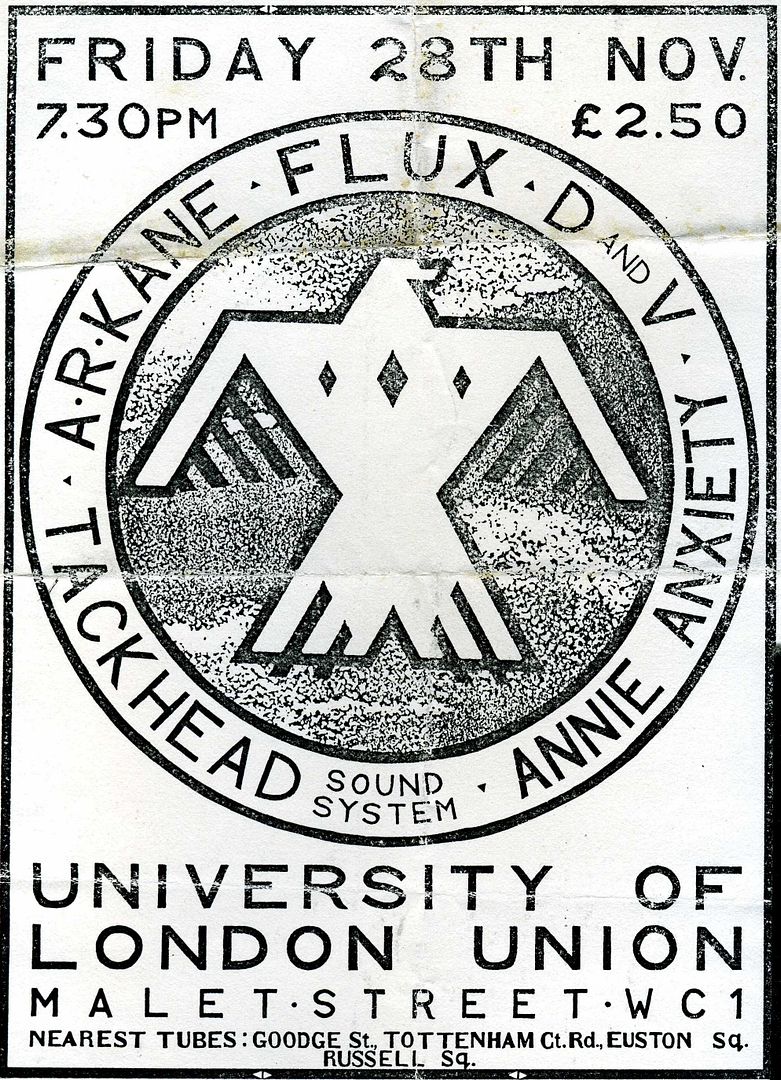 I was in attendance at this Flux gig. The first time witnessing Flux (Of Pink Indians) live on stage for two or three years. It was quite a change from the old militaristic Crass style Flux sound of 1982-1983 to a more 23 Skidoo style Flux sound in 1986. From that sound to this in just a few short years! I was already aware of ONU Sound, Tackhead Sound System and Adrian Sherwood and I was looking forward to attending this gig. It did not disappoint.
KYPP is indebted to Lee Oliver for the loan of the two C90 tapes that he recorded from a hand held cassette recorder from this One Little Indian / ONU Sound night at U.L.U in central London. He managed to cover just about all the audio from the night and the audio sounds very reasonable.
Lee has also kindly written some text regarding the night and his thoughts about Flux Of Pink Indians prior to the gig along with the Flux poster for this performance. A massive thanks to him for that.
Also a huge thank you to Martin Flux who also contributed a whole heap of interesting text to this KYPP post.
Thanks also to Graham Burnett who supplied the photographs of Flux and Annie Anxiety performing on the night. Both Flux flyers from the collection of Penguin!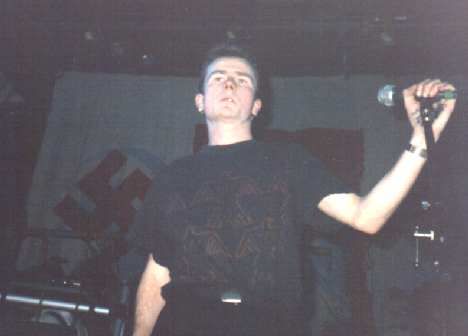 1986 was a funny old year. In musical chronology it felt like a dramatic turning point. The dominance of UK created music was ending. I was opening up to the styles and influences from further afield. It seems crazy now but what was going on across the Atlantic seemed other- worldly. Even Europe was a distant influence.

As 1985 turned into 1986 the direction of flow was changing, especially in the 'punk scene'. The emergence of hip hop alongside funk percussive styles, dub and even that old warhorse, metal, were permeating into bands' developments.
The transition from Flux of Pink Indians to Flux was one of the most divergent and to my ears the most exciting development in that year.
The EP, 'Taking A Liberty', their previous release before 'Uncarved Block', was a howl of frustration. Musique Concrete re-imagined through the most extreme anarcho-punk. It felt like an ending, a full stop. There was nothing more to say.
I interviewed Flux for my fanzine at the time (long lost I'm afraid to say). It was at their place in Forest Hill. The living room was spacious with beautiful wooden floors and bookshelves heaving with books. A hessian sack with the corn stalk emblem used on the cover of the first Antisect LP hung above one of the sofas. Lu and Tim from Flux attempted to answer our quite possibly naïve teenage questions about the state of the world and where 'punk was going'. I could sense their desire to experiment how their music was presented to open up to a wider audience, a frustration with preaching to the converted if you will. I left feeling a mixture of uncertainties and excitement about how they were going to achieve that.
The concert at the University of London on Friday 28th November 1986 showcased the new Flux sound of 'Uncarved Block'. The supporting acts were a direct challenge to punk orthodoxy. The fragmented sound poetry collages of Annie Anxiety, the beat minimalism of D&V, abstract noise pop from A.R.Kane and the sound of the future, Tackhead Sound System, bringing their tour de force heavy duty dub funk.
The whole line-up seemed to be a premonition of the rhythmic beat of 'rave culture' that would explode across the strands of the undercurrents in the following two years. The free jazz record playing between acts (Ornette Coleman, Don Cherry ??) was another pointer to what was to come.
Finally Flux played. It wasn't punk as such, loose funk rhythms, percussive interludes, space, lyrics chanted, hypnotic. Words about personal politics, The Tao of Pooh, re-evaluation.
I was under the impression this was the only time they performed as Flux, someone might be able to confirm or correct this. Anyway shortly after this night Flux disappeared forever. The conclusion I felt was that it was an eye opener, another step in my appreciation of different musical styles and strands.
For that alone 'Uncarved Block' is a masterpiece.
LEE OLIVER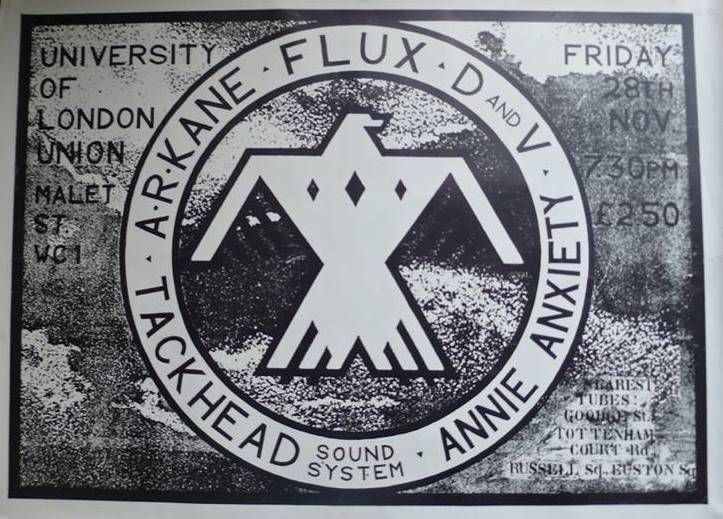 The Flux performance at U.L.U was the only time myself and my older brother had been on stage together and the last. Paul Wilson was my older sibling by three years or so. He was a drummer and inspired me to follow the same path. Having a drum set around the family house in my formative years did not hurt either.
Paul was the original drummer for the Psychedelic Furs in 1977 until he was replaced by Vince Ely in 1978 or 1979 when my brother celebrated his wedding anniversary instead of being able to perform with the band at the Zig Zag club in Westbourne Park, west London. This gig was not insignificant as it was a music biz affair put on by C.B.S and the Psychedelic Furs were not yet signed, although very close to being so. Tracy Lee the then manager gave all the band a weeks notice of this important billing and Paul and his wife had already made plans for that night. Seeing as Pauls wife was already upset at Paul walking around with make up on, as was the image of the band at that time, he felt it proper to keep to the original arrangements for that week. The performance slot for Psychedelic Furs at the gig did not happen for this reason and my brother was ousted.
Life continued. Paul took a back seat and I eventually joined Flux Of Pink Indians after a succession of drummers left including Sid concentrating on Rubella Ballet and Bambi who went to join Discharge (or did he leave Discharge to join Flux Of Pink Indians?).
In 1982 Flux Of Pink Indians performed all over the country as main support for Crass alongside D.I.R.T and Annie Anxiety. During this treks across the country we met many other bands including D&V.
Andy Leach the drummer for D&V stepped onto the stage as the Flux Of Pink Indians drummer one night in Birmingham Digbeth Hall (or some Civic Hall of some kind) when some kindly skinheads with an iron bar decided to try to crack my head open. Thanks to him for that. I recovered to eventually return this kind of favour for D.I.R.T at the squatted Zig Zag club gig when Fox walked off the stage mid set for some reason. He never returned to D.I.R.T. I also drummed in Iceland for Crass of all bands when Penny was left in North Weald with a perforated ear drum. Penny and I had the same militaristic drumming style so I fitted that Crass set quiet well.
As a member of Flux Of Pink Indians I was involved in the making of the 'Strive To Survive' album in 1982. This record along with the follow up 'Fucking Cunts' in 1984 were both recorded at Southern Studios and during both those sessions we would meet Adrian Sherwood doing his work there with his ONU Sound artists. Little did we know that a few years later Adrian Sherwood would be engineering recordings for Flux Of Pink Indians!
Fast forward to 1986.
Derek had given up the Spiderleg record label and had started a more progressive label called One Little Indian alongside Tim another member of Flux Of Pink Indians. Derek had also had a falling out with John Loder at Southern Studios. AR Kane was one of the first bands to record for One Little Indian records. I played drums for the band on a few tracks later on, but for this first release the band had a drum machine. Adrian Sherwood was sitting pretty in the public with endless purely wonderful releases from his label ONU Sound. Mark Stewart And The Maffia, Tackhead and African Headcharge. Bonjo I and Style Scott were part of this ONU set up.
Derek decided that Flux Of Pink Indians should record for his new record label, but also the band name should change as well as the sound of the band. We all agreed to this as far as I can remember. We had not performed live or recorded anything since 1984. Things were pretty slow.
Colin, Derek, Tim, Lu and myself struggled with different sounds, and while the ideas were formed we had some input from Ray Shulman of the progressive band Gentle Giant. His effect on the band should not be underestimated. He bought a mad violin sound to the table and the trumpet. Bonjo I also came to the same table, as did Adrian Sherwood.
We started recording 'Uncarved Block' with Adrian Sherwood at Berry Street studios. The recording sessions as far as I remember was turning out well. There was one time when Adrian had an important meeting to collect 'something for the weekend' and left Derek in the engineers chair for some of Bonjo I's percussion recording. Adrian had made a career in dealing with Rastafarian musicians. Derek however had not. Derek recorded the material that Bonjo I was only practicing and not recording the material that Bonjo I thought was to be recorded. Bonjo I was speaking in very thick Jamaican patois and Derek struggled to understand a lot of it. I was in the control room and Derek was asking me what was said, generally to a shoulder shrug. This whole episode was frustrating to Bonjo I and he was getting quite angry. He stood up and took out a large knife entering the control room with what we both thought at the time, some menace. He got a mango out of a ruck sack and started to cut it up. Worry over. Adrian came back eventually wide eyed and sorted out any unusable material we had created with Bonjo I!
Another memory that sticks in my mind was when a few days after I had completed my drum parts, Derek played me the tape and there seemed to be another drum going throughout the tracks. This sounded unusual. I asked what that was, Derek replied Style Scott came in and did a few sessions with Adrian! I knew nothing at the time and remember feeling a little let down as I could have completed a separate drum track easily enough. However with hindsight shortly afterwards I realised having someone like Style Scott on a Flux record engineered by Adrian Sherwood at Berry Street is not a bad look at all!
We had the recordings in the can and the record was released on One Little Indian records prior to the performance at U.L.U in November so interested punters would know what kind of sound Flux were going to showcase.
Come the time of the gig we all got to the venue early as there was a lot of sound checking to do. Not just bass, guitars and drums.
The night was organised as a One Little Indian / Tackhead Sound System night. Adrian Sherwood was on the mixing desk all night. Our old friends Annie Anxiety and D&V were both set to perform to mainly backing tracks. AR Kane who were new to me, were also on the bill. They had a drum machine to add to the mix.
Flux had two drummers as mentioned above, both siblings, not myself and Style Scott like the studio recordings.
Flux had Bonjo I to fit into the mix.
Flux had vocals, bass and guitars.
Flux had violin and trumpet courtesy of Ray Shulman.
Flux also has a scaffold pole filled up with metallic things that made a racket when wacked with a drum stick. Fire extinguishers, pot and pans.
Adrian took care in making sure all this was at the correct level in the mix. He also had to mix the Tackhead Sound System along with various MC's and so forth.
Adrian was a busy guy on the night, and needed a little speed to keep him going….
I watched all the bands / artists on the night as far as I can remember.
D&V, my old friends also had many backing tracks and played a blinder. Several years previously D&V would have had a problem with the crowds when supporting Crass and other bands of that ilk. Happily I remember that they got a decent reception.
AR Kane were sublime, and as mentioned earlier I eventually drummed for them on a few tracks that were eventually released.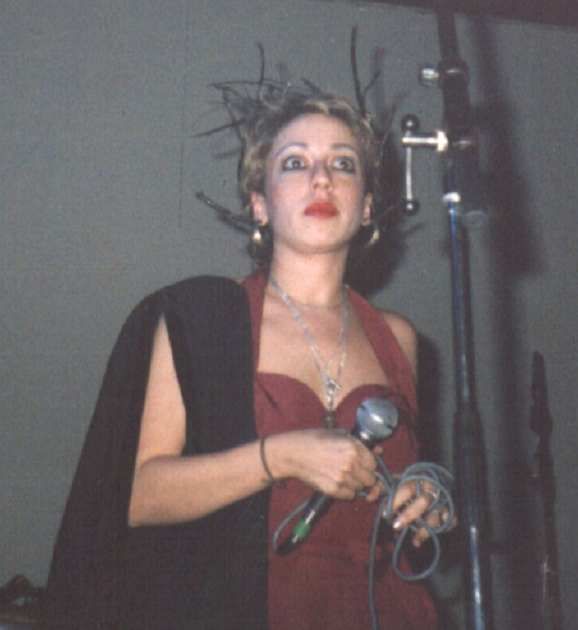 Annie Anxiety smoked and drunk half a bottle of spirits to calm her nerves prior to getting on the stage "OK ready for the fucking show now boys" she stated loudly. A blinding set from her to a receptive audience for a change. Back in the late 1970's and early 1980s appearing numerous times alongside Crass she would not always get a decent reception.
All the bands / artists on the bill went onto to release records for One Little Indian as far as I am aware.
Adrian Sherwood held all the differing sounds on the night nice and tight and after every performance the Tackhead Sound System would get a positive reception. This was not incidental music between bands; this was part of the performance. It was loud I remember that.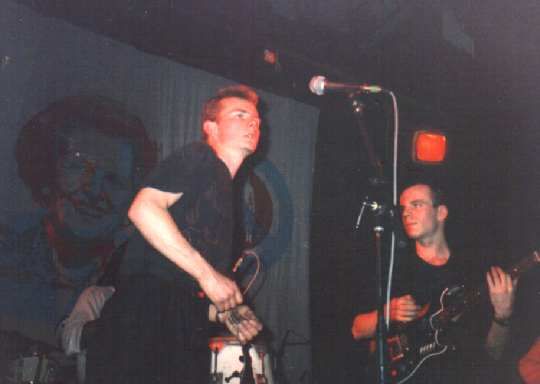 Flux went on with all the extra musicians and completely enjoyed the night. I think the audience did to from what I remember seeing. I do not remember doing an encore, not due to the band not feeling appreciated but due to just performing 'Uncarved Block'. Once all those tracks that appeared on the record were completed the band left the stage. Flux were not going to come back on to perform 'Tube Disasters' or anything like that!
After the performance I stayed for the rest of the Tackhead Sound System. Bonjo I wanted paying in cash for the nights work which took the band by surprise. He had just been released from detention due to some misdemeanour which if I remember rightly might have been a violent misdemeanour so we thought it better not to argue with him. We had to get some cash double quick to pay Bonjo I off and when we scraped some money together he disappeared!
Sometime after this U.L.U performance we went to Europe to try the new set out there.
A wrong move was not to take Adrian Sherwood, my brother Paul, Bonjo I or Ray. We thought we could cover the new set as a five piece (back to Flux Of Pink Indians not the nine piece Flux). At the Paradiso in Amsterdam we not only sounded hollow and bombed, but the audience were also disappointed as an rap artist who was expected to perform on the same night had not turned up to perform for the gig. Added to this everyone was expecting the Adrian Sherwood Tackhead style night. Flux were a very poor second! Ditto the above for Hague in Holland and Antwerp in Belgium…
Not a great little European jaunt, but the U.L.U performance in my mind was one of the best gigs I performed in.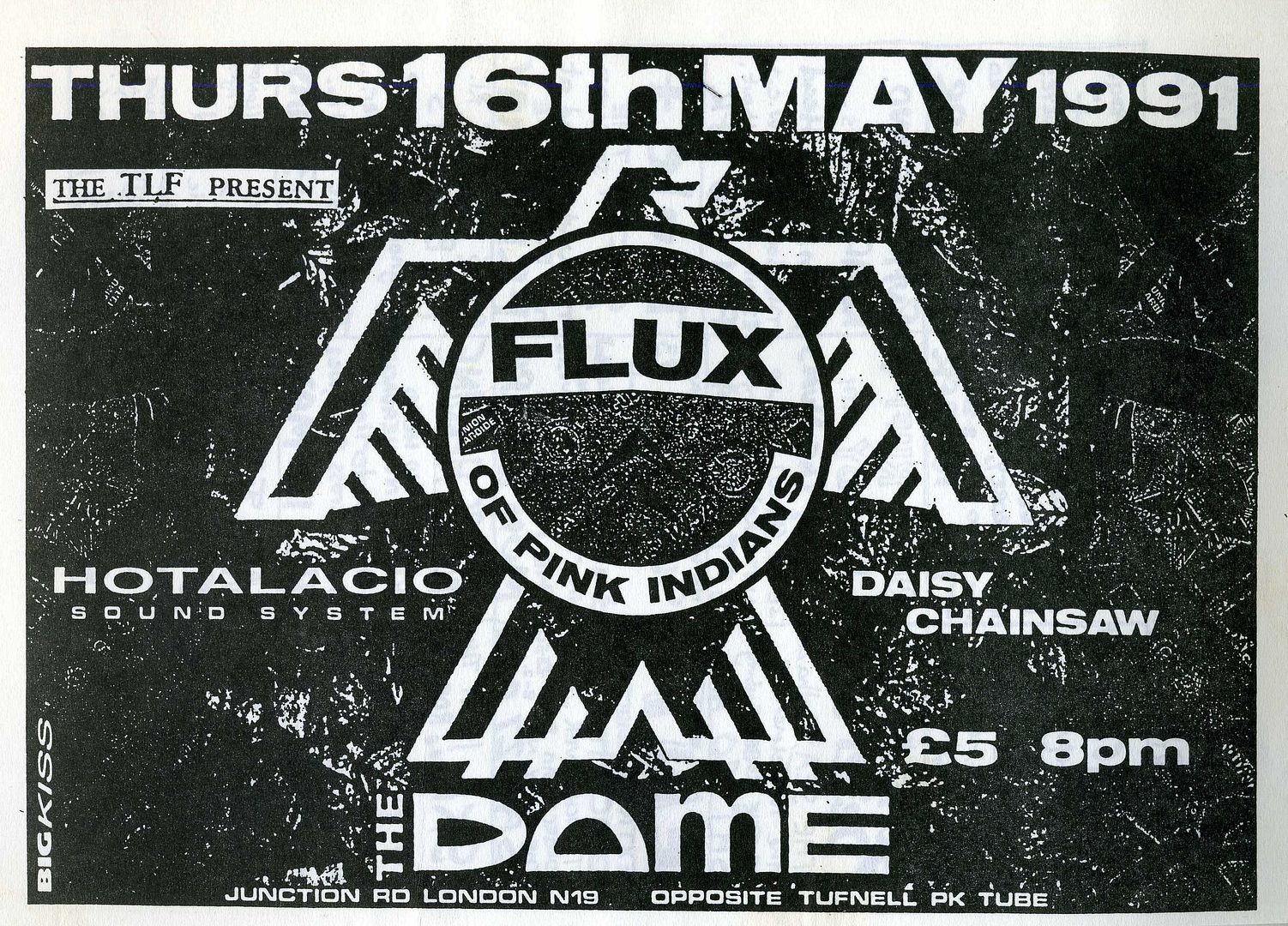 Flux played one more time in 1991 at the Dome in Tufnell Park alongside Hotalacio Sound System which was Colins version of the Tackhead Sound System. I remember that this gig was packed, but again it was not the same as the U.L.U performance. Adrian Sherwood, Bonjo I and Ray really made that performance, and indeed the record (along with Style Scott) stand the test of time.
MARTIN FLUX