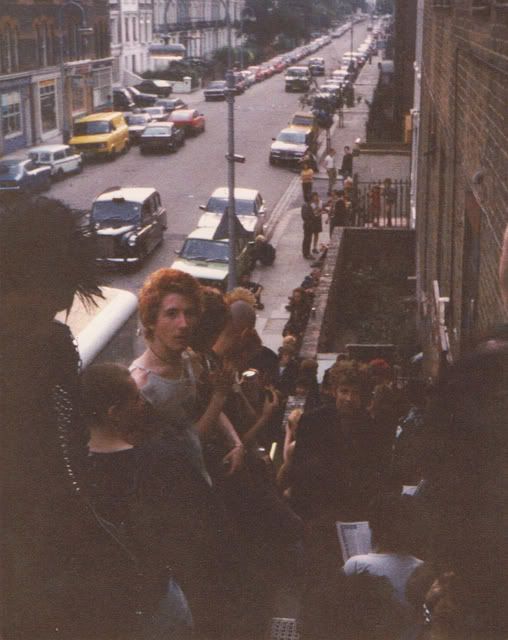 Conscription / Them and Us / ? / Sugar and Spice / Pound Of Flesh / Barry Brudom / Remember / Ain't We All So Lucky / When The Time Comes / Nearly Not Quite / Fly The Flag / Nuclear Power / Peter Sutcliffe / Salami Tactics / Slice It Up / Zippo
Very rare and amazingly clear tape of Fallout (ex Six Minute War) performing at the London Musicians Collective down wintery Camden Town supporting The Apostles and The Mob.
Thanks to Guru Chris for the lend of the cassette.
The Apostles / Mob sets at the L.M.C. are already uploaded on this site if you care to search for them.
Six Minute War and Fallout studio material is also uploaded on this site, if you can be arsed to sniff it out.
I know next to nothing about this band, I witnessed them perform, bought the Butchery 10″ off the vocalist at the time. Never got the Six Minute War E.Ps at the time that they were released (1980/81), although they were always hanging up on various record shop walls waiting to be grabbed. Must have gone for The Partisans on No Future Records instead, silly sausage!!!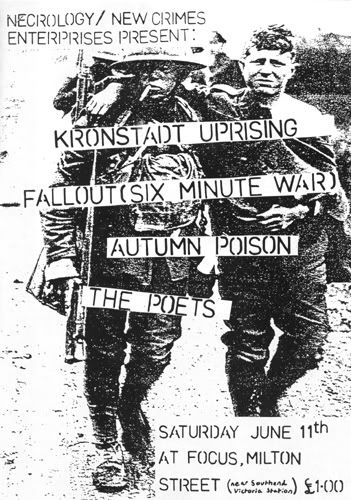 Staying on the New Crimes vibe (post below) I have used a poster of a Fallout gig, partly promoted by Graham Burnett in Southend, as I have no relevant images of the band, except for the sleeve of the 10″ which is uploaded somewhere else on this site…L.M.C queue photograph courtesy of the Mighty Mick Lugworm.
Feel free to fill in the gaps Nic or Chris or….