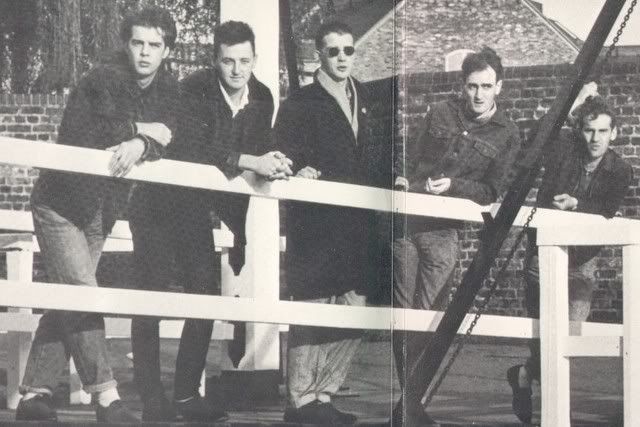 I posted this track here even though it was broadcast in December 1987 as part of a Peel Session. I do not think many of the general public ever look at the post 86 section on this site, which is a bummer, so I stuck  the little bugger on this download section so it will recieve maximum interest. It is also correctly uploaded on the post 86 section though!
Hopefully you will enjoy this jangly version of the classic Mob tune from this C86 Glaswegian shoe-gazing indie pop band.
If not, feel free to comment. Not sure if they ever recorded it on vinyl at all…
Close Lobsters are a Scottish indie pop/rock band. They first came to wider prominence with the track "Firestation Towers" on the NME's C86 compilation, they signed to Fire Records and released their debut single "Going To Heaven To See If It Rains" in October 1986. They released a second single "Never Seen Before" in April 1987 which furthered their reputation as one of the leading emerging indie bands.They went on to release two albums; Foxheads Stalk This Land was released in 1987 and Headache Rhetoric in 1989. Their popularity on United States college radio stations led to an invitation to the New York Music Seminar in 1989, which in turn led to an extensive American tour. They toured relentlessly in the UK, Germany and the United States of America and Canada. After that things became very hazy indeed.
The band eventually took an extended interlude/break to reflect on a combination of creative crossvergences about critical acclaim in America. Rolling Stone's review of "Foxheads Stalk This Land" called it "first-rate guitar pop from a top-shelf band. Close Lobsters could have been just another jangle group, but they have a lot more going for them than just chiming Rickenbackers."
"There once was a storm of sticks and stones and this barrage was to become a lodestar. If eternity is the sea mingled with the sun as a young French poet once intimated, then unrelenting group disorder defines the everyday and mundane. Close Lobsters shimmer like the sun mingling with the sea, their sound is a storm of stones and sticks and half bricks and the barrage comes in chains of flashing images. Close Lobsters epitomise the very imperfect nature of things – unrelenting group disorder. Close Lobsters sound radiates across star-crossed skies. Close Lobsters are alive".