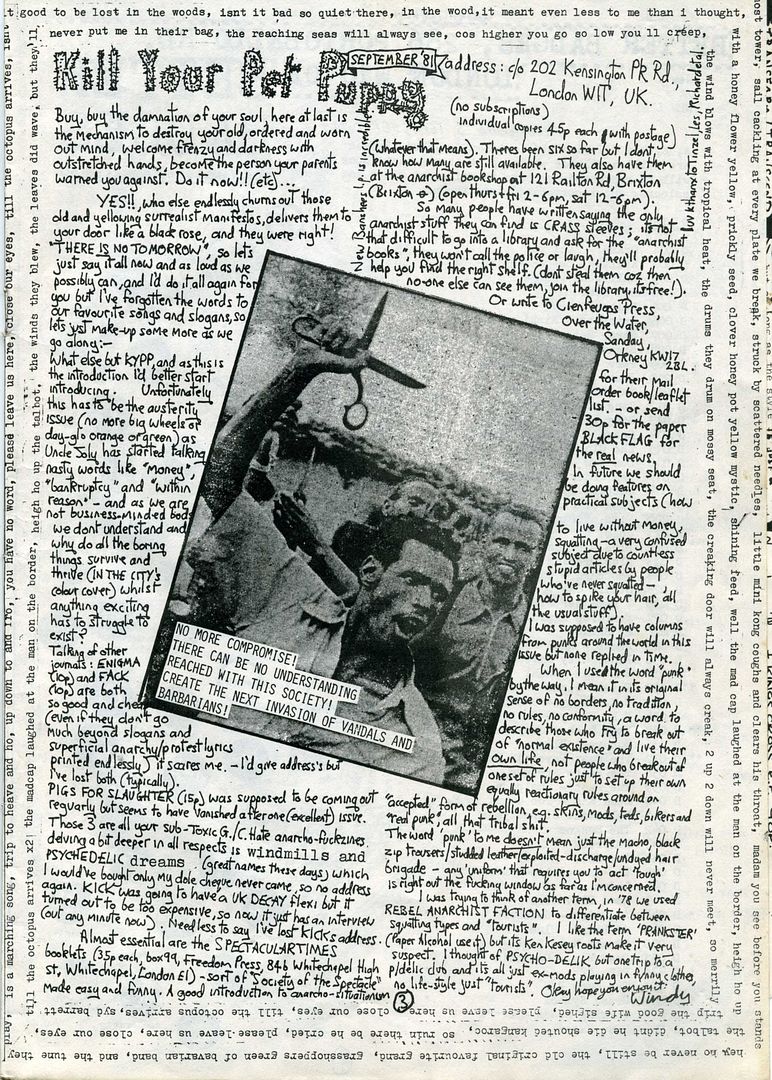 Recent confusion having arisen when I made an attempt [comment on Viewing a corpse – Conway Hall May 2008] at humour, based on Windy Miller's intro/editorial to Kill Your Pet Puppy 4 (released September 1981) I have put in a link to the page in question which starts
Buy, buy the damnation of your soul, here at last is the mechanism to destroy your old, ordered and worn out mind, welcome frenzy and darkness with outstretched hands, become the person your parents warned you against. Do it Now!! (etc.)

YES!! who else endlessly churns out those old and yellowing surrealist manifestos and delivers them to your door like a black rose…
Read whole text here
It was cut-up/ sampled from a 1924 text by French surrealist Louis Aragon:
Buy, buy the damnation of your soul, you will destroy yourself at last, here is the machine for capsizing your mind. I announce to the world this page one headline: a new vice has just been born, one madness more has been given to man: surrealism, son of frenzy and darkness. Step right up, here is where the kingdoms of the instantaneous begin.
"It's punk Jim, but not as we know it " as Spock might have said.
For the KYPP collective, 1981 was an important year. We saw Bob Short play a gig in Clissold Park – just before he started Blood and Roses, and after Bob had escaped from Campbell Buildings. We discovered the Parallel Universe – a squatted venue in an abandoned church on Pentonville Road and met Pip and the gay punx of Huntingdon Street – see this page from KYPP 4.
We met The Mob when they played a free gig in an adventure playground on Parliament Hill Fields. See this page
The year ended with the Puppy Collective providing food, stimulating literature and cheap beer at the Sunday afternoon punk gigs at the Wapping Autonomy Centre.
I will write more on this later, but finally here are the front and back covers of KYPP 4. Transcribing the Antz lyrics for the back cover was a labour of love. KYPP 4 also had a feature on The Associates, Charge and a review of Dick Hebdidge's 'Subculture: The Meaning of Style' amongst many other gems.