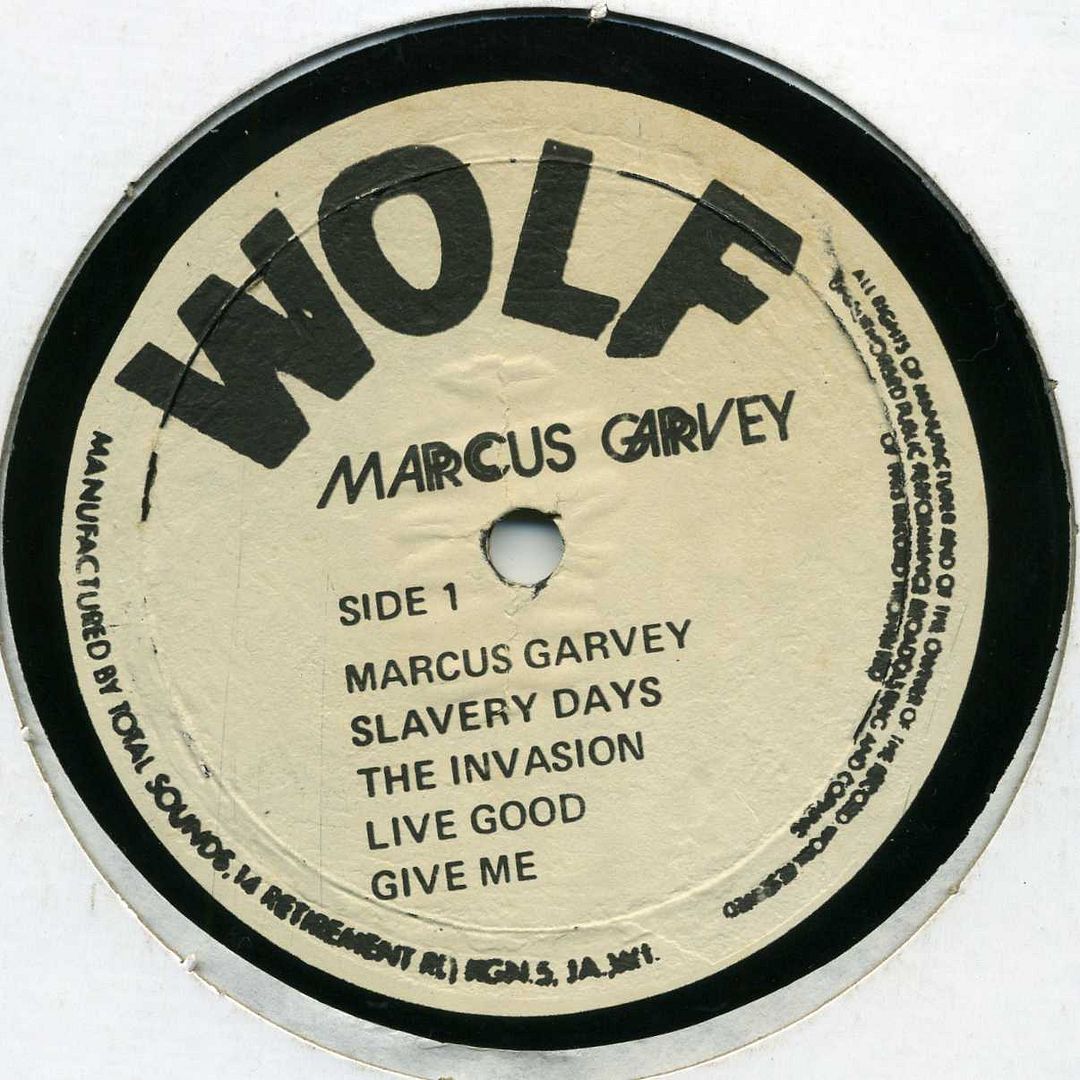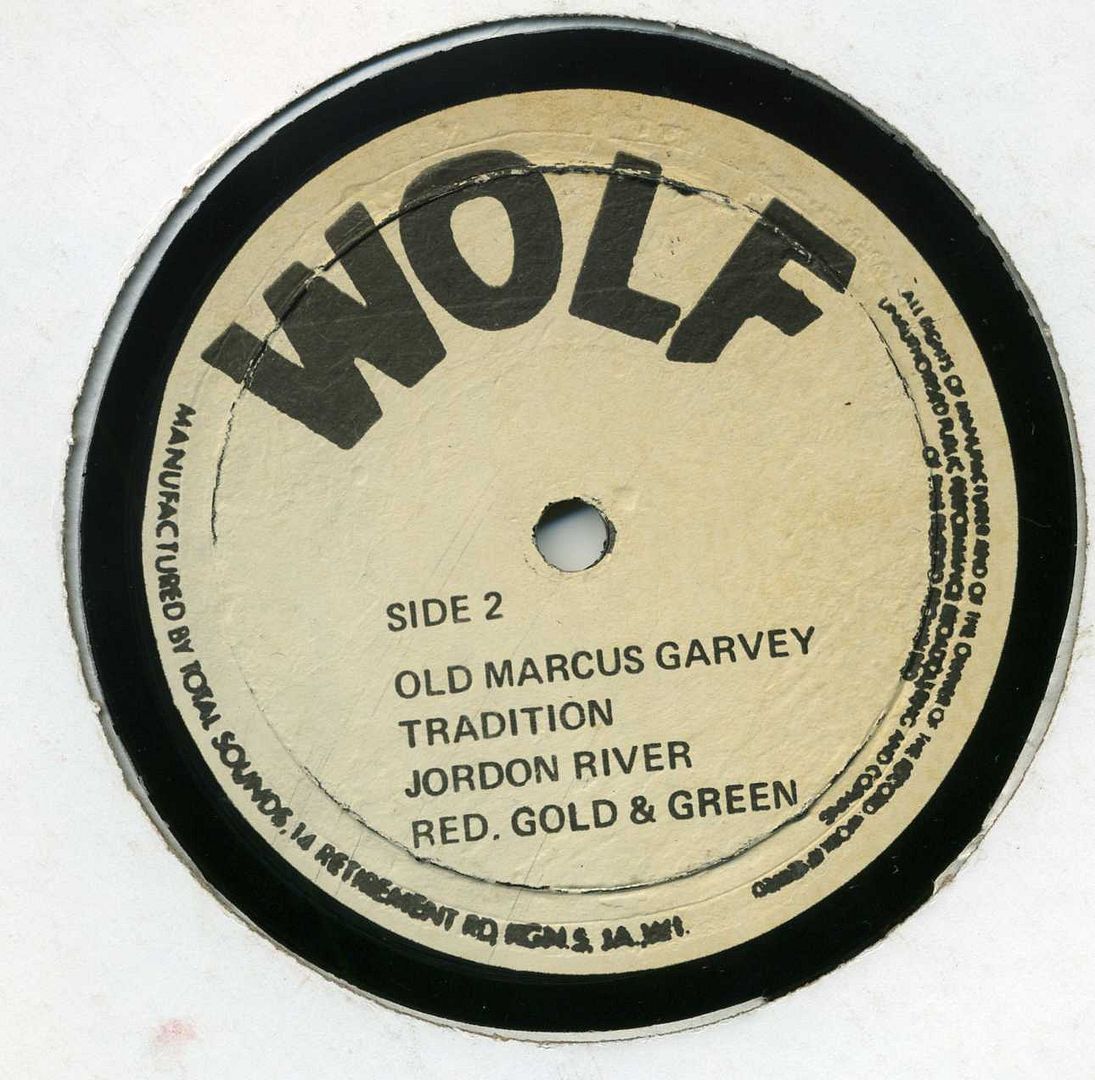 Marcus Garvey / Slavery Days / The Invasion / Live Good / Give Me
Old Marcus Garvey / Tradition / Jordan River / Red Gold And Green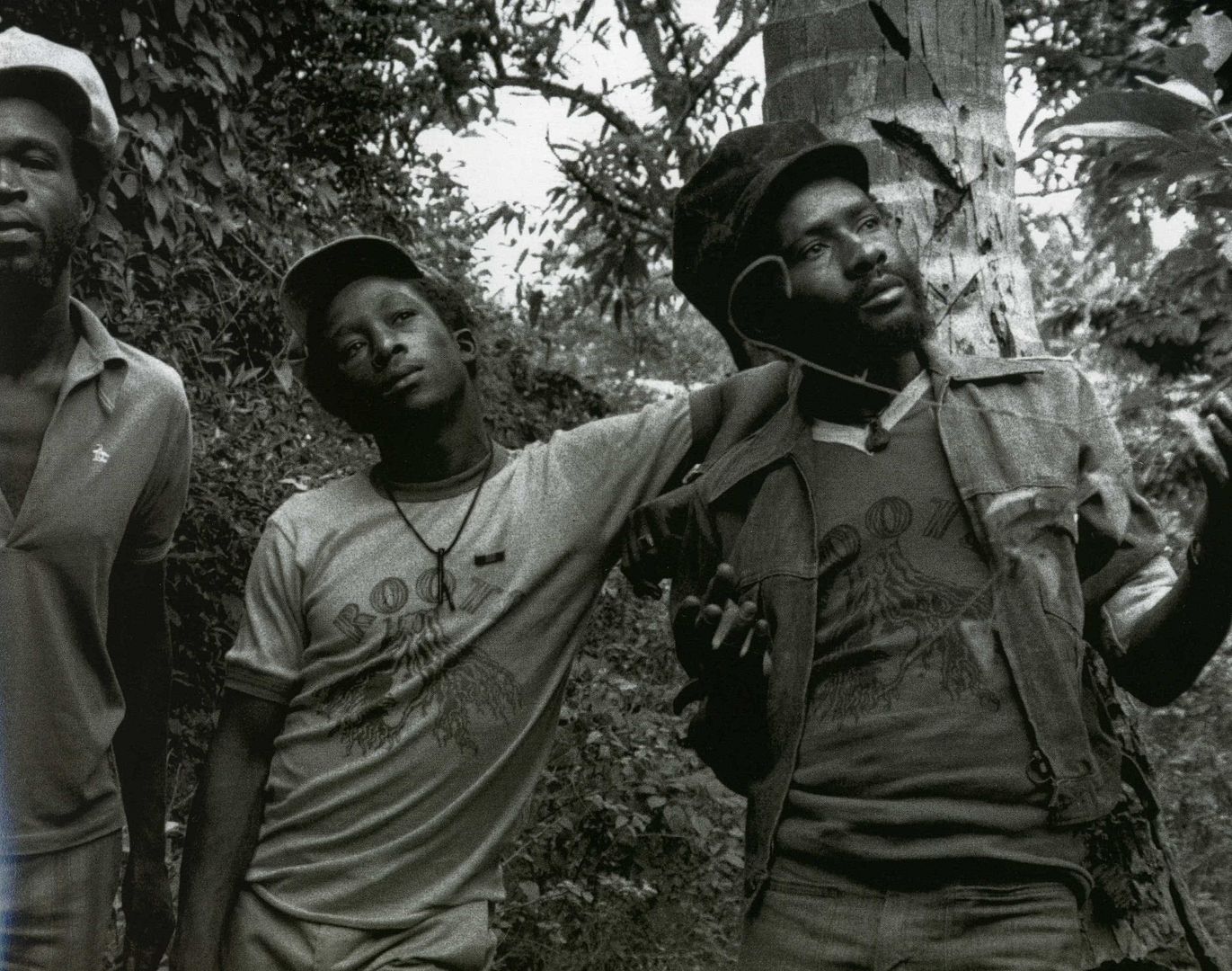 Without much doubt I would think that most Europeans, Canadians and Americans who have an interest in reggae music would have, after trying out various Bob Marley and Jimmy Cliff albums, landed with a huge bump onto Burning Spear.  I would guess that the bump would have started specifically with the first two Burning Spear albums produced by Jack Ruby in 1975.
Although Burning Spear had recorded a clutch of 7″ singles and two albums (Burning Spear / Rocking Time) for Coxsone Dodd of Studio One fame, those albums were not that well known outside of Jamaica and ex pat Jamaican areas in the cities of the Europe, Canada and the US.
For most Europeans, Canadians and Americans who may have had an appreciation of reggae music, Island Records, and later on in the 1970's, Virgin / Front Line Records would be the starting point for the purchasing of roots reggae music on vinyl if one lived outside of ex pat Jamaican areas in one's respective cities. Trojan Records during the mid 1970's was in a sorry state and continued to re-release tracks onto iffy compilations like 'Music House' volumes one, two and three and 'Reggae Jamaica' volumes one, two and three.
Trojan did not catch onto much decent new material coming out of Jamaica until the company released some Prince Far I and Mikey Dread albums towards the later part of the 1970's.
If you were enticed to purchase the Island Records version of the 'Marcus Garvey' album by Burning Spear released in 1976 you would have got yourself a stone wall classic album in your record collection but I am sure that not many people knew, or cared, at the time, that the sound coming out of the speakers was a diluted version specifically mixed for European,Canadian and American ears, ears that might not have got used to the Sound System culture or sound.
Uploaded onto this site today is my original Jamaican version of this classic album released on Jack Ruby's Wolf Records imprint.
Mixed as it was meant to sound, and released a year prior to the Island record release.
Accept no substitute.
Text below mashed up from allmusic and a BBC online review of the Burning Spear' 'Marcus Garvey' album.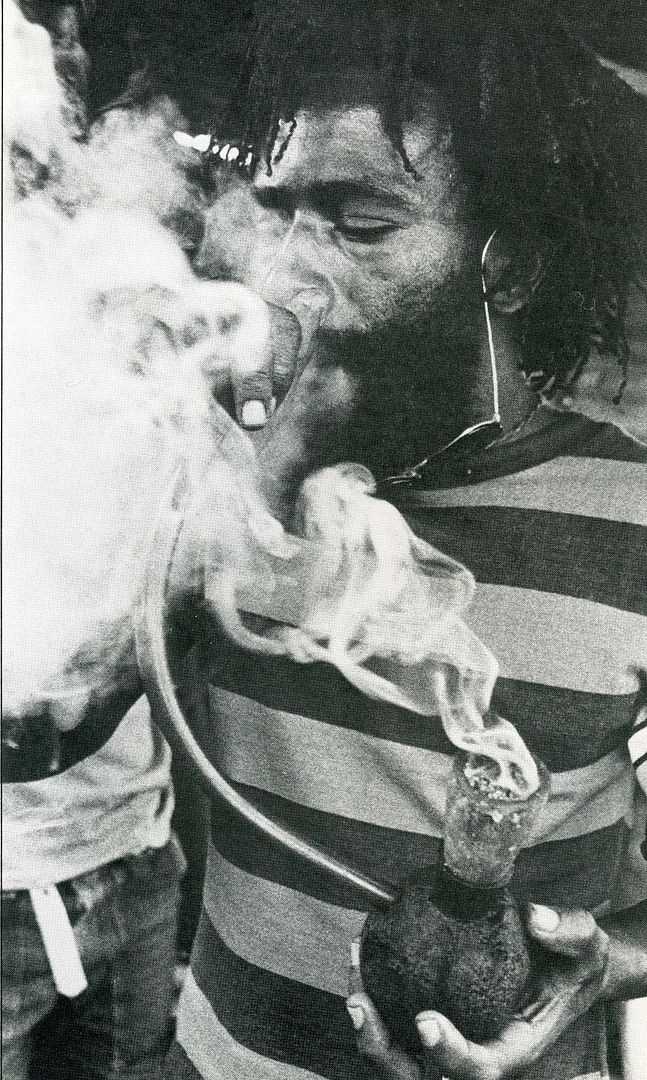 The Jamaican singer and wordsmith Winston Rodney was born in Saint Ann's Bay. This is the same parish that spawned Marcus Garvey, a highly influential figurehead for black rights, whose views emanated from a particularly Afrocentric standpoint.
At the end of the 1960s, Rodney created the identity of Burning Spear, a banner which sometimes included his two harmony backing singers. The 1975 Marcus Garvey album was the first to bring Rodney to wider attention outside Jamaica.
Although Garvey didn't exactly embrace Rastafarianism, Rodney wasn't discouraged from absorbing his crucial influence. Even beyond its classic opening title-track, the album concerns itself with the political thinker's legacy throughout, though often from an abstracted perspective. Nevertheless, the Garvey presence is all-pervading.
The album was recorded at Randy's Studio in Kingston, with its resident Black Disciples band. The introductory Marcus Garvey song maintains a brisk trot, with Rodney singing in a deliberately halting, controlled quaver that is also found in the voice of Horace Andy. The harmony singers are Delroy Hines and Rupert Willington. The horns punctuate firmly, and Earl 'Chinna' Smith's lead guitar makes tiny decorative embellishments. Keyboardist Tyrone Downie pushes insistently.
The second track is an even greater classic, Slavery Days easily ranking as one of the key cuts in reggae history. Glorious harmony vocals glide beside clipped guitars and lolloping bass. The latter duties are swapped between Robbie Shakespeare and Aston 'Family Man' Barrett, two of reggae's most influential four-stringers.
All of the band's parts mesh perfectly, and this rolling motion continues to the finish. With Live Good and Give Me, the advantage of Carlton Samuels' flute becomes apparent, his lithe phrases frequently licking up against the ears. Tiny triangle tinkles complete the feeling of a highly detailed production spread.
Burning Spear's Marcus Garvey album hit Jamaica like a force ten gale, its legacy so great that in later years many fans mistakenly came to believe it was Burning Spear's debut album (it wasn't, two earlier records were released by Studio One).
It made an instant hero of Winston Rodney, and the album remains a cornerstone of the entire roots movement. Spear was accompanied by the Black Disciples, a baker's dozen of the island's best musicians, including bassists Robbie Shakespeare and Aston Barrett, guitarists Earl "Chinna" Smith and Tony Chin, and drummer Leroy Wallace. The Disciples helped the vocal trio bring their vast potential and musical vision to vinyl, one they'd threatened with previous releases, but never quite attained.
Producer Jack Ruby's was equally important to the album's sound, gracing it with a deep roots mix that accentuated the haunting atmospheres of the music.
Unfortunately, the listener experiences only wisps of that here in the UK and USA. The Island subsidiary Mango believed the production too threatening, or at least too commercially enviable, for white audiences, and thus remixed it into what they considered a more palatable form. However, Marcus Garvey is so powerful a record that, even in this diluted state, it remains a masterpiece.
If the music itself defined and glorified the roots sound, it was Winston Rodney which gave the movement's philosophy voice. Rodney's vocal talent is actually fairly minimal; his delivery more a chant than actual singing, but his intense passion overcame any deficiencies, with Rupert Willington and Delroy Hinds dulcet backing vocals counterpointing Rodney's rougher tones.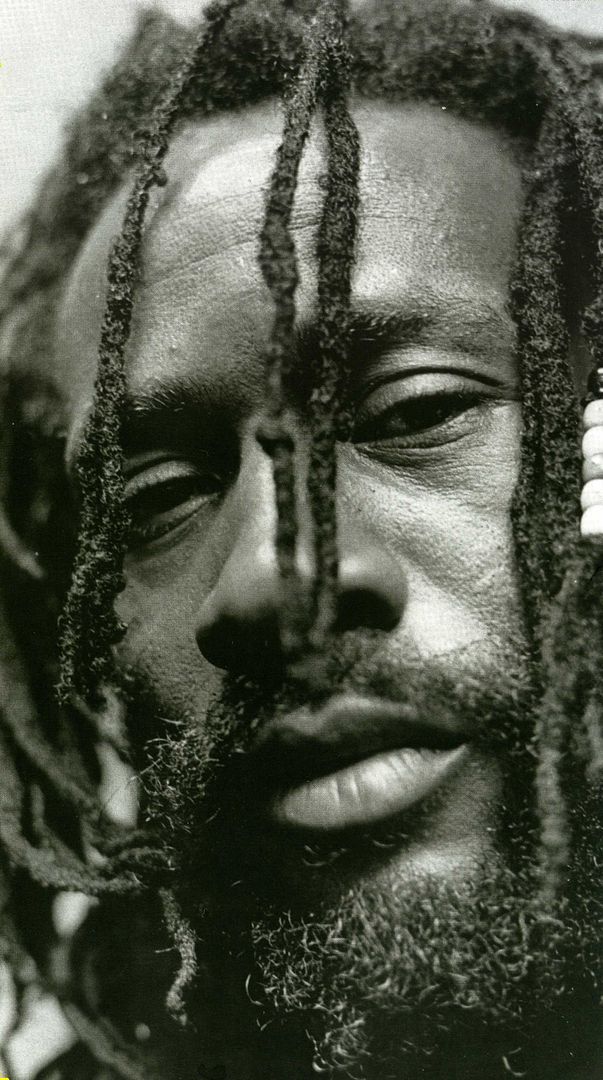 A fervid Rastafarian, Rodney used Marcus Garvey as a shining torch to light the way to political and religious consciousness. The album's twinned themes of cultural concerns and religious devotion combined to create a powerfully intertwined message of faith and political radicalism. "No-one remembers old Marcus Garvey," Spear sings at the beginning of "Old Marcus Garvey"; by the time the song's over, it's unlikely anyone will forget again.
These musical mnemonics of Jamaica's past heroes and history, which include the hit title track, of course, "Slavery Days," another Jamaican hit, and "The Invasion" are amongst the album's strongest tracks, with the three devotional numbers equally inspiring. Oppression may be the fate of many Jamaicans, both past and present, but by giving voice to those trampled by poverty, slavery, or politics, Spear's underlying message remains one of hope.