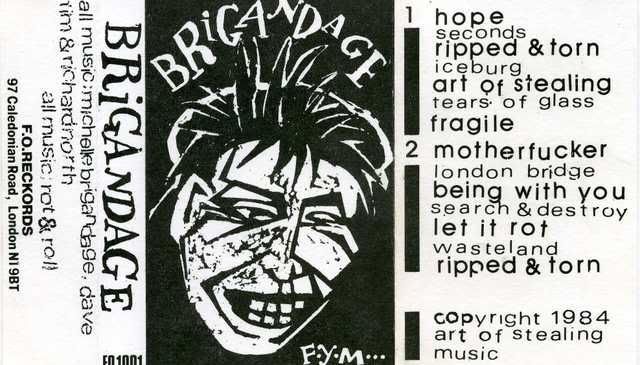 Hope / Seconds / Ripped And Torn / Iceburg / Art Of Stealing / Tears Of Glass / Fragile
Motherfucker / London Bridge / Being With You / Search And Destroy / Let It Rot / Wasteland / Ripped And Torn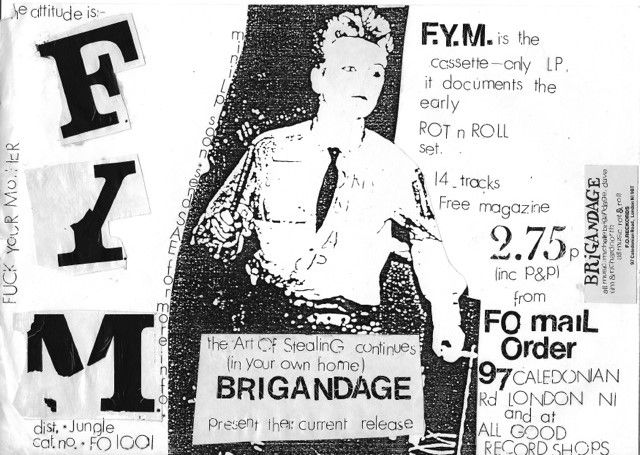 A handful of bands seem to have been connected with Kill Your Pet Puppy fanzine by forces so strong that one finds it hard to imagine one without the other. Adam And The Antz, The Mob, Blood And Roses, Sex Gang Children, Southern Death Cult and Brigandage are examples that I can think of. Quite obviously these bands would have existed without the fanzine, but a bond, I feel, did exist. The UK Subs, Crass or The Ruts, fine bands as they were, could not, I feel, get such a strong bond with the fanzine.
I suppose it probably helped that most of the 'KYPP type' bands above also had a history of sharing squatted houses, drugs, gig experiences in similar venues, hairspray, magick and (maybe) even boy/girl friends with the Puppy Collective of the day.
Brigandage were one of the fine bands that I first heard on the John Peel show. The session the band recorded was seriously taking the piss. It was so good that nothing I thought at the time could ever touch it. It must be said at this stage that this session was recorded by the original line up that originated in 1982 and was featured in an early 1983 volume of  'Punk Lives' magazine. That interview is up in the photo gallery if you care to see it under 'Punk Lives' sub album along with a heap of other relevant stuff from that magazine…
I saw the band live and they were great, but then they split up..!
The band were quickly resurrected in 1984 with the help of Richard North (who wrote and edited the excellent Kick fanzine and also did reviews, essays and interviews for the N.M.E) and two other members, joining Michelle from the original line up, the band that recorded the tracks on this tape.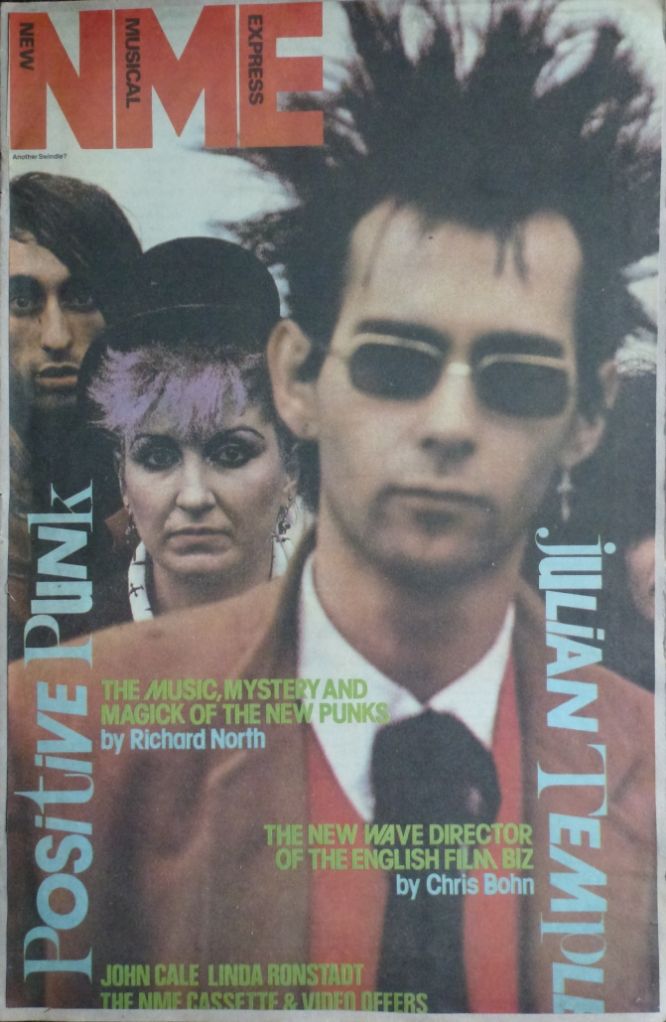 Step back to 1983; Richard North was already a fan and friend of the band and it turned out a good time to have a journo friend on the 'inside' as a scoop was written up on the newly named 'Positive Punk' movement which commanded a front page and center spread in the N.M.E. during that year. Also featured heavily in this article were Blood And Roses, and several other bands were name checked during the piece, Southern Death Cult, The Mob and so on. Shortly after The Face magazine got involved in the rush to feature the movement in nice glossy pages, and even Michael Moorcock set up his TV cameras and got busy…
What happened?
Nothing…most the band's at the forefront of this little scene split up by the end of 1983 including of course, as previously mentioned, Brigandage themselves. There were not a lot of bands to replace the disbanded groups like The Mob, Southern Death Cult and Blood And Roses, that were of the same quality to carry this small scene on effectively, but the 'Positive Punk' movement left in it's wake some great live experiences, some great records and tapes, and some obscure literature in a few magazines including of course Kill Your Pet Puppy.
Nowadays of course this stuff is gold dust with interest from all over the world, not just for a bunch of punkers in London, Bradford and Leeds during the period from the middle of 1982 to late 1983.
Brigandage were really great, this tape is a mixture of live and demo material recorded and released in 1984 that rocks on with just enough 1976 punk spirit to overtake the opposition by several yards.
My Brigandage John Peel session cassette (with loads of other stuff on it as well because it was a C90) was either nicked or lost, probably nicked though, cos I do not lose a lot of tapes or records, as some of the posts on this site would testify!
If anyone can sort me out on this session I would be chuffed.
Rot 'n' Roll punkers…