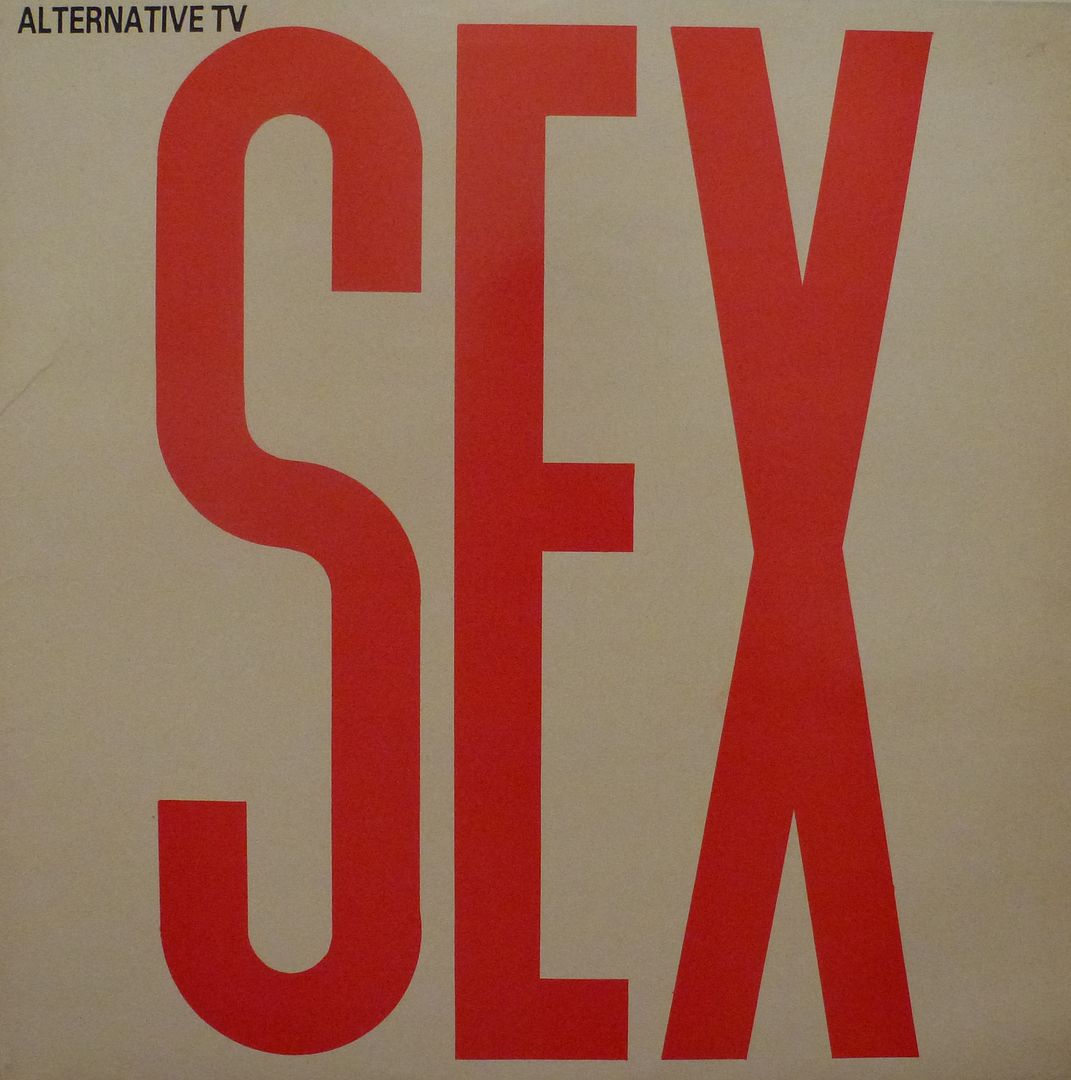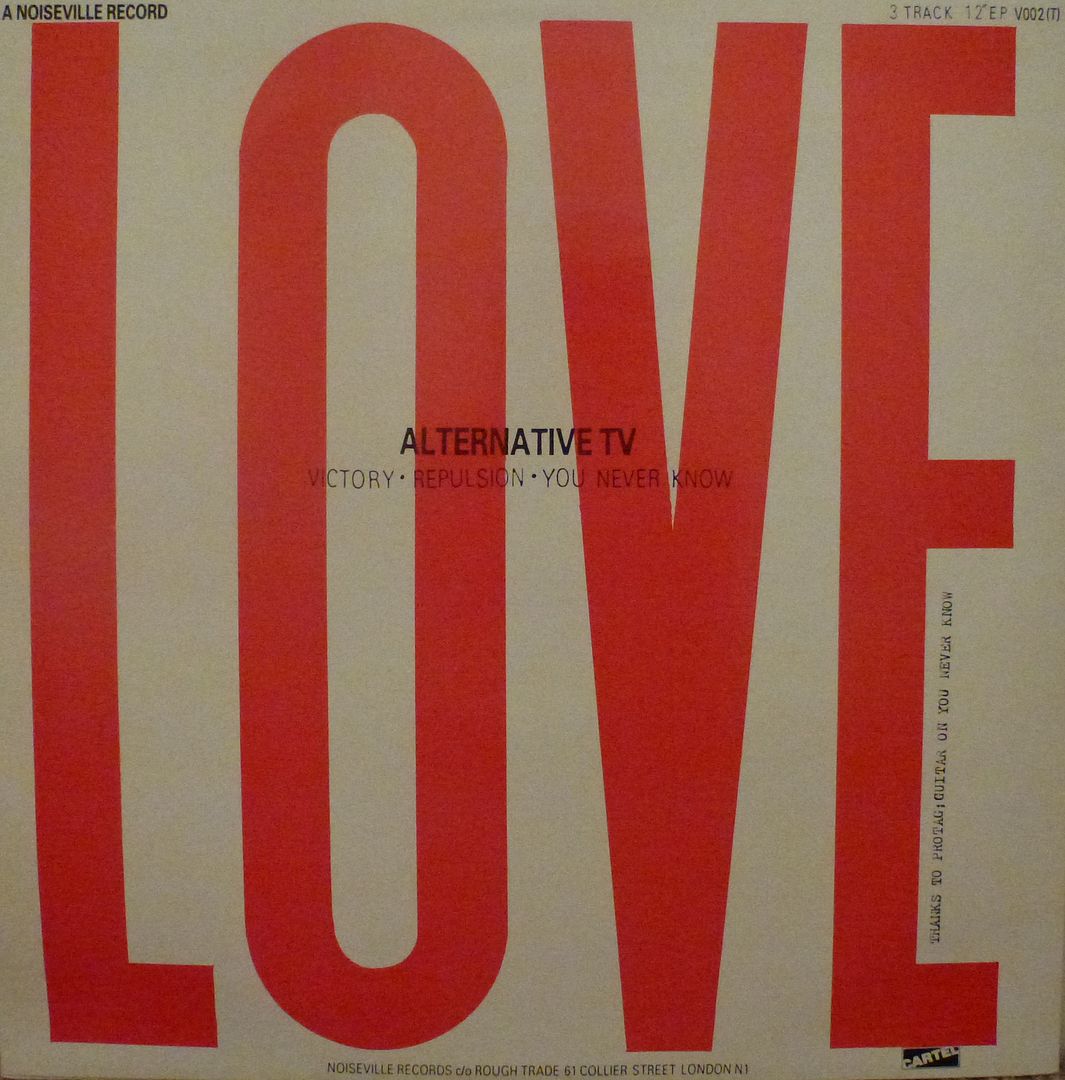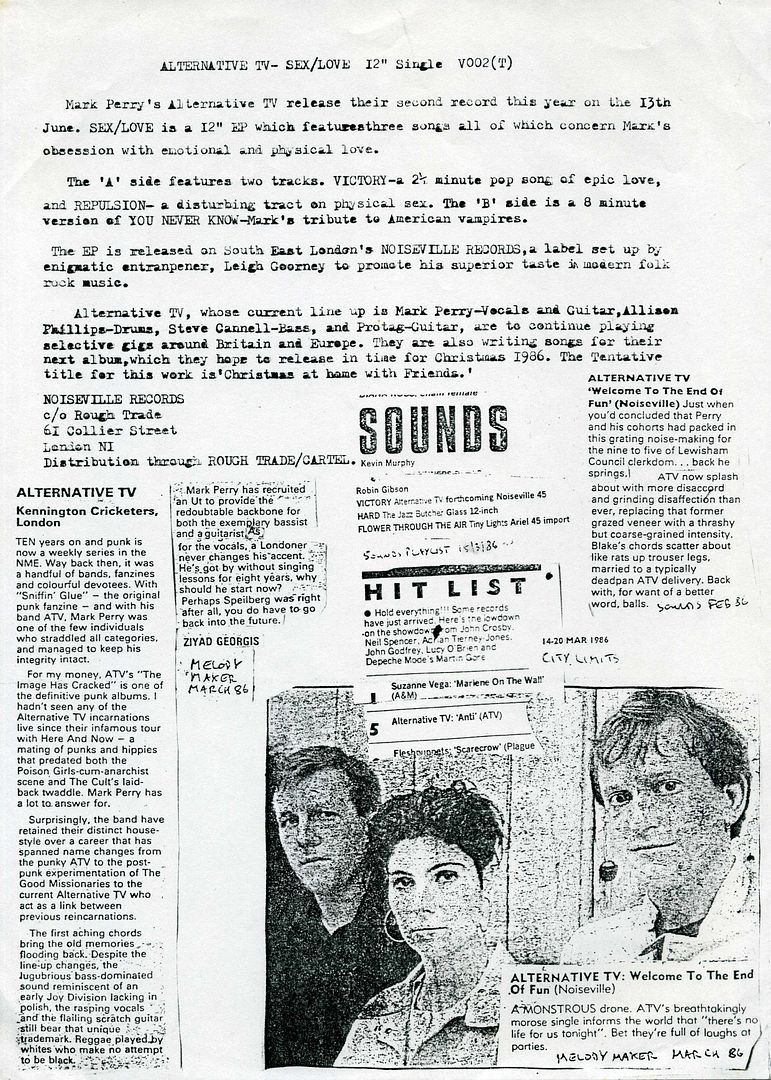 Today is a sad day. The day that all of us here at KYPP found out about the passing of Martin Neish A.K.A Protag. This KYPP post is dedicated to Protag as well as the hundreds (thousands probably) of people that knew Protag and have been saddened by his passing.
Protag was was the most gentle of souls and would never rise to any sort of panic when all around him other folk were tearing their hair out! He was also one of the hardest working drivers, roadies, P.A operators that I knew. Working the venues that he was most associated with, a smile on his face seemingly present at all times. His performances with the bands he was associated with, spanning almost three decades, were also rock solid with whatever instrument he happened to be asked to play, depending on whatever band he was in at the time!
Tonight I have uploaded an pretty damn good Alternative TV 12″ from 1986 released on the Noiseville record label, a record that Protag was involved with.. Previously in 1985, Noiseville records had released 'The End Of Fun', another 12″ by Alternative TV but with Karl Blake involved rather than Protag.
The photographs below, from my collection, are from an Alternative TV performance at the Finsbury Park Sir George Robey sometime in 1986 and one of Protag on the mixing desk from a Meanwhile Gardens all dayer in the summer, mid 1980's.
The Alternative TV text below is from Wikki, and if anyone is interested in listening to the earlier Alternative TV records then there is a dedicated KYPP post HERE to view and access the audio.
For anyone that might be interested in hearing some other recorded work that Protag was involved with, accessible on previous KYPP posts, they may be found as below.
Instant Automatons may be heard HERE and the first Blyth Power recording with Protag on the bass duties from early 1987 may be heard HERE
R.I.P Protag. You were very special and very kind to a much younger Penguin.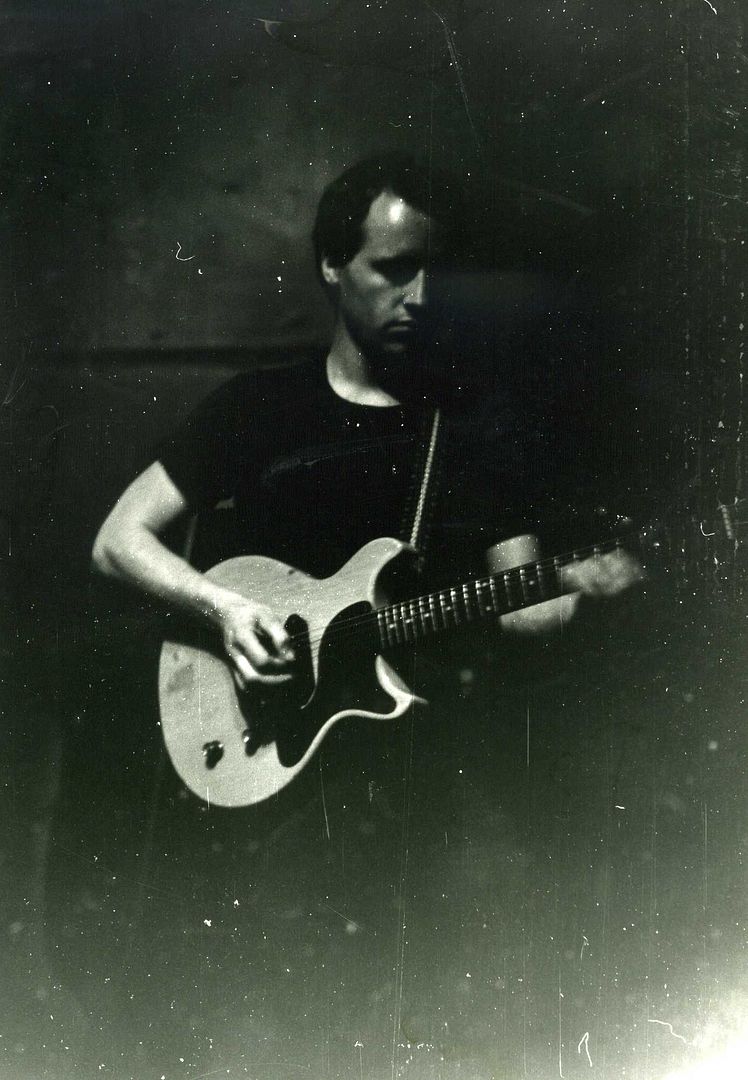 Alternative TV were formed by Mark Perry, the founding editor of Sniffin' Glue punk fanzine, with Alex Fergusson. Early rehearsals took place at Throbbing Gristle's Industrial Records studio with Genesis P-Orridge on drums. The band's first live appearance was in Nottingham supporting The Adverts.
The band's debut on record was 'Love Lies Limp', a free flexi disc issued with the final edition of Perry's Sniffin' Glue fanzine. For their first two singles Perry and Fergusson were accompanied by drummer John Towe (ex-Generation X) and Tyrone Thomas on bass; Towe later left to join The Rage and was replaced by Chris Bennett. This line-up was the most straightforwardly punk version of ATV, although they combined short fast songs with extended pieces such as 'Alternatives to NATO', in which Perry read an anarchist political text and envisaged the possibility of a Soviet invasion of Britain. Shortly afterwards they released the 'How Much Longer'/'You Bastard'  7″ in December 1977. The A-side was a pointed critique of punk style: "How much longer will people wear/Nazi armbands and dye their hair?".
At the end of 1977, Perry sacked his chief collaborator and co-writer Fergusson. The latter went on to form the short-lived Cash Pussies and, a few years later, Psychic TV along with Genesis P-Orridge. Tyrone Thomas switched to guitar, later replaced by Kim Turner, while Dennis Burns joined on bass. A dub-influenced single, 'Life After Life', was released, followed by the band's debut album, The Image Has Cracked, both featuring Jools Holland guesting on piano.
By the end of 1978, only Perry and Burns remained from the previous line-up, although ATV used additional musicians live and in the studio. The band's second album 'Vibing Up the Senile Man' (Part One) saw the band take a more explicitly experimental direction, which alienated both the music press and audiences. A recording of one gig which ended in a violent stage invasion can be heard on the cassette-only release 'Scars on Sunday'. A live LP was released, documenting their tour with commune-dwelling progressive band, Here and Now, marking the band's further movement away from the punk/new wave scene. A final single 'The Force Is Blind' featured Anno from Here and Now on additional vocals.
Alternative TV soon evolved into the avant-garde project, The Good Missionaries (taking the name from a track on the 'Vibing' album), releasing one album, 'Fire From Heaven' in 1979. Perry released a solo album 'Snappy Turns' the following year, and joined the experimental duo The Door and the Window on their debut album 'Detailed Twang' before he, Burns and Fergusson briefly reformed Alternative TV along with former members of Fergusson's Cash Pussies in 1981. The reconstituted ATV released one album 'Strange Kicks' a venture into light pop songs unlike any of their previous work, produced by Richard Mazda.
From 1981 to 1982 Perry had a new project, The Reflections, a band with Nag from The Door and the Window, Karl Blake (of The Lemon Kittens) and Grant Showbiz, among others. They produced an album 'Slugs and Toads' and a single '4 Countries' before disintegrating.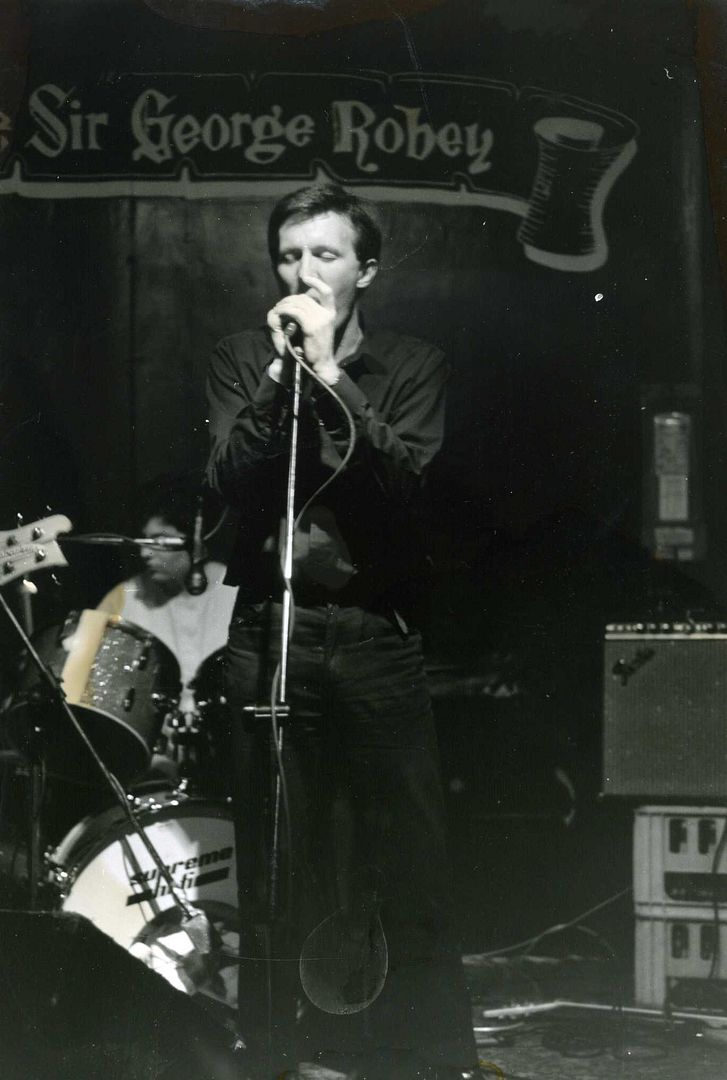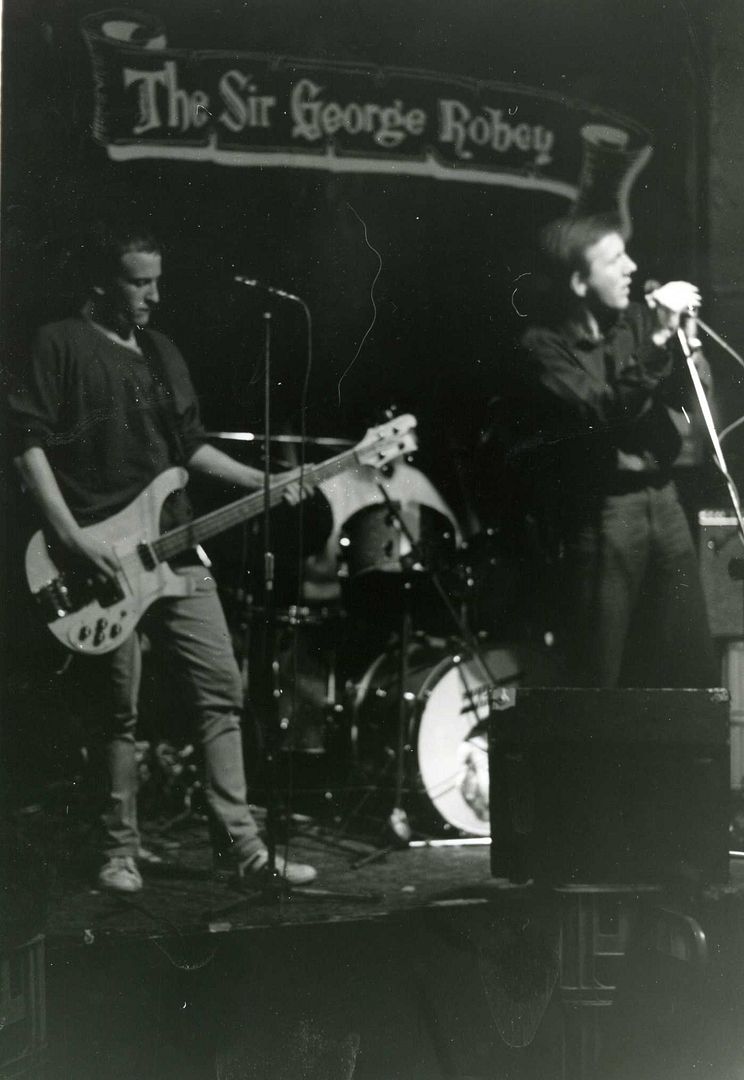 Perry reformed ATV in 1985. This line up started with Karl Blake, Steve Cannell and Allison Philips. Martin 'Protag' Neish and then Clive Giblin featured later on guitar and ATV released further records 'Welcome To The End Of Fun', 'Sex / Love', 'My Baby's Laughing' and the 'Peep Show' album.
Another line-up followed with James Kyllo along with Mark Perry and Steve Cannell which lead to the releases of 'Sol' and the 'Dragon Love' album.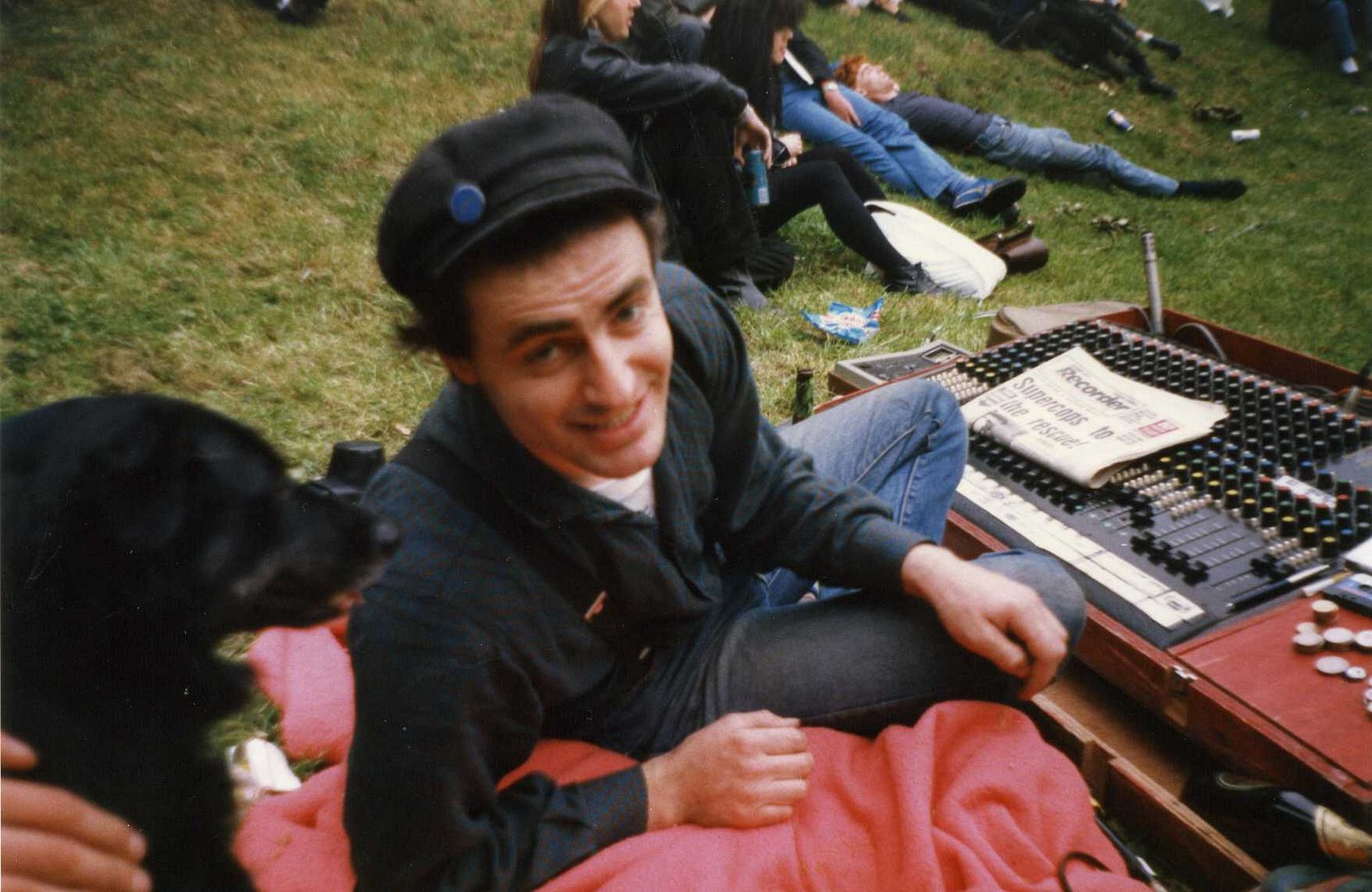 Words from Protag and from others about Protag.
I am in hospital with widespread cancer of the liver, spleen, spine etc. These are secondary cancers. Until they discover the primary cancer (it's been eluding the experts for over a week) they can't specify a treatment plan. However, from what they've already said… and due to other complicating factors, almost certainly whatever plan is indicated will not be suitable in my scenario; and plan B will come into operation which is to send me home with a McMillan nurse and a lot of painkillers. As such I may only be lucid for a week or two from now. I call it the Indignitas Clinic. Not as far away as Switzerland, and no air travel required.
Protag – February 5th
All our collective thoughts go out to Protag who is suffering from cancer and is at this moment in the Bradford Royal Infirmary. Protag was a fixture at many events and venues throughout The Mob's original lifespan (up to the end of 1983) as well as other All The Madmen bands of that era. Protag was often found behind the sound desk at events like the summer Meanwhile Gardens gigs, the Islington Rosebery Avenue Peace Centre, the Homerton Blue House as well as helping out at the other earlier autonomy centres. Protag was a member of the Instant Automatons in the late 1970's as well as being a member of Alternative TV, Blyth Power and then Zounds from the mid 1980's to the early 1990's. Protag drove bands around (seemingly all year long) and helped with setting up equipment for bands at the many gigs he was in charge of the sound desk. Blyth Power's first public release, the cassette 'A Little Touch Of Harry In The Night' released on All The Madmen records then head honcho, Rob Challice's 96 Tapes imprint was recorded with Protag at the sound desk at Brougham Road in Hackney. It was Protag's Meanwhile Gardens tapes that contained tracks that were placed onto the 'B' side of The Mob's 'Crying Again' 12″ re-release that came out on All The Madmen records in 1986. Protag still helps bands and venues to this day! Protag is a particularly pleasant man whom The Mob and All The Madmen records would like to send many positive thoughts to at this time. If anyone that knows Protag would like his personal email address then please private message this Mob / ATM FB page and we will share that information with you. Please private message if you knew Protag. I am sure he will be pleased with receiving messages of support at this time from folk that shared experiences with him throughout his dealings with bands and venues for several decades. Positive thoughts are needed at this time. Thank you for reading.
Posted up on The Mob / All The Madmen records Facebook page 7th February by Mickey 'Penguin'
It's with the deepest sadness that I learned today of the passing of Protag. He was my best friend at school and my partner in crime when we were taking our first faltering steps together into the weird world of the "music biz". It was an honour to have known and worked with him in the past, and I'm so glad we made the journey down to Bradford last weekend to see him (and, without fully realising it, to say goodbye). Martin's integrity, his warm personality and his wonderful dry wit always shone like a beacon in a dark, cold world. Now that light has gone out, and the world seems a darker, colder place without him. R.I.P.
Mark Lancaster – Instant Automatons
He walked it like he talked it……. So pleased we saw each other in December and talked last week R.I.P Protag.
Grant Showbiz – Street Level Studios
So sorry to hear the news of Protag's passing. In my 35 plus years in this business he was one of the kindest and most genuine people that I've ever had the pleasure of working with. Protag was a bloody good guitarist and soundman as well. My condolences go to all his friends & family.
Mark Perry – Alternative TV
For all those years spent inside the horse, love and respect at journey's end.
Joseph Porter – Blyth Power
Protag played bass in Zounds from 2003 to 2006. He died today at 9.15 on 18th Feb 2014. He was an amazing person who was associated with the band from the earliest days. He was selflessly devoted to Bradford's 1 in 12 Club to which he gave much energy, care and love. I could go on and on about how brilliant, interesting, original and funny Protag was but there will be time for that later. Protag played and organised Blyth Power for years and also played with ATV. Words can't express how much we will miss him. Love to all.
Steve Lake – Zounds