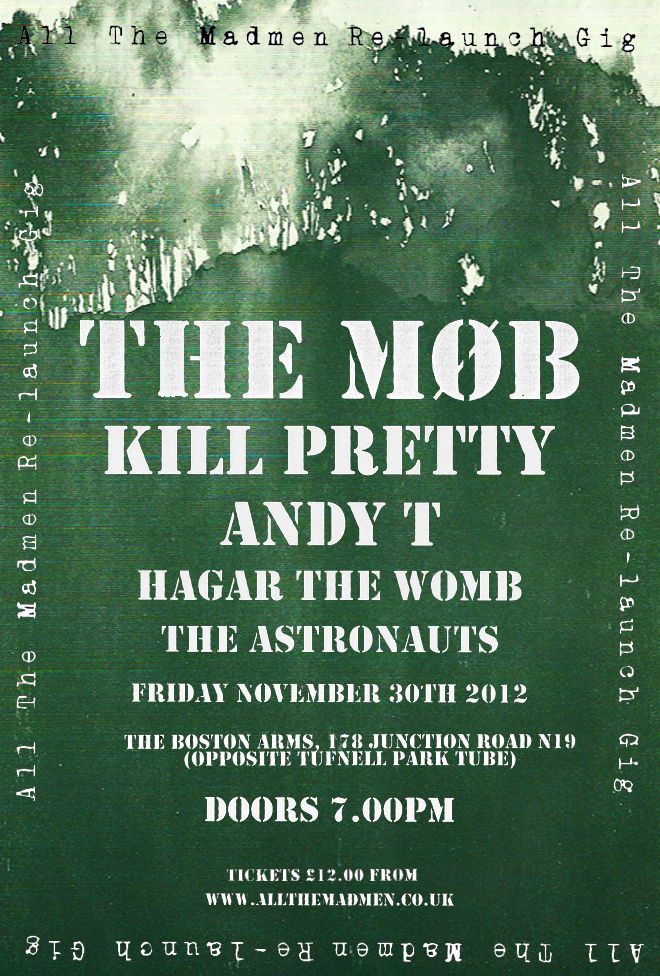 Helena flew over for this concert from Spain and had arranged to stay at Penguin Towers situated on the extreme edge of north London for a couple of days in between staying with a friend in Bow, east London. I needed to help out with the transportation of Helena and her overnight bag to Penguin Towers so I decided the easiest way for me to pick her up from where I am situated was from Epping underground station at the very end of the District line, and an easy hop from her temporary base in Bow / Mile End.
As Helena was only a day or so into her week long trip to London I decided (as I had booked the day off work and had nothing better to do) to surprise her by taking her to a local Epping landmark. Helena knew nothing of my plans. "I want to see if someone is in, they live just up the road. I will drive you back to Penguin Towers as soon as I sort this out" I explained to her as my Mini Cooper whizzed through Epping High Street and swung a right towards the direction of  North Weald.
I had rung Penny Rimbaud up at Dial House quite early that morning but had no answer from any human being, just the robotic sounds of the built in ansa phone service. I duly left a message to explain I was picking up a woman at Epping Station at midday who had recently flown over from Spain and wondered if I could bring her around very quick just to view the house and gardens.
Helena had no idea where she was heading, along the two mile stretch of rough road leading off the main North Weald road I had cruelly joked that I was "going to show her a shallow grave near some deserted farm buildings at the end of this rough road". My thousand yard stare was not quite in full effect at this time of the day, so instead of showing any form of nervousness she just laughed off my explanation.
When we got to the farm yard it was far from deserted but Helena was still none the wiser about the location so we walked over passed the cattle shed and stood by the rickety gate to enter the path to Dial House.
It was a very pleasant bright day and it was at this point that I pointed down towards a house name cut into slate that was stood up against a small bush near the entrance. Helena being partial to a bit of Crass and knowing a fair chunk on the history of the band knew now where she had been taken and was completely overjoyed at the fact that I had bothered to make this small diversion.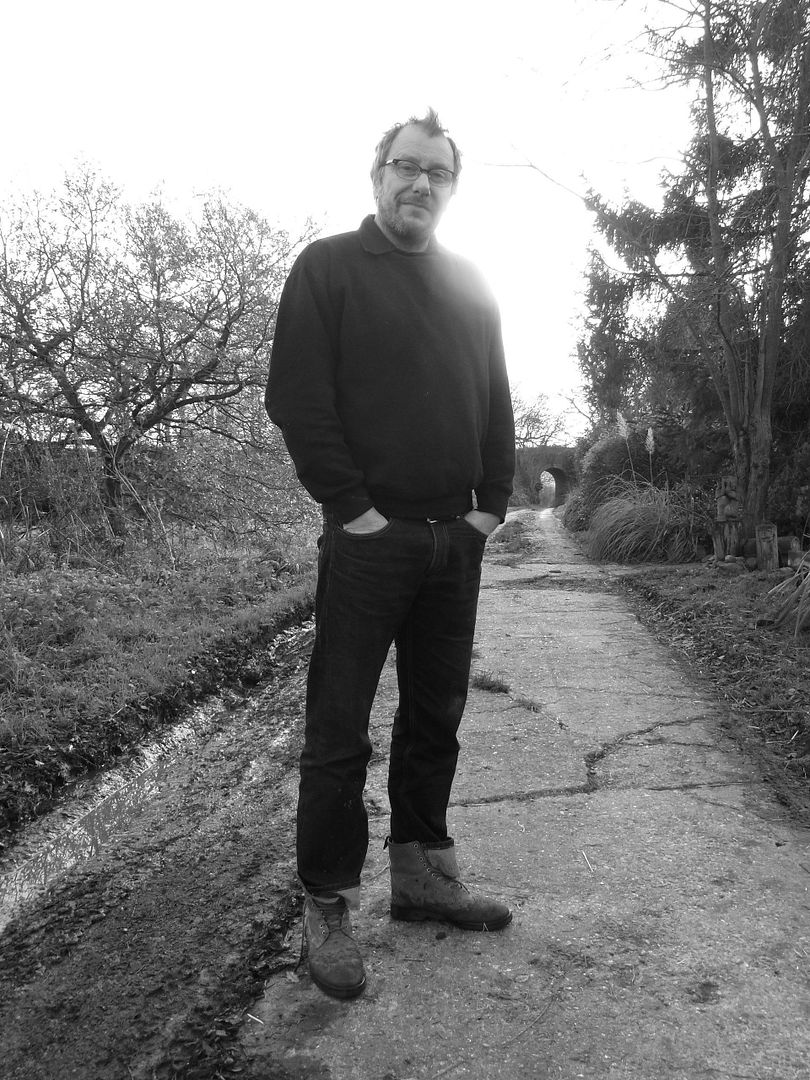 Her enthusiasm increased to an even higher level when Tony Barber, an ex member of Lack Of Knowledge one of Helena's favourite bands, came out to find out who was mooching about in the garden. I exchanged my hello's with Tony and after introducing Helena, explained that she had recently flown in from Spain and we were heading to Tufnell Park for the All The Madmen showcase concert. I also asked after Penny, and was told by Tony that he was in Stoke Newington but was expected back shortly.
Tony proceeded to give Helena and myself (although I have visited Dial House several times) a guided tour of the house and the expansive gardens.
I was expecting to stay at Dial House for maybe ten minutes (as I thought everyone was out when I telephoned ahead earlier that day). I imagined that my finger would have pointed at the house from the rickety gate and I would have taken a solitary photograph of Helena in front of this wonderful old house and then driven at speed to Penguin Towers to drop off baggage and then off to Tufnell Park for an early and deserved luncheon and a couple of ciders each.
Tony was so incredibly hospitable, myself and Helena stayed for over three and a half hours in and around the house!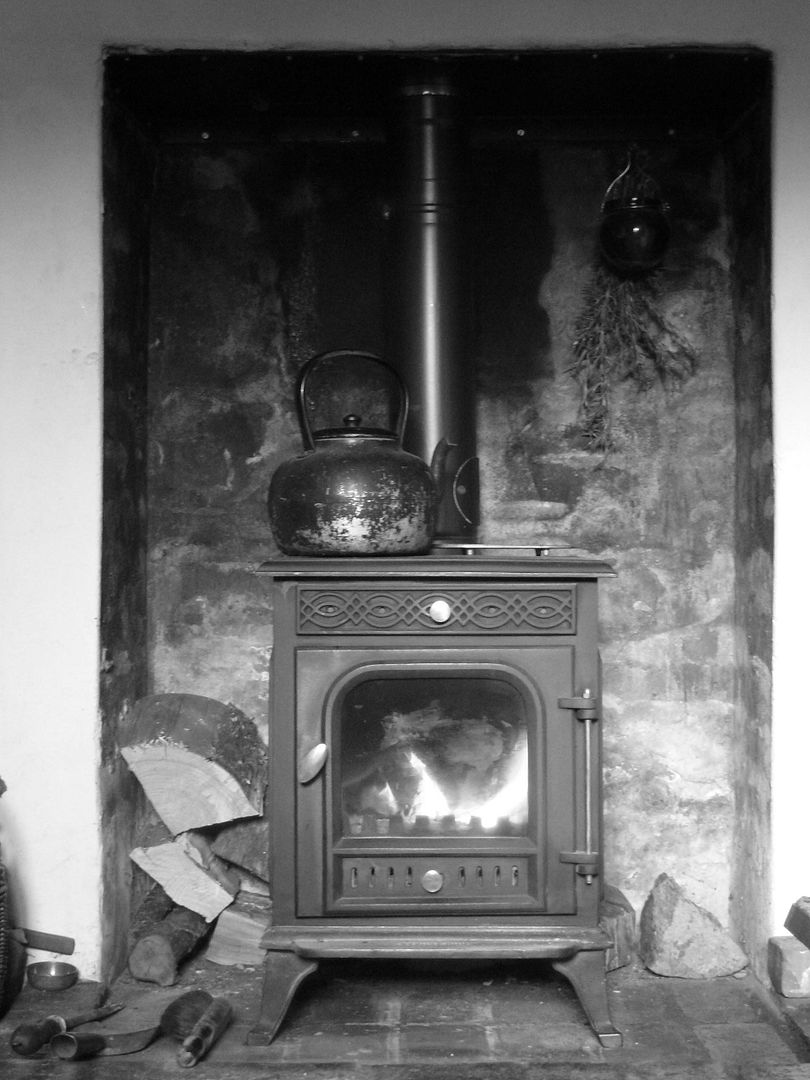 We eventually settled in the small lounge surrounded by hundreds of beautiful books neatly tucked away on the shelving that stretches across two sides of the room. Tony begun to show Helena and myself rare Crass memorabilia from his own vast personal collection.
Penny Rimbaud turned up as Tony was pouring the tea from the vast kettle boiling on the wood burning stove. A gorgeous brew indeed and a wonderful fire side chat with Penny followed. It was lovely to see Penny again as it has been several years now. Helena was overjoyed with the company as the afternoon progressed slowly in a house that seems to forget 'time' altogether. Sadly I did have one eye on the time and wanted to get to Tufnell Park by five thirty latest so as to meet up with other All The Madmen shareholders (we did not make that deadline by the way).
Penny chatted in his wonderful way and again time did not seem to matter so much… Eventually though, after taking a couple of photographs of Helena sitting in the middle of Tony and Penny we both gave them our kindest regards and thanked them for being so accommodating with us both and for such a long time.
We got into the Mini Cooper, several hours behind schedule, and raced back along the rough road and eventually hit Epping High Road and thirty minutes later got safely to Penguin Towers and parked up.
No time to freshen up, just lobbed Helena's over (a couple of) night (s) bag into my record room, wandered back out and walked to the local overground station. Twenty minutes later we found ourselves on the platform waiting for the train to take us towards Moorgate.
We got off the train at Old Street and took the Northern line to Tufnell Park, arriving around six thirty in the evening.
In the venue The Astronauts were mingling around. Andy T was already there as well as Mark from The Mob who was with his 'All The Madmen entourage'. Grant Showbiz was also in attendance along with Gary who is the normally the venue's resident sound man. I had previously arranged with the venue some nights before to meet up with Gary who I was told "would be happy to organise the recordings of all the bands through the mixing desk".
Originally I was not going to bother, but on second thoughts I thought that this All The Madmen showcase was a concert well worth archiving.
I hammered out a deal with Gary regarding the recording of the whole night. That was that sorted. Gary is an amazingly pleasant chap who got the audio sorted and actually went as far as visiting me a few days later in bad land Tottenham to drop off the WAV files, well beyond the call of duty…
A word of warning though, next time I go to a Mob or another All The Madmen recording artists performance I will actually do nothing. No recordings, no photographs, no write ups… I have done a fair few now from the very first reformed Mob gig in Bristol in 2010 up to this most recent All The Madmen records showcase. I just need to take more of a back seat and just be a punter rather than worrying about archiving!
Back to the evening. It was time for some food, I had skipped breakfast and spending so long at Dial House, catching the train immediately on our return to Penguin Towers I had remembered I, in fact we, had not eaten anything. Food, yes that would be a fine idea. Without having to wander too far, Mark from The Mob explained to us both that there was plenty of food in the kitchen. "Mountains of the stuff" We went through the doors and yes, there was indeed mountains of the stuff!
All the vegetarian food was prepared at the All The Madmen HQ in Temple Cloud near Bristol by the All The Madmen collective the previous evening Mark from The Mob, Mark's daughter Tess (who has managed and arranged all the tours and gigs that have happened in the last year or so) and a host of other kindly souls were heavily involved in the food preparation.
Myself and Helena eagerly stuffed ourselves with a couple of large falafel, humus and salad kebabs along with a can of Strongbow cider each, although cheekily I had two cans, or was it three?
We both finished this filling and quite delicious meal off with the special 'one night only' All The Madmen cupcakes that were piled on several trays with the All The Madmen logo still being placed delicately onto a blob of cream while we waited and watched. While we both waited and watched we both thought what a great idea!
Des and Josh were setting up the All The Madmen stall as The Astronauts, Andy T and Hagar The Womb sound checked. Myself and Helena both had a mooch about the venue and bumped into Jim The Driver who was, and still is, best friends with Tony Barber who we had spent a wonderful few hours with earlier at Dial House. Jim's name had come up in conversation with Tony while we were being shown Tony's collection of rare Crass memorabilia. Whilst displaying an original cloth banner for the Crass 12″ single 'Feeding Of The 5000' which was used as advertising in the Small Wonder record shop at the time of the release, and of which there was only two in existence, Tony mentioned that the other cloth banner was in Jim's possession. This seemed odd to me as I had visited Jim's apartment many times and I had never seen it displayed and to my memory the subject had never came up. Strange when Jim knew I would have loved to have seen the original cloth banner. Jim explained that Harry was now in possession of this very rare artefact. Harry is a friend of both Jim and Tony, so that solved that little conundrum.
Kill Pretty along with Curtis and Graham from The Mob were running late and had not got to the venue in time for any sound check. Those bands would have to do without.
The doors had now opened to the public and I was suddenly on call to supply several tickets for entrance to folk who had not managed to order them for one reason or another. I went down the stairs and after being told off by security for having a Strongbow can in my hand on or near the door, I managed to sort out the folk that needed tickets that I had in my pocket and by great timing also escorted my wife Jax who had appeared at exactly the same time, into the hall to meet up with one of her best friends, Seema who had already shown up ten minutes before.
This was my wife's first 'punk' gig experience. Her friend Seema, on the other hand, was going to these kind of gigs in the early 1980's. The December 1982 Zig Zag alldayer in Westbourne Park featuring Crass, The Poison Girls, Omega Tribe, The Mob, Flux Of Pink Indians and a host of other notable bands was one event Seema had attended while she was still a schoolgirl…
The Astronauts came on slightly behind schedule to a relatively small crowd which was a great shame as they performed an excellent set with a fair few older tracks from the early 1980's being performed to the small but appreciative crowd. Steve Lake from Zounds went up on stage to perform a version of 'Can't Cheat Karma' towards the end of this great set which was a great touch.
I could listen to The Astronauts for hours sadly we only got about forty minutes! Grant Showbiz was busy creating the live sound for the band which must be the first time that has occured in over twenty five years I would have thought, Meanwhile Gardens 1987 was probably the last time both Grant Showbiz and The Astronauts were in the same place at the same time…
The good news was Hagar The Womb were on this bill, Hagar The Womb will be releasing 'Life Of Lies' on a 7″ single soon via the All The Madmen singles club. This was an old Hagar The Womb track but was taken and given life in the mid to late 1980's by We Are Going To Eat You, a Hagar The Womb offshoot band that released their debut 12″ record on All The Madmen records way back in 1987. The bad news was that Mitch's leg was out of plaster and thus he was mobile again. Be afraid, very afraid… Mitch is great and is, and always will be, Mitch. A total one off. I would mention his Christian name but via deed poll he now has about twelve of the buggers, all of them mental!
Hagar The Womb played, as they always did (and now being reformed, always do) with a huge smile on their collective faces. A joy to watch and listen to. A crowd had gathered to jump around to the band's performance, which was cut short slightly due to the ongoing time issues.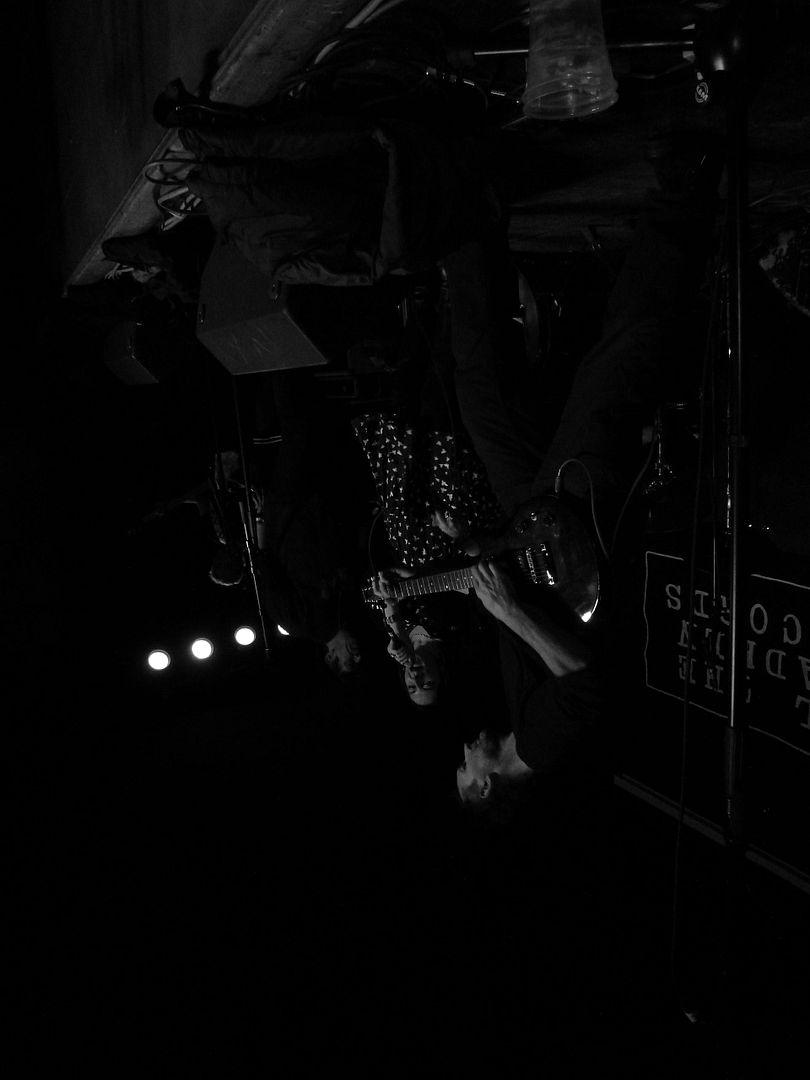 Mitch was 'dismissed' from the stage, as is the way now for the last track 'Dressed To Kill', to be replaced by Veg, another ex Hagar The Womb member on bass, Gary from D.I.R.T came up on the stage to riff along with Paul on guitar, Steph was relegated to the Hagar hi power tambourine duties.
Alex, who I think is a promoter at the Boston Arms, and who does not look anything like Karen Hagar (to whoever left comments on the photograph above when this photograph was placed on FB "must go to Specsavers" was the reply after I notified him of the mistaken identity!) helped out with the vocals for this band defining track from thirty years ago. A great end to a decent set.
At last I managed to capture a performance by Andy T who was mistakenly not recorded by the sound man at the Brixton Jamm in November 2011. I ensured that at the Boston Arms in 2012 Gary's finger was poised over the record / play button, or at least the digital version of that command. Gary had it all sorted so there was nothing to worry about.
Andy T performed his gritty lyrics sometimes just stand alone prose, sometimes with the backing band. The revived All The Madmen records debut release earlier on this year was the debut CD from Andy T entitled 'Life At Tethers End' and is well worth getting if you can. Spend a 'speckled hen' HERE .
Andy T's set was both thought provoking and ever so slightly hypnotic. The crowd was filling out a little more by this stage of the evening and Andy T and his band were tight and were well received.
By this point in the night both Bobbler Jax Bird and Helena had been meeting many gig attendees.
Gig attendee's not seen in ages in Jax's case and meeting for the very first time in Helena's case.
Some of the folks that made the night special for both these Mob / All The Madmen records gig débutantes included Tony D, Lugworm, Chris Low, Palmer, Laurence from Zounds, Mark F from Part 1, Val D, Tinsal, Simon and Vicky, Mitch, Des, Mark (both from The Mob and The Astronauts) Jim The Driver, Hugh, Steve Corr, Greenhair, Sandra, Miles and Finbar from Napalm Death.
Thanks to all those kindly folk, and of course Seema for keeping Jax and Helena company while I was checking on the audio, taking photographs and getting drinks from the bar…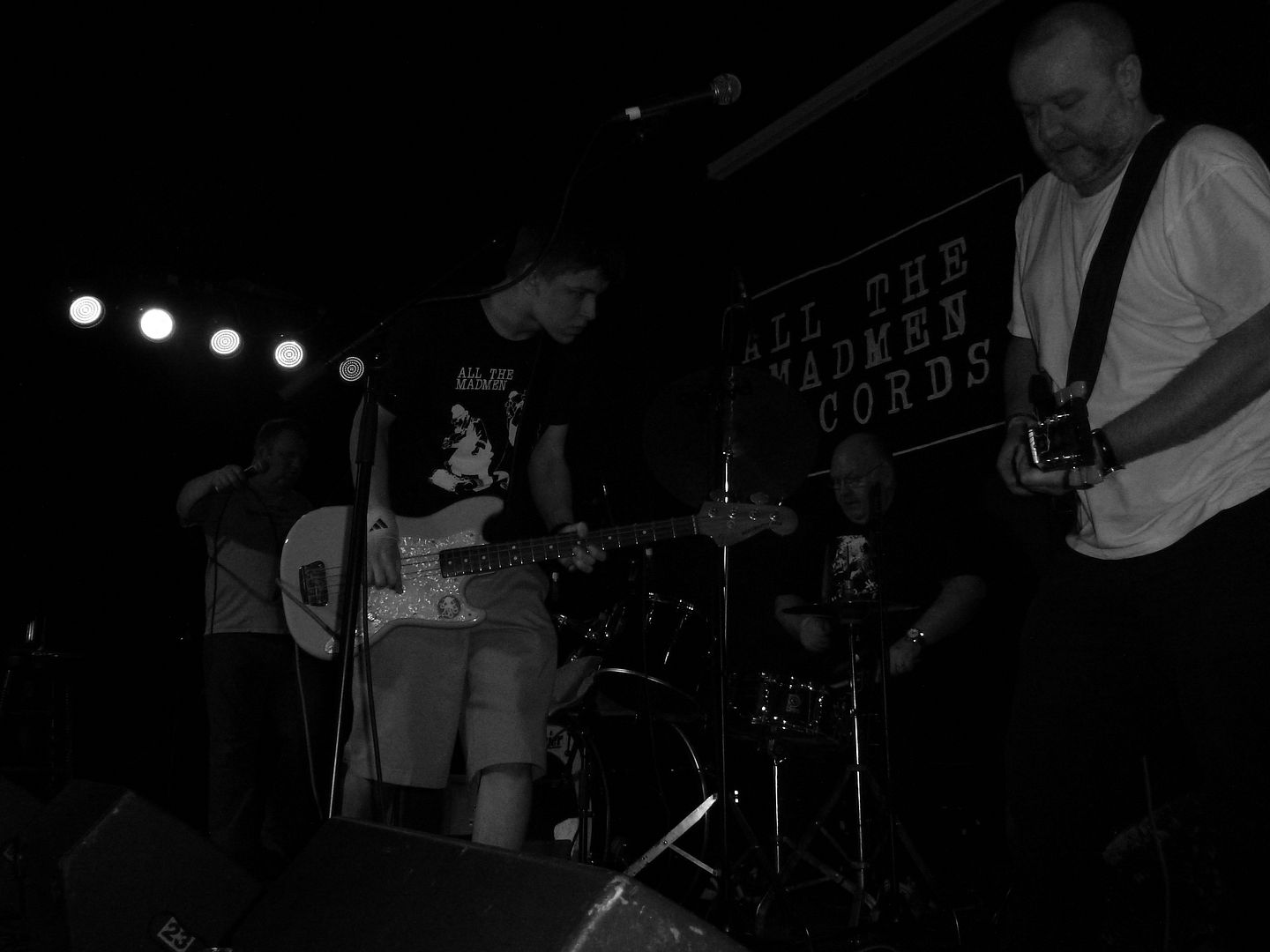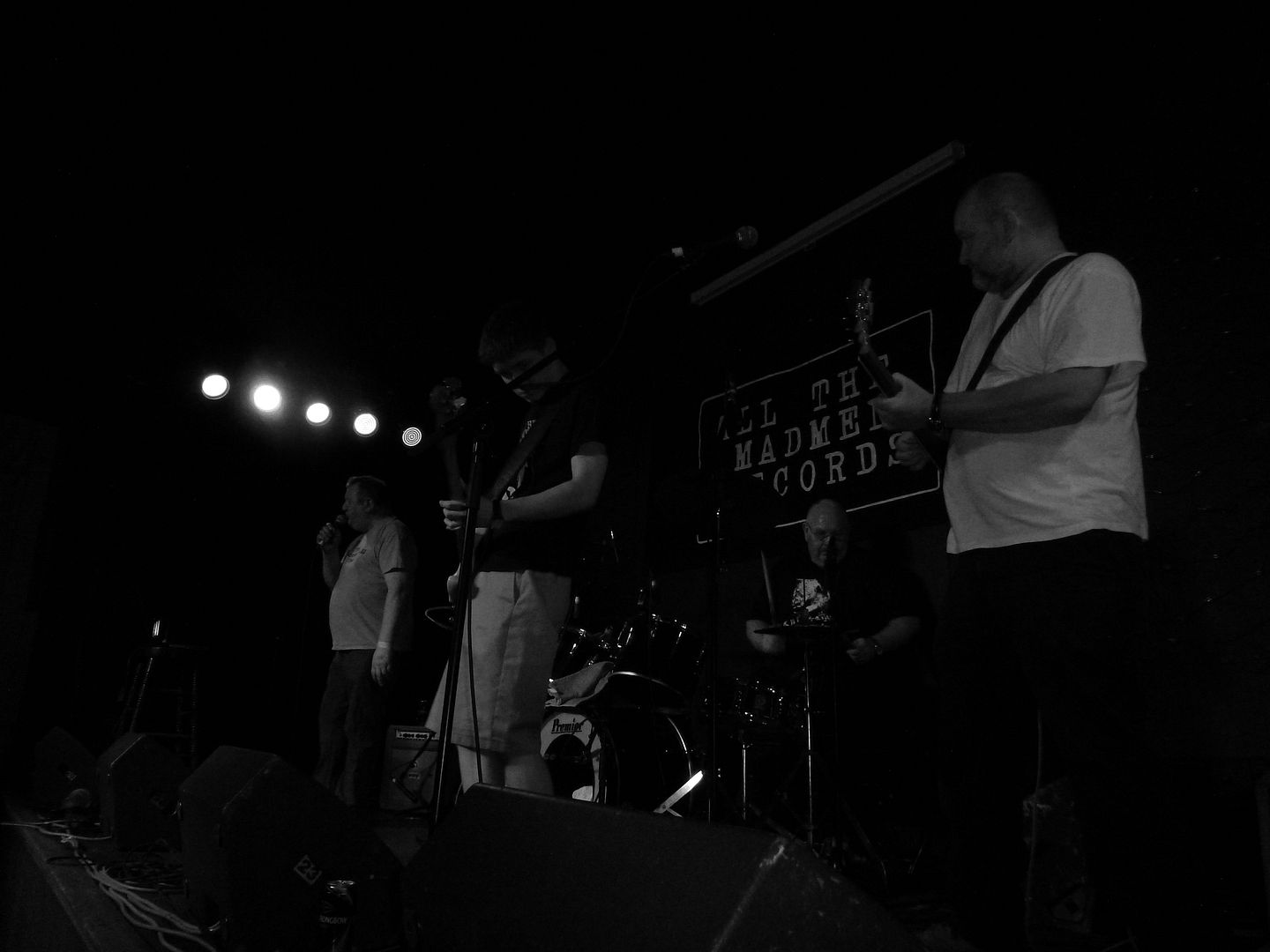 Kill Pretty clambered onto the stage and seemed to burst into a version of a Fall track of which I can not remember the name! Members (or a member) of Kill Pretty were in an early incantation of The Fall back in 1978. Other members were in Manchester's premier underdogs from that late 1970's era, The Hamsters. The first track the band play does sound really familiar to The Fall but different enough to put me off the scent. Ah ha I got it possibly 'No Xmas For John Quays', this first track by Kill Pretty is a version of that classic track by The Fall from the debut LP 'Witch Trials'. I think.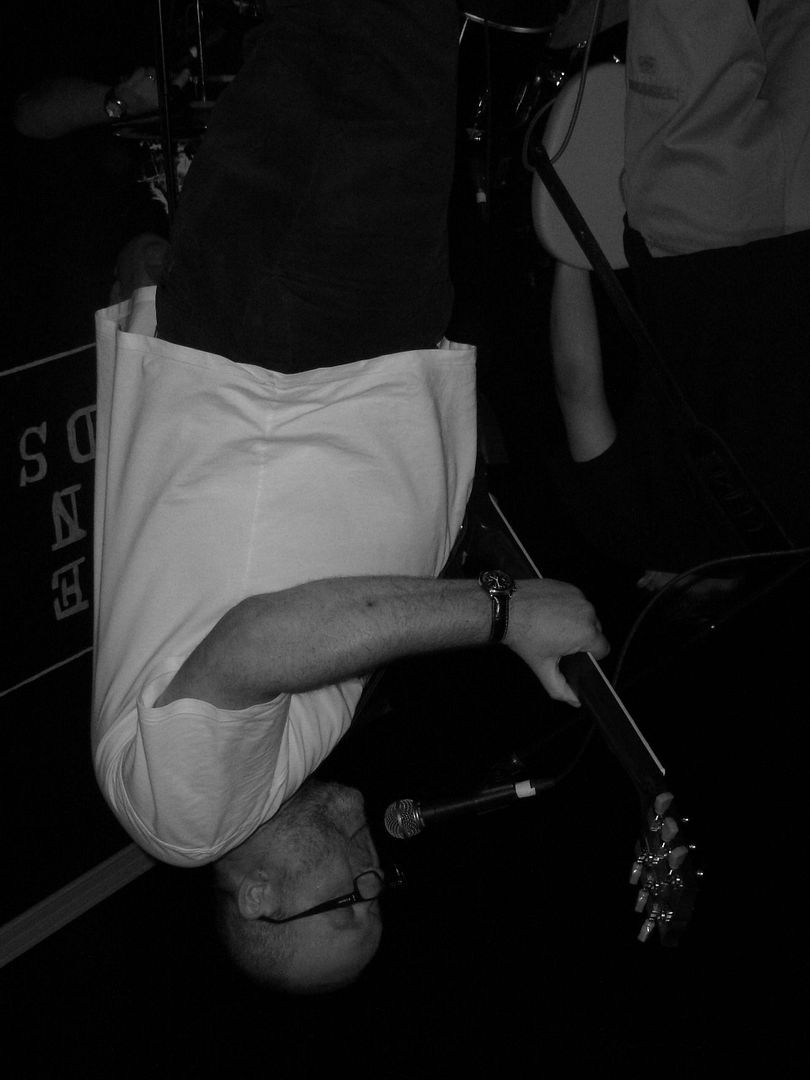 Kill Pretty are an interesting band, and after seeing them at Brixton Jamm in November 2011 and again here at the Boston Arms in 2012 I am seriously looking forward to hearing the debut studio LP that I think is planned for release on All The Madmen records shortly. I reckon it could be a fine release indeed.
On stage tuning up are The Mob. The background music prior to the band riffing into the first track 'What's Going On' is the original 'All The Madmen' track by David Bowie which was featured on his seminal 1971 LP 'The Man Who Sold The World'. "What a inspired choice" I mentioned to Curtis up on the stage. Curtis replying without words, but instead with a huge smile.
The band starting the set a fair bit later than originally billed. This was annoyingly late for some poor souls who had to skip out of the venue much earlier than anticipated to ensure they caught the last train from Tufnell Park to travel to places unknown, after only half a dozen tracks by The Mob.
Apologies to all who had to leave early due to the time slots overrunning. Hopefully this whole performance download exclusive to KYPP will help to ease the annoyance you might have felt on the night. Probably not but… Peck, Bernie and Seema, all of whom I know well had to skip early which was a massive shame.
The performance itself was performed at a fair rate of knots. Mark sailing his way through the waves of the back catalogue with possibly one eye on the time. Curtis and Graham fared well with keeping up to the speed of Mark's buzz guitar.
A new song was unveiled on these shores for the very first time, it was great to be here for that musical landmark. 'Rise Up' is a sturdy work which is both fresh and also has a sound that fits the band well. This track, I believe will be the first new track recorded by The Mob on the All The Madmen record label via the singles club. Hopefully the studio and the studio engineer can bring the best out of this track as in a live setting it sounds terrific.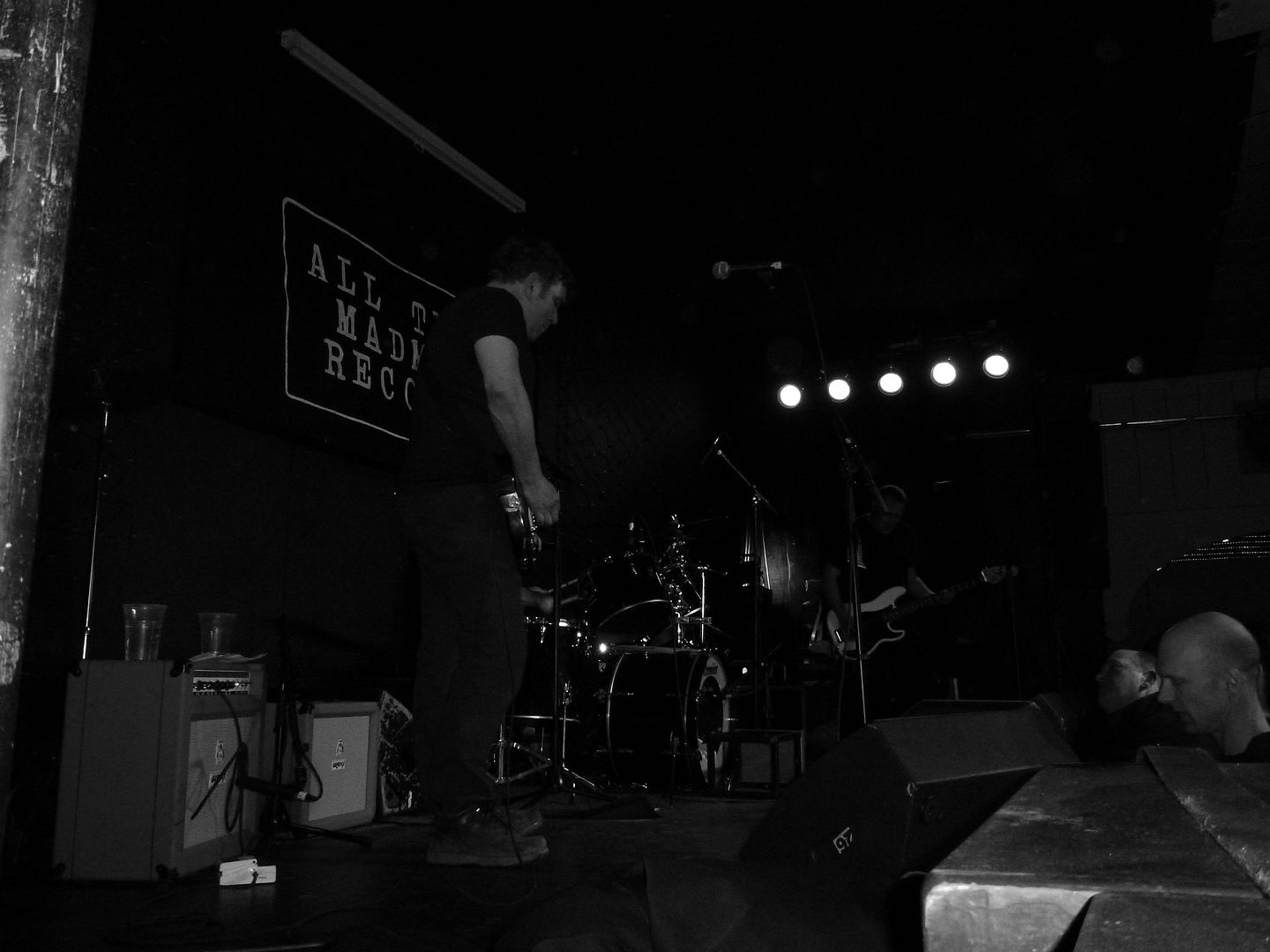 The Mob thundered on throughout the set and with the help of Grant Showbiz who made the P.A sound full and ballsy in the mix, it was an excellent ending of the night by an excellent band, and on top of  an already excellent day.
Helena who had travelled from Spain for this All The Madmen showcase event enjoyed it immensely. Jax who previously had no experience of these kind of events also enjoyed herself.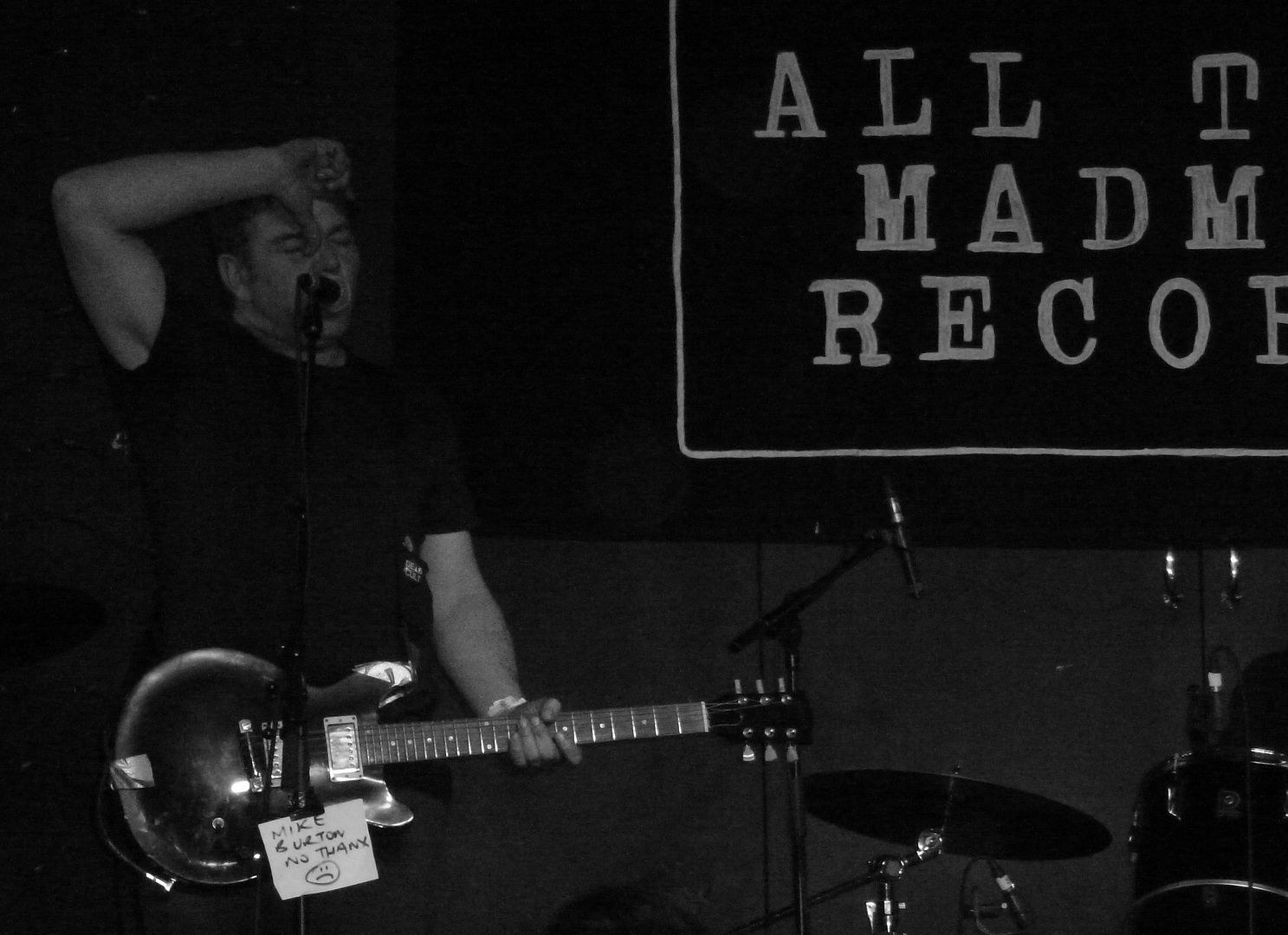 Helena, myself and Bobbler Jax Bird mingled around the hall for a while saying our goodbyes to anyone we knew, but the nice surprises did not end there. Mark from The Mob handed me several posters that he had brought back all the way from the recent tour of the U.S.A. One poster, a large screen print for the performance at the Mohawk in Texas was limited to only 100 copies. A nice thing to own and frame… Graham from The Mob then handed me his original cymbal case that he used to carry at gigs and practises that The Mob performed in 1978/1979. The Mob stencil is still plainly visible upon this 'one off' artefact. I thanked them both immensely on the night and gladly took all these gifts home to display them at Penguin Towers sometime in the near future.
Thank you to Mark and Graham. I was truly touched…
…As was Palmer who was the vision of 'a rabbit in headlights' when a worse for wear Tony D tried to enhance him into his wicked spell. Not sure exactly what Tony's spell that would have been but it always nice to display photographs of our KYPP Lord and Master, specifically ones taken, ahem, late on in the evening. All hail our leader. Tony D.
Tony D, Bobbler Jax, Mitch, Helena and Mark F from Part 1 all posed for one last photograph as myself, Helena and Bobbler Jax Bird were heading out the venue. Mark F joined us for late night drinkies (that is tea and coffee to you) at Penguin Towers which was an added pleasure. We flaked out around three or four in the morning and all met up over breakfast with slightly sore heads and the excitable toddler running around us.
A special day and night for sure.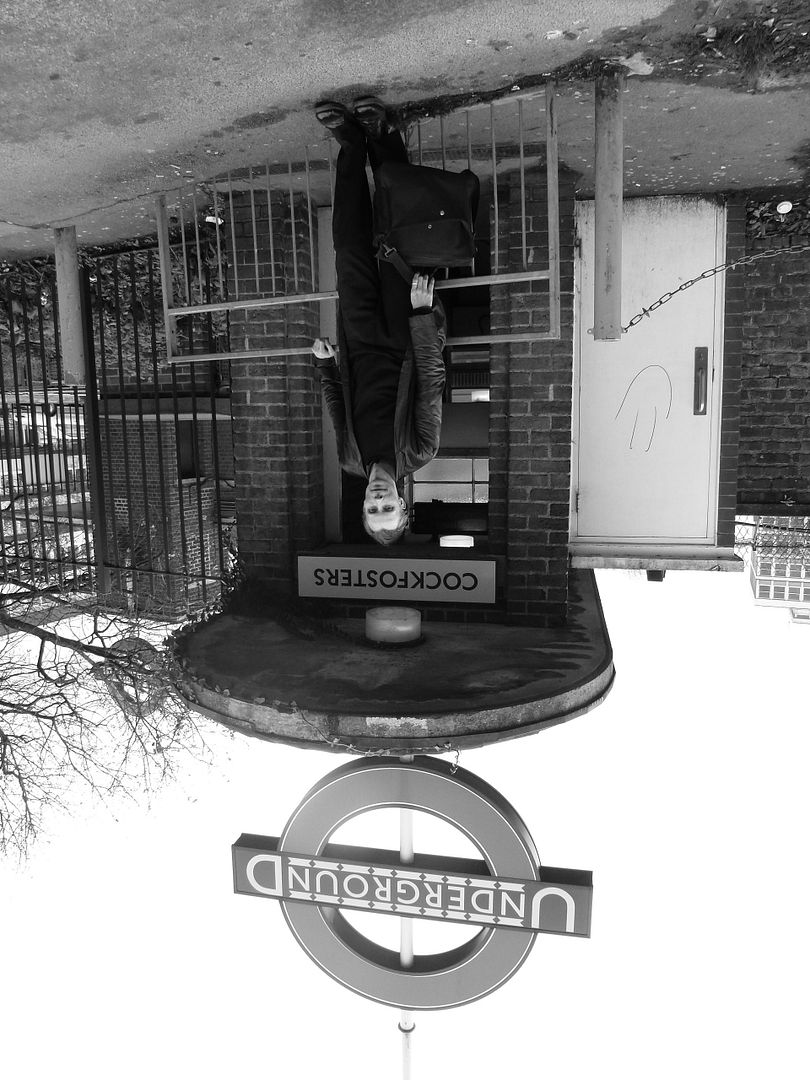 I drove Mark F to Cockfosters underground station with Helena coming along for the ride. Mark F had to catch ghoul train back to Teddington. We both wished the traveller well and wished him a safe flight out of the extremes of north London to his own green and pleasant land somewhere south and west of the capital. Later on that day Helena joined myself and Jax for the toddler's primary school Christmas fete and later still we all went along to the Hampstead Free Church for an evening performance of the Finchley Choral society to witness B.A. Nana from Crass performing his bass parts in the beautiful setting of the church.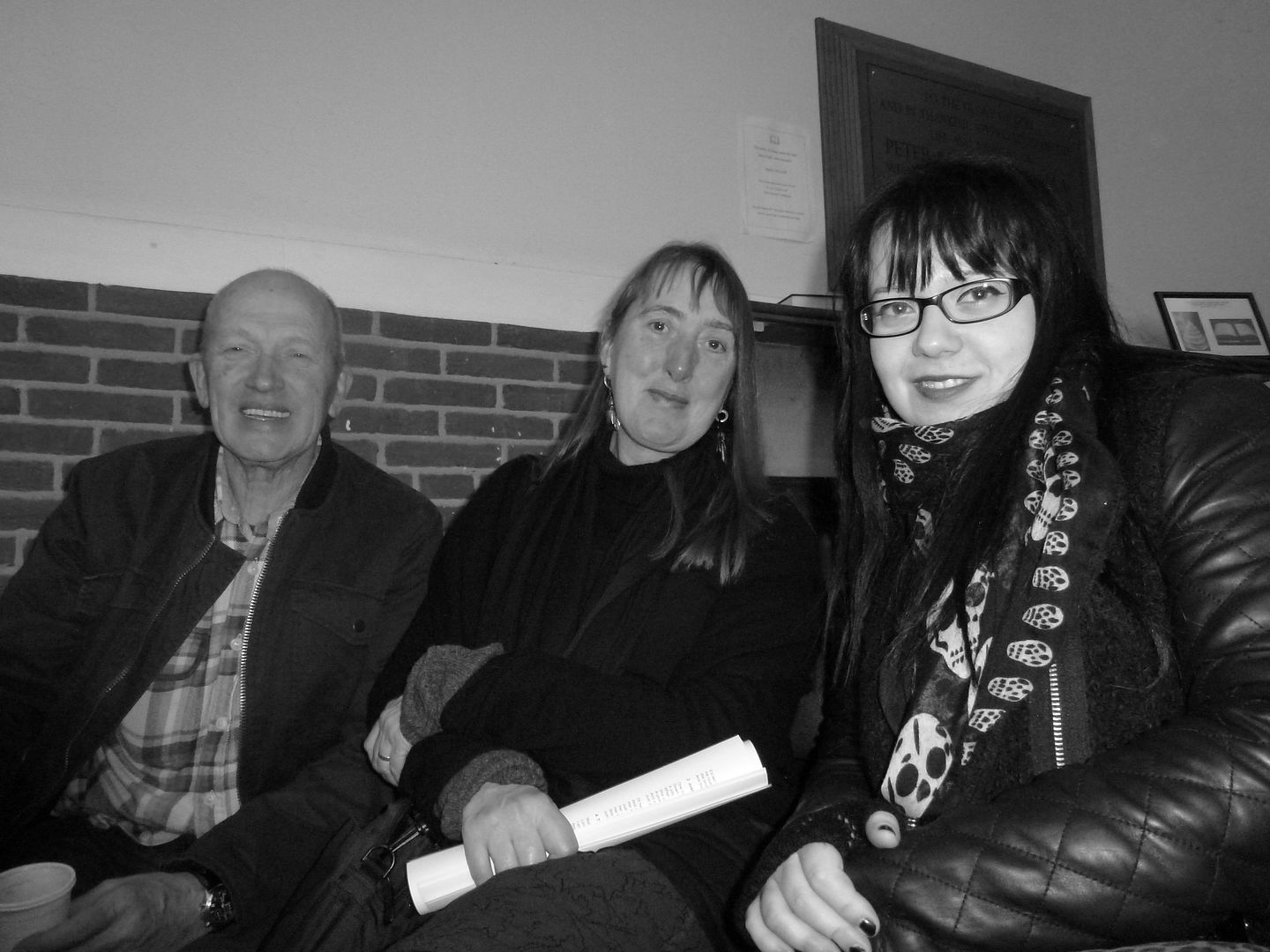 Although we were meant to be meeting up with Pete Wright of Crass and Martin of Flux, sadly neither of which could attend for different reasons we did end up sitting in the audience alongside Phil Free and Joy De Vivre two other ex members of Crass. I had not seen 'Pip' for many years and I used to know him very well. I took a single photograph of 'Pip,' Helena and Joy at this event to add to the photographic dairy I was producing for Helena's long weekend. A wonderful weekend.
It did not end there. We took her to a garden centre on the Sunday afternoon, the last day she stayed at Penguin Towers. Not quite as exciting as the previous two days might have been but I figured that we as a family needed to 'keep it real'!
I burned onto DVDR all the photographs I had taken at Dial House, at the All The Madmen showcase and at the Hampstead Free Church for her to keep and hopefully cherish. She was also given a load of 'seconds' I had in my vinyl collection. Several original Crass 7″ singles, a KUKL LP test pressing, a Rubella Ballet 'Ballet Bag' cassette package and Part 1 single were among other rarities given to her which I hope she will enjoy owning.  Actually I know she will do.
Myself, Jax and the toddler drove Helena back to where our long weekend had originally started. Plentiful hugs outside Epping underground station before she went through the barriers for the trip back to her friend in Bow where she would be staying for the rest of her short stay in London.
Thanks to Helena for being a great guest and for bringing presents for all the 'Penguins' from Portugal and Spain.
Anyone interested in All The Madmen products may browse the website HERE This link takes you to information on the 7″ singles club but you may navigate from there.
This whole post on KYPP is dedicated to myself whose birthday it is today. Happy birthday to myself!