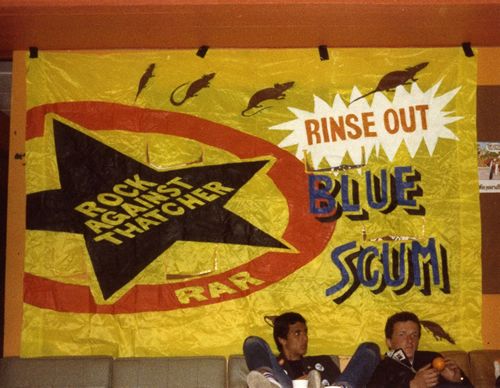 Rat Skank / Heavy Manners / The Burden / Airport Arrest / Arranged Marriage / Siege And Turmoil / Culture Crossover / Asian Youth
Much indebted to Luc Tran from UNIT for remastering all the above tracks by Alien Kulture and also for writing the text below.
Thank you very much for your time and effort that you have put into this post.
There are two other Alien Kulture posts on KYPP HERE and HERE if you wish to have a peek. If you like band's that are similar to Stiff Little Fingers then you will love the material by this band.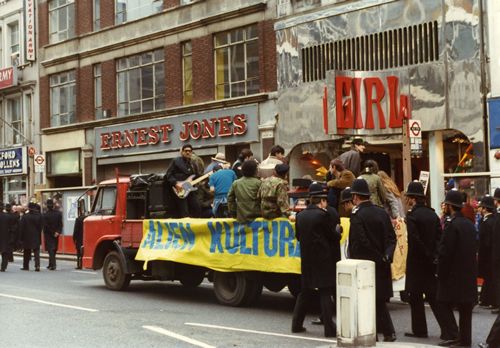 ALIEN KULTURE – SWAMPED!
In 1980, in an address on immigration, British prime minister Margaret Thatcher warned the nation of the dangers of being swamped by alien cultures. By 1981 Britain rejoiced in having the first and so far only Pakistani punk group in the world. They recorded just eight tracks in their brief career, all of which are included here. All the fuss made over us in our band UNIT is no doubt entirely justified but don't forget – Alien Kulture did it first – twenty years earlier. Respect!
01   Rat Skank   Unreleased cassette   1981
02   Heavy Manners   Unreleased cassette   1981
03   The Burden   Unreleased cassette   1981
04   Airport Arrest   Unreleased cassette   1981
05   Arranged Marriage   Unreleased cassette   1981
06   Siege & Turmoil   Unreleased cassette   1981
07   Culture Crossover   Single 'b' side   1980
08   Asian Youth   Single 'a' side   1980
PERVEZ BILGRAMI: Vocals.  HUW JONES: Guitar.  AUSAF ABBAS: Bass Guitar.  AZHAR RANA: Drums.
Recorded at Foel Studio 1980 – 1981. Engineered by Dave Andrews.
Remastered from the original analogue sources by Luc Tran.
COME AND GET SWAMPED – AN INTRODUCTION
To people new to the band UNIT, I'm their keyboard player and I was born in 1989. This means these tracks were recorded nearly eight years before I made my entrance into the world. I discovered the anarcho-punk scene and what it meant to be opposed to the establishment in Britain under Margaret Thatcher as a result of a book by Ian Glasper called The Day The Country Died. Through it I discovered Anthrax, Hagar The Womb and The Living Legends. We recorded four covers of Anthrax pieces (despite objections and complaints from the other two group members of UNIT at the time) on our 9th album and invited Ian Bone of The Living Legends and anarchist newspaper Class War to appear on our next album (called Class War). So why did we decide to record our own versions of four tracks by Alien Kulture?
Mick Penguin is the moderator of the Kill Your Pet Puppy blog, who also works at Southern Record Distribution which was until quite recently linked with Southern Studios. He sent UNIT's singer, ex Apostles member, Andy Martin, a CD onto which he'd burned six tracks by Alien Kulture. The cassette originally belonged to Chris Low (the drummer with The Apostles in the early 1980s and The Parkinsons in the 1990s) who had kept it in almost pristine condition since 1983. These tracks were recorded in 1981 and apparently never officially released. Andy gave them to me to remaster (remove tape hiss, restore bass and treble frequencies etc) and as I listened to them I realised that here was something special, something unusual and something highly individual.
When Andy told me they were a band comprised of three Pakistanis (Pervez Bilgrami, Ausaf Abbas, Azhar Rana) and one white English fella (Huw Jones), I was astonished because I thought UNIT were the first group to contain that kind of set up (i.e. three British born Chinese lads and a white fella). He told me the group also released a single but that it was so obscure, I'd never be able to find a copy. Well, he under-estimated my perseverance on e-bay. I found a shop in Portobello Road that had a copy – the only one for sale anywhere in the world – for a mere £35. Sod it, I gave Andy the notes and told him to go and buy it. That's how impressed I was already with the six tracks I'd heard on that cassette. (I work full time during the day for a publisher and work part time for my parents take-away three nights a week so I'm allowed to waste my hard earned cash on such luxuries. Then Andy, with a malicious grin on his face, showed me the Alien Kulture feature on the KYPP site which included the information that Penguin was sent a free copy because the son of one of the original members of the band was commenting on the site – bah humbug!)
I was relieved to discover the record I had purchased was a near mint copy that looked unplayed so when I transferred it into digital format, very little work was required to bring it up to the contemporary standard modern listeners expect and deserve. Obviously the original master tapes to all these eight tracks have long since vanished so that was never an option. The single was the only record released by Rock Against Racism, a dubious but initially well intentioned group of middle class socialists who were popular for a brief period during the late 1970's and early 1980s to combat the two fascist political groups in Britain, the National Front and the British Movement (both of which later transformed themselves into what is now the British National Party). Political groups that both either organised or at least encouraged racial assaults against West Indian and Asian people in Britain.
My only regret is that Alien Kulture weren't able to consolidate this early success and record an entire album of works. However, even the eight tracks which comprise their complete recorded repertoire have remained virtually unknown or forgotten since the 1980s. So thank you Mick Penguin for inadvertently introducing me to Alien Kulture, thank you Chris Low for keeping an excellant condition copy of that cassette tape since 1983 and thank you Andy Martin for additional information on the group and for legging it all the way to west London to buy that single.
ONE LAW FOR THEM AND ANOTHER LAW FOR US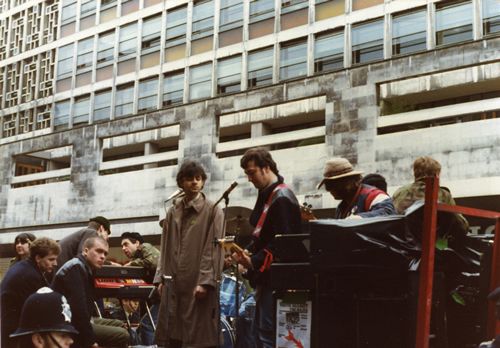 In the 1980s it became a popular trend for records by independent groups to have messages etched into the run-off grooves. This refers to a narrow area after the main playing section and before the label itself. On the 'b' side is written 'Alien Kulture Love Asian Youth' while the 'a' side warns 'Remember Southall And Newham'. This last statement refers to two major incidents in south and east London, each of which motivated Alien Kulture to take themselves seriously once their embarked on their brief career.
The Southall event centres around a concert in the Hamborough Tavern at which The 4 Skins, a skinhead band with strong fascist sympathies, were due to play. While the band hardly constituted a threat themselves, their legion of cromagnon followers took pride in the number of racial assaults they committed on a regular basis. These assaults were generally against very small numbers of Asians who were unable to defend themselves. On this occasion, the Asian community in Southall decided to wreck the concert, set fire to the pub and hospitalise as many skinheads as possible.
Unfortunately, no skinheads actually died that night but the frequency with which these cowardly thugs attacked ethnic minorities decreased rapidly as more and more skinheads began to purchase brown trousers and stay indoors at night. After all these years surely I should express some sympathy for the skinheads who attended the concert with no intention to cause trouble? Not in the least – I loathe them all. Bullies, national socialists and racists deserve to die and that's all there is to it.
In fact, should fascist groups like The 4 Skins and Skrewdriver have been allowed to release records and play concerts? Yes – beyond any doubt. They have as much right to be seen and heard as anyone else. However, there is a large Asian community in Southall. Throughout the 1970s they had been attacked and assaulted by skinheads and other local racists. To organise a concert for fascist bands in the centre of a multicultural area is not only insensitive (stupid would be a better word) but also provocative.
Here's what Andy Martin wrote to me in an e-mail after I'd asked him what it was like for immigrants in Britian during the 1980s: "Readers born after 1980 will be unable to appreciate the climate of fear and fury generated by the police and by these neo-nazi gangs, each of which committed vicious racial assaults in this decade while Thatcher and her government either ignored or even tacticly supported such behaviour, especially when perpetrated by the police."
After a search through websites that reproduce various punk fanzines of the era, I was not able to find a single mention of Alien Kulture in any of them – maybe I looked in the wrong places or simply didn't spend enough time on the net? Whenever The Apostles were mentioned (and that wasn't often), it usually seemed to be in as insulting a manner as possible. I found out from Dave Fanning (who was our bass guitarist until 2005 and was also a main stay in The Apostles) one of the major bands on the Crass label, DIRT, included two members who sported neo-nazi tattoos. I was finally able to comprehend just why Andy was so relentlessly hostile toward punk rock and the anarcho punk scene in particular.
From 2000 to 2002, UNIT had three other British born Chinese members (Lang Kin Tung, Gieng San Man and Ngo Achoi). I read the reviews of their concerts and later spoke to Achoi about certain gigs too. Various audience members shouted out racial abuse at some of these live events ("**** off back to your take-away you ****ing Chinks" was the most infamous example) but this only occurred when UNIT played in front of punks. When we play in universities before students, we receive a different kind of heckling: "prog rock died thirty years ago – get with the century" being my own favourite!
Since Zhang Yao Min, Wong Yit Sinh and I joined the group, nobody has given us any racial abuse – they wouldn't dare, because they know what would happen if they tried it. Look, it's the 21st century – surely this kind of ridiculous behaviour is obsolete by now? Anyway, I really hope Alien Kulture never had to endure that kind of bigotry but, knowing the British punk scene, I suspect they probably did.
OUR COLOURFUL CULTURE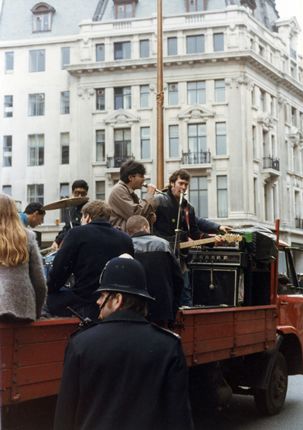 In 2001 when UNIT released their 2nd album Sons Of The Dragon: almost all the works that included traditional Chinese themes or Chinese lyrical subjects were written by Andy Martin. The Chinese lads virtually ignored their ethnicity since not only did they take it for granted but also they wanted to be respected for their work regardless of their racial origin. Ngo Achoi once told me he was a musician who happened to be Chinese rather than a Chinese musician. The distinction is subtle but important.
One other similarity between Alien Kulture and UNIT exists: the total absence of role models. There had never been a Pakistani pop group of any kind before Alien Kulture were formed. That created its own problem, particularly from people who expected some form of Asian exoticism and were disappointed when the band played their own brand of tuneful, melodic pop music in a strictly western style. Prior to the formation of UNIT, there had never been any Chinese pop groups in any genre in Europe or America although there was one brave, bold individual who sought to give us a voice in a different genre.
The Chinese American rapper Jin Au Yeung was faced with this problem as audiences expressed a desire to hear about what they perceived to be Chinese issues. Jin was born in America and could hardly speak Cantonese properly himself; he faced a major problem: how to be a role model for other Chinese rappers while he remained true to his own artistic integrity. This was also our own problem – more so, actually, because the vast majority of rock musicians in our specific genre have all been white. Demands met with expectations from audiences, most of which were inevitably destined not to be fulfilled because it was never our intention to play the 'oriental local colour' card for the entertainment of middle class white audiences.
There were two other racially mixed punk bands during the 1980s that I know about (if there were / are more then please add to this blog and let us know): an obscure outfit from Manchester called Death Sentence (two black African brothers on guitar and drums, a white punk on bass guitar and a white skinhead on vocals) and (of course) the superb Hagar The Womb with their Asian guitarist and black bass guitarist. I don't think many people bothered to inflict racial abuse upon them because they were too busy being condescending and patronising toward the four women in the sextet that comprised that band!
I grew up in a house where Cantopop and Chinese music was virtually all I heard so is it any wonder I want our group to play other kinds of music? There really is something incredibly offensive about white middle class people who seek to relieve the boredom of their facile lives by calling for ethnic exoticism from groups, writers and artists of non-white origin. We are not in business merely to titillate their desires for an example of our 'colourful culture'. If they cared that much about it then they'd all fly to India, wreck every Coca-Cola factory and burn down every McDonalds in the land. Do that and then we'll certainly play them some traditional Chinese tunes. So now you can appreciate why we were inspired to cover no less than four Alian Kulture tracks and I to remaster the eight that they actually recorded themselves.
Rat Skank
There's a Grantham grocers' daughter – she is a national joke but the joke's gone sour – it's not funny anymore. She's doing things that are frightening, frightening and the pressure is tightening, tightening. Dangerous times for our people – they're trying to put us under, saying it's all in the national interest, things should be the way they are. We're going to rock – roots rock ratskank! Take a listen to what we say before she tries to take away any more of our rights because we're not going under without a fight. We're going to rock it to the ratskank now! Talking about an alien culture, tighten up the immigration laws. Make it hard to get an abortion, the only ones who want them are the 'dirty whores'. A womans' leader who doesn't care about a womans' right to choose, because she and her henchmen are making damned sure that a woman knows her place. Hitting at our everyday lives, trying to hit our people with their show trials, mucking things up for the future, they're trying to kick us out of town. Make her listen to what we say before she tries to take away any more of our rights as we're not going under without a fight. We're going to rock it to the ratskank now! Well she'd better know we've had enough and we'd better show her that we mean business. Fight back at her repression, fight her plans for our regression. Fight for the rights that cost so much. Fight for the right to run our lives. Fight for the people who are being put under as we're not going under without a fight – we're going to swamp her! Better call the rat catcher. Swamp her with our alien culture. Swamp her! Better rock against Thatcher!
Heavy Manners
Your looks are so staggering and I'll remember them. We'll probably never meet again but I know I'll remember you not only out for romance but also to build your ego. You want them all to run after you so you can tell everyone. Everyone is out to deceive – faith has no future, for we're all under heavy manners able not even to be sincere with the important things in life. You'll grow old one day with no-one by your side. You'll be on your death bed with no-one to hold your hand. Try to change if you can – I know it's hard. It'll make you all the more attractive, so much better. We all are under heavy manners.
The Burden
The white mans' burden is a heavy weight, borne on the shoulders of the Western States. The have helped to nurture mankind. They have cleansed and soothed the savage mind. They have engaged in mineral extortion. They have undermined a nations' life. They have instilled the old school values. They have enforced with the guns the fuse. They have redefined the moral structure and killed a nations' dream. We were only trying to help. Okay, so we made a few mistakes. We'll keep the Koh I Noor – you can have a British passport.
Airport Arrest
We came full of hopes and ambitions; we didn't dream it would be a nightmare. Immigration laws are just your customs for making strangers feel unwelcome. Families that only want to be together, there's always a barrier to happiness. Together in the old world, divided in the new, stopped by paper discrimination. A British passport is only a document, it was a passport to prosperity. Step up here for your virginity test – there's a first time for everything. Airport arrest – welcome to Harmondsworth. Welcome to your new council home. No rent, no bills, the only price we charge is the degredation of your soul: locks to keep you in, barbed wire to keep you from getting out.
Arranged Marriage
He's the product of another marriage, thoughts and character moulded by his parents. He did well at school and behaved himself; studied hard, now he doesn't know the difference between his and his parents' wants. He doesn't realise what's going on, too busy enjoying his short lived freedom. Mother searches for the perfect girl, perfect boy for the perfect girl. Perfect boy – perfect girl. Another aspect of the human meat market, branded for life for the sake of a wife. He didn't want the marriage transaction, but no-one wants to hurt their parents, do they? She was brought up very strictly, taught the virtues of an eastern woman. Truth, innocence, beauty and goodness was what she typified to nearly everyone, so her parents thought anyway. She realises what's going on, hears her mothers' whispers, her friends' cries: what is she to tell her boyfriend? What is she to tell her parents? She can't marry him – he's not a doctor, nor a lawyer nor even an accountant! Pressurised, she gives up her happiness – doesn't even know what the boy looks like – what does he look like? Childhood arranged, marriage arranged, now their whole life is arranged. Who's going to arrange their death? Everything is planned out now. She can stay at home, take care of the family, walk five paces behind him. He can go to work, bring back the daily wage, treat her like a piece of the furniture. It's only a matter of time before they arrange another. It only has to stop – it's up to you!
Siege & Turmoil
The blood is on the marble floor; the crescent's on the rise. Gather behind the religion, find sanctuary within the robes. Brainwash time for the masses, messages from the mountains. Your leaders sleep on rugs while Persian carpets lie idle. Siege and turmoil – we're living in a world of siege and turmoil. Long time between crusades – looks like time for another. New order beside the old – old order beside the new. Torture, blood and flogging – looks like it's here to spread. A religious state is something to die for – it's not worth living in. Siege and turmoil – we're living in a world of siege and turmoil. The fires of hell are burning and the flame has been lit again. Commit crime in the name of religion and bless it in the name of God. Brainwash time for the masses, messages from the mountains. The blood is still on the marble floor; the crescent is still on the rise.
Culture Crossover
First generation illegal immigrants, 2nd generation juvenile delinquents, torn between two cultures – caught in a culture crossover. We're taught how to pray five times a day but that's not what we're about. We just want to live out our lives, run and dance and sing and shout. Trapped in a void and we don't know just which way to turn, this way and that way but we're still stopped from having fun. We start off with clear minds which always end up cluttered. Parents say what we do and all our dreams end up being shattered. There's pressure all around us without having to fight our elders. All we need is understanding, to be happy and content. I don't want to go to Pakistan. I want to live my life here. I don't want to read the Koran – I want to read my NME! Caught in a culture crossover – I don't want a culture crossover.
Asian Youth
You want something to belong to. You want something to hold on to. You go to college. You read your books, you buy your white pegs and structureless jackets. At weekends you're on maximum pose down at the disco. Your elders want to control you. Your elders want to protect you. They're using their ancient values while living in the modern world. You kids end up wondering just who the hell you are. You come from different countries. You belong to different religions. You hate each other. You swear and fight but you don't realise that you're the same. Nothing's achieved by being divided. Why can't we be united? Asian youth, where have you been? Asian youth, you want to be seen. Asian youth, you don't know who to turn to – oh Asian youth.
UNIT PLAY ALIEN KULTURE
It had to happen – I couldn't resist it. I insisted we record our own versions some of these pieces so UJ, Richard (Wong Yit Sinh) and I picked one song each (fortunately the ones we liked best were all different) and the three of us each made our own arrangements of them. I then decided to adopt Rat Skank into an instrumental called Rat Skunk because while I like the music, I had to omit the out-dated lyric. Obviously we removed all traces of any punk influences from the pieces (it is 2010 after all). The four tracks are to be issued on our album Bread & Circuses which at the time of writing (July 2010) is about two thirds complete – we intend it to be available before Christmas.
Since I started these notes I learned that in 1983 Andy was also in correspondence with both Pervez and with Rob Beasley, a college friend who was the manager of Alien Kulture. This was useful since it enabled me to find their colourful website HERE . This contains videos of the group playing live and also interviews for the BBC and an Asian programme in Urdu although the group give the interview in English.
So what are the ex-members of the group doing now?
Huw Jones works for a local government department in Leeds that advises the council on housing – well, that's not too extreme, is it?
Pervez Bilgrami runs his own recruitment agency with his wife in Baker Street – that sounds rather more up market but then one of his neighbours is Noel Gallagher.
Now we enter the big league: Azhar Rana is a partner in a firm of chartered accounts.
However, I save the best until last: Ausaf Abbas is the managing director of an American investment bank and he is based on the 14th floor of an office tower block in Canary Wharf.
Finally, the children of all three Asian members all attend private schools. By the way, only one of the members still votes Labour – the managing director of that American investment bank, Ausaf Abbas. That may not tell us much about Mr Abbas but it tells us a lot about New Labour. To be fair, apart from those impolite references to Margaret Thatcher in Rat Skank, not one of their tracks actually attacks capitalism so they can't really be accused of hypocrisy or even 'selling out' (whatever that actually means). In any case, would you prefer it if they were all poor, starving and homeless? Punk rock – Better rock against Thatcher – yeah!
Luc Tran 2010
PO Box 45885, London E11 1UW
unitunited@yahoo.com
Anyone interested in getting a taste of what UNIT sound like may like to go to the post 86 section of  the KYPP blog or for a short cut press right HERE
06/10/10 NEW ADDITION TO THIS POST:
Andy Martin has sent me four tracks by UNIT covering some of the Alien Kulture material above, and decent fare it is too. Give the tracks a listen…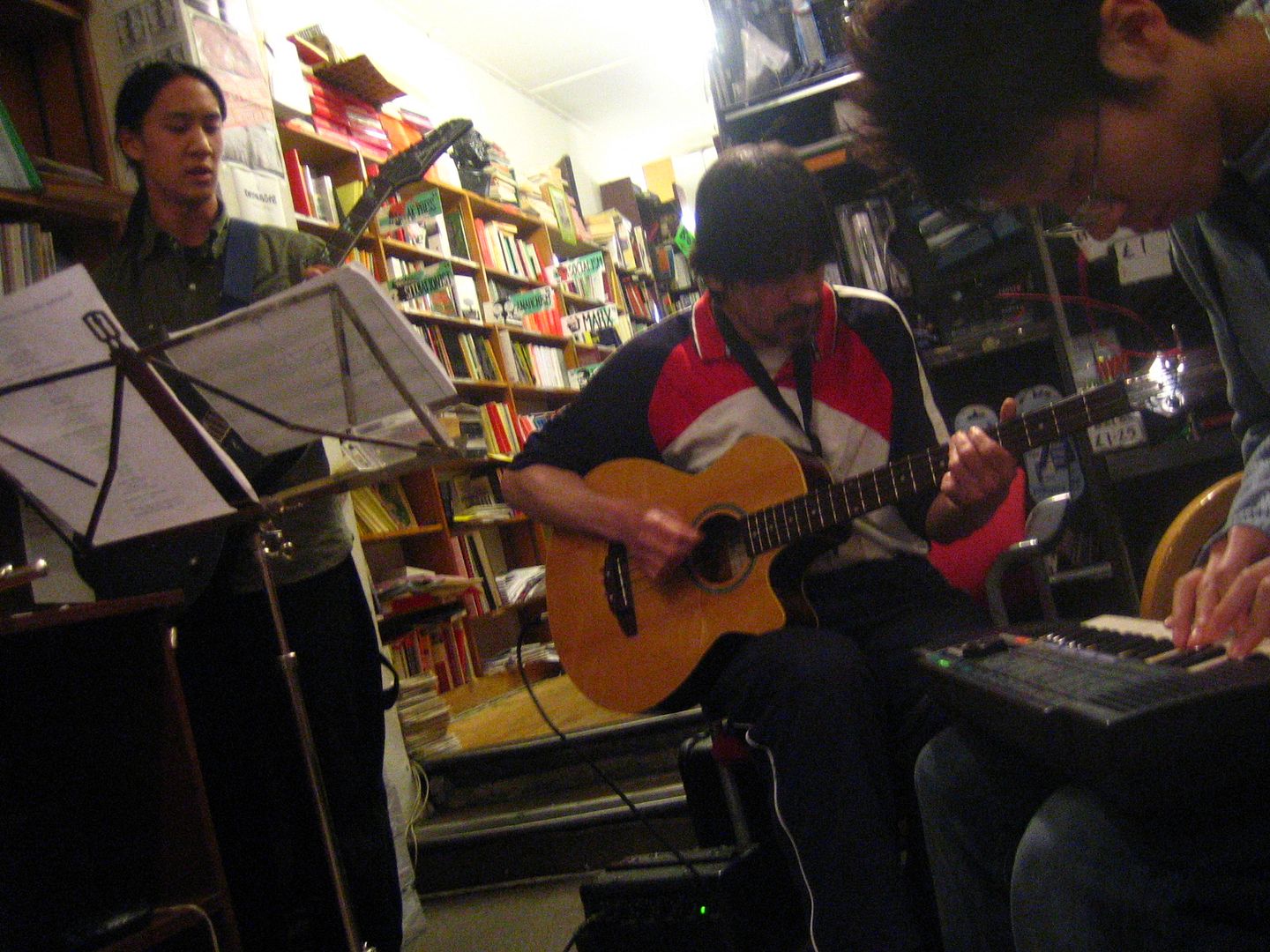 Rat Skunk / Asian Youth / Siege And Turnoil / Arranged Marriage
UNIT for these recordings consist of:
UJ; flute, guitar, bass guitar
Luc Tran; piano, casio, vibraphone, keyboards
Wong Yit Sinh; marimba, drums, vocals
Andy Martin; vocals on tracks 2,3,4
Thanks to Andy Martin and the rest of UNIT for this great material.