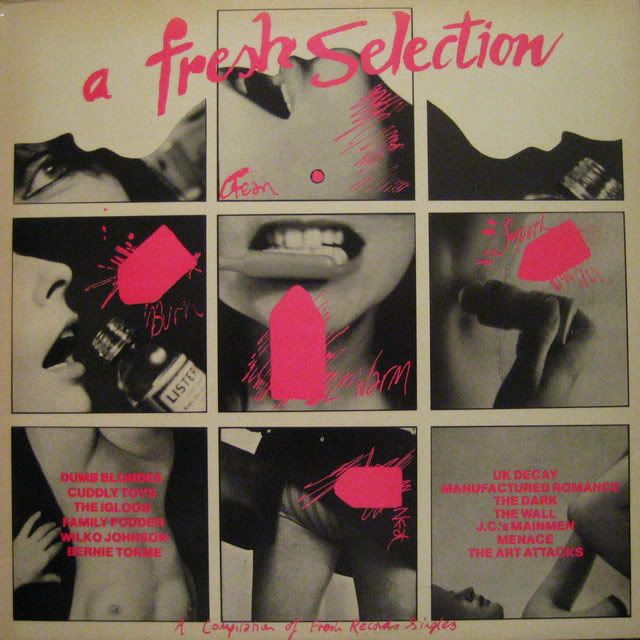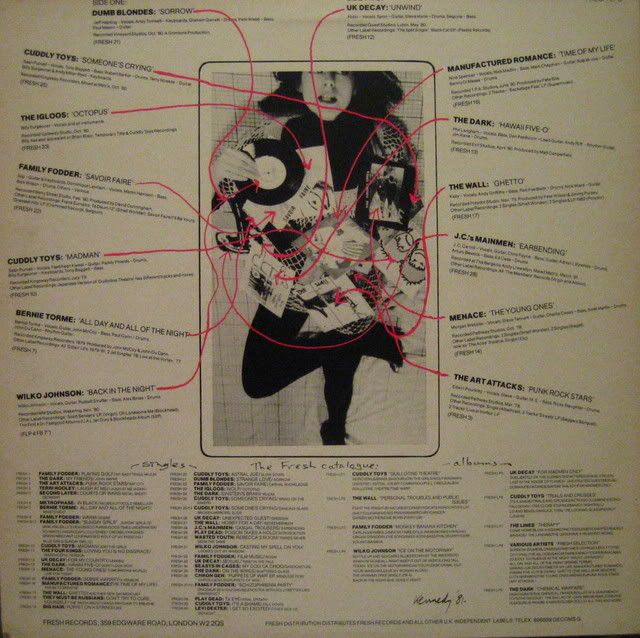 Dumb Blondes – Sorrow / Cuddly Toys – Someone's Crying / The Igloos – Octopus / Family Fodder – Savoir Faire / Cuddly Toys – Madman / Wilko Johnson – Back In The Night / Bernie Torme – All Day And All Night
UK Decay – Unwind / Manufactured Romance – Times Of The Life / The Dark – Hawaii Five O / The Wall – Ghetto / J.C.s Mainmen – Earbending / Menace – The Young One's / The Art Attacks – Punk Rock Stars
A great compilation of recordings from 1979 until 1981 UK Decay, The Wall and The Art Attacks…great stuff. Also some Cuddly Toys and Family Fodder for good measure…What more do you want?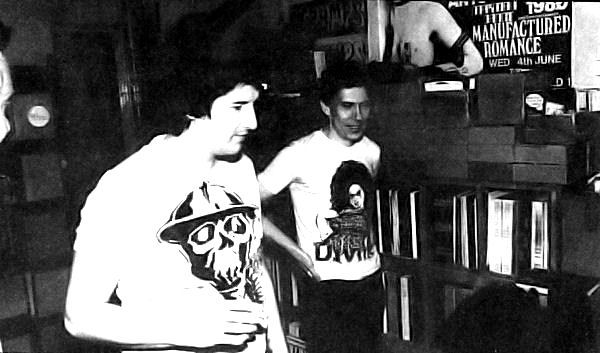 The seeds of Fresh Records were sown in Alex Howe's Wretched Records stall in London's Soho Market in 1978. Alex also ran a mail-order service, and demand from other shops for the Buzzcock's 'Spiral Scratch' EP led him to start Fresh Distribution. Bands such as the Art Attacks, Second Layer, UK Decay and Manufactured Romance came to the stall looking for an outlet for their records. Alan Hauser joined Alex in 1979 bringing his Parole Records label with Family Fodder, Cuddly Toys, The Wall and Bernie Torme to set up the Fresh Records label, and the roster quickly took shape.
A quick glance at Sounds venerated AIternative, Oi Oi and Futurist charts discloses a healthy cluster of waxings from Fresh Records bedding down with releases from other independents. UK Decay, Family Fodder, The Wall, Cuddly Toys, Manufactured Romance, Dumb Blondes and The Dark … a large number of brain screwing, provocative, enjoyable or excruciatingly painful offerings arrive at our (now even more luxurious} offices from Fresh each week. Fresh are typical of an 'Indie' going places fast. But will the smell of success turn into another corporate stink?
Time for an insight-style probe.
Alex "Don't quote me on that" Howe is label boss, catalyst and hustler. His deceptive 'need a drink or some sleep' image hides a very sharp mind, and an obscene amount of physical energy. He'll have a chat while dealing with a publishing agreement, and hold three phone calls simultaneously. Then go and bop to a fave band till four in the morning.
His running partner Alan "you've caught us at a busy time" Hauser. Alan's the label manager, a diplomat who'd turn 'no shit, meathead' into 'we wouldn't look too favourably on that'. He can put on that pained expression, like he's got the whole weight of the record business on his shoulders, and have a grin over a pint seconds later. That comes from risking life, limb and overdraft on a band called Raped and a record company Parole.
In the office, where you couldn't swing a gerbil let alone a proverbial cat, it was hard to tell who was staff and who were band members. Who did what?
"Charlie Casey's ex Menace and now our distribution manager and organises gigs. Phil, from The Dark, is on telephone sales, Graham Combi's a nutter and supplies the shops and John's Knight is my trouble shooter well, the person who glues the phone back together when I get annoyed."
Other group members could be seen generally helping out and getting artwork for labels and sleeves together. "Every outfit does their own artwork we try and make the organisation mutually self reliant".
So far, all seemed OK if not actually beautiful.
"The advantage of having musicians around is extra ears! They're in contact with the gig scene, can get opinions from other bands, and give us a much more objective view than if we just had one A&R who had to be levered out of his office". Alan signifies agreement.
So how did these widely differing personalities team up?
Alan formed Parole Records to release material by Raped. "Things started to get serious in late '78. Other companies refused to touch the band shocked puritanism could describe their reaction!"
My eyes misted over at the memory of that first pair of bondage pants down the Roxy.
"There were other bands like The Disturbed and 4 Kings that I wanted to put out, and before I knew it I was doing twenty different jobs and trying to look confident when I went to my bank."
Meanwhile, Alex was starting a record shop, working in close association with Rough Trade.
"It was little more than a pre-fab garage, really wretched, hence the name Wretched Records. I knew a few street market sellers, had met Alan some years before, and I was able to get some of his records on the street".
Pause for a quick argument over who did what.
The conversation drifted round to various 'Indies' – Small Wonder, Rough Trade and it seemed as if there was a bit of an old boys network going on, eh Alex?
"Err, yep but it's a positive thing, things evolved around that time a lot of like minded people suddenly decided to do it, and help each other out. We were able to form a network, outside the majors, without the hassles of rivalry which plague the large companies. I don't want to sound all clinical about this, but combining a retail shop, mail order, your own distribution and finally a label is a perfect, self supporting format. Point is, we're young, enthusiastic and are totally behind the music. Being a businessman isn't a consideration. We're not."
Would Fresh sell out to a major, or do a licensing deal?
"We're both agreed never. Because there're all these 'Indies' working together now, we'll be in a very strong position within six months. We keep in contact with Rough Trade, Red Rhino, Revolver, Discount and Inferno, and we can cover the whole country and keep costs down. EMI were amazed when I told them we broke even on under 2000 sales."
Rough Trade have a reputation of 'letting the music sell itself and not following through with their acts. What's the Fresh approach?
"Rough Trade have got this policy I respect and they're genuine in what they do. Afraid I'm more aggressive. Just look at the stunts the majors pull to break' acts, cut-throat tactics, and if we're too passive, people won't get a chance of alternative music"
(First Published in SOUNDS November 15th 1980)