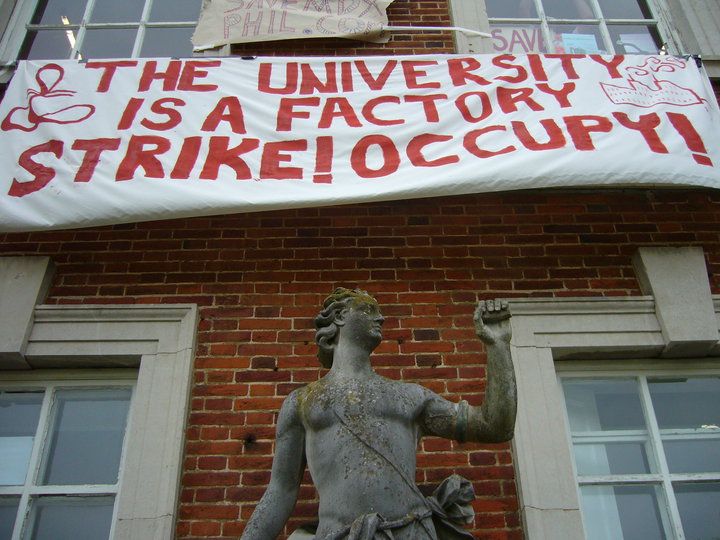 I was going to write about this occupation / protest by Middlesex University students since I love the situationist style of their banner 'The university is a factory. Strike! Occupy!'. Instead I have been busy with the Gary Critchley campaign. So it goes.
What I was going to do was connect the occupation / protest to David Harvey's new book The Enigma of Capital which I have just finished reading. And put in a link to Housmans online bookshop and say 'buy this book' for £14.99 .
Why? It is a damn good read and takes Marx's critique of capitalism / political economy and applies it to the ongoing 'credit crunch' as the latest in a 300 year old sequence of economic crises -one of which (1974-1985) gave accidental birth to punk. Harvey argues that the current global credit crisis can be traced back to the one which (my point, not his) spawned punk.
Although Harvey is an expert on Marx, he is not a tedious Marxist. A fair chunk of his analysis overlaps with and supports the situationists' / Guy Debord / Society of the Spectacle update of Marx – but with the added benefit of forty plus years of extra hindsight. To quote the product profile
For three centuries the capitalist system has shaped western society, informed its rulers, and conditioned the lives of its people. Using his unrivalled knowledge of the subject, Harvey lays bare the follies of the international financial system, looking closely at the nature of capitalism, how it works and why sometimes it doesn't. He examines the vast flows of money that surge round the world in daily volumes well in excess of the sum of all its economies. He looks at the cycles of boom and bust in the world's housing and stock markets and shows that periodic episodes of meltdown are not only inevitable in the capitalist system but essential to its survival. The essence of capitalism is its amorality and lawlessness and to talk of a regulated, ethical capitalism is to make a fundamental error. The Enigma of Capitalism considers how crises of the current sort can best be contained within the constraints of capitalism, and makes the case for a social order that would allow us to live within a system that really could be responsible, just, and humane.
But, as David Harvey mildly explains, to achieve a responsible, just and humane social order will require a proper revolution…