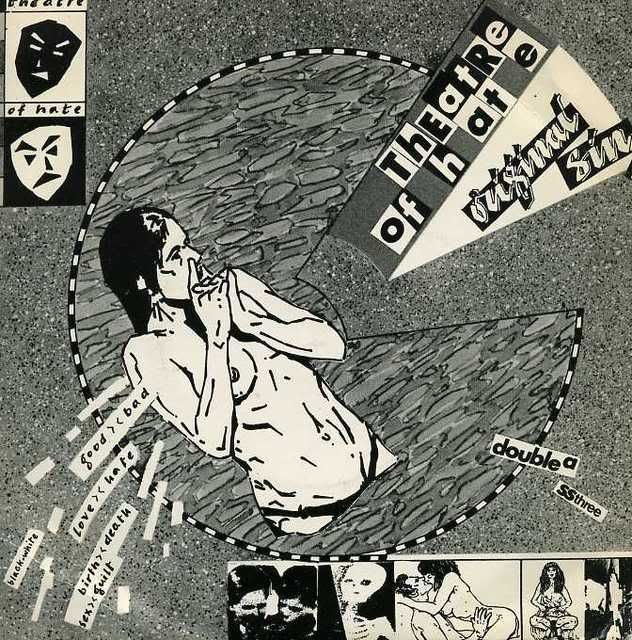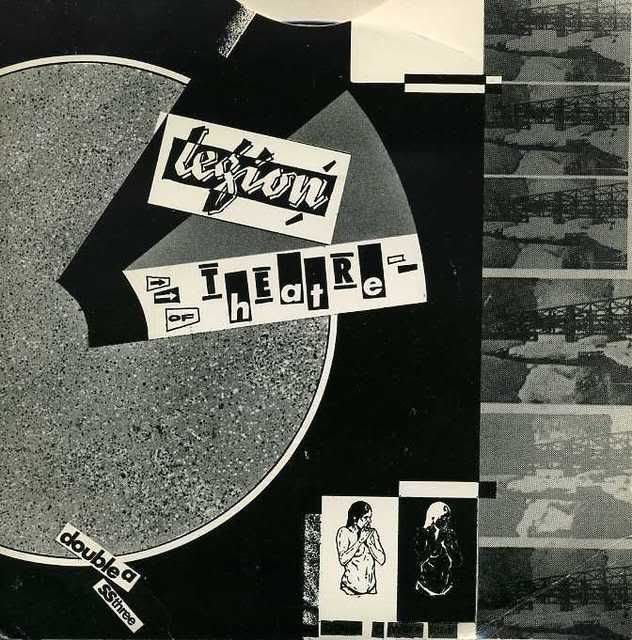 First single by Theatre Of Hate on the SS record label, a kind of underground 'super group' featuring members of The Straps, Crisis and The Pack. Double A Side, 'Legion' winning by a nose in my opinion. The band went on to half conquer the UK!
By the way chums, SS Records is not quite as sinister a name for a record label as one might at first imagine, explaination below by Kirk Brandon:
"I'm going to back track here to fill in the picture, as best as my damage will allow…. while still in The Pack I had come across a certain Scotsman, a Terry Razor….I had met him when I had been trying to get record company interest in my aforesaid Punk band, The Pack, or The Park ("it sounds more regal" ..Simon Werner) as we lovingly called it at the time".
"I had observed him with two girls on his arm and a bottle of champagne at The Marquee one night, I presumed he was in the Recording Industry.
Terry had been working for Stiff Records which probably needs no introduction to anyone in the meatpacking industry".
"Terry worked for Robinson in what today would be called 'marketing'…in fact all those mad Stiff logo legends like 'If It Ai'nt Stiff it Ai'nt Worth a Fuck'..well picture Terrys Scots voice swearing at someone and you'll guess where it all came from. Terry was asked by Robinson to start a shop/retail outlet in Covent Garden and to start up a Record Label. The shop was called Secret Service as was the label. It was pretty successfull as I recall. Anyway sometime prior to this I'd asked Terry to bring out a single for The Pack and this would all coincide with the shop time frame. The Pack song was 'King Of Kings', with one of my all time favourite songs I have ever written as the 'B' side, 'Brave New Soldiers'. The recording sounds as fresh and raw and edgy today as it did all those decades ago. It sold well I believe".
"We, Terry and I went our seperate ways. Now comes a hard bit, I don't actually remember how it was Terry re-entered the picture, but he did. Terry was now working for The Clash doing their merchandice on tour/running his own label (Mikey Dread being one of his artistes, 'DREAD AT THE CONTROLS') and was also a personal friend of Ian Dury having helped Ian rehab himself with his condition…Terry was working out of the Blackhill Management office at Royal Oak close to the Westway. Luke Rendle reminded me the other day that this office was where I had first met him. He was working for Terry loading albums with Paul Simonon from The Clash helping him".
"Terry and I decided we'd bring out a single for Theatre Of Hate, which would be 'Legion', on his record label imprint Secret Service Records, abbreviated to SS1 by the pressing plant, on the centre of the disc and catalogued as SS1. If you look, the artist the late great artist Chris Morton put two dollar signs as its logo on the cent re piece. Little did we know what lay in store for this bit of virtually irrelevant formality….."
*** The Pack, The Straps and Theatre Of Hate's debut 7″ singles are on this site if you search for them.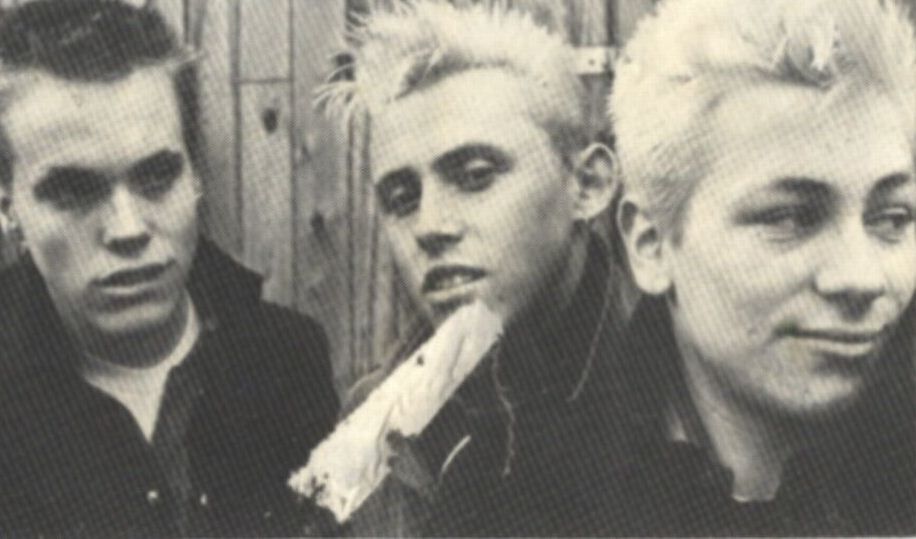 Text below from Wikki…
In 1980, The Pack evolved into Theatre of Hate, with Luke Rendle replacing Walker on drums, Stan Stammers joining on bass, Steve Guthrie on guitar and John 'Boy' Lennard on sax (the Werners joined The Straps, who Stan Stammers had previously played for). The first Theatre of Hate release was the "Original Sin" single in November 1980, which reached No. 5 on the UK Indie Chart. Theatre of Hate garnered much early attention as a live act and made their album debut in 1981 with the concert LP 'He Who Dares Wins (Live at the Warehouse Leeds)'. Steve Guthrie left the band shortly after the album's release. Another concert recording followed, 'Live at the Lyceum' on cassette format only.
In August 1981, Theatre of Hate entered the studio with producer Mick Jones of The Clash to record their first non-live album debut, 'Westworld', released in February 1982. Shortly after the album was recorded, new guitarist Billy Duffy (formerly of The Nosebleeds) joined the band, and soon after that, drummer Luke Rendle was replaced by Nigel Preston. The album reached No. 17 in the UK Albums Chart, and also spawned the Top 40 single "Do You Believe in the West World".
In February 1982, Theatre of Hate released another live album, 'He Who Dares Wins (Live in Berlin)' recorded in September 1981.
Billy Duffy left the band to join Death Cult in April 1982. Theatre of Hate continued for a short time before splitting up later that year. Demos for their unreleased second studio album were released as 'Ten Years After' in 1993.
Brandon went on to front Spear of Destiny with bassist Stan Stammers. Theatre Of Hate's post break-up compilation album 'Revolution' spent three weeks in the UK Albums Chart, peaking at No. 67. Nigel Preston joined his former band mate Billy Duffy as drummer for The Cult, playing on their 1984 album 'Dreamtime'.