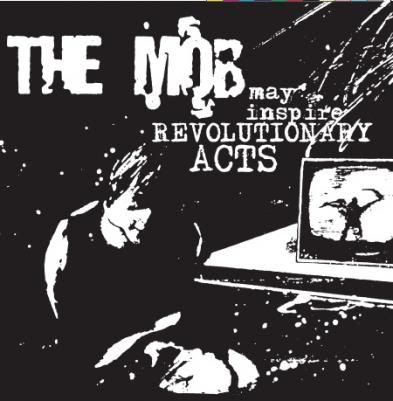 Here is a review of a 'new' cd by The Mob which has just been released by Overground Records. I would have reviewed the disc myself, but since I wrote the "excellent sleeve notes" – see below – would not be an objective review.
If you buy this record, your life will be better… AL Puppy
THE MOB – May Inspire Revolutionary Acts (Overground) – Well I guess you have to put them in that place and time, those anarcho-punk/counter culture early 80's and the running convoy battles with the forces of Thatcher, the air thick with the smell of oppression (and innocence joining angry precessions) The Mob were a big part of that anarcho punk/free festival squat-gig DIY culture – the lines were clearly drawn back then and you knew which side you were on. Part of the broad Crass family and the Brougham Road squats of Hackney. This is a collection of the material that didn't find a place on the Let The Tribe Increase. Twenty tracks that really do push the edges of fractured DIY 'punk'. Is it a mess or was it defiance as art? Was it creative anarchy and a challenging to musical/political thinking or just a untalented mess of badly produced half formed badly played notes/ideas? The rejection of anything that didn't quite fit? Raw passion and emotion or just a bunch of misfits? This isn't easy listening, The Mob were of their place and time, that place and time led to a lot more though, bands like The Mob really did make a difference, they just may have helped inspire a revolutionary act or two (see you at the next reclaim the streets, or the next Meanwhile Gardens protest). A welcome collection, a fine document, excellent sleeve notes, check it out, it might just inspire.
From : http://www.organart.demon.co.uk/neworgan.htm
 Album available from
http://www.overgroundrecords.co.uk/release.asp?Release=OVER115VPCD