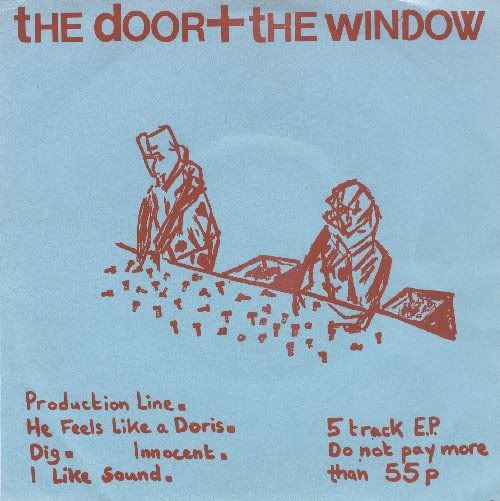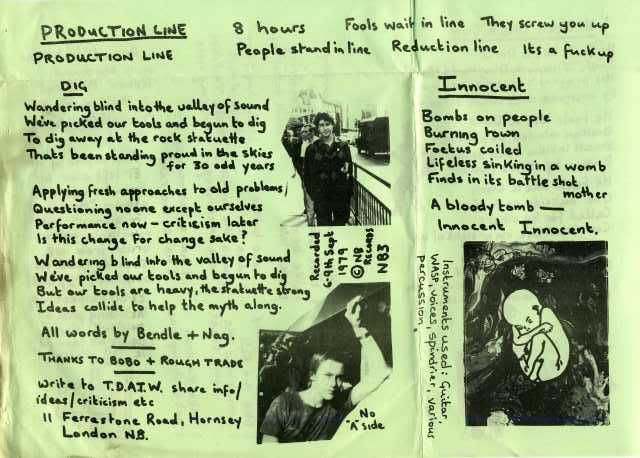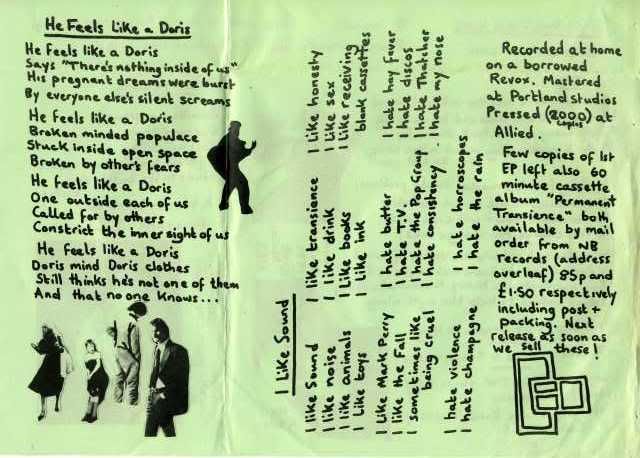 He Feels Like A Doris / I Like Sound / Innocent
Mad as a bag of frogs, this EP is the second released by The Door And The Window, so cheaply recorded and pressed it makes the band's LP, 'Detailed Twang' (on this site somewhere if you search for it) sound like U2! Interesting release though if you love the minimalist approach. Text below from the band's myspace site.
Initially inspired by the first wave of industrial bands and the ethos of diy pioneers like the Desperate Bicycles and Scritti Politti, Nag and Bendle played their first gig and recorded their first single sometime before they bothered to rehearse. Playing with an ever-changing lineup tdatw became first gradually rhythmic and then melodic. Mark Perry became a third permanent member. Unhappy to remain in one musical ghetto, they inhabited several – playing gigs with post punks and ska bands, playing free tours with idealist hippies and gradually becoming deeply involved with the London Musicians Collective. they co-produced a magazine about the politics of record production, hosted the seminal "Jazz Punk Bonanza" Festivals of 1980, '82 and '86 and ran the weirdly eclectic sprouts conspiracy cabaret club. Nag and Bendle also played in the 49 Americans and the liberated sound octet, Nag played with Mark Perry and Karl Blake in The Reflections and Bendle with The Casual Labourers and the Late Music Group. whilst both Nag and Bendle are still quietly musically active they have focussed on other activities – for the last decade Nag has been producing animated films and running both the Melbourne and London International Animation Festivals and Bendle has been pursuing a psychospiritual approach to his practice as a medical herbalist.