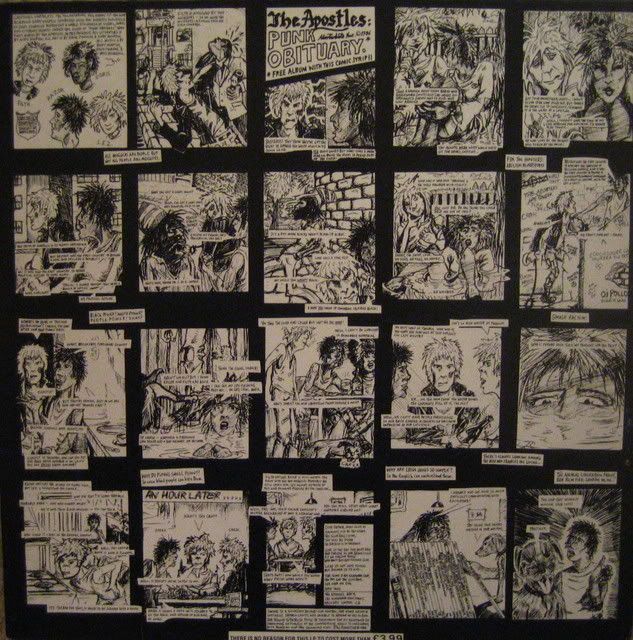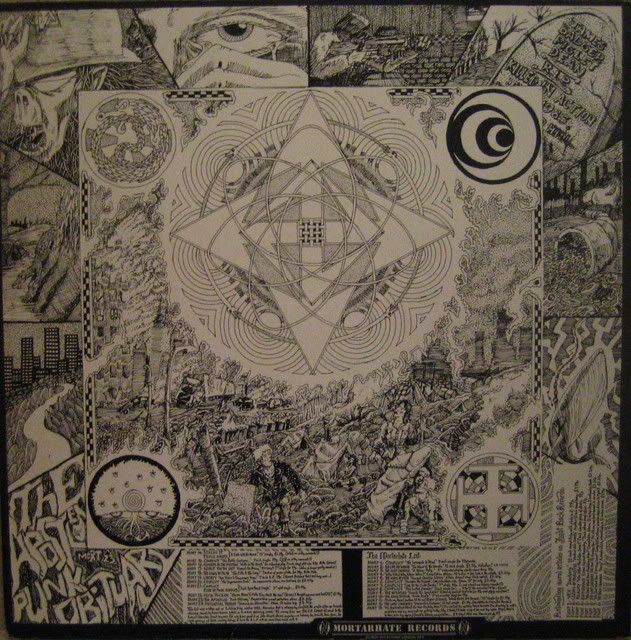 Oh Death / Thalidomide / The Patient / Breaking Barriers / Workers Autonomy 1 + 2 / On Patrol / The Thrive Alive Jive / Mister Missed Her
Daze Of The Weak / The Sword / New Face In N16 / The Hunt 1 + 2 + 3 / 62 Brougham Road / Deus Creator Omnium
Out of thirteen 'demo' cassettes, five 7″ singles, and seven LP's I have here, this is actually my favourite release. Hence the slight scratches on the record!
The third 'demo' cassette and the first and second 7″ singles come dead close.
The artwork is top notch, plenty to read inside the release (about two hours worth, at my speed of reading, political thought as well as a very concise biography of the band mentioning hundreds of people and places that The Apostles have crossed paths with). Dave Fanning and Andy Martin proving, at last, on this release that they are, and always had been, very capable musicians. Please check out Dave's bass 'licks' esp in The Hunt part 2. The drummer, Rat from Statement, had the drums turned down in the mix on purpose, to make the melodies from the tracks a little more free-flowing.
A few friends of mine do not like the LP's as much as the earlier stuff on 7″ and cassette (Hi Spike!), but never fear, the first 'demo' from 1981 will be up soon enough. If you have noticed an absence of 7″ singles by The Apostles on this site, it is deliberate as they may be released on CD soon enough in 2008 (Hi Spike!). So you will have to buy the CD when released rather than getting the tracks from this site. Details will be put up nearer the time of release.
Please check out post 86 downloads elsewhere on the site from time to time, for some extra Apostles LPs and some of the later cassettes, quite a few were recorded  and released in 1987 and 1988 so you will not find them on this download section.
As a special treat I have included the Tony McPhee and Jo-Anne Kelly original track from 1969 entitled 'Oh Death' (first track on this Apostles LP)  here – it is well worth a listen.
Released on the Liberty Record label 'I Asked For Water, She Gave Me Gasoline' or the compilation ' Son Of Gutbucket' both from 1969, if you can find them in rare vinyl record shops!