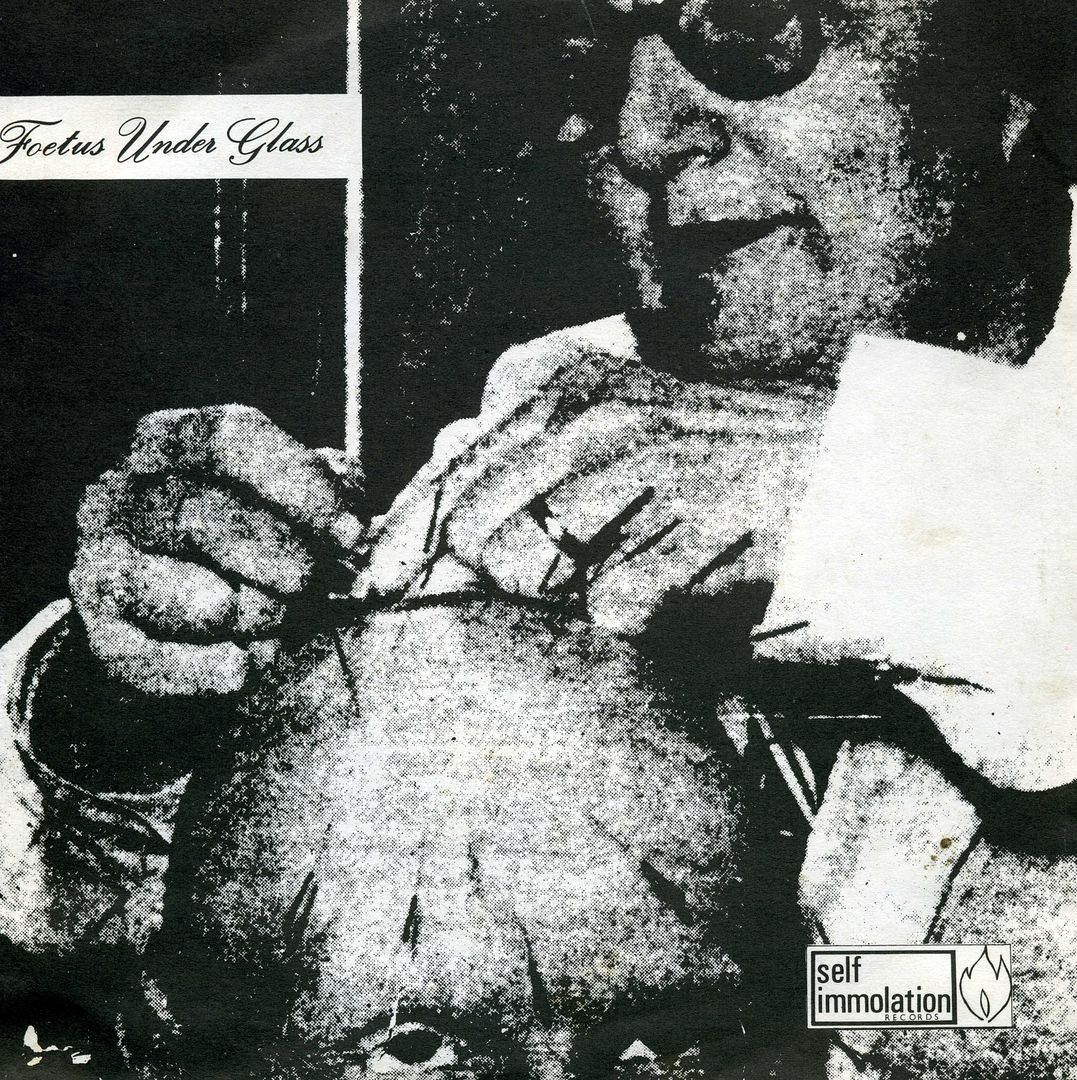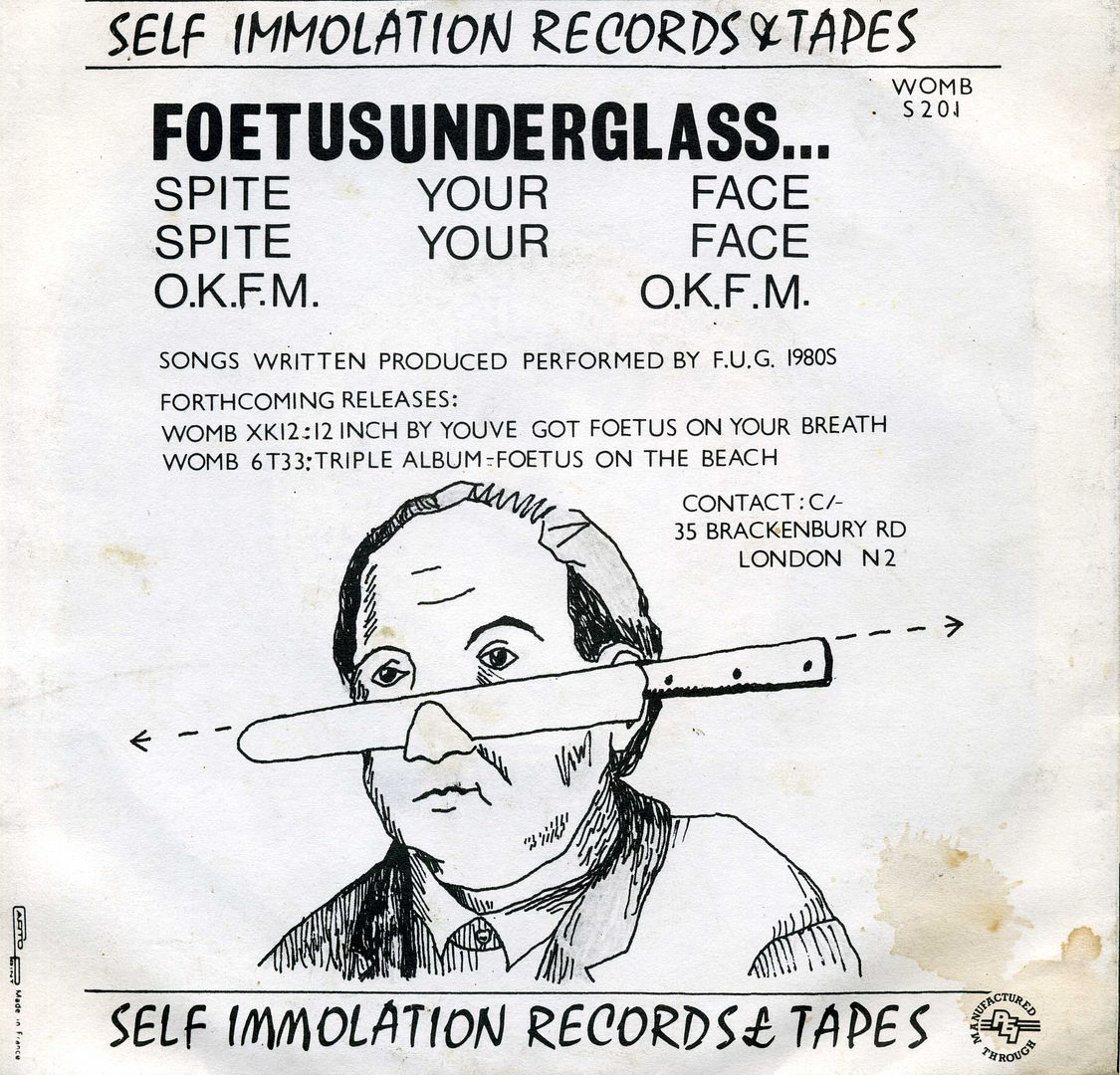 Those KYPP browsers old enough and living in or around the London area in the early 1980's may remember spending the odd Saturday afternoon in the Virgin record store in Oxford Walk underneath Oxford Street in the west end. This shop was much smaller than the Virgin megastore down the other end of Oxford Street next to Tottenham Court Road. The Virgin record shop in Oxford Walk specialised in punk and alternative records and tapes.
One of the long term workers in that store was Jim Foetus who one day happily sold me the very last copy of the leather look enveloped covered 'Heyday' cassette credited to the Sex Pistols released on Factory records (I did not know it was Jim Foetus at that time). Basically the cassette was just a load of interviews by Fred Vermorel slapped onto an admittedly nice looking package. I sold it on shortly afterwards to my regret years later after finding out it was a rare piece in its original form. It got sold with several other bits and bobs to help me fund £25 to buy an electric guitar from a junk shop a few days after a Clash gig! I wanted to form a band. Never happened!
Walking underneath Oxford Street towards the Virgin store you would notice that one part of the window display was seemingly always dedicated to this strange band with Foetus in the band title. Foetus Under Glass, Foetus On Your Breath, Foetus Vibrations. Seemingly Jim Foetus was promoting his own product through the Virgin retail outlet and good on him!
This debut 7″ single on the Self Immolation record label was similar in style to the extreme electronic sonics he was involved with previously in Come (see post below) in the late 1970's. Although this debut 7″ single release does not exactly tear up trees, Jim Foetus by 1984 had morphed into Scraping Foetus Off The Wheel and had released the 'Hole' and 'Nail' LP's via Some Bizarre records. Both of these LP's are classics and extremely strong in content.
Text below courtesy of the official foetus.org website. Thanks to them / him in advance…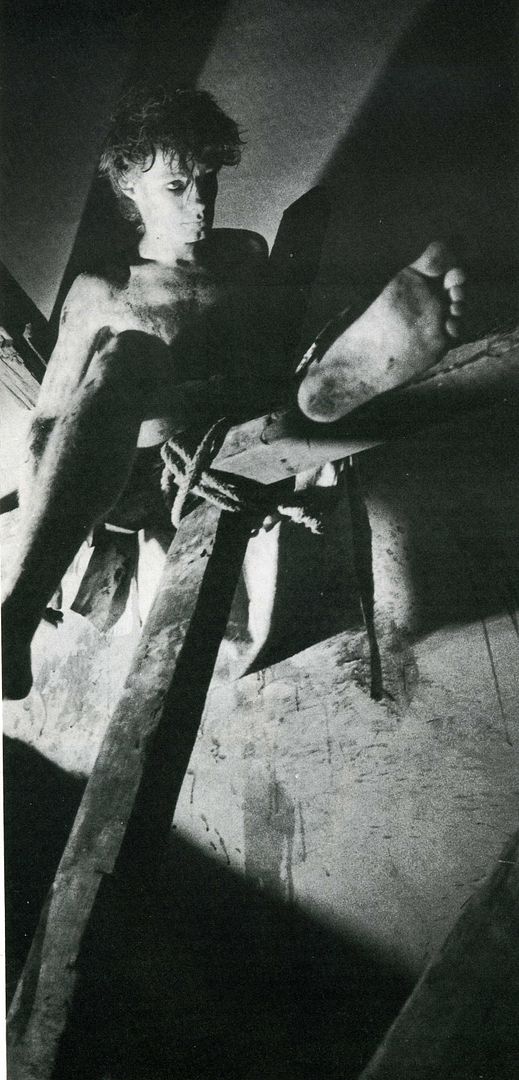 A MESSAGE FROM OUR FOUNDER
SELF IMMOLATION RECORDS WAS CONCEIVED IN 1980 AS AN OUTLET FOR RECORDED WORKS OF AGGRESSION, INSIGHT AND INSPIRATION, AND IN REACTION TO THE GENERAL MALAISE, MEDIOCRITY AND POISON RIFE IN THE MUSIC SCENE.  A DRIVING FORCE IS THE SHEER LACK OF ANYTHING WORTHWHILE; SELF IMMOLATION CAN BE SEEN ON ONE LEVEL AS A CRY OF DISGUST.  THE FOETUS FAMILY PREFERS THE OBSERVER TO NOT HAVE PRECONCEPTIONS ABOUT THE MUSIC, ESPECIALLY VIA THE APPEARANCE OF THE PERPETRATORS(S); THE ARTEFACT MUST BE JUDGED ON ITS MERITS ALONE.  THE FOETUS NEITHER WEARS ITS HAIRCUT ON ITS SLEEVE, NOR BLURTS SIMPLISTIC INTERPRETATIONS.  IN FACT, WE WELCOME MISINTERPRETATIONS: THEY CAN BE STIMULATING.
In the past, however, this has arguably scared off many as they have no yardstick(s) by which to judge our releases.  Well ain't that just too bad.
Self Immolation basically provides an open avenue for the Foetus family to exercise their inalienable right to point at, poke or kick the shit out of what they deem worthy of degradation, glorification, insult or injury.
Self Immolation are not interested in commercial considerations.  We do not hold board meetings in recording studios; financial decisions are always secondary to artistic and aesthetic decisions.  The Foetus family has more soul and sincerity in its collective little finger than a mega unit of top 30's has in its Swiss bank account.
However, Self Immolation is not elitist or willfully obscurantist.  Ours are commodities one cannot afford to be without…..the greater part of the world merely doesn't know it yet.  Fling filth at pop kids!  Someone has to redress the balance!
In 1983, Self Immolation formed a close mutual working relationship with Some Bizzare, who now promote and release S.I. product to an increasingly rabid horde of Foetus followers.  This fruitful marriage has put S.I. in its strongest position yet, both artistically and in terms of public consciousness.
We are the good guys.  Viva mobility!  No fear…..No compromise.
Sincerely,
J.G.THIRLWELL
MANAGING DIRECTOR, SELF IMMOLATION