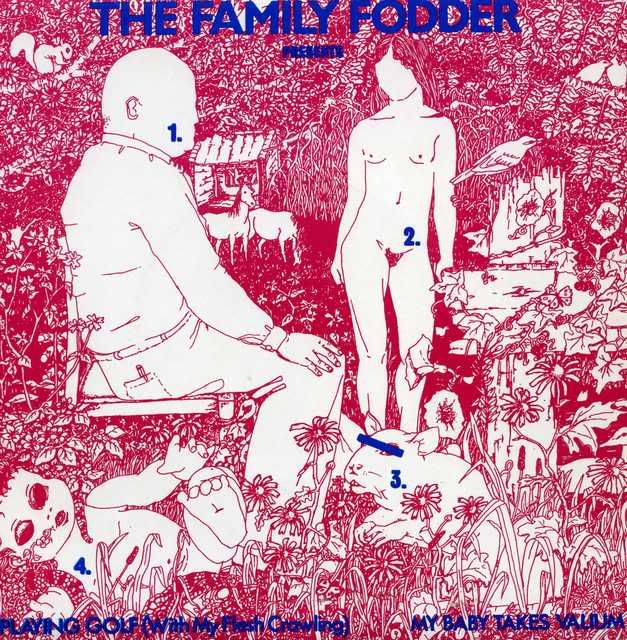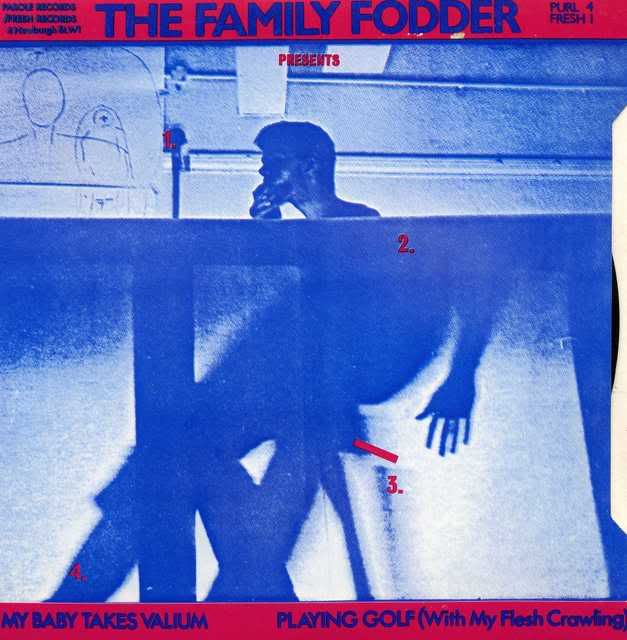 Playing Golf With My Flesh Crawling
Mad as a bag of frogs, Family Fodder's debut 7″ single gives a nod to all things Zappa. Also noteworthy is that this release was the first product unleased by Fresh Records, who seemed to have swapped some acts with Small Wonder Records. The Wall and Family Fodder being two that spring to mind.  
This single was co produced by Charles Bullen (Nic?) from This Heat and Alig Pierce (who I used to work with at Southern a long time ago, other notable co workers were Phil Free from Crass, Ian Lowry from The Wall, Ski Patrol and Folk Devils, Jowe Head from Swell Maps and TVP's,  John Wills from Loop and even Howard Devoto from Buzzcocks and Magazine was around for a while..!).
A wildly wacky debut single, if you like this kind of stuff then please use the search function to find more Family Fodder on this site somewhere.
Found this information below on the VIRB.COM website:
Story begins in North London,1975 when Alig Fodder, Mick Hobbs and Felix Fiedorowicz, Dada fans – formed a student group called The Ideologically Pure Nude. This was an irreverent suggestion for what the Worker's Revolutionary Party might include in their newspaper. The trio were soon joined by Mark Doffman on drums and vocals. Mick played bass, Alig, Farfisa and guitar, Felix, electric bassoon and Farfisa.
The influences ranged from Syd's Floyd, the Velvets and Beatles to Partch, Cage and Stockhausen. This group ran for a year or so before expanding into a loose collective called The Sheep's Pig. Important new members included Ian Hill .. keyboards, vocals, tape-loops and Martin Harrison, bass and guitar. Martin was at that time the only white Englishman with long dreadlocks, and introduced all of us to dub reggae.
At some point in 1976 there was a punk explosion. The members of Sheep's Pig already had a punk-hippy kind of fashion style, but did not see themselves as punks. We thought bands like the Pistols, Dammed and Jam were rather commercial or even right wing. All the same; everyone was influenced by the punk explosion, this showed itself in tempo, volume and a home-made ethic. The other huge influence at this time was dub reggae, Scratch Perry and toasters like Big Youth, U-Roy.
Our own personal heroes were This Heat, an uncompromising experimental rock band, and Eno. Everybody knew at that time who the enemy were: 1. The BeeGees 2. John Travolta 3. Abba 4. Disco.
Blondie were maybe the first new-wave group to wink at disco, and later these styles became more integrated. At the time opinions were divided about Kraftwerk, and many of us saw the electronic new-wave groups as male models playing at music. There was a lot of amphetamines about, but on the whole our particular group evolved around ganja, hash, mushrooms and acid.
Ian had a Teac 4-track and Alig a Revox and 6-channel mixer. It was logical for us to search for a rehearsal space that we could convert to our own studio. This was the holy grail of all indie bands at that time, to own the means of production. After several months of hard work the Studio San Carlo was ready, and the band splintered! Ian and Alig moved into this rather unhealthy basement which the other former band members continued to use on a casual basis. Alig started work on what was initially a solo project; The Family Fodder.
An initial 4 track demo (Playing Golf, Valium, Tedium, The Story so Far) eventually attracted interest from Parole/Fresh Records and Small Wonder. The first single was released towards the end of 1979 .. featuring Alig, Mark, and Rick Wilson drums. At this stage Family Fodder was definitely an overdubs band rather than a working unit. Playing Golf was played six times on the influential John Peel show, unfortunately before the vinyl was manufactured! Nevertheless a small cult status had been established, and Alig began to try and establish a working band including musicians already mentioned and his girlfriend Dominique Levillain.
The publicity story for the first single revolved around a spoof band – The Family Fodder comprising Rod Fodder, Tod Fodder, God Fodder and vivacious female singer Media Fodder. This was conceived as an early Zappa -style pastiche of The Partridge Family. In the long run, it just proved too tedious trying to remember what we had said in the original press release, and the band let this story slip, we never heard again from John Peel so I guess that was the part he liked!
Playing Golf was originally going to be the B-side of My Baby takes Valium but we decided that the subtler spoof and more experimental pop style had much more mileage in it. These sides were produced by Alig together with Charles Bullen, guitarist of This Heat – under the pseudonym of Billy Bag.
Meanwhile, another single was in preparation, under a different name Frank Sumatra and the Mob, a 12 inch single featuring Tedium, The Story so Far and Telstar. Again the line-up was Mark, vocals and drums, Rick, drums and Alig,  vocals and all other instruments. This disc was released together with The Cure's second and Bauhaus's first on Small Wonder Records. It sank without trace!
Back at the Studio San Carlo more jamming and writing was going on, alongside Family Fodder's first tentative gigs, featuring Mark or Rick on drums, Mick on bass, Alig on guitar, keyboards and vocals, Dominique on lead vocals and Felix on organ and bassoon.
The next single Warm also featured Ian and Martin playing pots and pans, and tape-loops from Alig. The disc sold poorly, and for a while Family Fodder was without a contract. Activity at the Studio San Carlo continued, posed between improvisation, games, songwriting jamming and tape-work. Alig moved in with Dominique and began writing some of the best-known material including Savoir Faire, Debbie Harry, Film Music and many unpublished songs. He also composed Fox's Will for chanteuse Hermine, collaborated with Belgian band The Honeymoon Killers and produced discs for Des Airs.
To pass away the winter nights we invented a technique called, Instant Song… This was a game like 'Consequences' or 'Exquisite Cadaver'. Everyone in the room has to write a lyric within 5 mins. These are then passed to the person on the left who becomes the 'Director' of that song; the person on the right of the original lyricist becomes lead singer. The songs are then improvised under the dictatorship of the 'Director'. The first take was always recorded and became the master.
Many of these songs surfaced on the Sunday Girls E.P. featuring lyrics by Alig, Ian, Mark, Rick, Martin and others. At the same time Monelle – Dominique's 6 year old daughter, made her vocal debut on Sunday Girl and Grand Mechant Loup (The Big Bad Wolf). Around this time the team of Martin, Ian and Rick began to form The People in Control who eventually released a single When it's War on Crammed Discs. At the same time, jam sessions with This Heat and their circle, including The Homosexuals continued, as well as a series of low profile London gigs. Charles introduced Alig to David Cunningham of The Flying Lizards, at that point manager of This Heat. David annoyed everybody by securing a contract for himself with Virgin Records using his MA project in Media Studies Summertime Blues. At that point ironic postmodernism had not been recognised as a cultural force!
David was kind enough to front the money for Savoir Faire to be recorded using a mobile truck at Cold Storage, This Heat's rehearsal space. This single featured Charles on drums, guitar and viola, Alig on bass, guitar and organ, Dominique on lead vocals and Charles Hayward, Ian and Martin on percussion, pots and pans and film cans. This single was rejected by Rough Trade and other labels, finally surfacing on Fresh, but after the later recording of Debbie Harry (on which Alig and Mick play two tea chests each using sofa legs as drumsticks!)