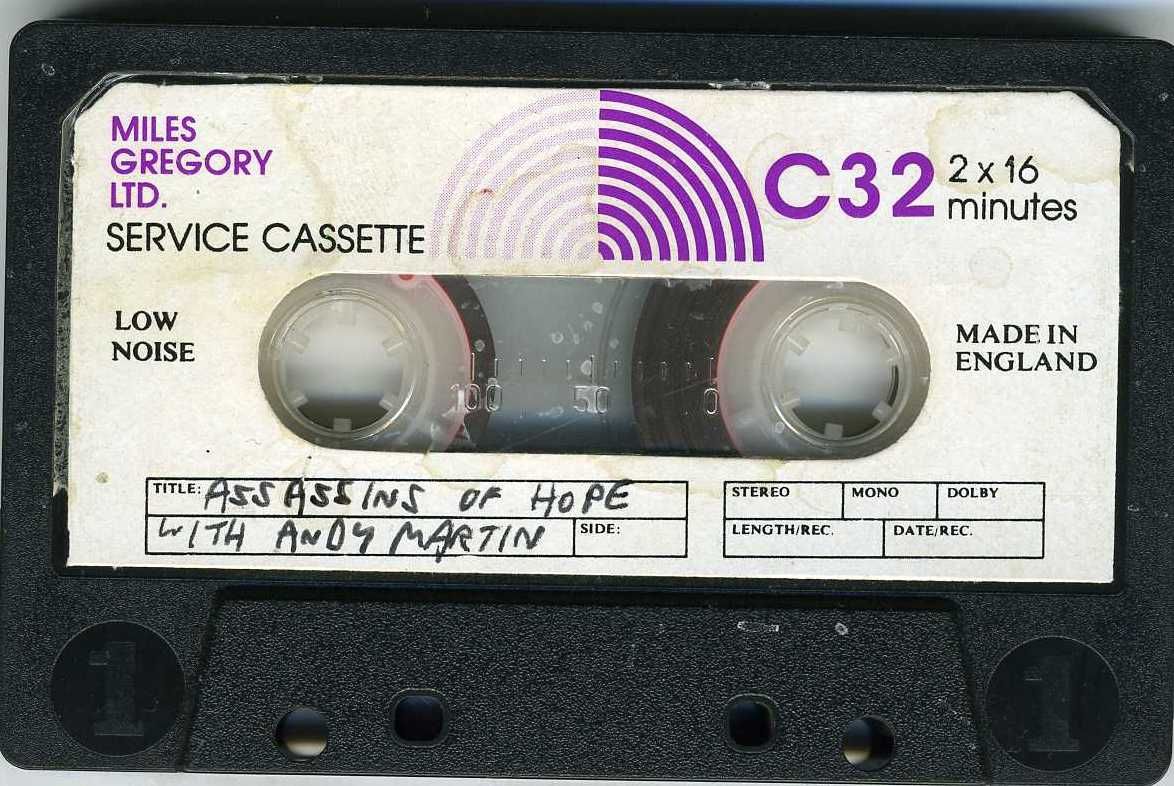 In The Lab / The News At Ten / Automatic Image / Fascist In The High Street / The Fearful Darkness  (original tape)
In The Lab / The News At Ten / Automatic Image / Fascist In The High Street / The Fearful Darkness  (digitally remastered version)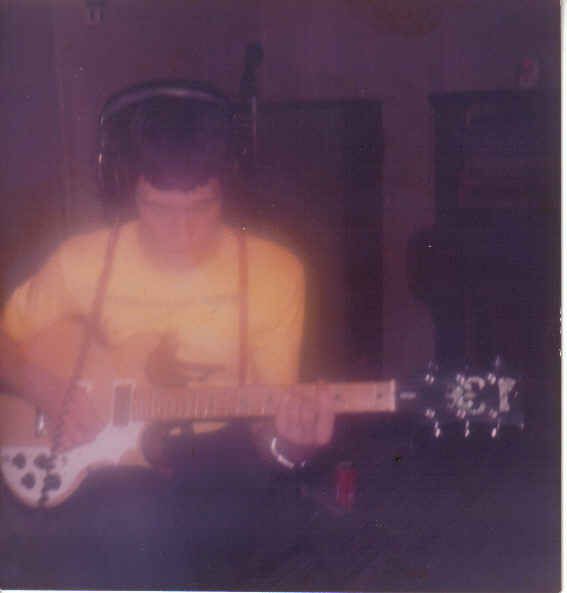 A great quality tape lent to me by Chris Low  from the seemingly bottomless pit that is his tape archive, the photographs are from the personal collection of Chris Low and Mikey P.
Recorded after the departure of Chantelle, Jozie and Peat Protest, this session recorded at Recession Studios featured Andy Martin of The Apostles on vocals and lead guitar. Ivan strummed along, Leon plucked the bass and Mike thrashed the skins.
After this recording The Assassins Of Hope shortened the band name to simply The Assassins.
Text below supplied by Andy Martin, the original tape recording was kindly digitally remastered by Luc Tran of UNIT. Thanks to both of them.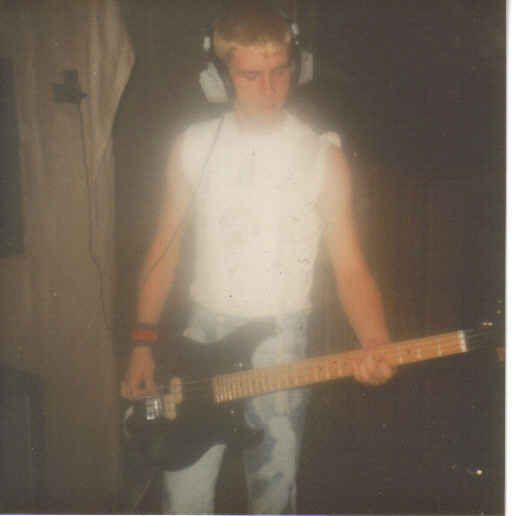 The Assassins Of Hope? The simple fact is that  I have absolutely no memory of ever recording anything with that group, my presence on this recording is stranger still as Ivan was the only member of the band who didn't utterly detest me!
Quite how I was enlisted to help the band record these five tracks is a profound mystery to me. There was no love lost between us; Leon in particular made his opinion of me public in various fanzines – I suspect his socialist political beliefs were offended since I never disguised my own fascist sympathies at the time, despite being stridently opposed to racism; this was probably the only common factor in our political ideals. Stating all that, Leon was first person I ever met who was totally into The Jam, it was he who introduced me to the works of that band.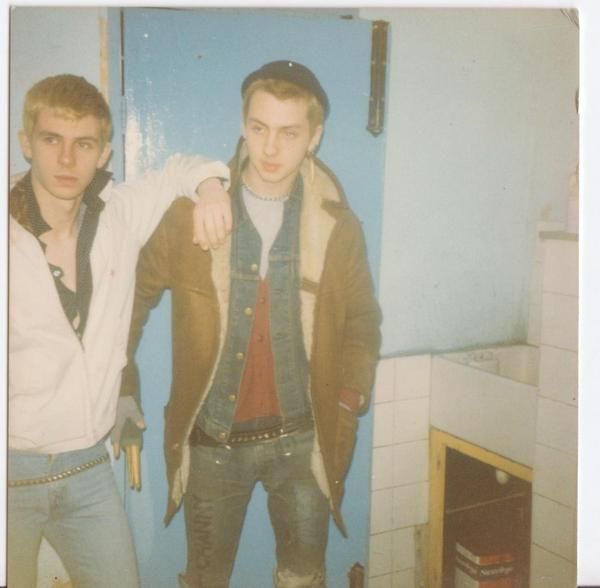 This tape sounds like it was recorded on a decent quality portastudio yet I have no recollection of the actual session. I can't tell you exactly where it was recorded although it would most likely have been at Recessions Studios, Ponsford Road in Hackney, on one of those better quality cassette portastudio devices.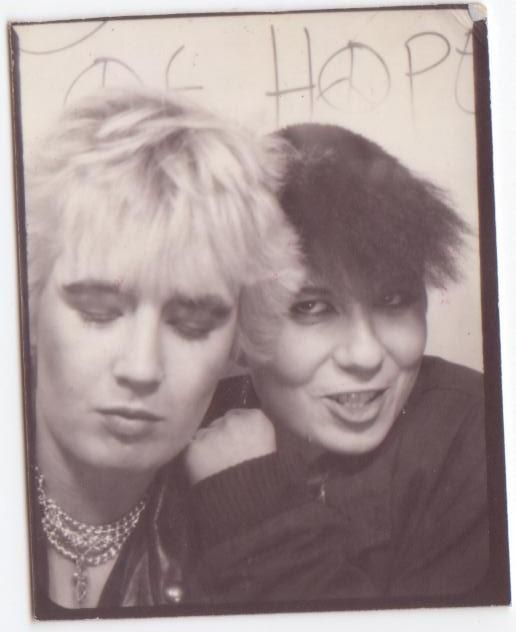 "Come back Chantelle, all is forgiven" is a reference to one of the original singers in the group – she absolutely loathed and despised me while I held her in nothing but complete contempt. I have never been able to tolerate communists and I found the company of wealthy, spoiled teenagers profoundly irritating. Since these people were both communists and from wealthy privileged families then contretemps were inevitable. Why are so few working class people drawn to maxism? Perhaps because communism has little of real substance to offer us, whereas the sons and daughters of the rich can afford to indulge their political fantasies.
To be fair, they must have found my own working class consciousness little more than prejudice (or even jealously) and after all, we cannot be held responsible for the social circumstances into which we are born. I never had any problems with Ivan, however, so I assume I wasn't a complete bigot.
My guitar playing on this session isn't quite so abysmal although I still sing like a strangled parakeet.
The final two tracks will be oddly familiar to anyone who has heard the sixth Apostles album 'The Other Operation'. I used the bass guitar lines, guitar chords and melodies for the track 'A World We Never Made'.
Thanks Penguin for getting these recordings to me, apologies that my memory on the studio session is somewhat hazy.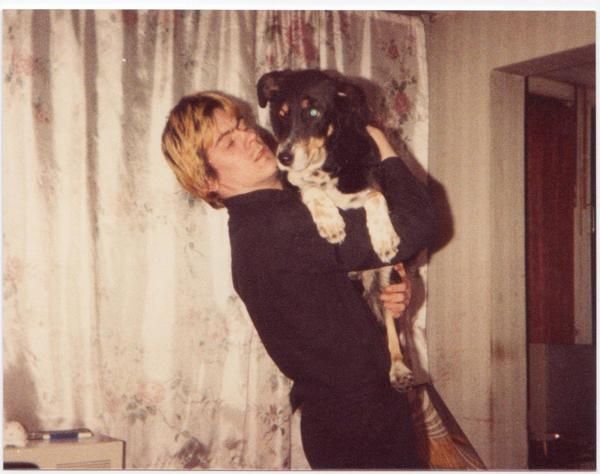 The debut cassette release 'Slowmotion Suicide' is available to listen to on the site HERE
A live performance recorded at Centro Iberico is available to listen to on this site HERE